This shop has been compensated by Collective Bias, Inc. and its advertiser. All opinions are mine alone. #FlossLikeABossSonicFusion #FIRSTFlossingToothbrush #BeAFlossBoss #FlossTheGoodFight #CollectiveBias
This post has perfect timing because after a few months of really putting our noses to the grindstone and investing a lot of time in work projects, the fog is lifting a little bit for both of us, which always brings our attention back to our health and wellness. When we dive in really deep into work projects and commit to allowing them to take up the majority of our time and attention for a short stint, our focus on our daily health and wellness routine tends to take a little bit more of a backseat than we're happy admitting, so when work slows down and balance is restored in our lives, it always feels really, really good to not only turn our attention and effort back to our health and wellness routines, but to also reevaluate, revamp and optimize that routine so it's as efficient and impactful as possible. When we do that, it not only improves our quality of life in the short term, but a more efficient, impactful routine allows us to maintain some semblance of balance going forward whenever work or other obligations ramp back up again. And it's in that spirit that we're so insanely excited to share the game-changing tool that recently found its way into our lives that has drastically improved the most important, but so often overlooked element of our health and wellness routine, our oral care. It's the Waterpik® Sonic-Fusion® Flossing Toothbrush, which just so happens to be the world's first flossing toothbrush!
Hover over the image above for the link to shop right now! To learn more about the Waterpik Sonic-Fusion flossing toothbrush and to receive a $30 mail in rebate through June 30th visit their website
here.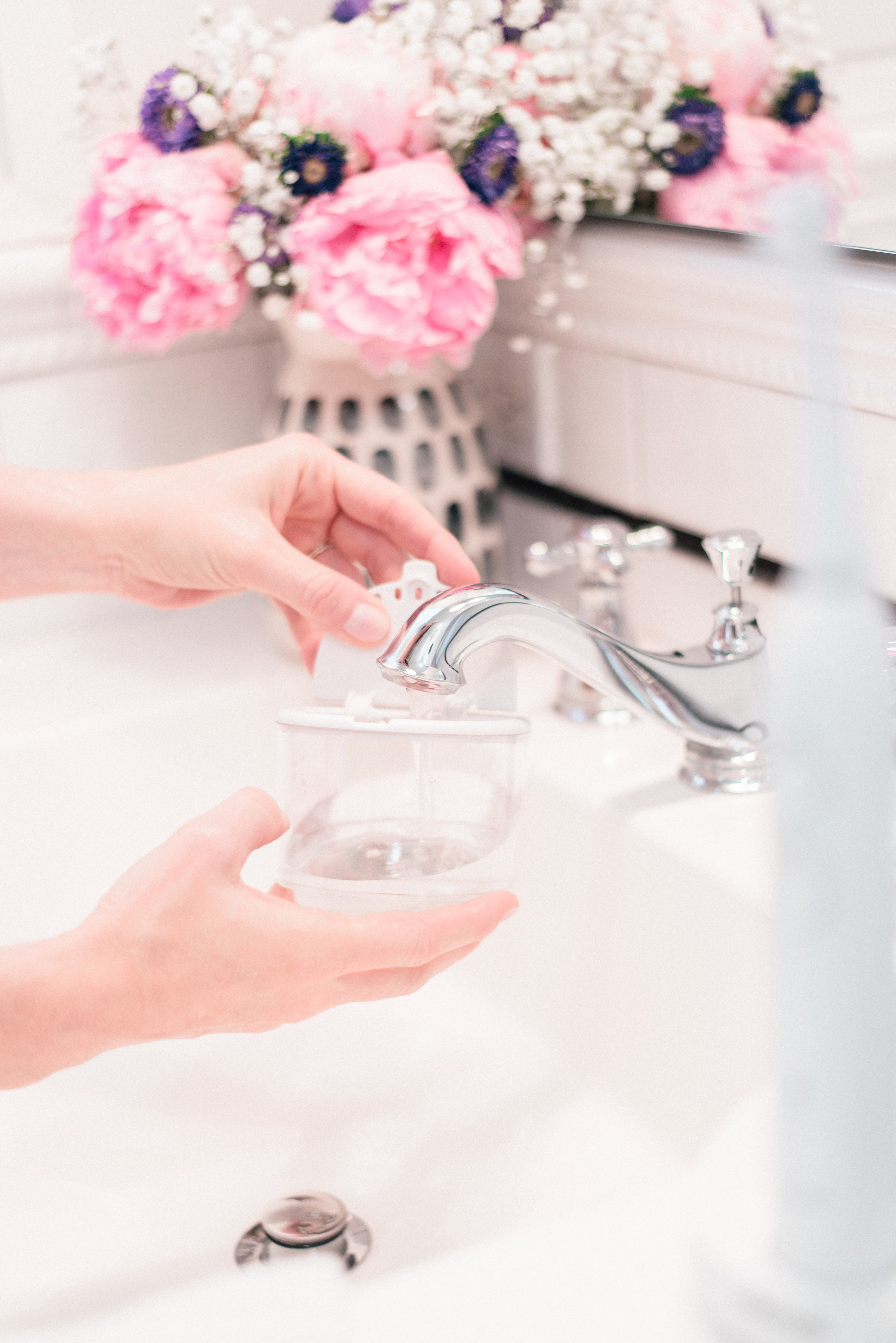 When we get a little work project reprieve and have the chance to pivot and re-focus our time and energy on our overall health and wellness and get that balance back in our lives, we always kick it off the same way – with some much-needed check-ins and check ups with the doctor, dentist, dermatologist, or just our weekly yoga class to hit that reset button. And when I visited the dentist for my bi-annual cleaning last week, I wanted to make sure I was optimizing my oral care routine and not just going through the motions or existing in inefficiency. Which is so easy to do, isn't it? I'm so guilty of that – I just keep doing the same old thing, even if it's not the most effective or efficient thing. So I started chatting about that with my dentist, asked how she approaches her own oral care at home, and asked for her recommendations for my brushing and flossing routine best practices. Basically… I wanted the inside info! And much to my surprise and delight she mentioned something that I'd seen in passing and been so fascinated by, but had no idea if it was really as cool and useful as it sounded. She said there's no better product on the market for an advanced, complete, custom clean for my teeth and for my overall oral health than the "this cool new product" as she so lovingly described it, the Waterpik® Sonic-Fusion® Flossing Toothbrush. She explained that this one tool is more effective and an all-around easier process than regular brushing and flossing alone and that it had been a complete game-changer in her overall oral health.
And that last part really struck a chord with me. I've always been really passionate about oral hygiene and oral health. It was instilled in me from a very young age that not only is my oral care routine as important to my overall health as eating cleanly and exercising, but also that a clean, healthy mouth that supports my big, bright white smile is a key component in having the confidence to express myself and get out there and take advantage of every experience, every opportunity, every encounter life has to offer! Now at 34, as my life grows and evolves, I'm more passionate about that part of my health and wellness routine than ever, but I have to streamline. I have to be discerning about the tools I'm using. I have to always be assessing and evaluating the things that add value to my life and really enhance my overall health, and the things that just don't. Navigating all of the information and all of the products out there can be daunting, but it's a must!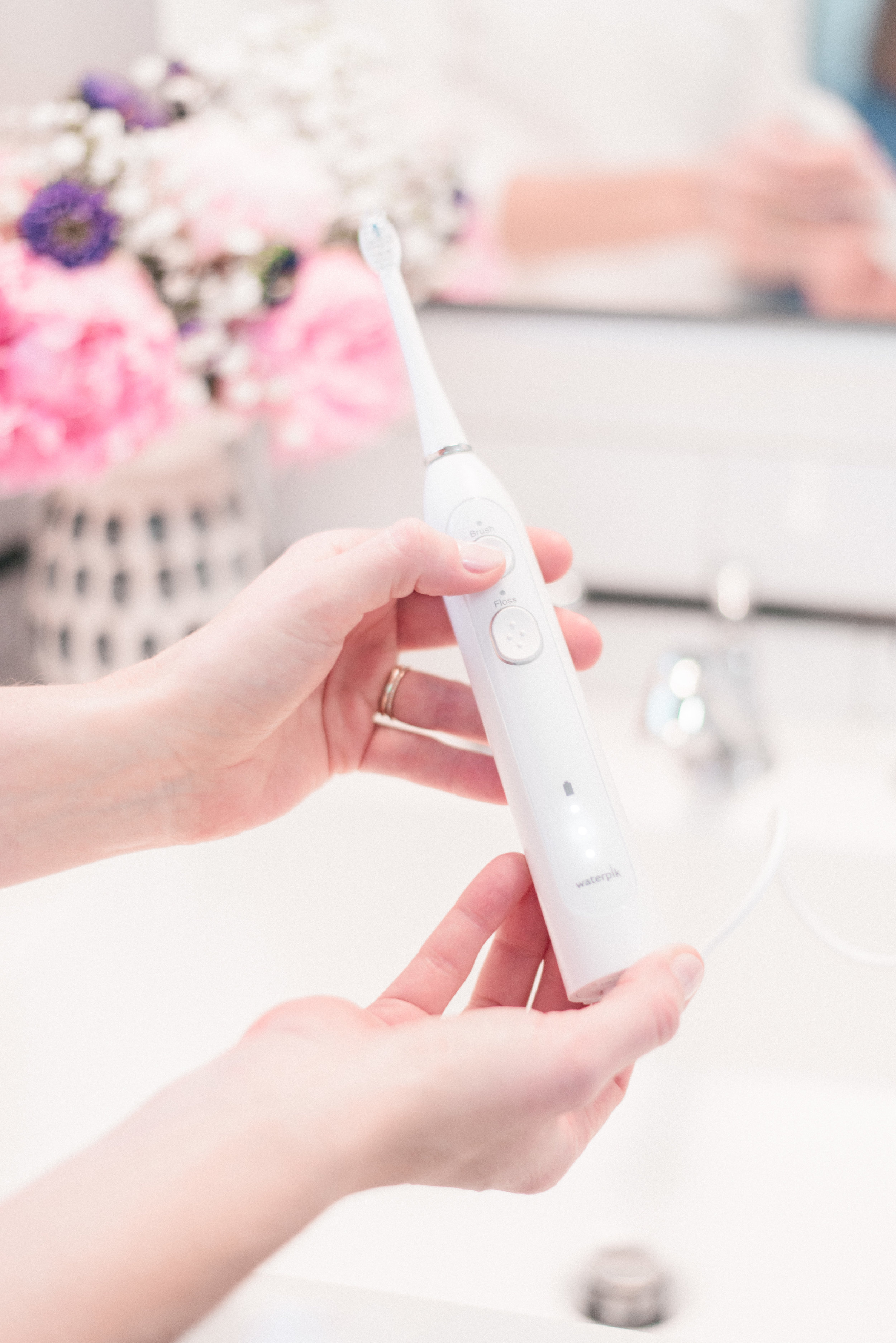 Which is why I love nothing more than getting the inside track on a gem like the Waterpik® Sonic-Fusion® Flossing Toothbrush, having the chance to seriously upgrade my wellness routine on the efficiency and effectiveness front with one easy, epic swap (who doesn't love that?!) and the chance to share the joy with all of you guys! And after picking it up on my Target run I've now been using my trusty new oral care sidekick for the last two weeks, and I'm not even close to kidding when I tell you that I've never been more confident about my big, bright smile! In a word, I'm completely obsessed. True story – yesterday I yelled to Chris while I was using it, mouth full of toothpaste, and said "Dude this thing is SO awesome!" He was cracking up at my oral hygiene enthusiasm, but he's totally used to it now. But it just feels so good to know that I'm giving my oral hygiene and health the attention it so deserves and that my health and wellness routine is firing on all cylinders. And of course, to feel that deep clean when I'm done.
And if you're as curious as I was about this crazy-cool tool you've seen on the shelves at Target, but have no idea how it works or why it's such a game-changer in your oral care routine, fear not! I'm here to break it down for you piece by piece, step by step so even if oral care has been hanging somewhere in the background of your health and wellness routine, you can get it moving in the right direction and bring it back into focus. Because come on… is there any bigger confidence booster than knowing your smile's on point and what's happening inside your mouth is pure freshness? No, no there's not.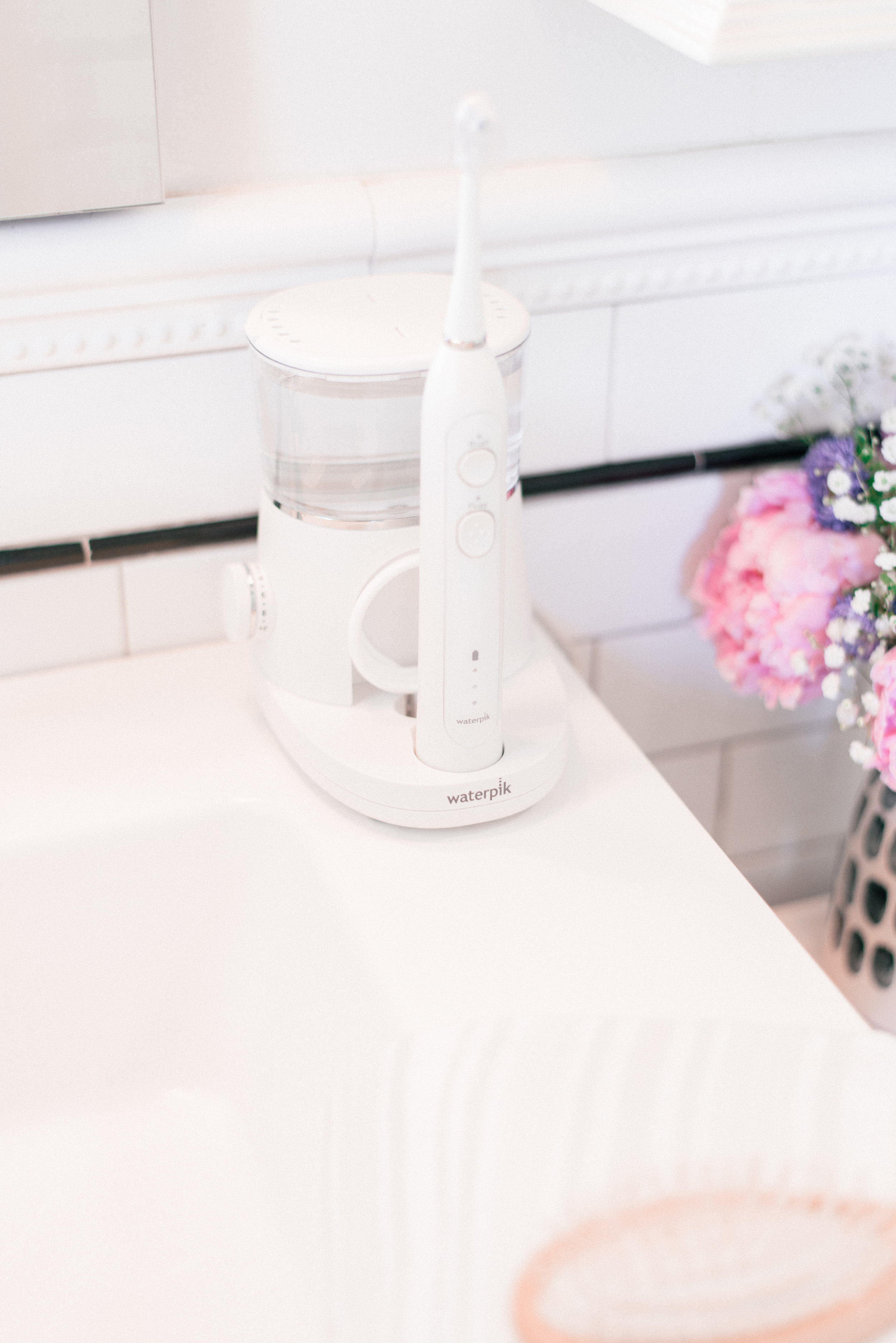 So what is the Waterpik® Sonic-Fusion® Flossing Toothbrush and what are the benefits?
Basically it's an awesomely simple tool that allows you to floss every time you brush. Without switching devices, you can choose to brush, water floss, or brush and water floss as the same time by simply pressing a button.

And FYI, this trusty little oral hygiene sidekick is up to 2x as effective as regular brushing and flossing, removes up to 99.9% of plaque from treated areas, and is up to 50% more effective for improving gum health vs. string floss. Seriously! How amazing is that?

It's important to know that brushing alone can leave plaque and food debris behind, which can lead to gum disease, tooth decay, and bad breath. Not cool! And did you guys know that only 16% of American's actually floss every day? Yowza! So Sonic-Fusion makes it much easier to achieve a better clean with ONE device that helps you tackle all of those important steps in your oral care routine with the utmost efficiency and effectiveness!
So how does it work?
As the Sonic-Fusion toothbrush head cleans tooth surfaces, the Water Flosser jet inside the brush head targets plaque and debris between teeth and below the gum line where toothbrush bristles can't reach. You have the freedom and flexibility to brush first, floss first, or brush and floss at the same time with the touch of a button. I've done it both ways, and I love it all. Sometimes I brush first, turn the brush off and hit the Water Flosser button to floss without brushing, and sometimes I use them at the same time. It all feels amazing and makes my mouth feel so fresh and clean by the end of it.
The Sonic-Fusion features specially engineered Waterpik Water Flosser and Sonic Toothbrush technologies, as well as:

It has a compact, all-in-one design that requires less counter space so it's not too cumbersome, even if you have a small bathroom vanity like we do.

It has one-handed mode control for simplified use, so it's not falling or flopping out of your hand during your routine and you can easily switch the buttons on and off.

It has three modes (brush, floss, brush + floss) to customize your clean.

It has advanced water pressure control and 10 settings for custom comfort, so you can use the setting that's most comfortable for you and adjust over time as you see fit. I started at a lower setting to ease into it with the flosser and gradually worked my way up in pressure. And I love it!

It has a 2-minute brushing timer with 30-second pacer so you know you're giving yourself that total, complete clean.
This has been such a revelation in my life, my confidence and my routine, so if you end up trying the Waterpik® Sonic-Fusion® Flossing Toothbrush please make sure you drop a comment in the comments section and tell me if your experience matched mine. I'm so excited to hear! Also, if you have any questions about what to expect or how to use this gem, feel free to shoot me an email, send me a message on Instagram or leave a comment right here. I'd love to chat all about it!