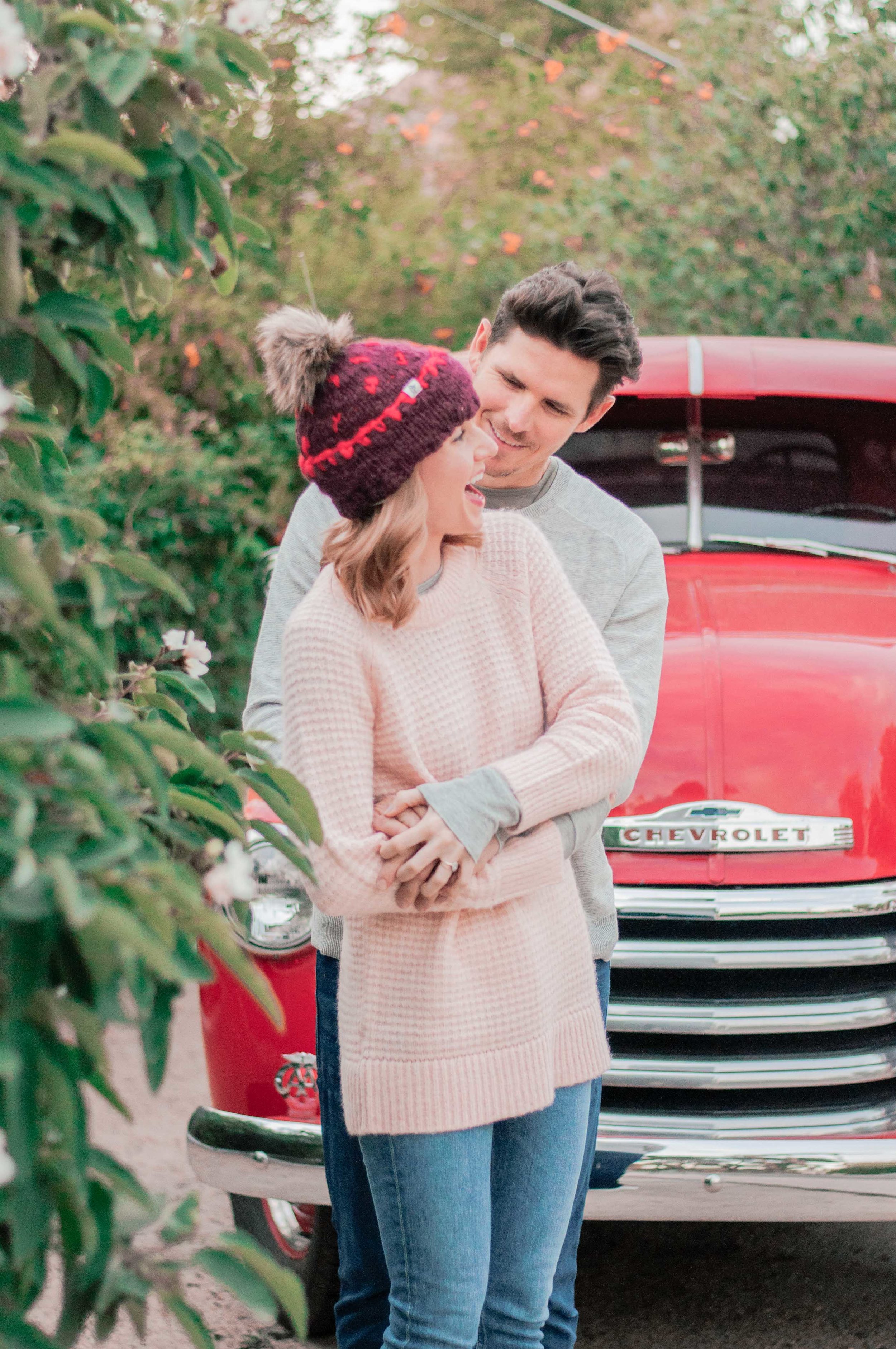 Happy holidays, friends! As everyone starts to wrap up work to-do lists, head home and start the celebrations for the holidays, we wanted to take this opportunity to thank you, from the bottom of our hearts, for being here this year and to tell you how incredibly filled with gratitude we are for your kindness, friendship and camaraderie here on this little blog of ours over the course of what has proven to be a wonderful, wild, exciting and most of all super FUN year for us! Creating and then sharing your wildest creative dreams with others is such a vulnerable, sometimes scary thing to undertake, and you guys, our kindred spirits, receive our creative hearts with such open arms and embrace and encourage us every step of the way, and we're beyond thankful for all of the joy you've injected into our lives this year. Simply put, we love you guys!
Shop Women's Sweaters
Shop Men's Sweaters
And because we so rarely shoot photos that include both of us in them together, we thought it would be fun to say a happy holiday "Hi!" from us in the form of some fun (and totally, unapologetically cheesy and loved-up) holiday photos in our favorite cozy sweaters of the season so far. There have been so many changes in our lives this year, and if there's one thing we've learned this year it's that having an awesome partner to tackle the good, the new and the totally terrifying (if you've seen my "spider/car drama" Insta Stories you know what I mean) moments with is a gift we've been given that we'll never, ever take for granted. This big love between us has allowed us to tackle so many big things this year, and we hope you guys can feel that love in what we do!
But back to the sweaters because it seems like every time we post about our favorite cozy, comfy and awesomely affordable sweaters throughout the winter season you guys are all about it. Which we love! Because we love sweaters and what's more, we would never throw a scratchy, expensive sweater your way and call it gold. All comfy, all the time or it doesn't deserve a spot in our sweater stack! So we thought we'd give you a little his & hers insight into the sweaters we're absolutely loving right now, can't stop wearing and that are as comfortable as they are affordable, and hope that this helps you survive the frigid temps you may be traveling to or living in… in style!
I just need to gush about this perfect, cozy, fluffy, soft pink waffle knit sweater for a second because it's the most epic sweater to end all epic sweaters, in my opinion. And that's saying a lot because shockingly (for a desert dweller) there are a lot of sweaters in my stack that I really, really love. When I invest in a sweater I don't take the decision lightly and expect it to live on in my wardrobe for years. I know that's expecting a lot of a piece of clothing, but gotta keep those standards high, right? And this pretty blush number in the softest, coziest waffle knit made my heart skip a beat the first time I laid eyes on it, and then when I tried it on and realized that it was a slightly oversized style with the most flattering raglan sleeve, I knew it was meant to be. ALSO, it's a whopping 60% off right now which means it's under $30 so… yeah it's perfect.
I just threw this on casually with my favorite AGOLDE Jeans, my favorite long-sleeved, soft tissue tee underneath the sweater and the Dolce Vita mules I can't stop wearing this season, but I cannot wait to pair it with my favorite new camel wrap coat and the $16 scarf that you all know I can't get enough of from Target. That's one heck of a cozy winter ensemble, friends and it's my personal opinion that you all need a little bit of it in your lives. I linked tons of my favorite winter sweaters in the "Shop" widgets above and below as well, like this one, this one and this gem, so make sure you scroll through those to find one that speaks to you!
As for C's sweater, let me preface by saying that we both think finding acceptable and even lovable sweaters for dudes that are versatile enough to wear to work, on the weekend and to the occasional dressy winter occasion (hello, holiday parties!), and are super comfortable and flattering is very, very hard. Obviously every guy has his own sweater style that they're into (and there are so many styles out there to enjoy!), but in general that can be a tall order. It's for all of those reasons that C absolutely loves this super affordable grey crewneck pullover gem that he has on here! It's made of mostly cotton so it's really comfortable, has a fit that isn't boxy or baggy, but isn't tight/constricting or difficult to layer, is the perfect length, and has such a nice thin, light grey stripe that makes it perfect (and perfectly appropriate) for dressing up or down. This same style comes in a bunch of different colorways, like this solid forest green option or this thicker charcoal stripe, all of which are lovely. Such a nice sweater for the guys with an even better price point!
Another crewneck sweater Chris swears by and wears for work, weekending and everything in between is this super soft J.Crew rugged cotton crewneck sweater with a raglan sleeve and I have to admit, it's my favorite sweater he owns. The knit is so soft, it's somewhat lightweight without being pointless, is perfect for layering and has such a flattering fit. It's also the one I see him wear more than any other sweater, so it must be good! He says that he's also really liking this quilted cotton cardigan from J.Crew and this cozy waffle stitch zip cardigan, plus tons more that you can scroll and check out in the "Shop" widgets above and below.
As mentioned we rounded up a ton of the sweaters we're loving from across the interwebs, so make sure to scroll through those "Shop" widgets to see all of the options and find something cozy and perfect for snuggling up in this winter! Obviously I'm partial to pastels, chunky knits, longer lengths and stripes galore, Chris is into the versatile neutrals with raglan sleeves and we both love a great crewneck, but there are tons of other styles out there to love. And cardigans are just so versatile (and fun), so there are a lot of those in there, too!
Shop Men's Sweaters
Shop Women's Sweaters
Happy holidays, guys! We hope that you all have the most relaxing, joyful, love-filled holiday break with friends, family and fur babies! We can't wait to get back to work and kick off another awesome year with you in 2019!