Is it just us or has this been the month of all our cottage style design and decor dreams come true? I mean come on! We feel so spoiled. First we took you on a second, spring bloom-focused tour around Arcadia and its most charming abodes, then we lived out all our modern cottage dreams when we were given the chance to bring all of you inside a new Rafterhouse custom build filled with insanely cool cottage details galore, and now we get to close out this month, this epic cottage inspiration extravaganza, by taking you on a journey to the place that started it all. The genesis. A sanctuary that serves as a physical embodiment of all that is the ethos, the very essence of this little blog – celebrating and sharing a cozy, lived-in, loved-up cottage lifestyle and all that comes with it, that encourages and inspires you to slow down, have a little fun and craft a life that's uniquely yours from the inside out, full of more of the good stuff we all need, less of the noise we don't.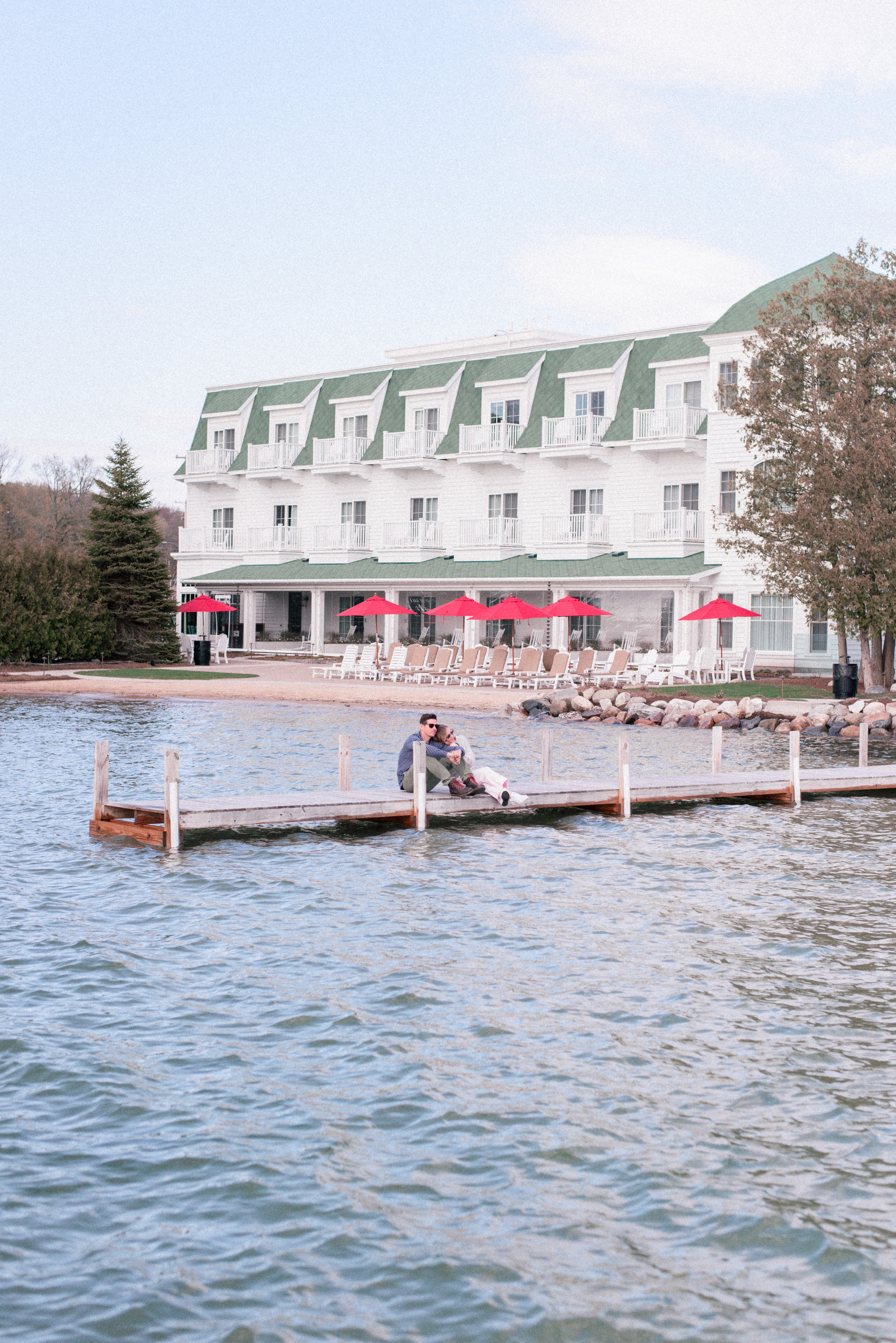 We couldn't be more excited, more thrilled, more elated to take you inside what C and I both agree, after a lifetime of extensive travel throughout the U.S. and abroad, is one of the most magical places on the planet. Yes, on the planet. A spellbinding small town destination that we both wholeheartedly believe should, no needs to be on your near-future travel itinerary. Tucked inside a charming little village in Northern Michigan, set on the shores of an idyllic glacial lake with a glittering history, incomparable cotton candy sunsets, breathtaking sunrises, and adventure and activity all around that's completely unique to this Arcadian little slice of the world this, dear friends, is the breathtaking Hotel Walloon.
Shop Her Summer Travel Outfits
Shop His Summer Travel Outfits
For those of you who are new around these parts, I feel compelled to preface this by saying that Walloon Lake as a whole isn't in any way new to me. I've had a life long love affair with the lake and have spent my entire life living, loving, learning and making memories on this lake, in all seasons, in and around my family's home that's perched on what's known as the North Arm of this paint-splatter-shaped, 9-mile-long lake, which is nestled right in the heart of this incredible little Eden we Michiganders so lovingly refer to as "Up North". Not sure where that is? Hold your right hand up palm facing you, touch the tip of your ring finger with your left hand and you're there! Walloon is a part of me, the best part of me (and generations of Wallooners who love it as much as my family does), and now after countless visits, our loved-up lakeside wedding and his own set of Walloon memories made, it's a part of Chris, too.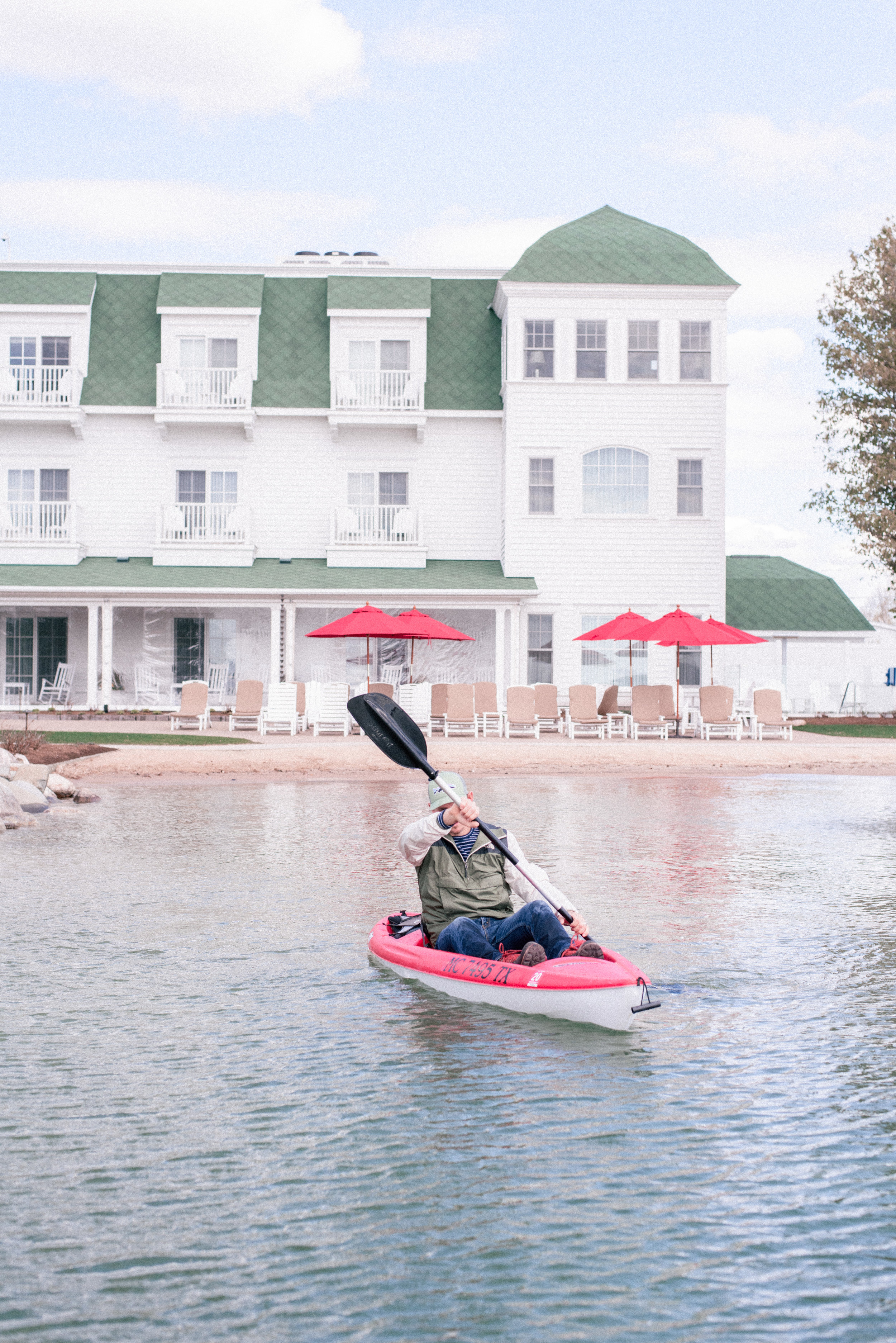 And though all that certainly influences my affection for this lake in general, it's important to know that Hotel Walloon was only recently erected, entering the Walloon Lake universe in 2015, so it's an element of the lake that we're getting the chance to experience with fresh eyes and fall in love with right alongside everyone else. You see until the last five years, Walloon, one of the bluest, cleanest, most picturesque lakes in a state with more than its fair share of freshwater beauties has kind of been one of the Midwest's best kept secrets, for so long only accessed by winding dirt roads and unassuming entrances to the lake guarded by heavily wooded preserves and addresses that barely registered on UPS's radar. And in so many ways, it's the lack of attention that's kept its treasures so sacred. It's beauty so untouched, so insulated. Don't believe me? If you won't take it from me take it from Walloon's most famous resident, Ernest Hemingway who spent his boyhood summers in a home on the lake (yep, it's still there) and once described it as, "… a great place to laze around and swim and fish when you want to. And the best place in the world to do nothing. It is beautiful country… and nobody knows about it but us." I think Wallooners were almost hesitant to let the world in. To them, this was utopia and to open it up to the possibility of dilution, corruption was almost unthinkable. And for good reason – there aren't very many places like it left. They'd seen similar castles before theirs collapse and crumble under the sword of progress and keeping investment at bay, even at the expense of convenience seemed the only way to protect its purity.
But I'm a firm believer that in this life splendor should be shared, not hidden away. I believe that with a little care and lot of love, preservation and attention, pastoral and the right kind of progress can co-exist. And clearly, so does Hotel Walloon and the its developer and sole proprietor, who made it his mission to ensure every inch of this hotel added to the lake's appeal, not sullied it. That it celebrated its rich history, not dismissed it. That if you lied and told someone this hotel "has always been there," they might just believe you. You can read more about his sweet story and approach to this project here. And after spending an incredibly special long weekend at the hotel a couple of weeks ago taking in the lake, the village and all its enchantment from an entirely different vantage point than we're used to, we're convinced that the intersection between evolved and old-fashioned, modern luxury and vintage charm, peaceful seclusion and endless access to the kind of service, amenities and adventure only offered at the world's finest is where this hotel makes its mark.
And isn't that really what the world's most beloved luxury "small town" hotels and hideaways do best? They preserve the simplicity of their surroundings, all the reasons their guests chose that place to "get away" in the first place, while going to great lengths to tastefully elevate and enhance the experience and all that's resplendent about their surroundings. And that right there, that's Hotel Walloon's sweet spot. That's the space in which this hotel not only excels, but raises the bar and sets an entirely new standard. Yeah… it's that good.
Ok guys let's just get down to the nitty gritty because as we always say here on the blog, the delight is in the details and at Hotel Walloon, as their resident hospitality guru and Ritz-Carlton vet Jim Veil would tell you, the details are everywhere, and they're everything. We're breaking down every little thing we love, piece by piece, so not only do you know what to expect should you so wisely decide that a Hotel Walloon getaway is in your future, but also so we can celebrate all of the unique parts that work together, in perfect harmony, to make the whole so spectacular here. I've almost had a hard time writing this post because there's just so much goodness to share and I feel like if I leave out any single detail I'm doing this magical, mystical place an injustice. Actually I kind of feel like Chris should have written this one because as you guys know, his entire existence is all about hospitality. Seriously… All About The Guest is his bible. He basically spent every dinner during our visit obsessing over every perfectly executed element of service at Hotel Walloon and geeking out over all the nuances that make it exceptional. But he's currently in California bringing another new restaurant to life with his motley crew of fellow hospitality geeks, so you're stuck with me! And we're going to have some fun.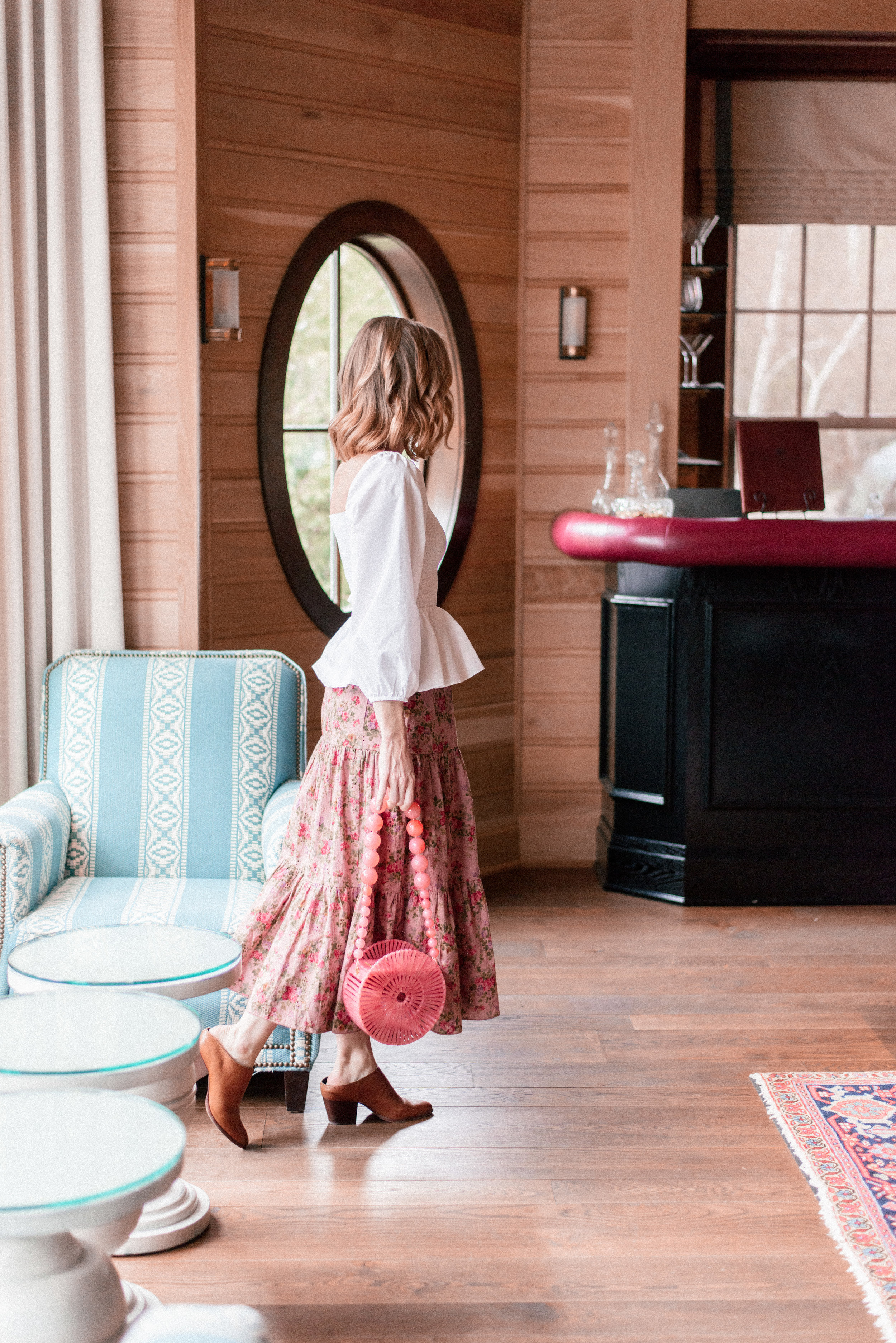 Service
It feels appropriate to start with service because this is where Hotel Walloon really makes some waves (lake pun totally intended). Despite traveling the world and having the opportunity to visit some seriously exquisite hotels with exceptional standards of service, I'm going to go ahead and make a pretty bold claim and stand behind it wholeheartedly – I have never, in my 34 years of life experienced service this extraordinary. I'm completely comfortable saying that it's unequaled. Unmatched. Peerless. From the second we walked through the hotel's doors the entire staff addressed us by name, and our every interaction was warm, personal and delightfully formal, or rather old fashioned, without feeling stuffy. Polished, but approachable. They were ready, available and accessible to accommodate our every need when we requested it, and quietly waiting in the wings when we didn't. Every time we exited or entered the hotel, Chuck, the charming and knowledgable bellman and resident Walloon historian was waiting with a smile to ensure we never had to suffer the inconvenience of opening or closing a door ourselves, or stepped out into a sprinkle without an umbrella, and that Chris' appetite for roping every fellow fly fisherman into chatting all things flies, fish, lakes and rivers was properly fed. Bless his heart. And don't even get me started on the seriously seasoned housekeeping staff. They ever-so-respectfully studied our habits and tailored their service accordingly. They were like sweet little Jedis anticipating our every need before we even knew we needed it. Lips feeling chapped? Here's an all-natural, locally-crafted vanilla lip balm perched on your nightstand so you can soften those lips while you sleep. A little parched? Here's a bottle of water, or seven, thoughtfully placed around the room for easy access and all-day hydration. Devoured that box of assorted Michigan-made chocolates left in last night's turn down service? How about two boxes by your bedside tonight for good measure. Hands feeling a little less than silky? Enjoy this heavenly-scented tube of luxurious French lotion to carry with you while you sieze the day… with baby soft hands. Wondering whether tomorrow's activities will include kayaking or a friendly fireside scrabble battle? A detailed breakdown of the next day's forecast is placed on your pillow every night so you can properly prep outfits and agenda.
Together the entire staff is like a well-oiled, highly sophisticated special opps team, each cog in the wheel knowing exactly what they need to do, when they need to do it, and the standards with which they're expected to execute. The flawlessly curated breakfast spread complete with an abundance of mouthwatering local pastries (tasty gluten-free options included) and a yogurt bar fit for royalty is served promptly at 7 a.m. Five subsequent rounds of sweet and savory treat displays will follow throughout the day, including unforgettable evening hors d'oeuvres best enjoyed fireside. Cocktails are to be delicately mixed, not drowned. Pillows are to be quietly and immediately fluffed and chopped when guests exit a sitting area. Soft, cozy, custom Hotel Walloon throw blankets are to be offered when a guest desires to take in the sunset lakeside when there's even the slightest chill in the air. A separate cookie and candy setup will remain beautifully presented in the lobby and available at all times for guests to graze, and replenished with expedience when even slightly depleted (I seriously depleted the gluten-free lemon lavender cookie stash every day and they just kept coming back!). The concierge will call you exactly two weeks before the start of your stay to fill you on all the fun that awaits you Up North and see what special services, amenities or reservations they can prepare for you to make your stay memorable and magical. They're to be well versed on the lake and Northern Michigan's history, geography and abundance of activities, with stories and expertly tailored recommendations at the ready. It's all tidy, systematic and shipshape behind the scenes so your stay feels easy, breezy, casual and unfussy. Listen I could go on and on because there are about a million little service details and standout staff members here that really made our stay, but at this point it's just getting embarrassing for basically any other hotel out there that doesn't measure up, don't you think? We'll spare them the indignity.
Design & Decor
And just as service is at the top of Chris's list of essential elements that can make or break a hotel visit for him, unsurprisingly, at the top of my list is the design and decor. When a hotel's design and decor is expertly curated, tastefully executed and fosters rest, relaxation and romance, I completely melt, and as you can probably surmise from what you see in the snaps, both the interior and exterior design of this entire property sent my cottage design and decor-loving heart into overdrive. And that sofa. I can't even talk about that rose-covered sofa without feeling like I might cry tears of joy! I digress.
Northern Michigan cottage style was not only the genesis of my love and affection for cozy, casual, fun cottage design and decor, but also the lifestyle, the ethos that accompanies it, which is why I said that this is where it all began. The design style on Walloon Lake is and has always been as elegant and elevated as it is inviting and lived-in, and is part of what makes this lake and the homes that dot its shoreline so special. It brings the outside in and effortlessly blends in with its surroundings, while standing out in all the best ways. It's comfortable where it counts, personal, peaceful, rooted in rest, warm, inviting, and well-appointed with care and intention. It's influenced and informed by the lake's storied past, its spirit, while never feeling outdated, uncomfortable or inhospitable in any way. And maybe most importantly, it's always fun and a little bit funky. That little bit of quirk that makes cottage style feel so hospitable, so approachable. And what Michigan-based design darling Kathryn Chaplow did with Hotel Walloon captures that style, that spirit so seemingly effortlessly and perfectly, that it's almost beyond comprehension for mere design-appreciating mortals like myself. First, the entire property is absolutely dripping in details, expertly curated, collected and integrated, that either nod to or hail directly from the dazzling dawn of the 20th century when Walloon was catapulted into popularity as a premier Midwest vacation destination, thanks in part to our trusty old bud the railroad. This includes but is certainly not limited to the hotel's fresh white wrap-around porches, the wainscoting, the mock-tin ceilings, the gilded lighting, the collections of antique candlesticks and mirrors, the fascinating old photos of Walloon residents and visitors of from decades and centuries past, and the charming maritime artifacts salvaged, framed and on display for guests to inspect and enjoy.
But trust me when I say that beyond so cleverly and beautifully breathing new life into beloved old treasures and giving them a second act in all the right places, this Northern-inspired design dream of a hotel is pure modern cottage elegance from head to toe. I'd also be remiss if I didn't say that beyond that, it's all just so much fun. Each space, common areas and all 32 guest rooms included, has its own heartbeat, its own original kind of character, with a discriminating blend of vibrant lakeside summer-inspired colors and pattern play in one room, and a perfectly moody mix of natural tones, cozy, comfortable, organic textures and locally-sourced materials in the next, all woven together and sprinkled with fairy dust to radiate the most enchanting, elegant Northern Michigan atmosphere that's so bewitching, so seductive, you'll be dreaming of revisiting and recreating your stay before you even leave. As I was giving you a room-by-room tour of the hotel on Instagram Stories during our stay so you could see all of the design delight in real time for yourselves, one of you sent me a message and said that you feel like this is exactly what you envision my dream home looking like, and you're 1000% correct. Every inch, every single design decision, every thoughtful, fun, funky, cottage-cool little detail Chaplow integrated is now coloring my dreams when I hit the pillow every night!
And outside of the overall service, design and decor, here's a not-nearly-comprehensive-enough list of all the specific amenities and accommodation details we fell in love with during our stay. All of these things together take this place from lovable little lakeside boutique hotel to luxurious vacation destination that now sets a new travel standard in our hearts that we're absolutely certain no other hotel could ever live up to.
More Amenities & Accomodation Details to Love
The dining. Oh, the dining. Let me be very clear when I explain that I'm of the opinion that the only reason this hotel is a four instead of five diamond property, the only reason, is that it doesn't technically have a full-service, upscale restaurant on site. However, that's kind of a technicality because the 30-second walk it takes to get to either of the two truly fantastic restaurants that flank the hotel is an essential part of the charm in this equation. The Walloon Lake Inn, set inside a 100+ year old former cottage that also once operated as an inn, now serves as one of the most stunning and unique fine dining establishments in the country, with views, live music and a creative, Northern Michigan-inspired menu that rival the best in the world. And that patio you see in the snaps? Forget about it. It's magic. The more casual and newer of the two, Barrel Back is a bustling village haunt open for breakfast, lunch and dinner every day of the week that boasts a big, beautiful indoor/outdoor bar and a delightfully robust menu full of tasty local favorites and innovative crowd-pleasers for all ages. Just like The Inn the dining room overlooks the lake and features yet another view that's so spectacular, you'll wonder how you've ever dined any other way.

The Hearth Room. This cozy, fireside lounge next to the lobby where comfy seating abounds encourages relaxation and because of that, is one of our favorite spaces in the hotel. It also serves as the hub of all food presentations – breakfast, snacks, evening hors d'oeuvres, juice, hot cocoa and over 20 coffee and tea concoctions courtesy of the Franke coffee machine. It also houses the hotel's beautiful bar.

And speaking of that bar, every evening the bar in the Hearth Room is open for business and at your service, ready to shake and stir any hand-crafted cocktail or libation your heart desires, courtesy of their in-house bartender. Pro tip: the smoked old fashioned is not to be missed. The heavenly aroma that fills the room during the creation process is reason enough to order up.

The beautiful, cozy, classic Billiards Room that features an impressively opulent billiards table custom made in Michigan.

The outdoor heated spa serves up one of the most unobstructed, jaw-dropping, relaxing settings to watch the sun set over the lake. It almost doesn't seem real that such a thing could exist, and yet it does.

Another one of my very favorite rooms in the hotel for reasons that are almost entirely and unashamedly all about aesthetics is the vibrant, seafoam-soaked Reading/Drawing Room that features a gorgeous cupola in the center, books galore and games of all kinds. The design for this stunning space was inspired by and pays homage to the beloved Carleton Varney, the genius design mind behind some of the world's most exquisite hotel properties, including the famed Grand Hotel on Mackinac Island. If you're not familiar with his work, Varney is kind of the godfather of fun, funky, eclectic cottage style and his designs always include bright colors, floral patterns, and bold contrasts while rejecting anything that's impractical, uncomfortable or uninviting. Dreamy!

The heated marble floors in all of the guest room bathrooms. A small but extremely impactful detail that ranks high up on my list of favorite things about any hotel, ever. Also especially lovely throughout the winter months.

The private beach and dock access with lounge chairs in abundance perfect for relaxing reading sessions, tranquil sunset watching or just cozying up with the ones you love for a little bit of sand and sunshine.

The private patio access with rockers in the 6 ground level lakeside rooms and the private balcony access with comfy Adirondacks in the rest of the 26 rooms. If there's one thing I really appreciate about a hotel with any kind of view, it's the forethought to include well-appointed patios or balconies in every room so you can properly enjoy said view throughout your stay, morning, noon or night.

The pair of plush, cozy bathrobes perfect for sunrise snuggles and coffee sipping on the balcony. These robes aren't of the "good" variety, they're great.

Access to all the watersports your heart can handle at Tommy's Watersports adjacent to the hotel. What would a lakeside retreat be without easy access to a boat, kayak and paddle board rentals? Or even better, go big and take a wakeboarding/wakesurfing lesson with the Tommy's staff and have the time of your life.

The comfiest bed and bed linens, with a fluffy down comforter, cozy quilt for extra layering and cloud-like down pillows that promote deep, rejuvenating sleep. I'm completely unashamed to say that I'm extremely judgmental when it comes to hotel beds, and the king bed in our room rivals the best I've slept in, including the famously heavenly Miraval bed.

A we always appreciate a 24-hour, first-floor fitness center with state-of-the-art equipment, though you may not need it with the abundance of outdoor activity you're bound to get into. Nevertheless, it's there should you need it and we love that.
Other Activities, Adventures & Amenities to Love in Close Proximity to Hotel Walloon
The charming coffee and pastry shop, ice cream/sweets shack, and antiques cottage that all sit right across the street from the hotel and are all worth a visit. Or two. Or ten, where ice cream's concerned.

The super fun shuffleboard courts also conveniently located right across the street from the hotel. It's even more fun than it sounds!

The old village general store that's a long-standing Walloon staple and serves up some ridiculously tasty and iconic sammys in back. Don't be deterred by its lack of polish – that's exactly what makes it awesome.

All of the adorable pop-up shops that open up for summer across the street from the hotel and even come back to life for a fun Christmas market in the winter.

The hotel also has a separate event venue across the street, The Talcott, that can accommodate weddings and other special events for up to 240 guests with a fireside, twinkle light-draped patio nestled right inside the middle of the village. They also offer several other completely dreamy wedding options if its the perfect Northern Michigan wedding setting you seek.

The hotel is 15 minutes south of one of the most charming small towns in all of Northern Michigan, Petoskey, and just a short drive from three other equally adorable little towns, Charlevoix, Boyne City and Harbor Springs.
And that doesn't even begin to scratch the surface on the almost endless list of activities that make this part of country so special and Hotel Walloon such a one-of-a-kind gem. Up North fun will wind you in any season, and because I know a lot of you might be understandably unfamiliar what that looks like, I thought it would be fun break down the rest of the list by season, giving you a glimpse inside what kind of fresh air, fresh water, fresh powder fun you can get into to when you visit Hotel Walloon in all four of Michigan's fabulous seasons. Hey, I'm nothing if not thorough!
And just as a quick note, keep in mind that we visited in the spring, so in these snaps the grounds and the lake look a little bit different than they do in the dead of summer when the flowers are in full bloom, blanketing the entire property in color and the landscape's just generally more green and lush. To see what Hotel Walloon looks like in the heat of summer, hop on over and check out our wedding feature on StyleMePretty which has tons of snaps in and around the hotel on our summer wedding day (we stayed there with our bridal party the night before our wedding and through the rest of our wedding weekend). That said, I think spring might actually my favorite time of year in Michigan. You get these crisp, cozy mornings and evenings with these brilliant sunrises and sunsets, refreshing, soothing spring rain storms that cast the most magical spell outside your window, and new life is popping up everywhere, from the fluffy little goslings waddling in formation behind mom to the vibrant green buds popping up on the tree branches to the blossoms trying to make their way in the world. The atmosphere created by everything waking up and coming back to life after a long winter is nothing short of spectacular.
Spring
If you visit in spring you should know that there's one thing that everyone, and I do mean everyone, will be talking about – Morel Mushroom season! Join in the fun and hunt the infamous Morel, or celebrate at the Mushroom Festival hosted by Boyne City. Or take a pretty spring walk/hike to see the world around Walloon and Northern Michigan coming to life after the long winter. The North Country Trail, Wildwood Harbor Preserve and North Shore preserve all wind their way through Northern Michigan and around Walloon Lake. While you're walking watch for Michigan's famous wild Trilliums and Forget Me Nots as they bloom and recover from the cold. Or if it's adventure you seek, zip line at Boyne Mountain, Boyne Highlands or at Wildwood Rush in Boyne City. You can also do like Chris and take part in the exceptional spring fishing – there just so happens to be several rivers that surround Hotel Walloon, or you can grab a guide at Boyne Outfitters and let them show you the way, which is a seriously incredible experience unlike any other. But don't forget that that perch, bass, walleye and pike are plentiful right outside Hotel Walloon's doors in Walloon Lake, too!
Summer
As you might imagine summer, some may argue, is when Northern Michigan and Walloon Lake shine brightest, and endless possibilities for outdoor activity of all kinds abound. Walloon is an idyllic destination for boating, swimming, hiking, fishing, sailing, kayaking, paddle boarding and more, and as I mentioned you can conveniently rent a boat, kayak, paddle board or take a wakeboarding lesson just steps from the hotel at Tommy's Watersports. This is also the perfect season to call Ethan over at Boyne Outfitters and book your unforgettable fly fishing excursion – they'll set you up for success no matter your skill level, take you back into some of the most stunning private lands in the region that you otherwise wouldn't be able to see and whip you up a delicious dinner riverside before finishing out the evening with some of the most brilliant dark-sky stargazing you'll ever see. If golf's your flavor (as you guys can imagine this is one of Chris's favorite things about visiting this region in the summer) Hotel Walloon is in close proximity to some of the best golfing in the nation. True North in Harbor Springs, Crooked Tree in Petoskey, Boyne Resorts and Bay Harbor are just a few of the options for golf in the area with a seriously spectacular setting. Also not to be missed in the summer is the famous Mackinac Island, which is a scenic one hour drive and beautiful ferry ride from Hotel Walloon that offers world famous fudge, taffy, cherries, sightseeing and old world charm galore! Other notable, not-to-be-missed quick car rides or day trips from Hotel Walloon include Sleeping Bear Dunes (if you haven't seen what this looks like, get thee to Google ASAP and feast your eyes on one of Michigan's most majestic wonders), Traverse City, Old Mission Peninsula, Leelanau, Beaver Island and Drummond Island. If it's sweet sips you seek, you'll love visiting the abundance of wineries in the area (the region does sit on 45th parallel, after all), including Walloon Lake Winery (our personal favorite), Mackinaw Trail Winery and Brewery, Petoskey Farms Vineyard and Winery, Resort Pike Cidery and Winery, and Maple Moon Sugarbush and Winery. And some really special summer fun abounds right in Hotel Walloon's backyard too, like movies under the stars in Village Green Park and the most incredible 4th of July fireworks show you've ever seen that you can watch right from the hotel's patio or beach, or even better, from a boat out on the lake if you find some friends!
Fall
Catching the colors in Northern Michigan is one of the most impressive, spectacular fall sightseeing shows around. Of course everyone typically recommends the same list of quaint little East Coast towns to spot fall colors and take in the fall feels, and although there are some truly beautiful East Coast spots to visit throughout the fall, we think that the best of the best of fall getaways lies right here. And there's no more perfect (or perfectly located) place to serve as your fall color tour home base than Hotel Walloon. Take a scenic drive through the famous M-119 "Tunnel of Trees" that passes through Harbor Springs and Good Hart, ending in Cross Village, home to the million dollar sunsets overlooking Lake Michigan. Or, located just south of Hotel Walloon, the Jordan River Valley presents a magnificent display of fall colors at their finest. The hotel is located just a short distance from Bill's Farm Market in Petoskey, Friske Orchards in Atwood, Lavender Hill Farms in Horton Bay and Pond Hill Farms in Harbor Springs where you can take a deep dive into all of the fall traditions that the Midwest does so well like corn mazes, fresh apple cider, homemade donuts, hayrides, pumpkin patches and more. Another awesome way to catch the fall color show? Take a scenic chairlift ride up the hill at Boyne Highlands or Nub's Nob where stunning views of Little Traverse Bay await you at the top. Of course, fall is another perfect time cozy up and to visit the local wineries mentioned above!
Winter
Hotel Walloon just so happens to sit smack dab in the center between of Michigan's best skiing and snowboarding spots – Boyne Mountain, Boyne Highlands and Nub's Nob, with a total of 168 epic runs between them with a whole lot of fresh "pow" to be enjoyed. In the winter in Northern Michigan it snows…. a lot, which makes for some pretty fun days on the hill! The Village of Walloon also turns into a Hallmark-worthy winter wonderland during the snow-covered months, boasting the most beautiful Christmas lights covering the hotel and beyond, an ice skating rink right in the middle of the village overlooking the lake, snowshoeing trails all around, snowmobiling adventures and ice fishing out on the lake if the conditions allow it. Sure Colorado's cool, but I still think there's no more beautiful place in the winter with more fun, unique winter activity at your disposal than Northern Michigan!
Ok listen, millennial friends, here's the tea. I know that there are plenty of Instagrammable, en vogue travel destinations that are certainly worthy of those precious vacation days and hard earned dollars that could otherwise be allocated to the avocado toast fund (No shade. Avos are life.). Positano, Tulum, Charleston, Palm Springs, basically any Greek island, Vermont during the Fall frenzy and Iceland, to name just a few. But hear me when I say that this place, this hotel and the relatively untouched region that surrounds it rivals them all, and offers even more opportunity for discovery. Genuine, uncontrived, unadulterated discovery that makes every adventure, every place, every sight, every sound, every moment feel so intimate, like it's the first time anyone's seen it, done it, heard it, lived it. And it will all make you wonder, even if only for a moment, why anyone would want to live anywhere else. As in, that's a real conversation we had on the plane ride home after this visit. Drunk on discovery, dizzy in bliss, high on fresh air and fresh water and completely under the hotel's spell, we existed in a sweet haze throughout the entire flight, running through all of the plausible scenarios in which we could convince Hotel Walloon to let us take up permanent residence.
Shop Her Summer Travel Outfits
Shop His Summer Travel Outfits
Thank you so much to Hotel Walloon, a hotel and brand we absolutely love, for hosting our stay on the property. As is always the case with partnerships featured here on the blog, all opinions are our own.