Well guys, it has been a wild couple of weeks over in our house, pun totally intended, so what better way to settle back into life at home and a slower pace than to reflect and recap all the things we've learned as the last few weeks as we've traveled, mingled and taken in the sights and sounds of the world?! We're learning things, friends and we're just here to share them all with you so you know what the world is wearing as we head into, I can't believe I'm saying it, SUMMER!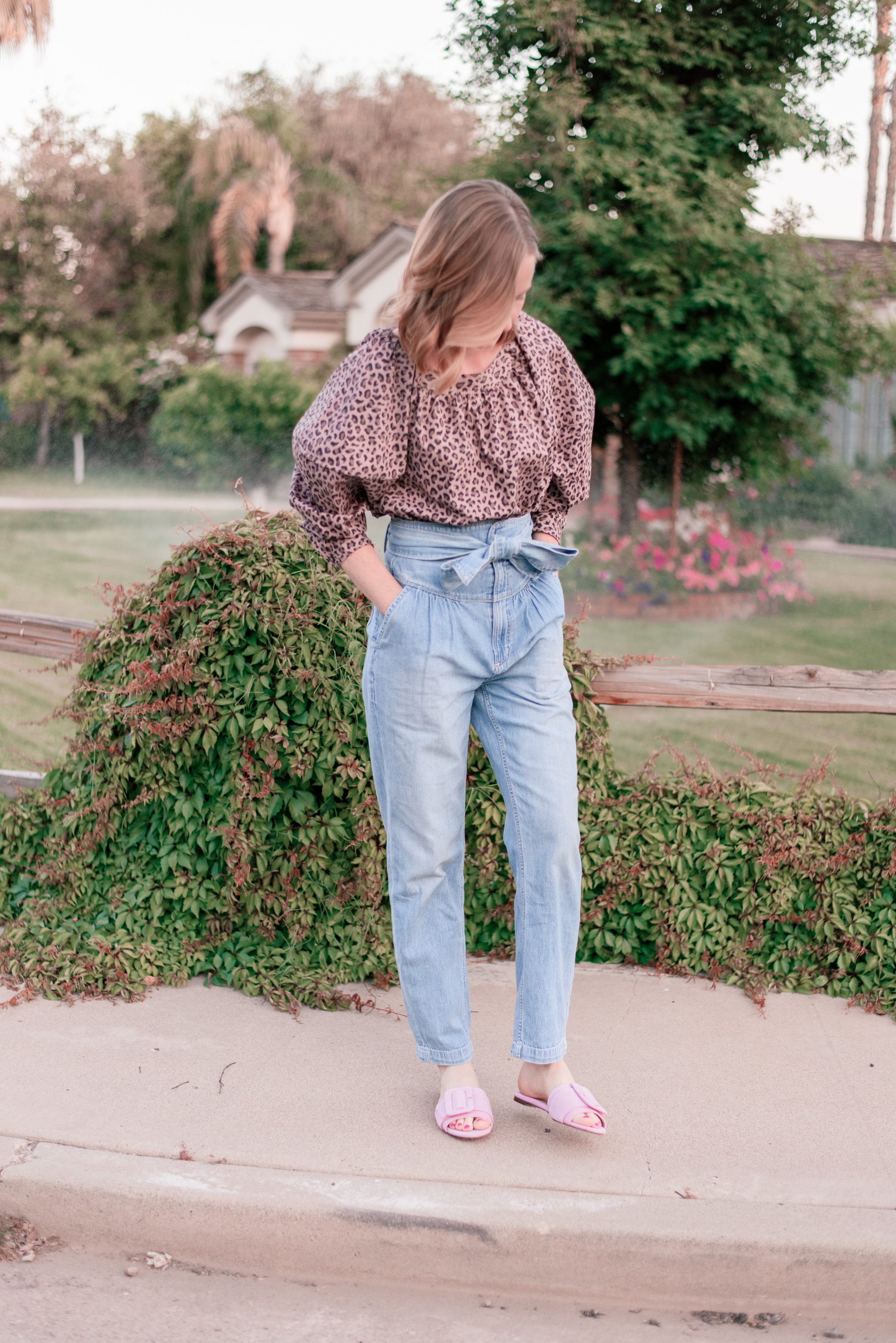 First thing? The ladies are loving leopard. Leopard never left my wardrobe so now I'm wondering if it wasn't cool this entire time and I looked like an idiot (I mean c'mon, leopard's a neutral, right?!), but nevertheless it feels like ladies are falling in love with leopard all over again and naturally, I'm 100% here for it. And those dudes. Those dudes! On the guy style front I've seen Guayabera shirts and other throwback boxy cuts making a total comeback, retro logos galore, funky mixing of prints, plaid pants and teeny-tiny prints like florals and more all over shirts! Just over keepin' the flair alive, guys and I like it!!
On Her: La Vie Rebecca Taylor Top (more sizes here), Rebecca Taylor Jeans (also here), BaubleBar Earrings, J.Crew Sandals
On Him: Rip Curl Shirt (C picked this up in a Rip Curl store in California & I can't find it online anywhere. Super similar one here though), Levi's Jeans, Ted Baker Sneakers (sold out, similar here, here & here)
Shop Women's Leopard Print
Shop Men's Floral Print Shirts
Today I'm trying something a little bit different with this post as a result of a little poll I did on my Instagram Stories asking if you guys prefer more commentary or less within style or outfit-focused posts here on the blog. Turns out, my hunch was right and you guys just need the pics, a little bit of helpful sizing/fit info and links links links! We always want to tailor our content here on the blog to exactly what you guys need and want, so the feedback you give either her in the comments or on Insta is always so helpful and appreciated more than you know. So don't ever be shy – we're here for you guys, so your wish is our command!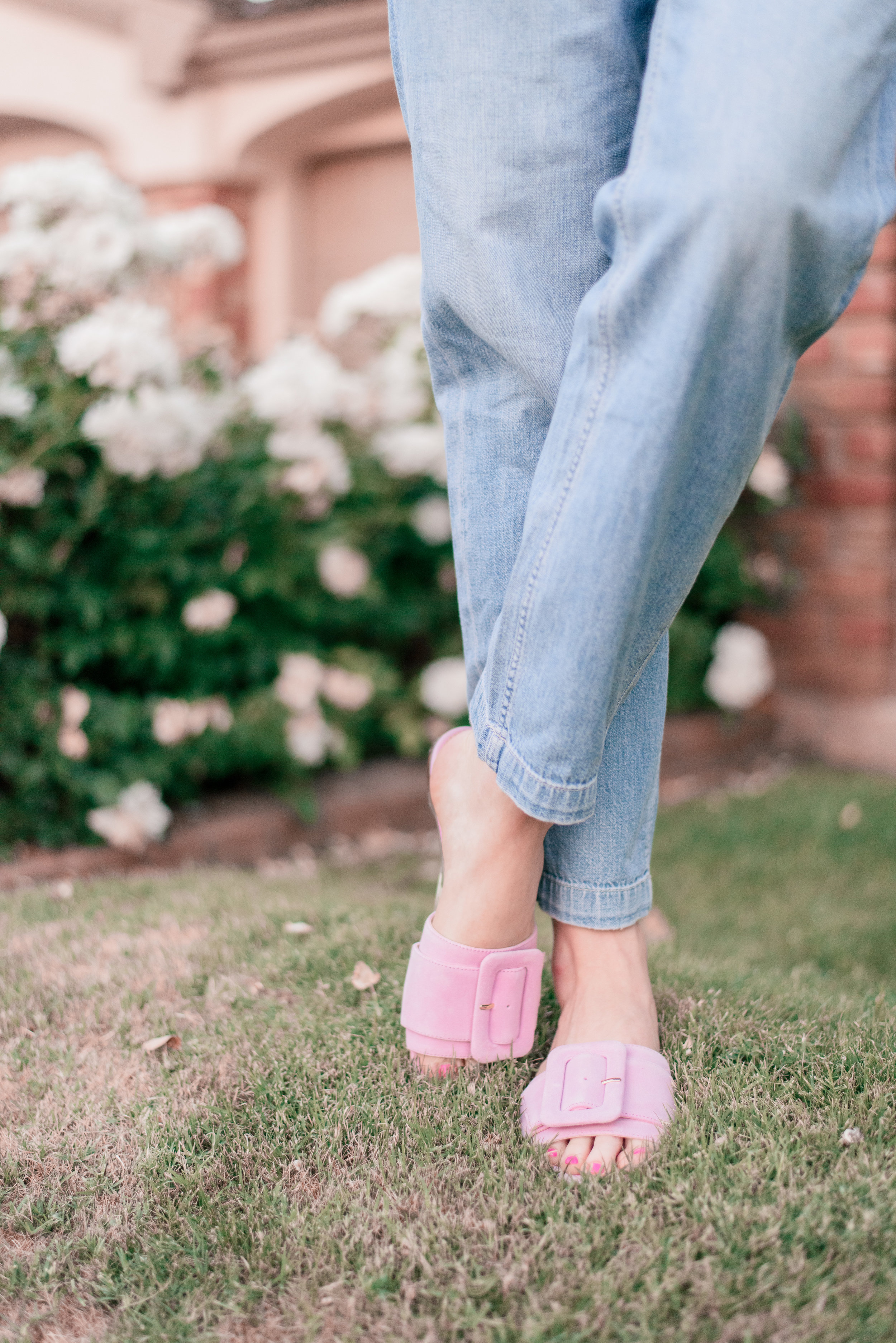 And with that, I'll say that this particular leopard top has been one of my favorite purchases from spring – it's in heavy rotation in my wardrobe right now for many reasons. I know the sleeves look like they could be aggressively puffy, but I've actually found that I really enjoy the look when I cinch the cuff of the sleeves up to me elbows and wear them that way. It doesn't feel aggressively puffy at all… at least not to me. The cotton is really soft and super breathable so it's perfect for summer and it washes like a champ – no ironing or fussing necessary, but I do wash it on cold and hang dry it just to be safe. I wear an XS in most tops, but grabbed a Small in this and I prefer the fit – not too big at all, but not super fitted, which feels perfect for this top. I wear it tucked into jeans right now, but the hem is totally long enough to wear sans tuck with shorts for summer.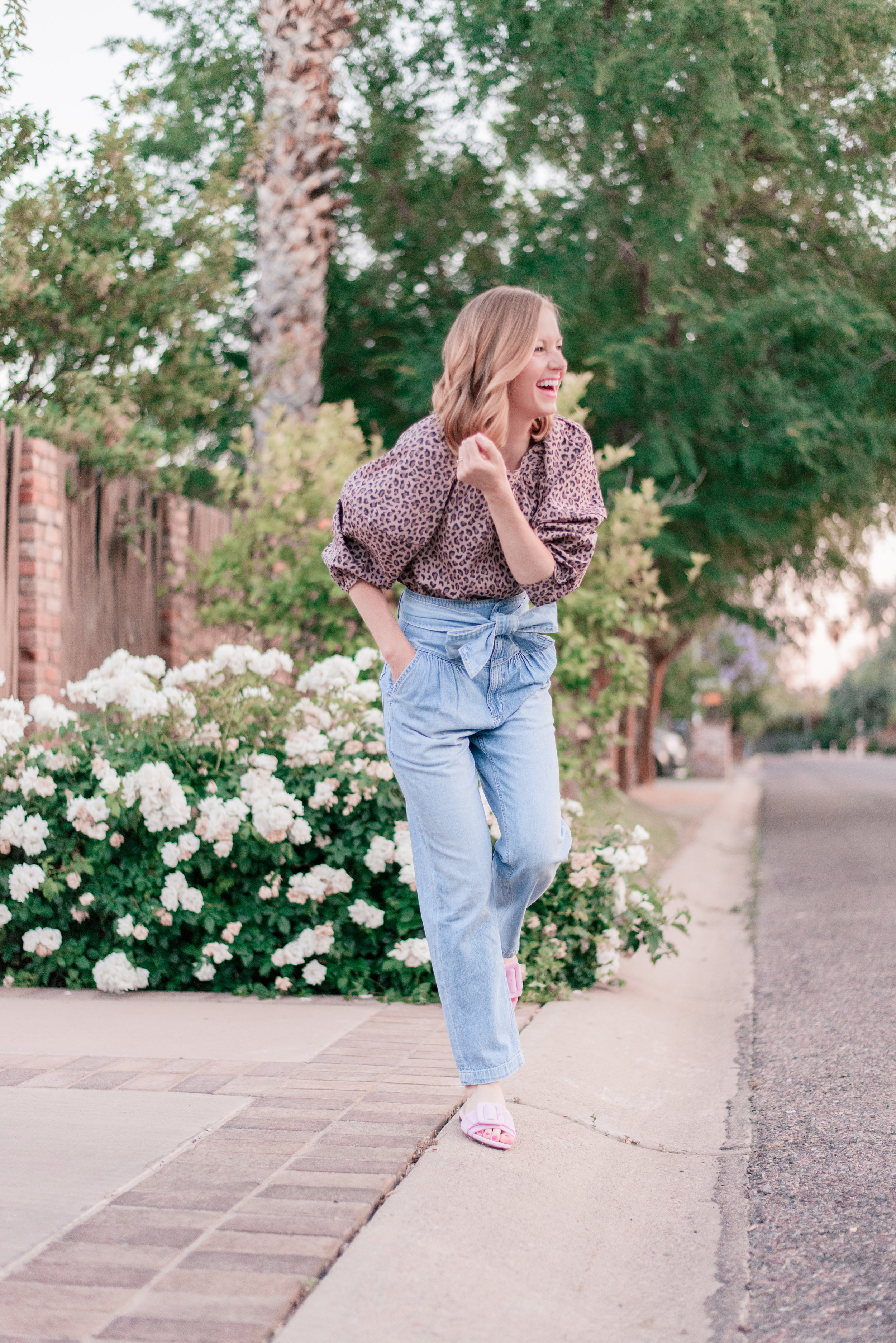 Because of its resurgence in popularity, there are so many leopard pieces out there to love right now, so I rounded up my favorites in the shop widgets above and below. Seriously… it's a lot. How much leopard is too much leopard? Kidding that's a trick question. All the leopard, all the time. Some of my favorites of the leopard favorites include this easy, breezy dress (would look so cute belted), these subtle, classic sneakers, these perfect sandals, this adorable and affordable linen blazer, these sweet bow espadrille sandals and this fun, under-$50 shirt dress (also comes in plus, petite and tall).
As for Chris, dude loves a shirt with some funk, from Reyn Spooner to Rip Curl's fun teeny tiny prints, he's all about it 'bout it. And I feel like the tiny print's rise in guy style popularity has given way for the look to transition from weekend wear and sort of campy college dude wear to full blown acceptable adult work and wedding wear. Seriously. I will say, though that I don't think a teeny tiny print, like a floral print, is universally cool in any cut of men's shirt. In the wrong cut, like certain long sleeve options, it can go from fun to slightly… lame?… really quickly. Most of the short sleeve shirt options are totally acceptable, though in my humble opinion and hey, they're perfect for summer! But in general, Chris wanted me to give all you dudes out there license to throw off the bow lines, sail away from the safe harbor, go full Peter Gibbons and show up to work in a fun tiny print just because you can. Or maybe you can't, but let's be honest, if your workplace is that boring and lame, it doesn't deserve your swag.
His favorite short sleeve shirts for summer with fun, funky, teeny tiny prints? He says he really enjoys this one, this one and this one, and this one in particular. But there are more of his floral and other tiny print favorites to shop in the "Shop" widgets above and below, so make sure you scroll through to see more.
Shop Women's Leopard Print
Shop Men's Floral Print Shirts
Ok guys that's it. I say no more. Post over. Informative, useful commentary and accompanying outfit photos complete. Don't forget to drop us comments, though. Those are good. We all welcome that kind of extra commentary. Cheers!