The 4th of July celebrations may be behind us, but that doesn't mean that the summer lovin' has to come to an end! The 4th in Northern Michigan is always one of the highlights of our summer activities and this year didn't disappoint, aside from the fact that the entire family was majorly missing our water sports fearless leader Chris! The entire family was so sad that Chris had to work through the 4th back in Arizona (that's one hard workin' man right there!), but we tried to represent the lake life as best we could in his absence. Wake surfing, wakeboarding, water skiing, tubing, fly fishing… we did it all!
And a major side note today just in case you don't follow us on social media (WHY AREN'T YOU?! Follow along on Instagram HERE), it's Mr. Chris Carter's birthday today! I'm so sad that I'm not home to celebrate with my love on his special day, but I set up a slew of fun birthday week surprises for him to uncover while I'm away that should tide him over until I get back. So if you see Chris today or get a chance to hop onto Facebook or Instagram, make sure to send some birthday love his way!
Shop The Post & More Summer Whites
We got pretty lucky with the weather this week in Northern Michigan and after enduring a couple of days of rain over the weekend before the 4th, we've since had some truly beautiful, sunny Walloon Lake days to enjoy. Life doesn't get much better than that. And because the summer isn't over yet, I'm embracing the chance to wear an all white getup while I still can and there's no better place to wear your whites than around the lake. This is on the lawn at our lake house and I absolutely love all of the flowers and greenery that my mom has planted around the yard so perfectly, making everything blend seamlessly into the lush surroundings.
Of course I couldn't rock a neutral, monochromatic look without adding an itty bitty pop of color and these perfectly pink, suede Ann Taylor slides just may be my favorite shoes in my arsenal right now! They're not only such a fun, rich pink hue, but they're also extremely comfortable. Which is a requirement in any summer sandal that I wear – they've got to be easy to throw on (check) and painless to wear (check check), which these babies definitely are. What's more, right now this particular color in Ann Taylor's 'Gretel' sandal is under $40 with the extra discount that's applied at checkout – score! You can also score 40% off of tops right now at Ann Taylor with code WEARNOW, so this fun, white bow shoulder poplin top I'm wearing here is also currently under $40! Speaking of sales, the Madewell clutch that I have here and that I've been carrying nonstop this summer is also on sale for under $20.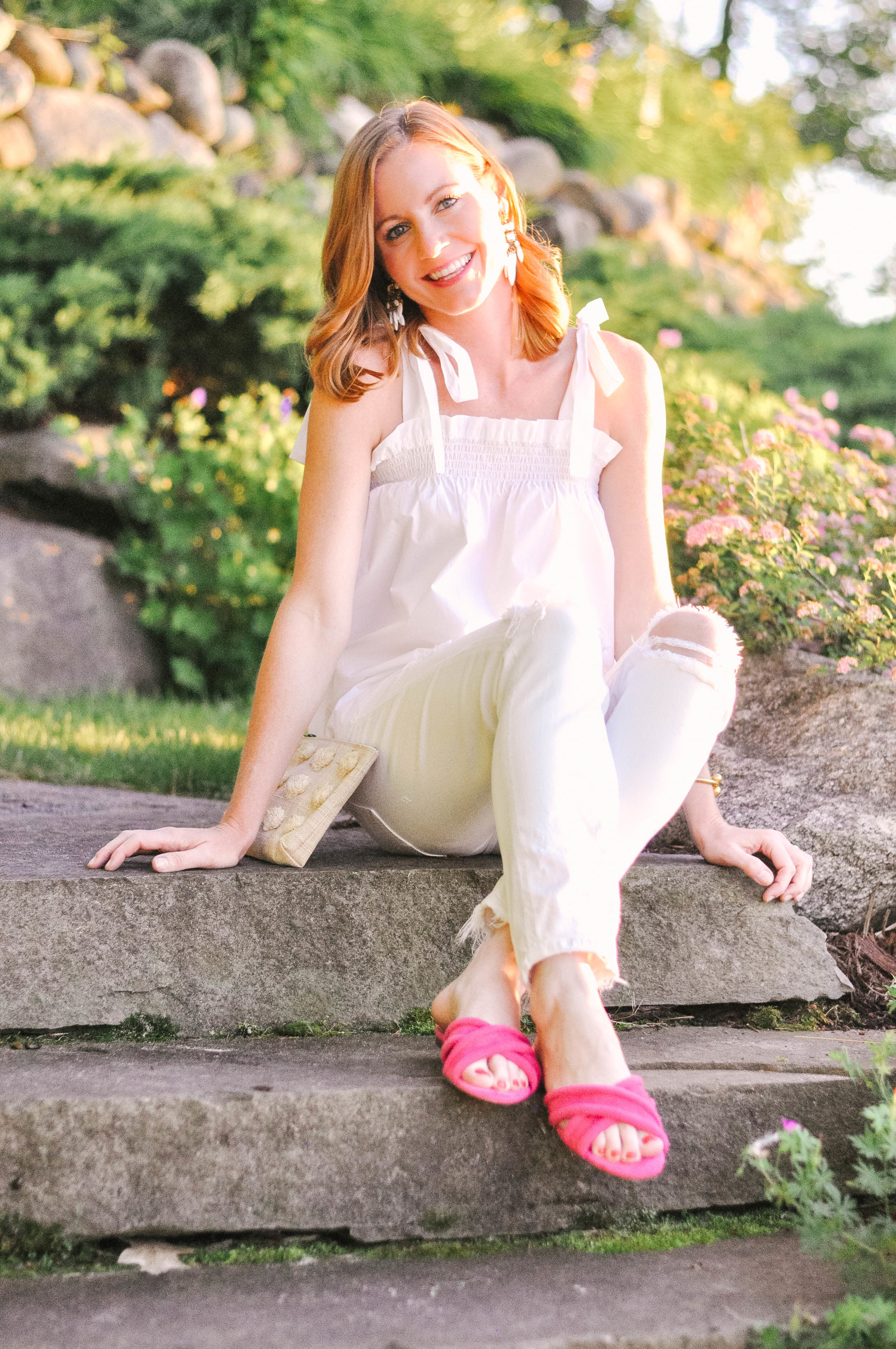 I love wearing white in general throughout the summer, even if it's not an all-white look and just involves one perfectly light, white piece. And right now there are so many pretty white, summery items out there that I've been coveting, so I thought I'd round up my favorite white pieces from around the web in the widget above and below, from tops to pants to dresses, that you can shop right now! So many summer items go on sale after the 4th, so there are lots of sale items sprinkled throughout the roundup, too.
I hope that everyone had the most memorable and relaxing holiday celebrating and enjoying this beautiful country of ours with the one you love, and a huge Happy Birthday to the love of my life – Hamlet and I will work extra hard to ensure that 32 is your very best year yet!
Shop The Post & More Summer Whites