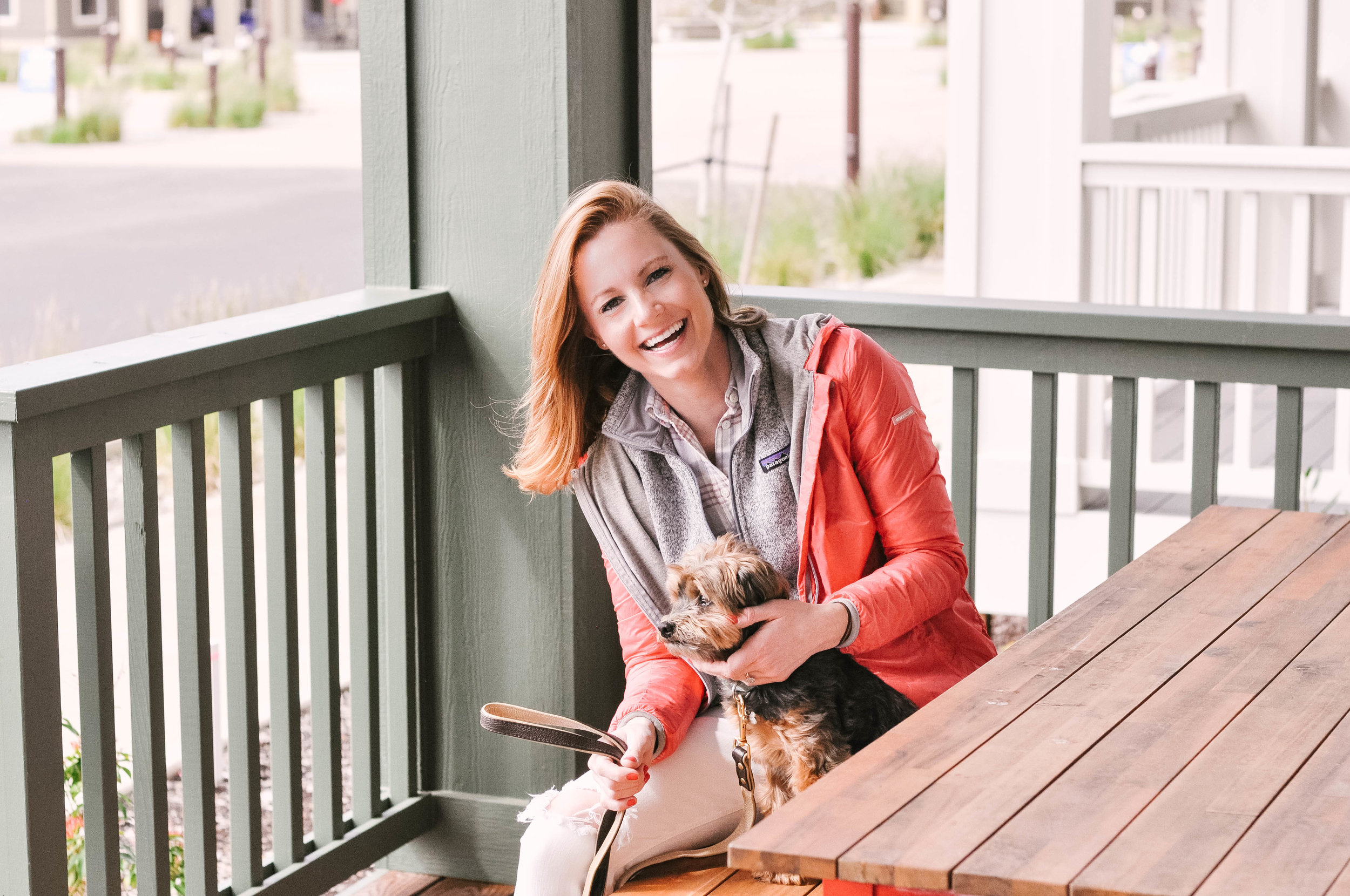 After getting really sentimental about our pup Hamlet and talking about cryogenically freezing him (totally happened) in Part One of our epic Washington Travel Guide, we'll spare you the tears in this post and solely focus on our second day of adventures in the beautiful Pacific Northwest! Because it was incredible, and there was a cottage and beaches and eagles and Hamlet and crab pincers and just. so. many. things to tell you about. And so the storytelling continues…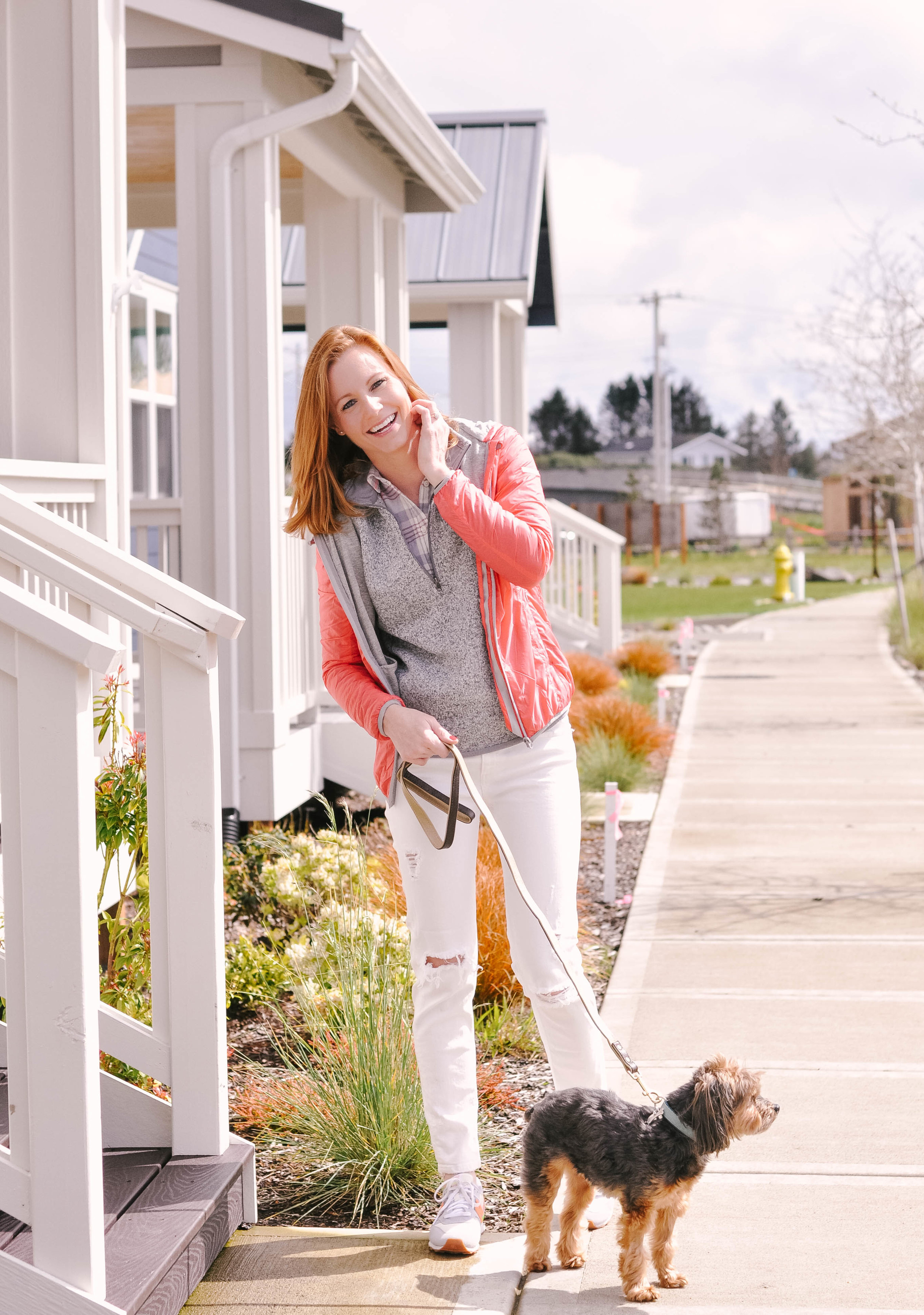 After the first 36 hours of our PNW adventures, we arrived to our pet-friendly seaside cottage rental in Ocean Shores, WA pretty late at night and ready for our heads to hit the pillow and recharge for another day of exploring. Luckily, the minute we stepped foot (and paws) inside our rental, we it totally felt like "home". Our cottage wasn't only so charming on the outside, the interior was completely gorgeous from head to toe and included every single luxury amenity that we could have imagined – a big, brand new, fully stocked kitchen with anything we'd need to cook an amazing meal, a beautiful master bedroom with one of the comfiest beds we've ever slept in with an en-suite master bathroom, a comfy, cozy living room with a fireplace that Hamlet couldn't wait to curl up and dry off in front of after our rainy day in the great outdoors, a super cute and most importantly covered wrap-around porch with a sweet little picnic table on it, and a ton of warm wood and coastal decor touches sprinkled throughout the cottage that gave us all of those seaside vibes for our stay at the shore.
And for those of you who have yet to read Part One of our Washington Travel Guide, we were so lucky to partner with Glamping Hub's sister site Glamping with Pets on this trip to find the perfect, pet-friendly, luxurious, nature-based rental and as you can see, the cottage we landed couldn't have been a better fit as a home base for our Washington travels. But not only does Glamping with Pets help all of us adventurers easily navigate the often murky waters of finding pet-friendly rentals so we can bring our adventure-loving pups along for the ride, their love for the four-legged friend runs as deep as ours does.
Along with highlighting the importance of animal shelters by regularly partnering with organizations like Barks of Love on their site (and featuring some of the most adorable pups looking for their forever home), they're now getting even more awesome by introducing their Happy Tails Program, an amazing initiative which aims to support local animal shelters through donations. In conjunction with the start of the initiative, Glamping with Pets is highlighting the importance of International Homeless Animals Day (which is on August 19, 2017) and for every guest that books a getaway on their pet-friendly booking portal between now and August 19, Glamping with Pets will use a portion of the proceeds to donate to a local animal shelter of the guest's choice in their name. Pretty "paw"-inspiring, aren't they (just had to slip that pun in there)? You now see why we're absolutely in love with these guys. And now you have about 75 reasons to go book your sweet rental, grab your pup and get out there and explore ASAP!
But back to the adventures…
The next morning we woke up relatively early, brewed some strong coffee to jump start our day and made a delicious power-up breakfast in the kitchen with some items we stopped and grabbed at the grocery store down the road on our way into town the night before. Side note – we were absolutely starving when we arrived really late at night in Ocean Shores, but luckily one amazing little roadside joint called Moby Dick's just so happened to be open and they so kindly fired up some fish and chips and burgers for us to chow down on. Shout out to their extremely kind staff – Chris was praising the stellar service in our time of need.
After a peaceful few minutes sipping coffee and eating breakfast on the porch we got a chance to check out the little seaside neighborhood our cottage was in and it was just so cute! It's a relatively new development called Oyhut Bay right on the beach in Ocean Shores, and we can't believe how lucky we got snagging this place. And this cottage isn't alone in its amazingness on the Glamping with Pets site – SO many of the rentals featured are absolutely drool-worthy, and the cottage we chose was just one among many like it all across the globe. Make sure you hop over to Part One because we linked some of our favorite rentals on their site that will definitely be on our list for trips to come!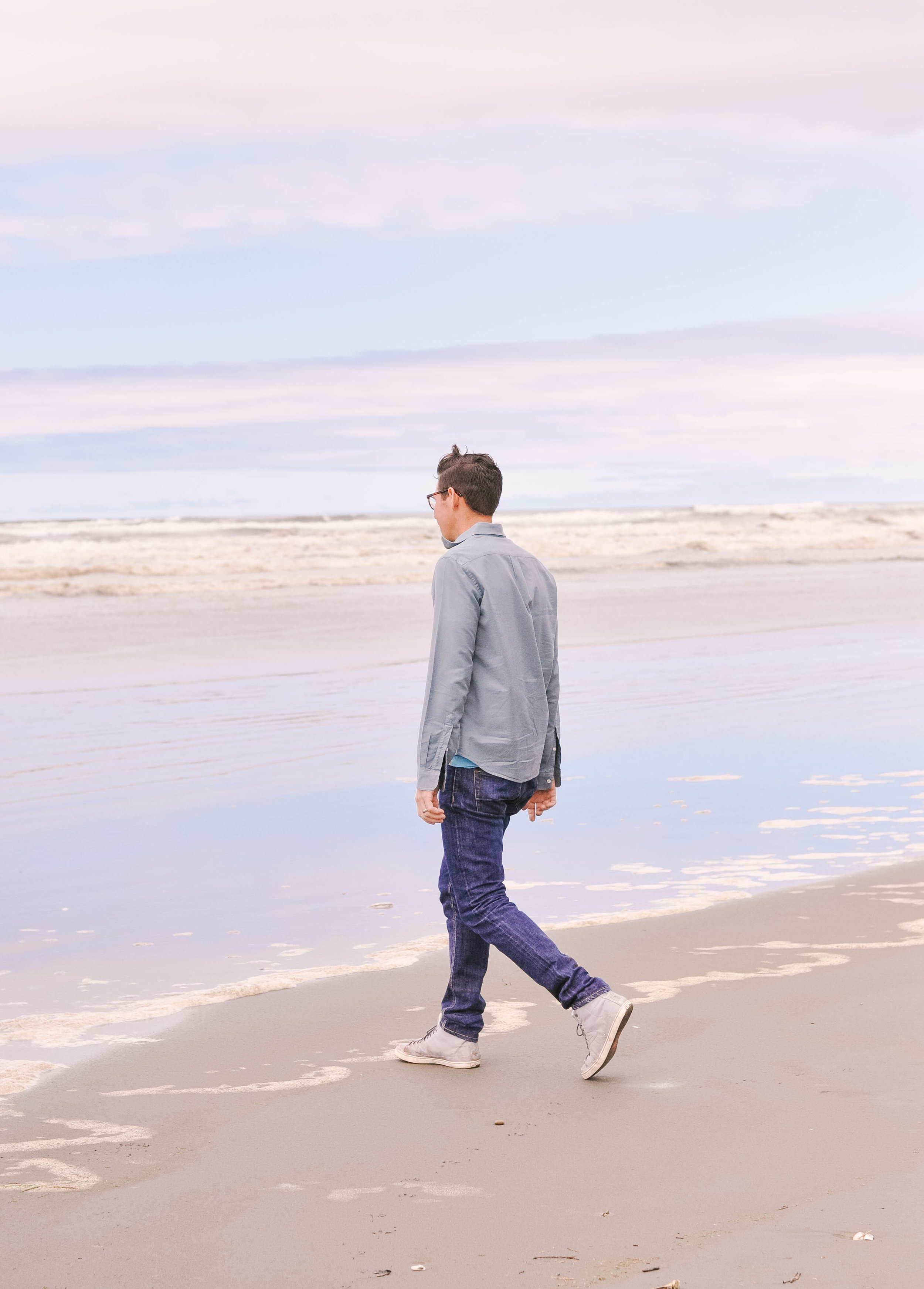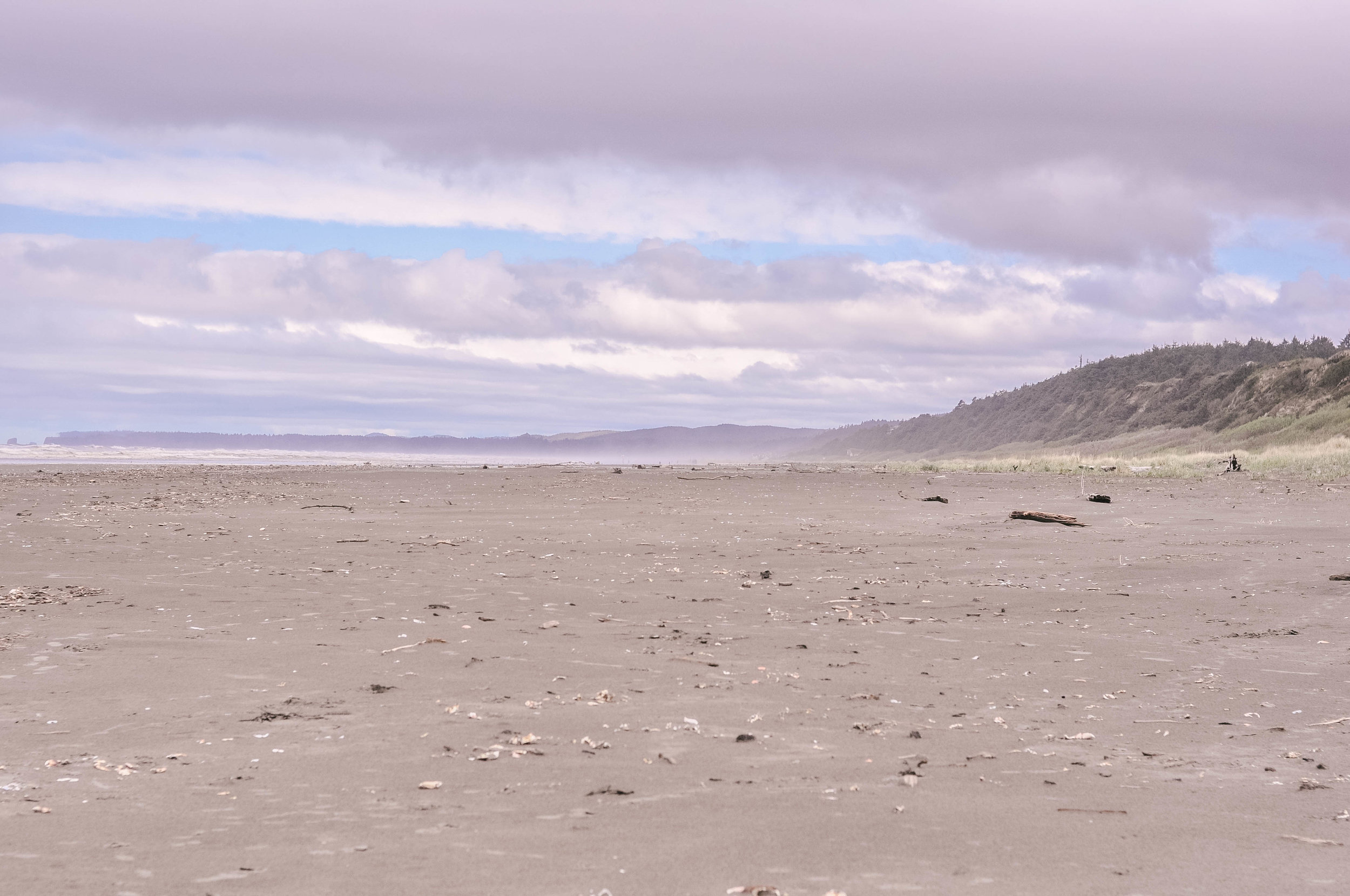 Next it was off to our first stop of the day, Pacific Beach State Park, which was just a short drive north of Ocean Shores. This quiet little beach was eerily enchanting on that slightly rainy and hazy morning, and Hamlet was loving all of the interesting little things he discovered strewn across the beach, i.e. crab shells and pincers that had washed up with the tide. This was also the very first time that Hamlet's paws had touched the ocean (he's only familiar with freshwater lakes), so it was pretty adorable to watch him approach the tide and explore. There is also some pretty stunning shoreline and dunes/cliffs to see in both directions when you're on this beach, and the huge curved point that we could see off in the distance just seven miles north of us lead us to our next destination – Point Grenville.
Point Grenville on the Quinault Indian reservation is one of the most spectacular beaches in Washington and apparently rivals any beach you may see in the entire Pacific Northwest, but because the Quinault tribe does little to promote tourism to this beach, it remains a relatively well-kept secret. I'm sitting here writing this and still so happy that we found this gem! But you must buy a beach pass to visit the beaches of the Quinault Indian Nation – a day pass costs $5 per person or $15 per family and you can also pick up a weekend, weekly or monthly pass at the the tribal administration complex – Building B – in Taholah, WA. But trust us when we say that it's absolutely worth the trouble and the cash.
When we pulled up to Point Grenville there was no one else in sight, and very little signage, but we were there mid-morning on a Monday. And to say that this place is a spectacular sight doesn't even close to do it justice, and I could never do as eloquent a job describing its majestic qualities as THIS guy on TripAdvisor does. He calls it "The Most Beautiful Place You Never Heard Of" and as you can see form our pics, that's a spot-on description. But read the rest of his well-written rundown on this beach because it's fantastic.
While we walked the beach with Hamlet, there were two huge bald eagles circling above us that then landed on two nearby trees. and I'm so glad that Chris noticed them relatively quickly because those beautiful birds looked like they wanted a Yorkie Poo sandwich for lunch, and Hamlet just wasn't feelin' that. But they were a pretty incredible thing to see above us, and apparently bald eagles frequent this beach, as can be seen in THIS video we found on Facebook.
After our epic stop at Point Grenville, it was time for us to make our way south again and back to the airport for our flight later that day. But on our way down the coast we stopped for lunch in a quaint little seaside development called Seabrook that has an abundance of adorable coastal cottages to see, and enjoyed two delicious ham and cheese croissants at the Red Velvet Bakery By The Sea paired with both a mango and peach smoothie that were both extremely tasty. This little town reminded me so much of the towns and villages sprinkled throughout the great "Up North" in Michigan, so we felt right at home there and got to drive around the neighborhoods a bit and check out all of the gorgeous and totally unique seaside homes.
And then it was just a somewhat short drive back through the quirky town of Aberdeen (which Chris is still so fascinated by – the Kurt Cobain love runs deep with that one), over to Olympia and finally up to the airport to catch our flight back to the desert!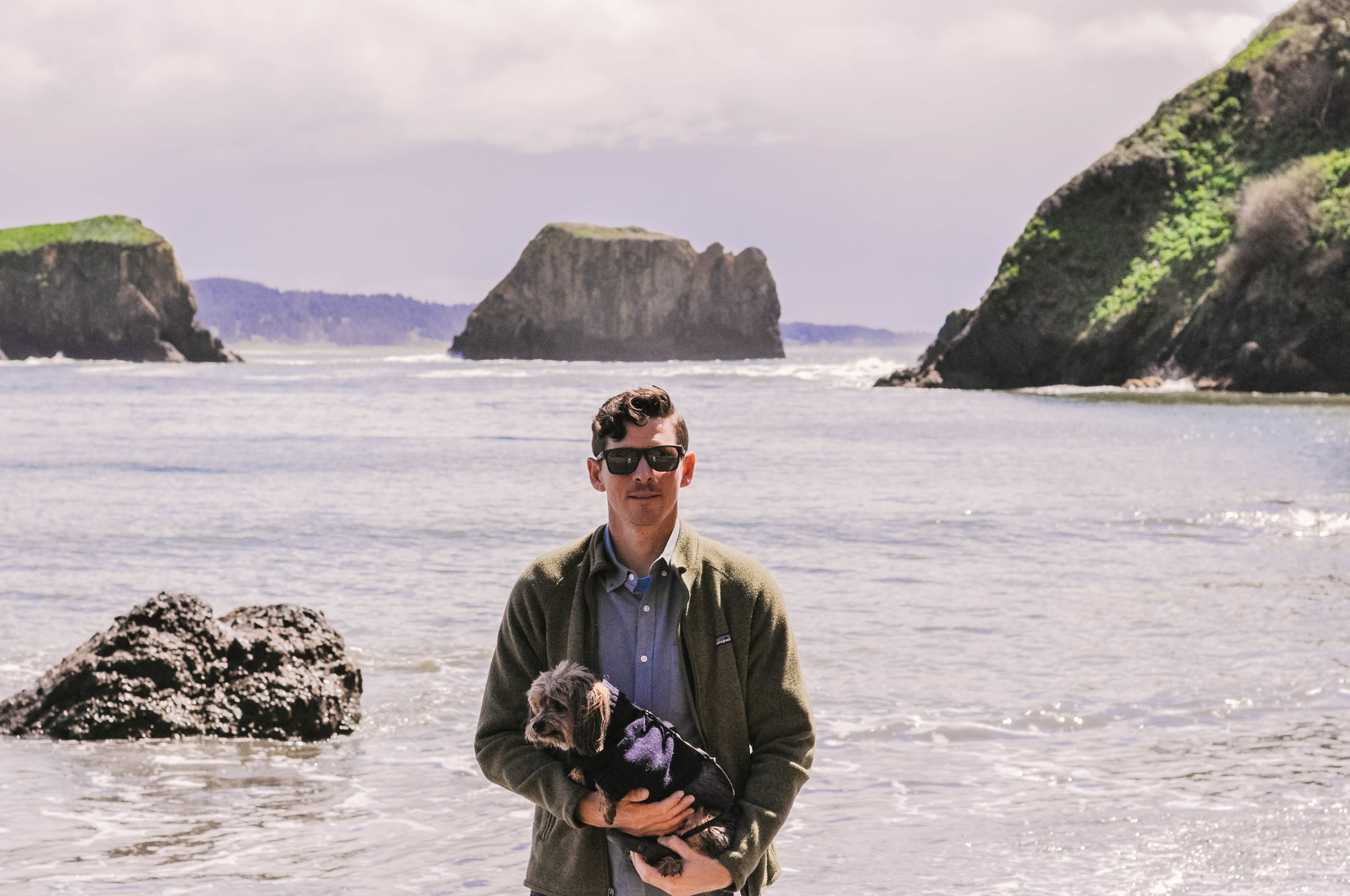 Is anyone else exhausted just reading that?! I still can't believe just how many sights and stops we packed into just a few short days in Washington. But truly, we enjoyed every single second of our getaway with each other and with Hamlet. We couldn't have picked a more perfect part of the country to explore and enjoy for a few days in the great outdoors with our pup this spring, and are so grateful to Glamping with Pets for helping us create these incredible memories together that we'll cherish always.
And just like Part One, We thought it would be fun to show you our path from our second day and in Washington, so below is a map of our route and if you click on it, you can see each stop and zoom in or out to see each location in context.
This post was created in partnership with Glamping with Pets, a brand we love. All opinions are our own.