Does anyone else feel like they're in love with winter right up until the New Year, and then as soon as the holiday festivities come to an end they're ready for spring to start? This happens to us just about every year, which isn't that convenient before the holidays when you're craving winter weather and live in the desert, but is just about perfect when you feel that warm weather craving creeping in right after the holidays. Hence the reason so many East Coast and Midwest natives flock to Arizona this time of year. The weather in Phoenix is sunny, fairly warm and just about perfect right now, so soaking it in with neighborhood walks and some easy, breezy coat-free wardrobe additions is exactly what the doctor ordered!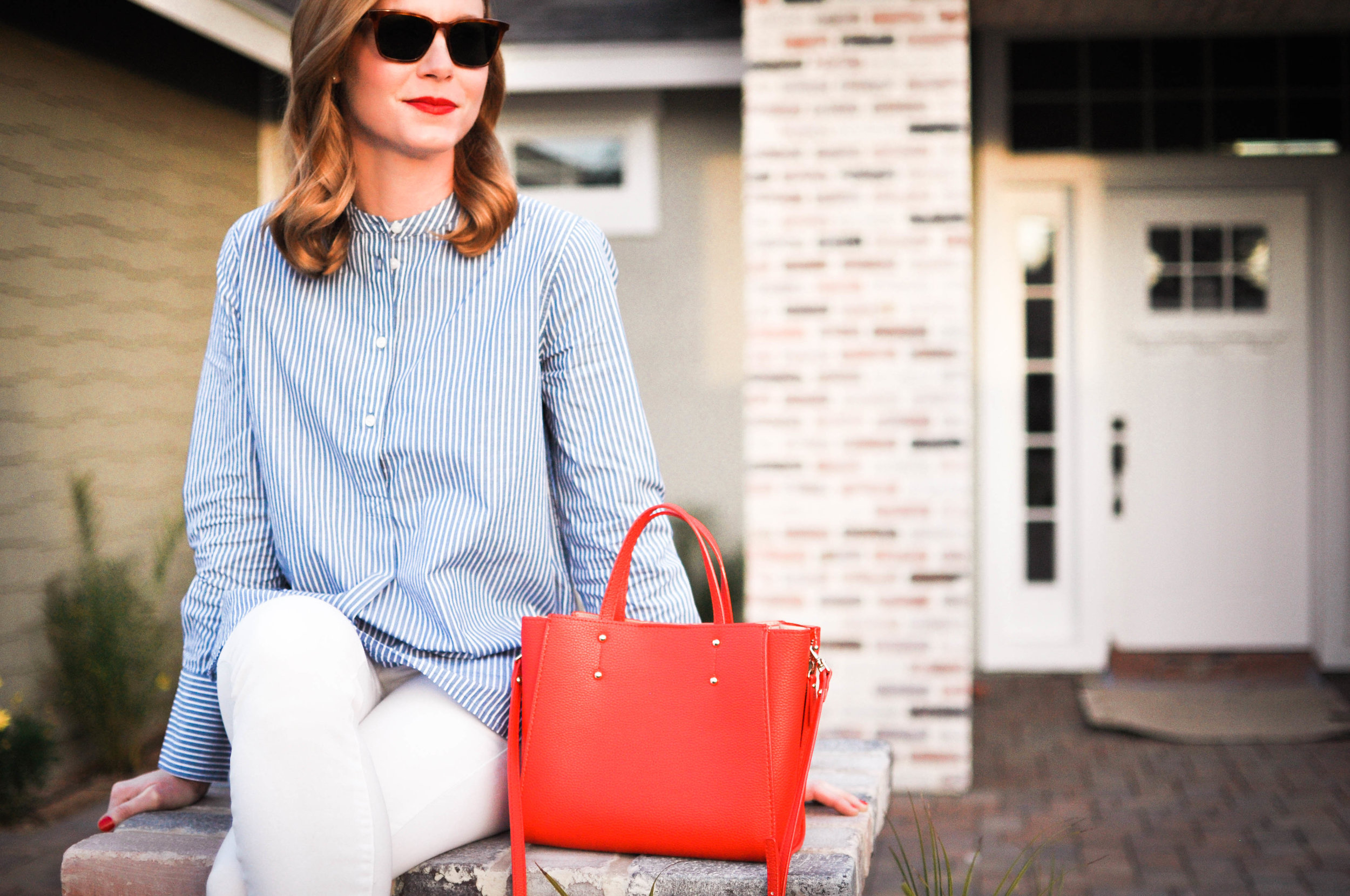 Lately, we've both been really into button-downs that we can dress up or down for work or play, so it seems like we'll be continuing that trend into spring as we try to shed the sweaters and keep as many light layers as possible in rotation. They're a great way to get that polished-casual look we love so much and are pretty easy to transition between seasons. Win!
Madewell and J.Crew have so many great options on the button-down front for her, and J.Crew and East Dane have infinite choices for the guys if you're looking for expert tailoring in a bevy of oh-so-comfy fabrics, like the soft vintage oxford Chris has on here.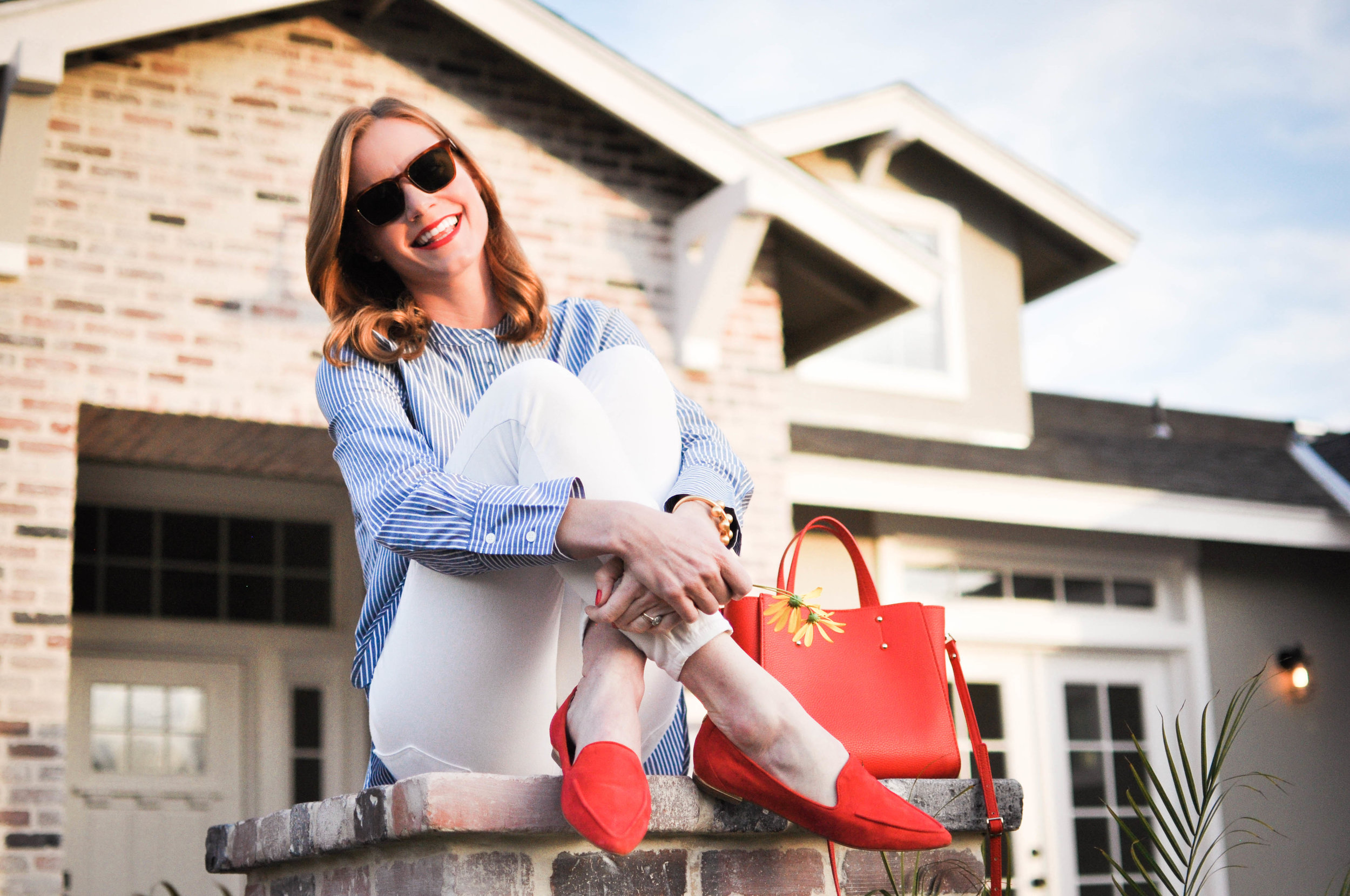 These couple of months in Phoenix offer endless possibilities to spend pretty much every second possible outside for long bike rides, walks around the neighborhood with the pup, patio brunching and coffee-sipping, runs along the canal, citrus-picking in the orchards and so many more things that make this city pretty magical this time of year.
Chris has a pretty crazy and exciting couple of months ahead, starting with the opening of their new restaurant, Mora in at the end of this month (insanely delicious Italian fare, anyone?), so any second we get to spend outside together exploring, adventuring and doing every active thing we love, we'll cherish! And Chris can't wait to give everyone a glimpse inside the ridiculously gorgeous restaurant space and into the out-of-this-world menu chef Scott Conant dreamed up for the exciting new concept. Hamlet has been begging his dad for just one tiny taste of what's to come, but he'll have to be a good dog to wait like everyone else!
We've talked about our favorite things to do and places to sip, snack and grab a cup of coffee on the beautiful patios in our beloved Arcadia neighborhood in Phoenix so many times before here on the blog, specifically Here, Here and Here, and we really can't say enough good things about how amazing it is to live in such a gorgeous place this time of year. When summer hits and the temps get a little bit unbearable, we may not be singing Phoenix's praises, but we feel pretty lucky come January that we're not stuck shoveling snow or waiting out an ice storm! But of all of the things we love to do in this neighborhood this time of year, simply walking together at sunrise or sunset with Hamlet, with no deadline or place to be, talking and taking in the beautiful scenery on each street is by far our favorite thing to do. So if you're waiting out the freezing cold somewhere and are feeling a little bit cabin-fevery as the winter starts taking its toll, there's no better place right now for a little warm weather winter getaway that sunny, happy Phoenix… and we know a couple of people who'd love to show you around!
Shop The Post