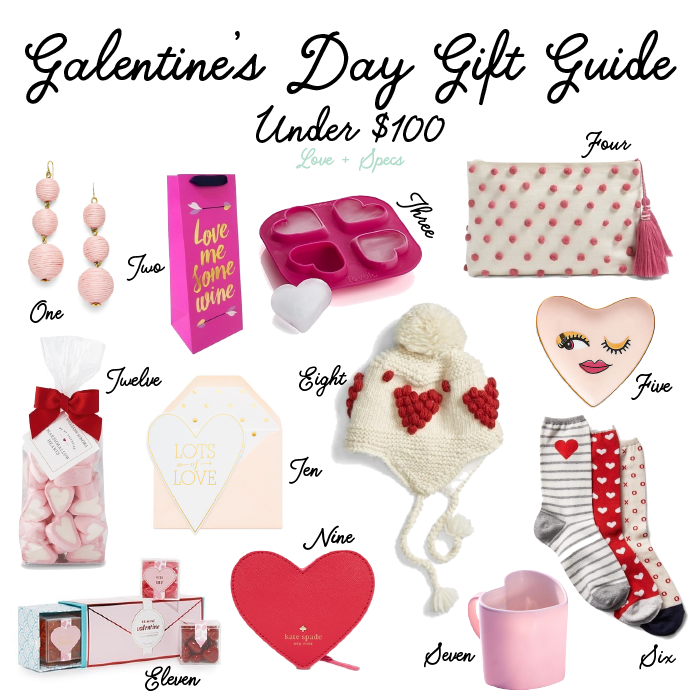 1. Bauble Bar Earrings | 2. Target Wine Gift Bag | 3. Heart Ice Cube Tray | 4. Shiraleah Pom Pom Clutch | 5. PaperSource Heart Trinket Dish | 6. Gap Socks | 7. Urban Outfitters Heart Mug | 8. Nordstrom Heart Hat | 9. Kate Spade Heart Coin Purse | 10. Sugar Paper Card | 11. Sugarfina Valentine Bento Box | 12. Williams Sonoma Marshmallow Hearts
Hey, friends! Maryal here comin' at you solo today to talk about my lifelong love for Valentine's Day. I know that not everyone is in love with the holiday of love. And I get it. BUT if I do one worthwhile thing in my life, it will be to convince you that Valentine's Day is awesome in every way! OK maybe not if I do just one thing, but I'm definitely making it a mission of mine. I've loved this holiday since I was little and only loved my mom and dad, when I was single, had a boo, and everything in between.
When I was little my mom and dad always celebrated Valentine's Day with each other in a fun, festive way and with my sisters and I as well. We'd all get Valentine's Day cards with sweet notes in them, lots of extra love and hugs throughout the day and cute little Valentine's Day presents too. When we grew up and moved out of the house, my parents always still sent us cards and there hasn't been one Valentine's Day that my dad hasn't sent us all flowers. What a guy! Ever since, I've loved celebrating the day with everyone in my life that I love, including family, friends and now, Chris and reminding them that they're special to me and that I'm thinking of them. It may be a frivolous holiday, but I kind of love that there's nothing serious about. It's just good old fashioned fun, filled with all of the things I never get sick of… i.e. pink everywhere, hearts, sparkles, flowers, hand-written cards and an abundance of sweet treats.
And one of my absolute favorite things to do for Valentine's Day is to give special little Galentine's Day gifts to the girlfriends in my life that I love so much. I love reminding them how much I adore and appreciate them, and roping them into celebrating one of my favorite holidays with me in the most fun way possible. So I rounded up some really fun and festive Galentine's Day gift ideas, all under $100 that are the perfectly adorable way to tell that special friend, sister, co-worker or mom that they're awesome. This also applies all you guys out there that have either completely forgotten that this holiday is right around the corner or have been coming up with nada when brainstorming gifts for your sweetie. Not that I'm hinting specifically to a certain someone or anything, but number four is a personal favorite.
And because I love this holiday so much, next week I'll be rounding up some fun Valentine's Day wardrobe finds for those of you searching for a little festive inspiration involving copious amounts of pink, red and hearts galore. Cheers!