Oh hey, friends! We realize that our weekly blog post schedule has been a little bit less dependable in the last month, and we're so sorry for that. We've busy busy bees in our day jobs, our home lives and beyond since the new year hit, and have been attempting to slow down a little bit, but we promise that we'll be back to our weekly posts (and more!) reliably ASAP. We love you guys and we live to entertain you with our style and home décor musings!
Shop The Post

This week here on the blog is pure fun, mostly because it involves an extremely aggressive chunky pink sweater that I basically want to live in, a little eyelet, some leopard print and a whole lot of spring feels! Aaaaall the spring feels. Every year about a month after Christmas is over and I've had my fill of pom beanies, cozy coats and snow boots, something inside me shifts and I immediately start wishing spring would come… like now. It's that late January lead-up to Valentine's Day that gets me. Pretty pinks and pastels start to pop up everywhere, people start to shake that winter grump and love is in the air. I realize that it's a little early in the year to call it spring fever, but that's basically what it is, am I right?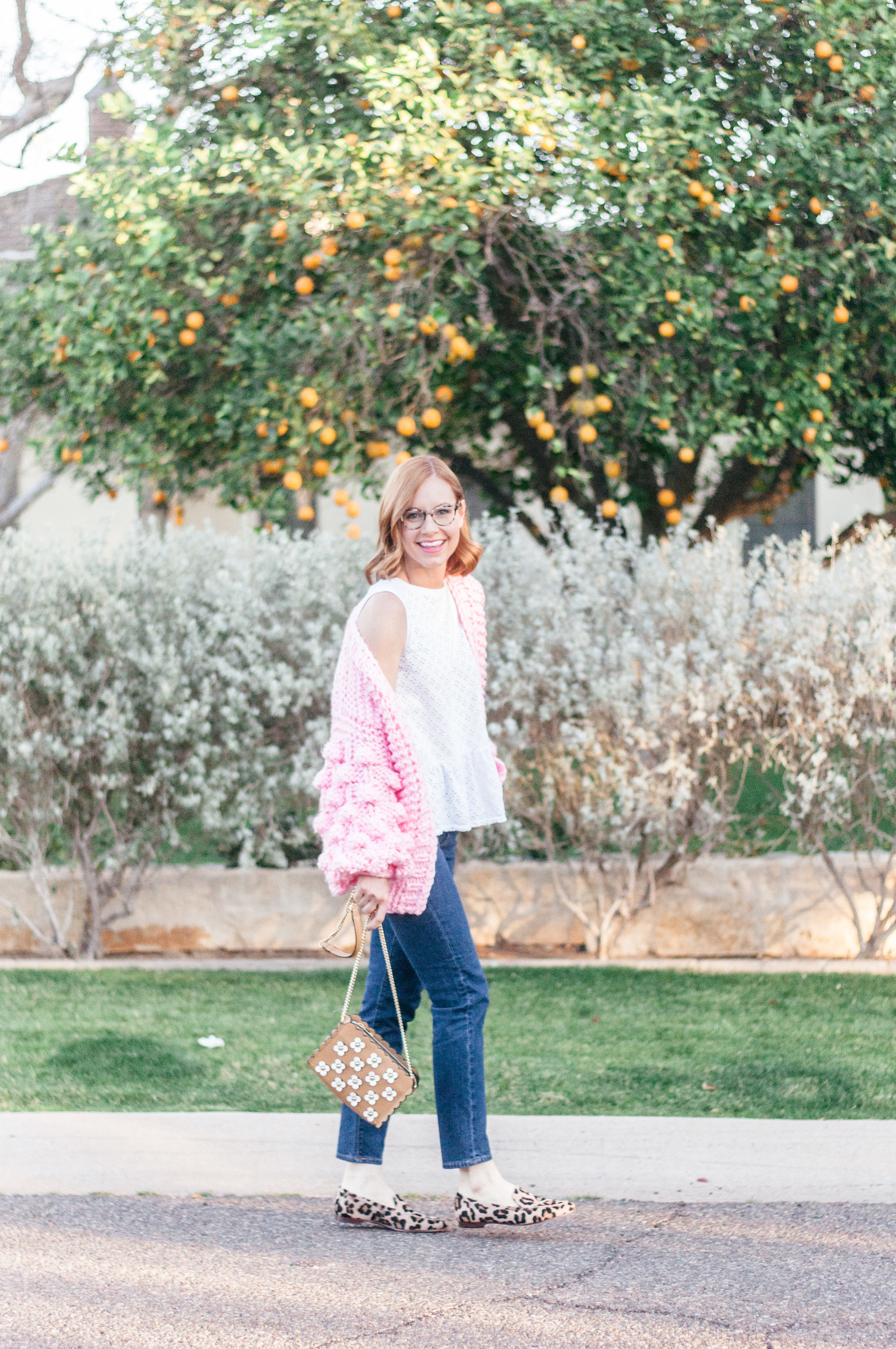 Naturally all this waiting, wishing and hoping for spring makes me want to burn all the black and grey in my closet, inject some color back into my wardrobe and break out every spring-ready garment I can find. The only problem is that if you live anywhere that's not Phoenix (I know, we live a charmed life!), that's not exactly practical. You can't be bounding out into the streets in that little floral romper when it's still dipping into the 30s and snow's on the ground! No no no. That has a frostbitten booty written all over it.
So today's getup is meant to inspire you to go ahead and start stocking up on those pretty spring pieces you've been drooling over on the Anthropologie site and layer your look colorfully, so spring fun and winter function can live in harmony. Heart = happy.
As mentioned, I realize that this may be the world's most aggressive chunky sweater and that bloggers near and far just can't seem to get enough of said aggressive sweater (I also love this similar one from ChicWish), but I'm not kidding you when I say that this sweater is downright awesome. It's ultra soft not scratchy (to my shock and delight), it has the most fun, weird pom sleeves that I love and it was my first foray into the mysterious world of Chicwish, which has become a budget fashion favorite of the blogging crowd and beyond in recent years.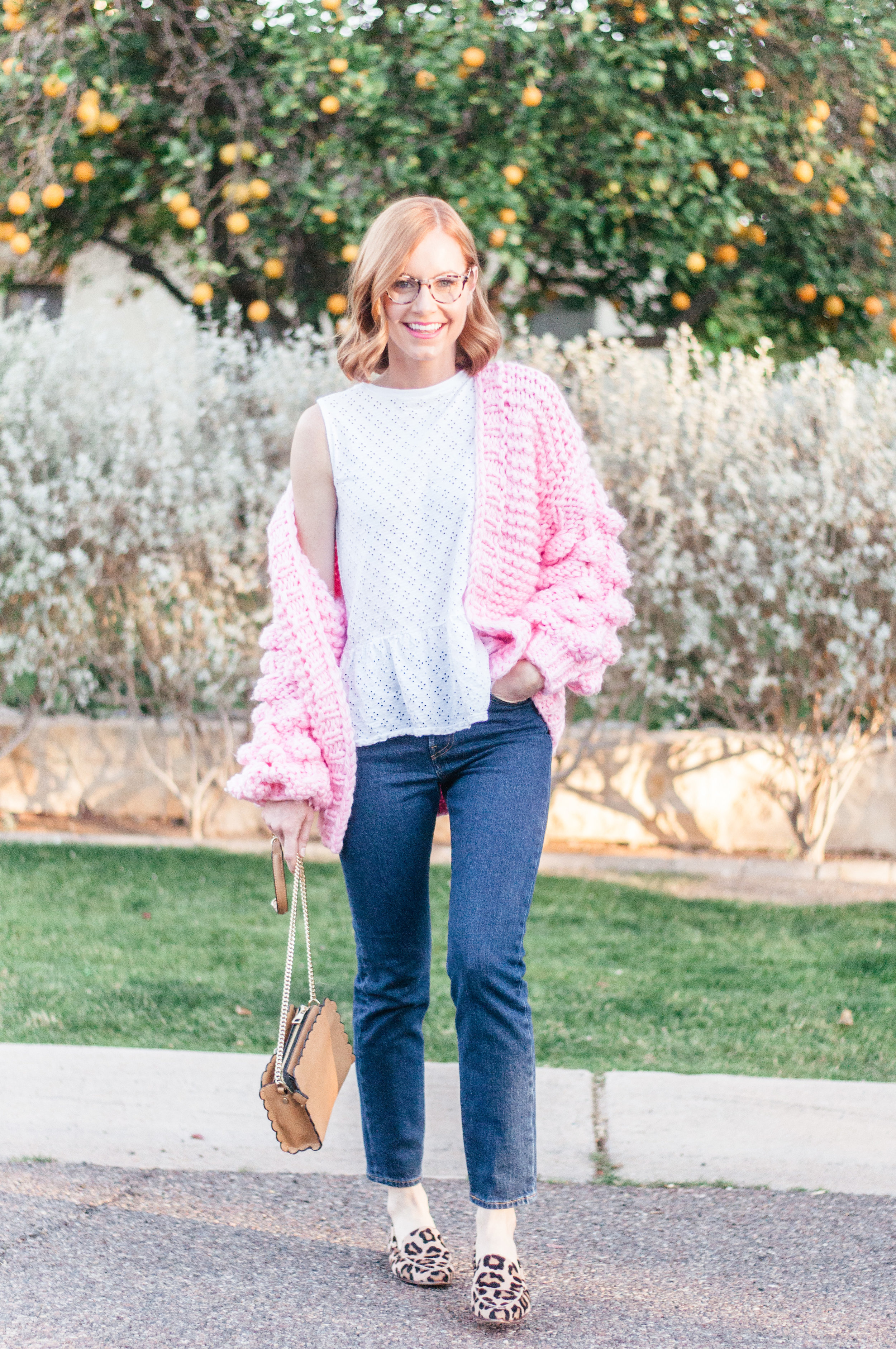 I, like so many of you, have long wondered what the "deal" is with ChicWish – is the site the real deal and those eye-poppingly inexpensive (but super cute) clothes show up just as shown on the website, or is it one of those sites that appears to have some diamonds in the rough, but all you get when your order finally arrives in a mangled mess two months later is the rough, no diamond.
My sister actually gifted me this sweater for Christmas (dude, she knows me way too well), and we're both happy to report that the sweater showed up just as shown on the website and it runs true to size (I'm wearing a small here), and by all appearances is well-made and comfortable. The only tiny downside is that shipping does in fact take quite a long time (she said it arrived about 3 weeks after she ordered). But if you have the patience, it appears to be worth the wait!
And if this sweater's not your speed (totally get it – it's bold, to say the least) in addition to all of the pieces I'm wearing, I've linked tons of fun, colorful and airy spring finds in the "Shop The Post" widgets above and below that I've been lusting after as of late, all of which can be layered for warmth and then worn on their own when warmer weather hits. Just scroll with the arrows to see them all! My leopard Kate Spade loafers are sold out basically everywhere, but I linked some really fun similar leopard styles in there, and this fun mod pink matte lippy that I just picked up is linked as well.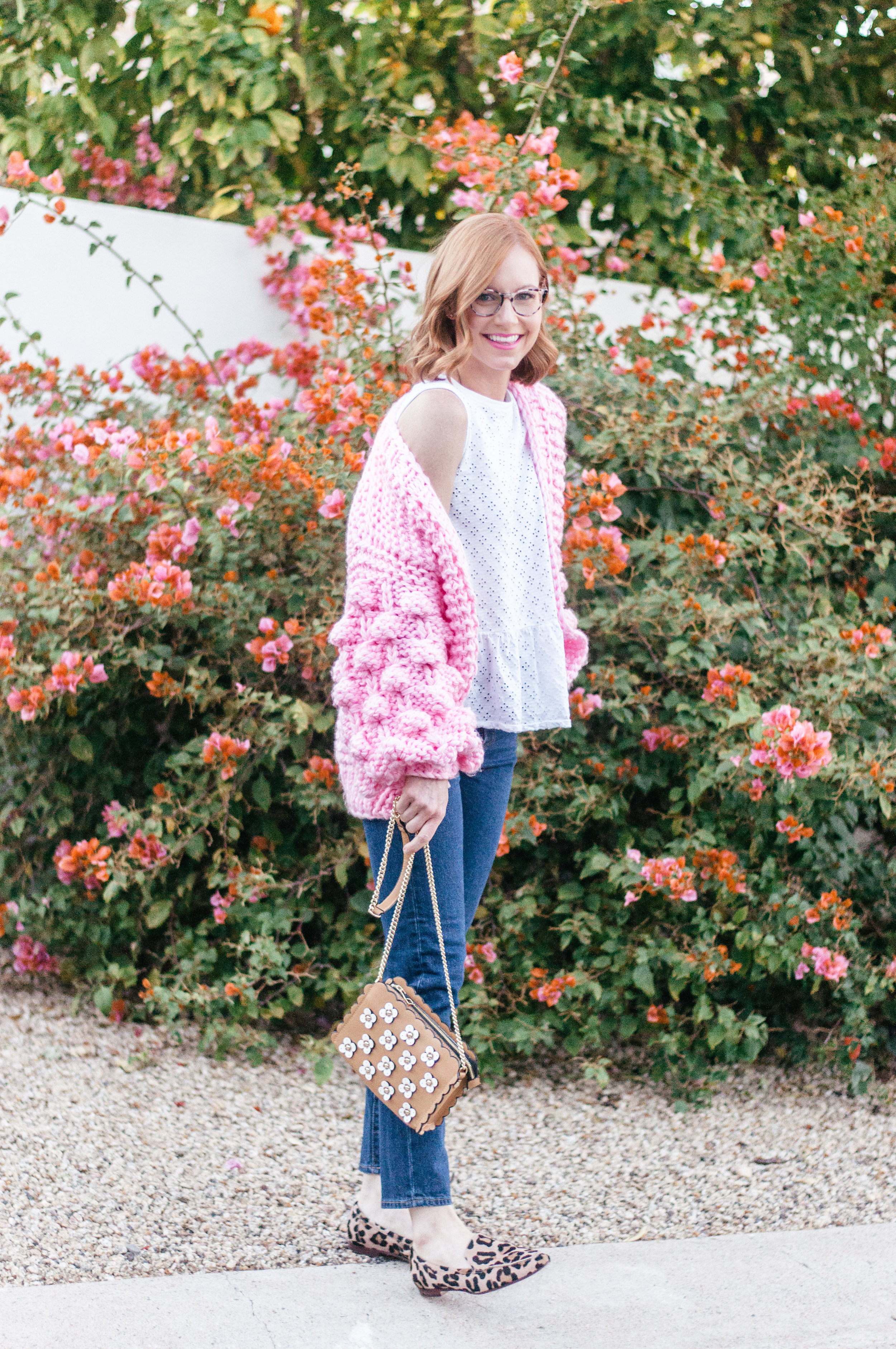 Also, if you're unfamiliar with how we do things around these parts, you can shop right along with me in real time on our Shop page here on the blog, and also catch my latest seasonal outfit inspiration and items we're loving for him & her on Pinterest. I'm pretty in love with Pinterest and pin like a mad woman because that's where I go for all of my style, home décor, DIY and travel inspo! So let's pin together, shall we?
Shop The Post