Here's the thing: I realize that I've really gotten into this Southwest-inspired trend lately and been overloading the blog with all of the Southwest-inspired home decor and style finds you can handle, and I swear I'm going to try and reel it in… maybe… in a month or two… or not. But either way, I apologize profusely for the overload, but I also secretly hope you're into it like me. And if you're not, I may make it my mission to convince you to jump on board.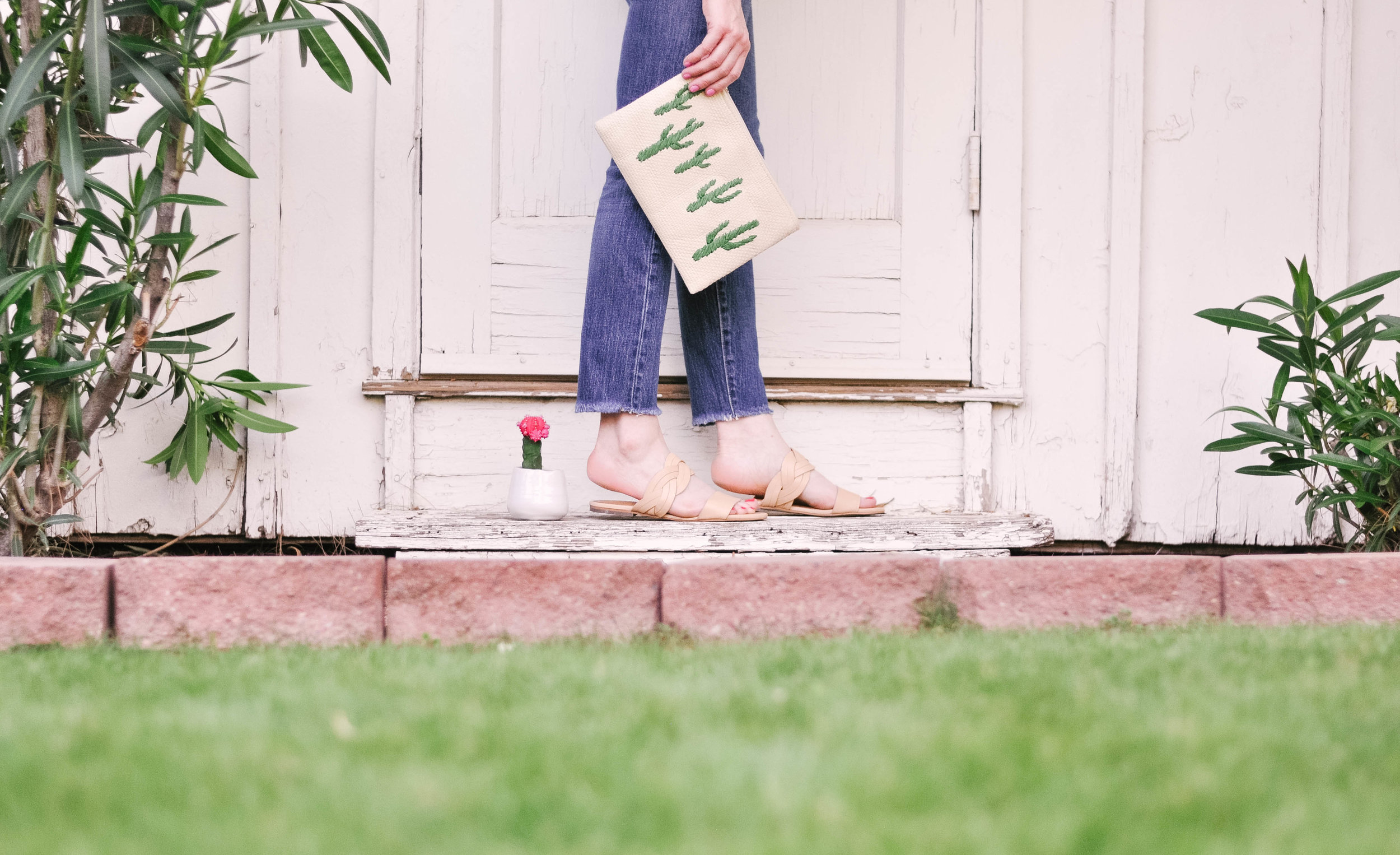 Perfect Leather Sandal
Obviously my look today includes one very obvious homage to the Southwest, this super fun straw cactus clutch, but it also includes another serious staple of any desert-dweller's lifestyle… the perfect leather sandal! This gorgeous leather sandal that I'm absolutely in love with and that Chris has to beg me to take off before bed (Ok Ok, maybe I don't exactly try to hop into bed with them, but the love runs deep) is made by one of my forever favorite shoe purveyors, CC Corso Como, and ever since I spotted it and immediately pinned it to my "Love + She Wants" board on Pinterest, I've been dreaming of every easy breezy spring and summer outfit that would pair perfectly with this slide. And I have a rule – if I can think of 5 or more outfits that a shoe would pair perfectly with, that's a clear sign that I need them in my life.
Every year there are two shoe staples that I feel like I have to refresh because I get so much wear out of them. In the fall and winter, it's the perfect suede or leather bootie. But for spring and summer, it's all about that perfect leather sandal that I can dress up or dress down, that's neutral and versatile enough in style to transition from outfit to outfit and it has to hold up to several months of serious wear. The standards are high, but I love a good leather shoe, and the competition out there is fierce! But this year I had my eye on one sandal and one sandal only early in the season, and it was the "Sicily" sandal by CC Corso Como in this gorgeous brushed nude leather with a beautiful braided strap.
And of course, the style of this sandal is stunning. That's obvious and was clearly a draw when deciding to make these my yearly sandal staple. But if any of you have ever worn a CC Corso Como shoe you 1) absolutely love this brand because of the superior quality and craftsmanship of their shoes 2) know that every single shoe is crafted for supreme comfort with the most amazingly cushy insoles that make your feet feel like they're walking on clouds.
And that's not even a tiny bit of an exaggeration – you can touch the insoles and feel the fluffy padded spots at the front and back of the shoe. I know what you're thinking – how can shoes this cute be this comfortable? But they are that comfortable, which is why I keep going back to this brand again and again throughout the years. Sure there are a lot of comfy shoes out there, but with most really comfortable shoes there's some sort of sacrifice made on the style front. Which none of us really enjoys.
But I've never sacrificed style in a CC Corso Como shoe, and actually it's quite the opposite. Their shoes are always ahead of the trends, leading the pack and creating beautiful, classic styles in the highest quality leather that I can keep in my closet and in my outfit rotation for years, not just a season. And the Sicily sandal is no exception.
I've already worn them almost every day since they arrived, and fun fact, I always keep my CC Corso Como shoes in their original box because the brand specially designs their boxes to not only protect their shoes, but also to allow the leather to breathe properly because proper ventilation is key to the maintenance of natural leather. Hence the longevity of this perfect leather sandal! Who knew? The Sicily sandal also comes in black and blush, and I'm going to be completely transparent and admit that there's a very strong chance that all three colors will be in my closet before the end of the month. When you find something this good, you buy in multiple colors! It's in the handbook, ladies. Trust me.
Shop The Post
This post was created in partnership with CC Corso Como, who provided products we love. All opinions are our own.