You guys know that here on Love + Specs, our approach to home decor and design, which we absolutely love and are so passionate about isn't about buying and adding "all the stuff". We're all about big impact, repurposing and reinventing, and carefully curating so your home is filled with only the things bring you so much joy every time you see them & can pull double duty between style and function. A little more simple, a little less cluttered and a whole lot of love. So though today's topic is a little bit about "stuff", there's also a "why" and a purpose behind it for us that maybe you guys can relate to! So it's with that preface that we bring you today's topic… our favorite Fall candles! Because 1. Not all candles are created equal and we found the best of the best 2. It's one of the simple pleasures that even if it's the one and only Fall decor item you bring into your home this year, it's enough!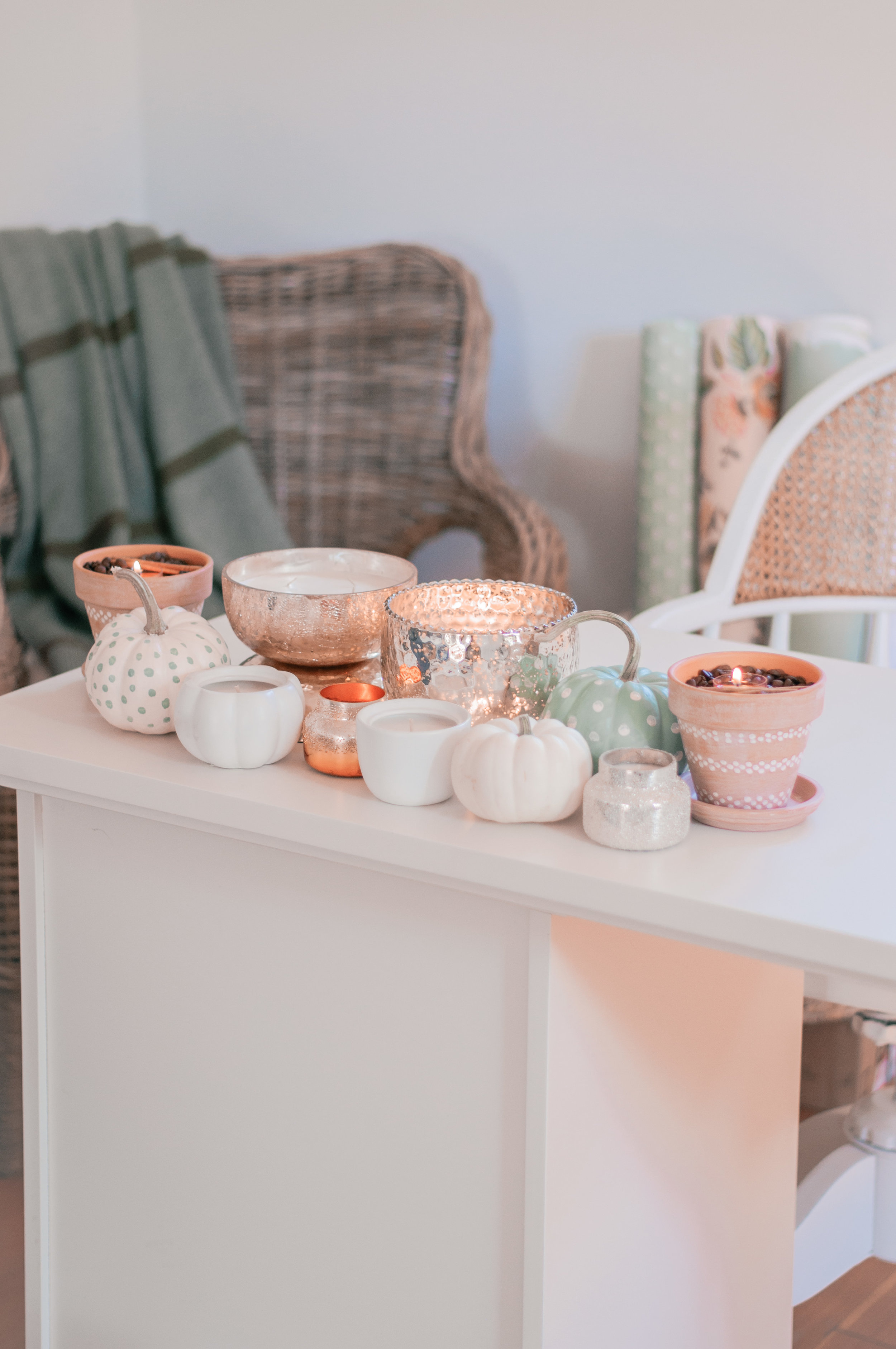 As we mentioned in our Simple & Stylish Fall Decor post, though we absolutely love celebrating this magical season in every way possible and want to bring it in to our house, we like to do it in a simple, understated way that doesn't add a ton of unnecessary clutter to our space. Don't get us wrong, we appreciate a good dec as much as the next person, but we're just happier in a space that's free of unnecessary clutter. Enter: candles! One of the few ways that we decorate our home for Fall is by bringing the scents instead of the sights of the season into our home, which not only makes the house smell incredible, but it also adds a warmth and coziness to our space that feels so indicative of the season. Hygge, people. Hygge!
All of the scents shown above can be found in the "Shop" widget below, but I wanted to say that I' particularly loving this Spiced Cider candle this year, though it is fairly fragrant and is a candle you'll probably want to burn by itself. I'm also really enjoying this Apple & Oakmoss one which I burn in my office and is already almost down to just the wick, and this Coffee & Spice one that has such a heavenly, cozy coffee scent. And if you're looking for a really subtle pumpkin scent, this small little Pumpkin Clove gem is perfect for that!
Shop Fall Candles
You guys were all about our Easy DIY Fall Scent Pots and we're so pumped about that because we're pretty obsessed with them to. But outside of those, we love adding a cozy, scented Fall candle to each room that we can light while we're sipping coffee in the morning, lounging around after work, or hanging out in the house with Ham on the weekends! It's the ultimate instant relaxation tool, isn't it? And it's such a small, simple thing! I actually kind of love some of the scents that are considered "Fall" scents all year round and have no problem having any of these scents in my house all year long. Obviously all variations of pumpkin scents are a pretty popular choice, but I think scents like coffee, cinnamon and other spices, pine, vanilla and campfire are pretty heavenly options, too. All options for which we included in the "shop" widgets above and below, so make sure you scroll to see all of the candles and scents included!
Have any of you guys read The Little Book of Hygge? I read it on our honeymoon last year after kind of becoming fascinated by this Danish living philosophy that seemed to be taking the interwebs by storm (and that no one could seem to pronounce), and it talks extensively about the use of candles as an essential element of emotional happiness and coziness. How they're not just another random home decor accessory but a key part of creating a happy, inviting, casual atmosphere in your home. And though the Danes aren't big on scented candles like I am or like the American population may be, the book's candle manifesto made me think about and appreciate how impactful these small little things can be in creating a space you just feel good in. Side Note: Scandinavian/Brit brand Skandinavisk has a "Hygge" candle that's pretty wonderful if you want to get right to the point.
And obviously this over-the-top cluster of candles isn't exactly normal for us. These are all separated and scattered throughout our home, with one to two candles per room, but we wanted to show you some of the options we included in our roundup so you can get an idea of size, color, etc. But if you are into this look, this would be such a genius way to do an easy, cozy Fall centerpiece (hello, Thanksgiving!)! We just don't recommend burning all of the candles at once if they're scented, which is why we only have a couple of them lit here. That's some seriously smell overload waiting to happen! Just burn a couple or a few at a time and mix it up every day, that way you won't burn through any of them faster than the others and you won't hate Fall forever for fill-in your life with a heinous mashup of scents.
So what's your favorite Fall scent? Are you more of a pumpkin gal or do you go full campfire? Apple? Caramel? Coffee? Tell us how you candle in the comments! These are the important Fall-related conversations we need to have. Happy hygge-ing this Fall, friends!
Shop Fall Candles