When I was growing up in Michigan, this would typically be the time of year that everyone starts absolutely freaking out in anticipation of the arrival of lake season. It signaled the approach of a full three months of sand, sun, water sports and lazy days doing all sorts of fun things on whatever lake your family and friends frequented.
And what this time of year also signaled was the need to start opening my eyes to potential appropriate swimwear and lakeside attire options, which was always a battle – swim/beachwear is such a funny thing and there's no one perfect piece for everyone, so finding what's right for you when you're trying to cover up… to be less covered up… I think takes a little time and a little trial and error. And now that I'm older and live in Arizona, the scenario hasn't really changed – "lake season" has simply been replaced with "pool season" – but my attitude about what to wear has definitely evolved!
My rule? There are no rules! As you guys know, I absolutely love fun fashion and just don't feel like I have to conform to any sort of norm when it comes to my swimwear or poolside attire choices these days. A bikini? Why not! A funky one-piece? Absolutely. High-waisted bottoms? You bet, boys (yes, guys we know you don't get this trend, but we don't need you to)! Mixing and matching? Of course!
This Kate Spade bikini that I picked up this year is actually my first high-waisted bikini purchase, and I have to say I'm in love! I love the scalloped detail and the fabric's texture, and after putting it on I totally get why this has become such a beloved trend. It just hugs in all the right places and I think that it actually accentuates your waistline, which I'm sure is why it became popular the first time around decades ago.
And the reason you can't see the the matching bikini top is because I sort of fell in love with the combo of this off-the-shoulder cropped top from Tobi.com with these bottoms. There was just something so right about them together, so while I was lounging by my parents' pool and hanging with Chris on Sunday afternoon, I just kept it on!
And what's great about this particular pairing is that whether you're headed to the lake, the beach or the pool, you can just throw on a pair of high-waisted black shorts, a cute high-waisted skirt, an easy sarong or a pair of black linen pants and you're ready for traveling to and fro, grabbing lunch, lounging out of the water or throwing everything off but the bikini to jump in the water. It's a low maintenance, easily adjustable look, which is exactly what I always want when heading to the pool or lake. I don't want to bring a ton of stuff to lug around, so the easier my ensemble is, the better!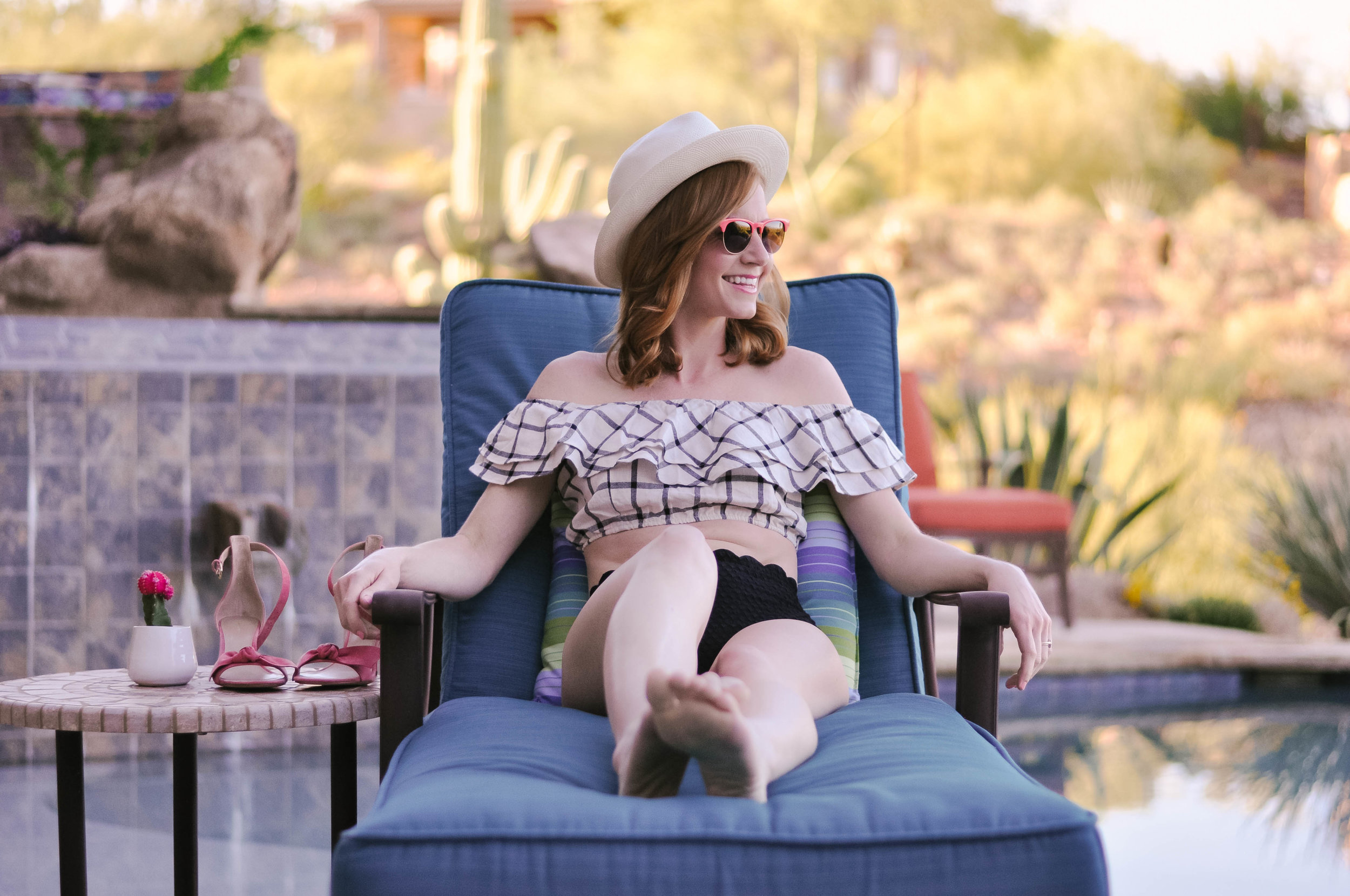 An how fun are these perfectly pink kitten heels?! I spotted these on the shelf at Ann Taylor when I was out on a little girls' shopping trip when my oldest sister was here a couple of weeks ago, and they were calling my name! The bows, the ankle strap, that gorgeous coral suede and the comfy heel height was too deadly a combo to pass up, and I've been wearing them every chance I get ever since I snagged them.
Ok, so I admit that maybe hanging around any kind of water isn't exactly ideal for a suede heel, but I knew that they wouldn't be getting wet up on that side table and we headed off to dinner with my parents after hanging by the pool (and all I had to do was throw these on and some high-waisted black linen pants and I was ready to rock – so easy), so I justified taking my chances just this once. I just also really enjoy the coral/black/cream color combo. Black can be a little bit unexpected in the spring (which I like) and pairing it with a punchy hue is the perfect way to make it feel so right in a season that people typically think the color is so wrong for.
And in case you haven't dabbled in the high-waisted bikini trend yet and have been wanting to dip your toes into the… um… water (so punny!), I'm really loving THIS, THIS, and THIS. But there are so many more fun ones out there and I'll be rounding them up on our SHOP page this weekend, so hop on over there and check them out throughout the season if you're on the hunt! I hope you guys have the most amazing and restful weekend and I'll see you here back here next week!