Sunset on Camelback Mountain
It's currently a sunny 62 degrees here in Phoenix and the abundance of bikes, happy pups and runners out and about in our neighborhood are putting serious smiles on our faces as we look forward to more spring-like weather on its way! We don't mean to rub it in for those of you still stuck in freezing temps and loathing it (silver lining: you know a couple of cool people in Phoenix just waiting to be your personal tour guides!), but it's been a pretty beautiful past couple of weeks here in the valley of the sun, and we were so lucky to have had a little bit of time together last Sunday to watch the sunset on Camelback mountain. Chris has been working some pretty long days preparing for Mora to open its doors in just a few short weeks and share its deliciousness with the world, so we've been trying to take advantage of every single second we have together and enjoy our city as the prettiest season here starts to show up!
The turn in weather has invited a welcome change in our wardrobes as of late, which means we've been able to spend our time outside free of coats and keep it light in jeans and tees. We were doing a dinner date night that Sunday, so I decided to spice up these high-waisted Levi's that I haven't been able to take off since I got them (I just talked all about my love for them HERE) with my new favorite J.Crew find, this funky neon buffalo check top with ruffle sleeves. This top definitely isn't for the fashion faint of heart, but I'm all about fun, loud and proud tops to dress up some casual denim for date night, especially in these spring-ready shades of pink!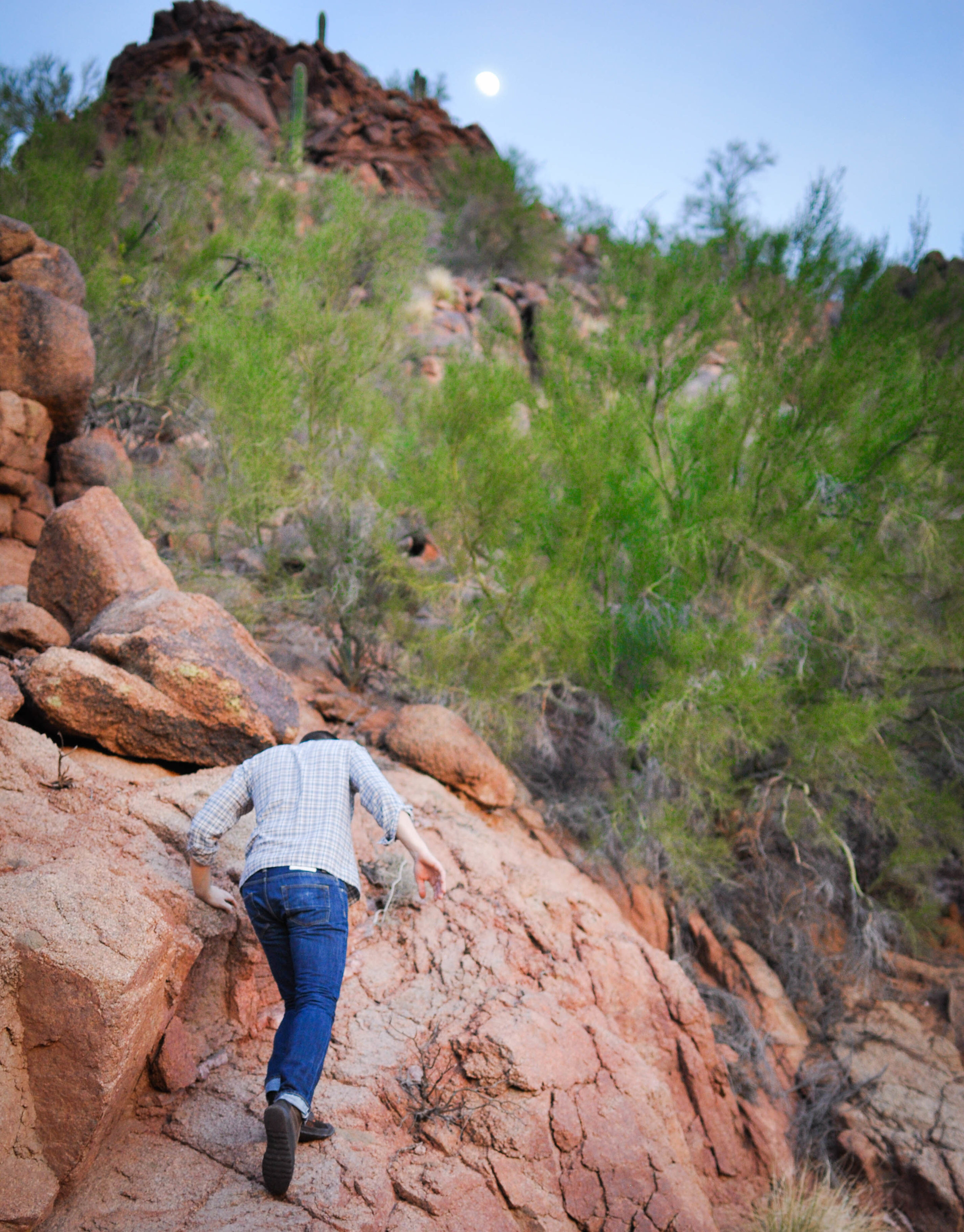 I'm not the only one who lives in my Levi's though. Chris has always lived in the 511 slim and I'm pretty sure at this point he has them in just about every color and wash they make. I actually hadn't thought about Levi's very much in recent years until Chris and I moved in together, and now I'm hooked! They have some amazing cuts and their denim is just so durable and gets softer with every wash. I got to visit the Levi's store in Cherry Creek, CO last weekend when I was on a girls trip in Denver and I scored yet another amazing pair of high-waisted 500-series jeans that I can't wait to live in. And now my best friend is hooked, too!
Camelback Mountain, a stunning and iconic fixture of our fair city that we're lucky enough to live down the street from, is one of the best spots in the city to watch the sun set across that sherbet-hued Arizona sky, and we highly recommend finding a spot away from the crowds on the south side of the mountain up on the north end of Arcadia Dr. just north of its intersection with Camelback Rd. With a quick, somewhat windy drive up the mountain, you can look out over downtown and South Mountain, and see Phoenix's high rises off in the distance from a quiet perch that you'll probably have all to yourself. Does life get any better than this?!
Shop The Post