As you guys know, when it comes to travel we operate within two basic parameters – affordable luxury and tight timelines. We love to travel and we love a great hotel, epic experiences and memorable meals, and we love spending our hard-earned money on all of those things! But as mere mortals like us do, we have about a thousand priorities and things we love and love to do, so we want to have all of those fun travel luxuries and more on budget we can live with. We also have jobs and a pup so we usually have to pack our trips and our adventures into a timeline that jives with that. Too much to ask? Nah.
And it's in that spirit that we're starting a new series on the blog for each season that perfectly captures our travel style called "Weekend Getaways". When we research where to head next, it usually involves finding out where we can hop for a quick weekend getaway that packs as much of the good stuff in as possible in a short amount of time, and we know that so many of you that read this blog are in the same boat. So we hope these seasonal weekend getaway guides will help you get right to the good stuff, too in every season in an easy to find way! Simply search "Weekend Getaway" paired with the season you're looking for here on the blog if you need inspiration for your next weekend adventure and all of the corresponding weekend getaways will pop up!
Shop The Post

And we know we say this every summer, but our weekend getaways definitely kick into high gear when summer hits here in Phoenix. Dude, it's so hot here. Have we mentioned it's hot here? So, so very hot. And for our first weekend getaway of the summer we decided that we wanted an easy flight, outdoor activity galore, food, food and more food and as much charm as possible. So what fits that bill? Denver, of course! It also meant that I'd get to check in on my bestie and her adorable pup, who happen to live in the downtown Denver. Perfect!
And you guys I'm not kidding when I say it couldn't have been a more perfect weekend filled with more fun, laughter, fresh air and good food. It. Was. Awesome. I've been to Denver many times before, but there was something so special about this particular visit and I think it's because we packed our short time there full of all the things we love and got to do all fo those things together. Chris is, after all, my favorite travel buddy.
Our biggest takeaways from the trip? There were two. One is that there's one neighborhood in Denver that you hands down, without question, absolutely must stay in if you want walkability, charm, endless activity, the coolest hotels and some of the best restaurants in the city right around the corner. Cherry Creek. I've stayed and played in Cherry Creek before with my girlfriends and I fell in love at first sight. And this time around was just further proof that it's my favorite neighborhood in Denver. The second takeaway is that we'd recommend forging the car rental and Ubering everywhere you need to go, even to and from the airport and on a day trip out to Boulder. Swear – we totally took an UberX and Uber Pool to and from Boulder for a day and it was about $30 each way. All in, taking Ubers everywhere we needed to go was not only going to be cheaper than renting a car, it was just much less fuss. Perfect!
So without further ado, we give you our no-fail, hit-the-highlights, best-of-the-best guide to spending 24 epic summer hours (or slightly more) in Denver while maximizing the fun and minimizing your dollars spent.
24 Hours of Summer in Denver Itinerary
NIGHT 1
Check into the Moxy Hotel, Cherry Creek. Even though the rooms are slightly more compact, the use of space is extremely creative. And don't be fooled by the affordable price tag – the accommodations (including the insanely comfy bed and beautiful bathroom), service and amenities (which include fun complimentary snacks and bikes to ride around the neighborhood – an essential in Cherry Creek) are luxury all the way.
Grab one of the Moxy's complimentary Priority bikes at sunset and take a ride around the Cherry Creek neighborhood to check out all of the beautiful and unique homes that line the streets. So much design inspiration to be had in the most charming setting.
Walk, Uber (totally unnecessary, but I don't know your lifestyle so…) or ride a bike over to Quality Italian for dinner. Every single table in our periphery got their signature chicken parmesan "pizza" and it looked just as epic as it sounds. This is a slight splurge meal, but worth every penny.
After dinner head down to the underground bar below the Halcyon Hotel called B&GC (Boys & Girls Club). Creative cocktails, impeccable service, Gatsby-like décor and an all around memorable "Denver" experience. You actually enter via the alley behind The Halcyon and there's no signage to lead the way, so you'll have to do a little exploring to find the door. Talk to the bartender at The Halcyon for the inside scoop or text 720-925-8598 for reservations.
MORNING
Grab the complimentary bikes at The Moxy again and take a quick ride to Aviano coffee. Enjoy one of their delicious lattes on their perfect patio. We seriously could have sipped and sat on that patio for hours.
If it's actual breakfast you're after, my best friend says that Denver Biscuit Company (the Colfax location) is an absolute must, and after meeting her friends and of course discussing Denver food at length, they all endorsed that recommendation whole-heartedly.
Throw on your hiking gear and head out to Boulder for a hike – take an UberX (or better yet, an Uber Pool) to the Chautauqua Park Trailhead.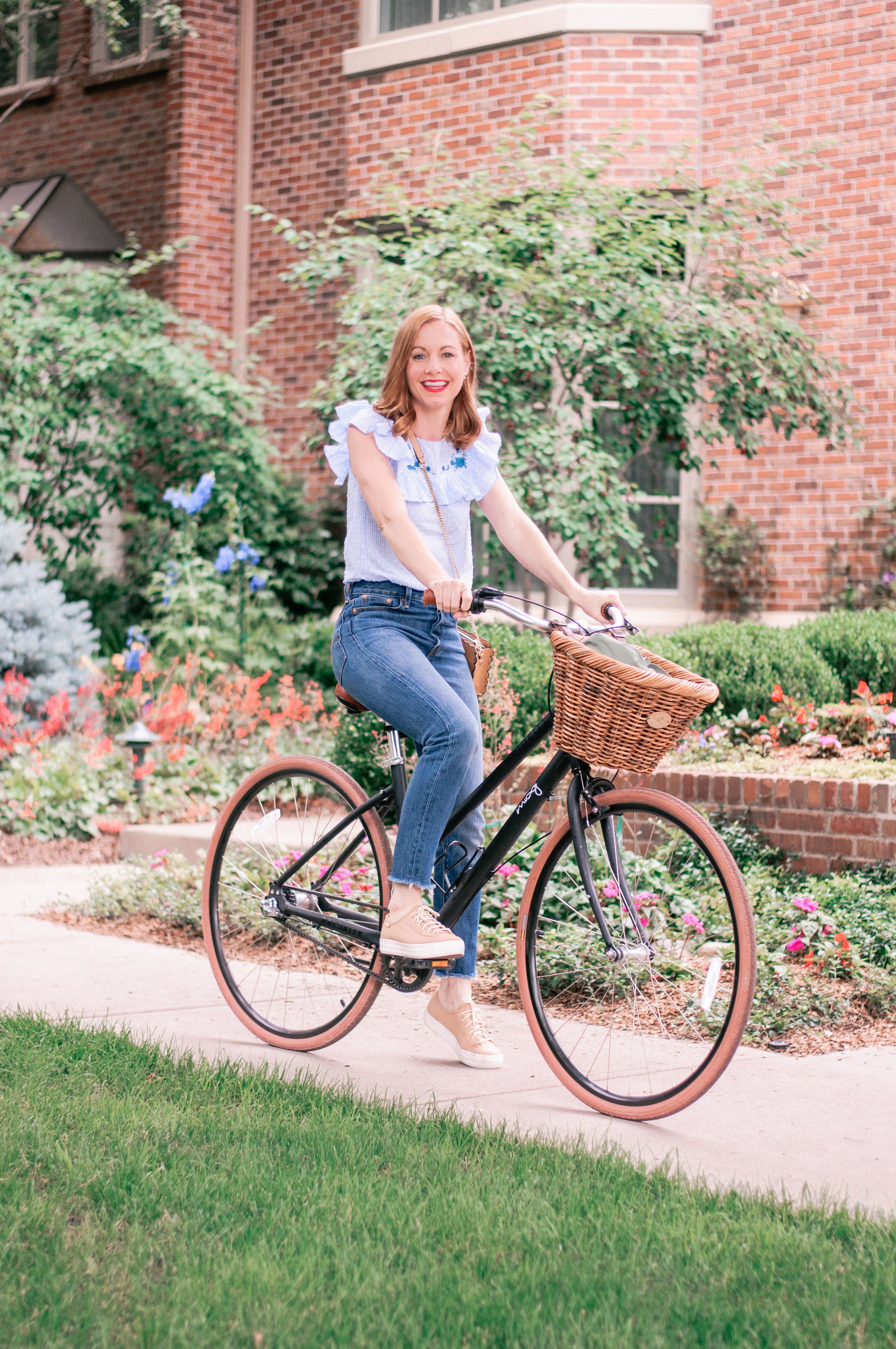 AFTERNOON
Hike the Flatirons loop starting that starts at Chataqua Park. The loop trail isn't a particularly long or difficult hike, but the views are incredible along the way as is the rest of the surrounding scenery.
If you have energy we strongly recommend walking down to the heart of Boulder, Pearl St., as opposed to grabbing an Uber. It's an easy, downhill, beautiful 30-minute (or less) walk that you won't regret taking. You'll get a chance to see more of beautiful Boulder and the quirky-cute that make it so charming.
Stop at Wonder Press and grab a juice & a Coffee Banana Chip, the most delightful blended coffee drink you'll ever taste. This place has the cutest little interior you ever did see, their drinks are so delicious and unique (and not to mention fresh & healthy) and their branding is super cool, too!
Walk around Pearl St. and explore some of the shops. Home – Peppercorn. Women's – Cedar & Hyde Mercantile. Outdoor – Patagonia, Topo Designs, The North Face, Fjällräven.
Stop and fill up on a taco and a "Smoke on the Water" cocktail at Bartaco. They have bartaco in other locations/states, but we'd never had the chance to check it out until now, and it did not disappoint. This is another spot where the interior is as awesome as the food.
If you want to hit one Boulder staple before you go with incredible views of the mountains, head to the rooftop at the West End Tavern for a lavender lemonade or brew.
NIGHT 2
Take an Uber back to The Moxy, clean up and grab a cocktail + a few cups of complimentary goldfish at their fun bar (favorite feature of this hotel, btw. Anyone that has a tub full of goldfish for me to snack on has my heart).
Head Super Mega Bien for an amazing (and super fun) "latin dim sum" dinner – they don't do reservations but it's worth it because… LATIN DIM SUM. If you have to wait, grab cocktails nextdoor at Death & Co. If you don't have to wait, grab those drinks at Death & Co. after.
Shop The Post