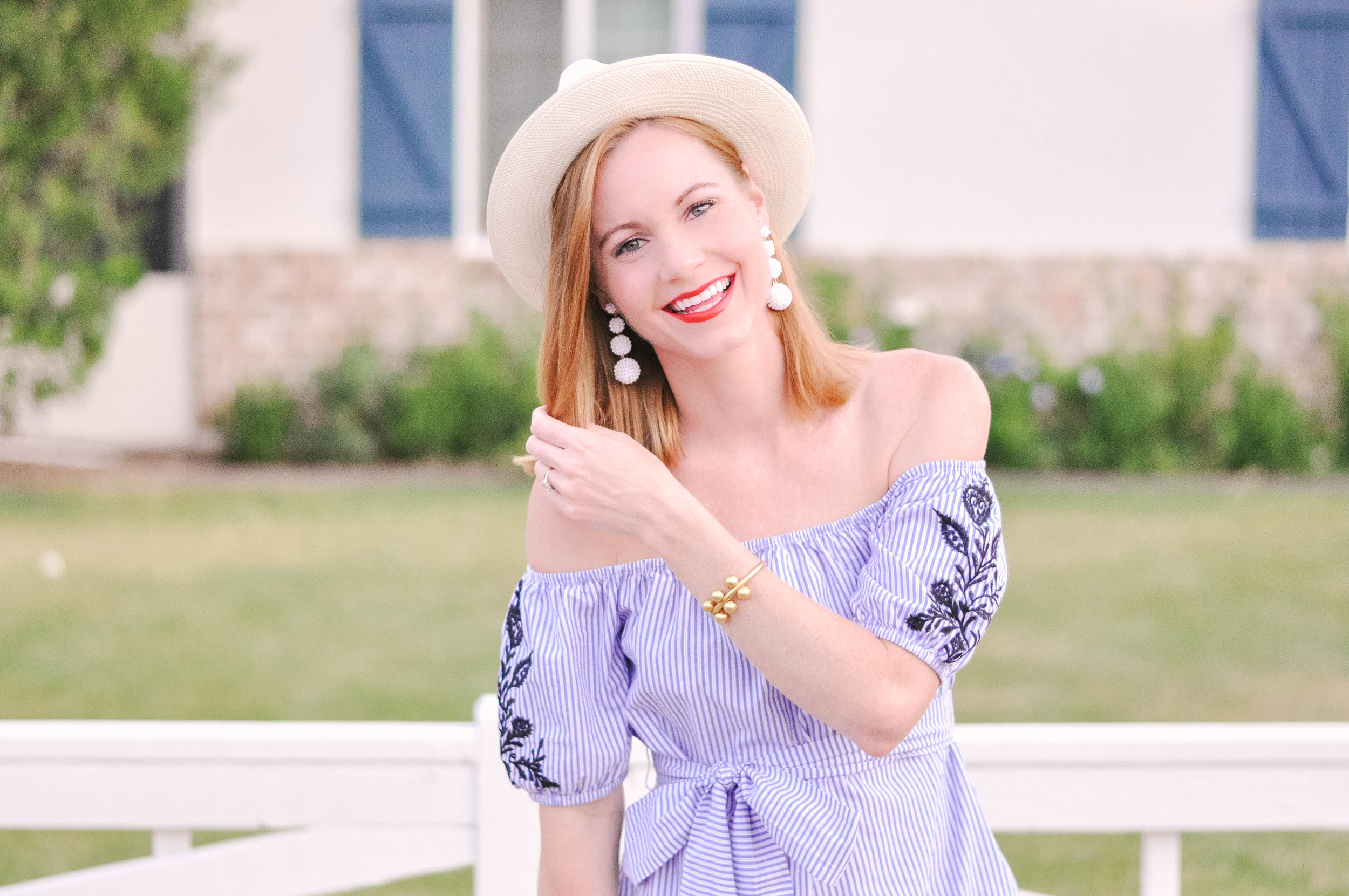 If you're one of our female readers here on the blog and haven't oohd and aahd over the Who What Wear collection at Target yet… GO. Go now. Head to Target and check it out because I've basically loved every single piece that's hit the racks and as is always the case at Target, it's majorly affordable which means more cute dresses and pennies in the wine fund for me! Perfect. This particular midi dress has been one of my absolute favorite finds from the Who What Wear collection for Target and I think I've already worn it four or five times since I bought it two weeks ago. It's that good.
As many of you who follow us on Instagram know, we just got back from our epic 10-day honeymoon in the Caribbean and this dress was my go-to getup for dressed up or down dinners with my love on those steamy, sticky nights on the islands. Not only is the off-the-shoulder midi style so easy to slip on and feel completely pulled together in, it's made in the softest of soft cotton that I wish every dress was made in. I'm not sure what kind of magical cotton they used for this garment, but it's heavenly and feels like soft cotton sheets or pajamas… or clouds… and rainbows.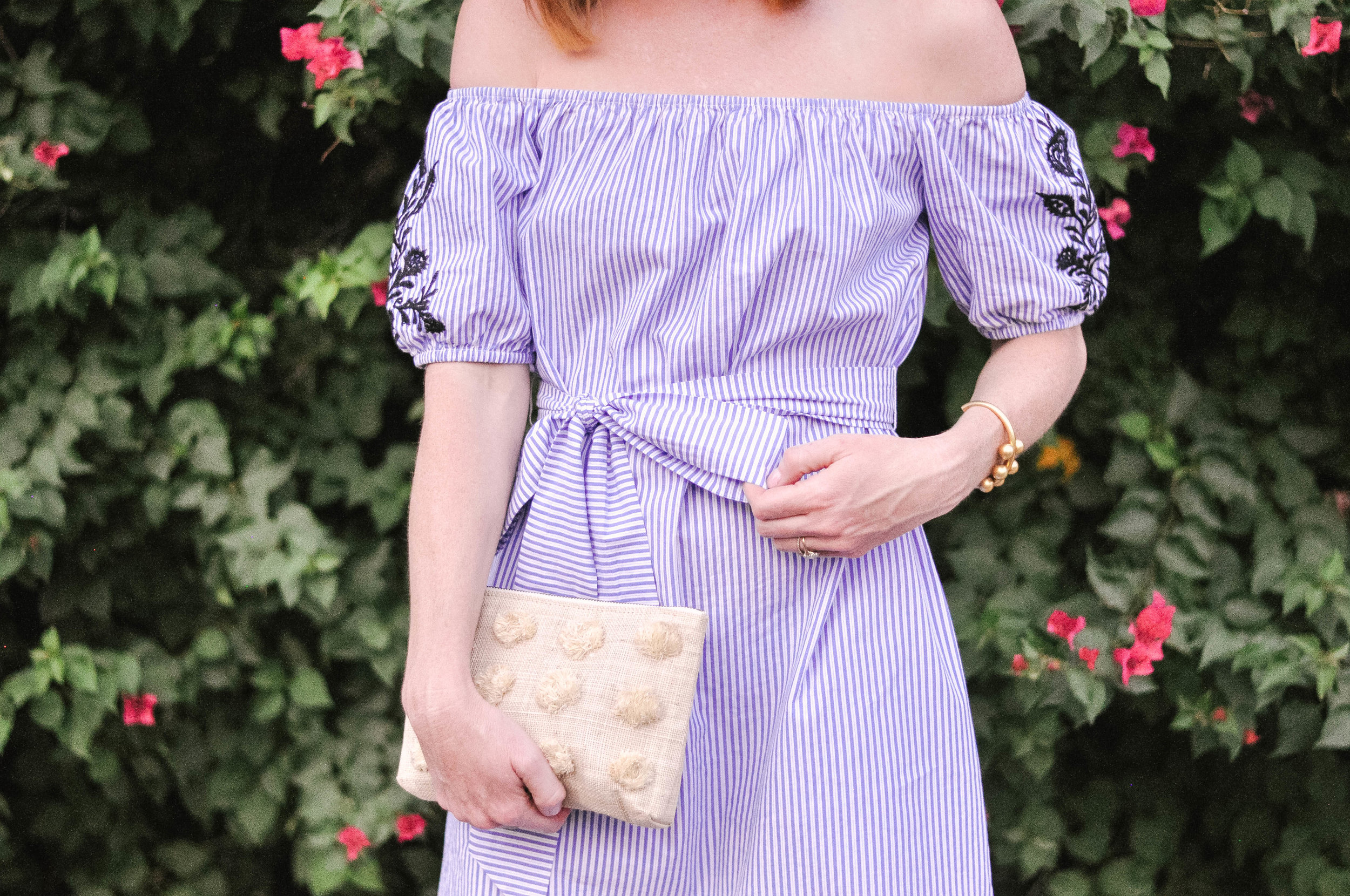 I also wore these white beaded ball earrings from J.Crew so many times on our honeymoon and plan to continue pairing them with so many outfits this summer. I never would have thought that I would love white earrings as much as I love these, and pairing them with the blue/navy hues in this dress and a red lip just screams summer to me.
It's been a little bit of a struggle getting back to our regular work and home lives since we got back from our honeymoon and I think that's mainly been because throughout our honeymoon, we got to spend every second exploring, adventuring, discovering and of course snuggling together and at home, we spend most of our time apart due to our schedules. I work from 9 to 5, and Chris works from basically 9am to midnight in some way, shape or form.
Last night we talked about how hard that has been over these past few days and how nice it was to be able to spend every day together throughout the trip. Isn't that such a funny thing? I guess we didn't realize just how much time we spend apart in our day to day lives, despite the fact that we live together and what's more, just how much we wish we could spend every day working together and experiencing the world together. It's kind of a bummer when comparing it to the rhythm of togetherness that our trip allowed us to indulge in, but it really just reminded me not only to savor every single second I have with Chris when we're together, but also why we decided to do this whole life thing together in the first place.
Luckily because we got home so late on Sunday night/Monday morning, we were able to have the Monday holiday to sort of decompress, get organized, do some serious loads of laundry and spend one more amazing date night together walking around the neighborhood at sunset and grilling dinner in our backyard with Hamlet by our sides. We missed that fluffy little scoundrel so much while we were away!
We have SO many pictures and stories to share with you from our trip that we'll be posting in the coming weeks, and we can't wait to tell you all about all of our adventures and hopefully inspire you to head to the Caribbean and enjoy all that those islands have to offer… and show you some islands that you may have never heard of before! We feel like we learned so much and it was really eye-opening for us.
I also rounded up all of the items from our outfits below as well as some more of my favorite pieces from the current Who What Wear offerings at Target. I can't wait to see what else they roll out over the summer because the dress offerings they've released so far have all been pretty amazing and so incredibly budget friendly, which I love. Cheers!
Shop The Post