After emerging from our 10-day beach-side honeymoon shockingly unscathed by the sun's rays, I've had summer beauty essentials and skincare on the brain! Despite the endless amount of skincare information and beauty blogs out there, I find this subject really tough to navigate, and I know I'm not alone in feeling this way, right? So I thought it might be fun to have a really honest conversation with you guys about this and talk about my skin, the challenges I have with it throughout these summer months, what I've found works after years of insane amounts of product testing and my tried and tested summer beauty routine that I've perfected since I made it my mission to lock it down.
Ok so here's the deal: As an extremely fair-skinned woman with Scandinavian heritage and pink undertones, I think that the whole "summer glow" thing is really hard to achieve and I've sort of resigned myself in recent years to accept that it may just not be for me. I'm pale and that won't change in the summer despite everyone around me having a perfectly sun-kissed glow for these few months of the year. Before I step foot in the sun in the summer, I'm basically Matt Damon in The Martian suiting up before he steps outside the Hab. It's crazy.
Shop Summer Beauty Essentials

Summer Beauty Pain Points:
1. Yes, I could use any of the bevy of sunless tanning products available today to achieve a nice "faux glow" during the summer time without actually damaging my skin by exposing it to copious amounts of sun. But until this summer, I had thought I'd tried basically every single one and had never found one that I could say I "love". All of the beloved San Tropez products make me look absolutely ridiculous and dry out my skin so much that I break out in a rash. I enjoy the subtle color and skin-tone-evening qualities of Jergens Natural Glow, but I really dislike how "sticky" it makes me feel for the hours after application and I still find the smell somewhat unpleasant despite their frequent updates to the formula and claims that the scent is better.
2. I've never loved the feeling of sunscreen over a prolonged period of time. I've always felt like it makes me break out and washes right off the second I need to cool off in the water. And then I have to reapply which not only takes forever for me to cover every inch of my body again, but then I have to apply in either a sandy setting or weird boat/pool setting. Not cool. And don't even get me started on the whole face-sunscreen-in-the-eye scenario. Nope. Just nope to all of it.
3. My face is a danger zone for me. If my face isn't coated all over in 30+ sunscreen, the sun knows and burns, peeling and wrinkles will come after. None of which are things that I'm cool with.
*If you're looking for a great guide to choosing a sunscreen for your needs, I found this awesome study from Reviews.com really helpful. They did an extensive study on sunscreens and to find the best, they ousted any harmful ingredients, then tested the finalists' efficacy with a UV meter and consistent application with sun-sensitive paper. The winners not only worked well, but also smelled great and felt great on the skin, which as I mentioned above, is imperative to me. You can find their guide Here!
4. I've always been a bare-faced kind of gal when it comes to hanging out on the beach, a boat or by the pool all day. And that's great. But sometimes in the summer we want just a little bit of light coverage to even our skin tone out that also offers protection from the sun, don't we? Is that asking too much? And post-beach or pool, I still don't want heavy coverage and a lot of product on my face. Just a little somethin' somethin' that's light, fresh and easy easy easy.
Instead of wallowing in all of these pale-person summer skin problems, in the last year or two I've made it a mission to really focus on perfecting my summer beauty routine and address all of these problems by finding the perfect products to make my skin happy and look fresh. It's not always easy getting there, but with a lot of product testing and trying, I've found a simple, skin-happy routine that saves my skin throughout the summer days spent in the sun and gives me that fresh, clean summer glow with minimal fuss.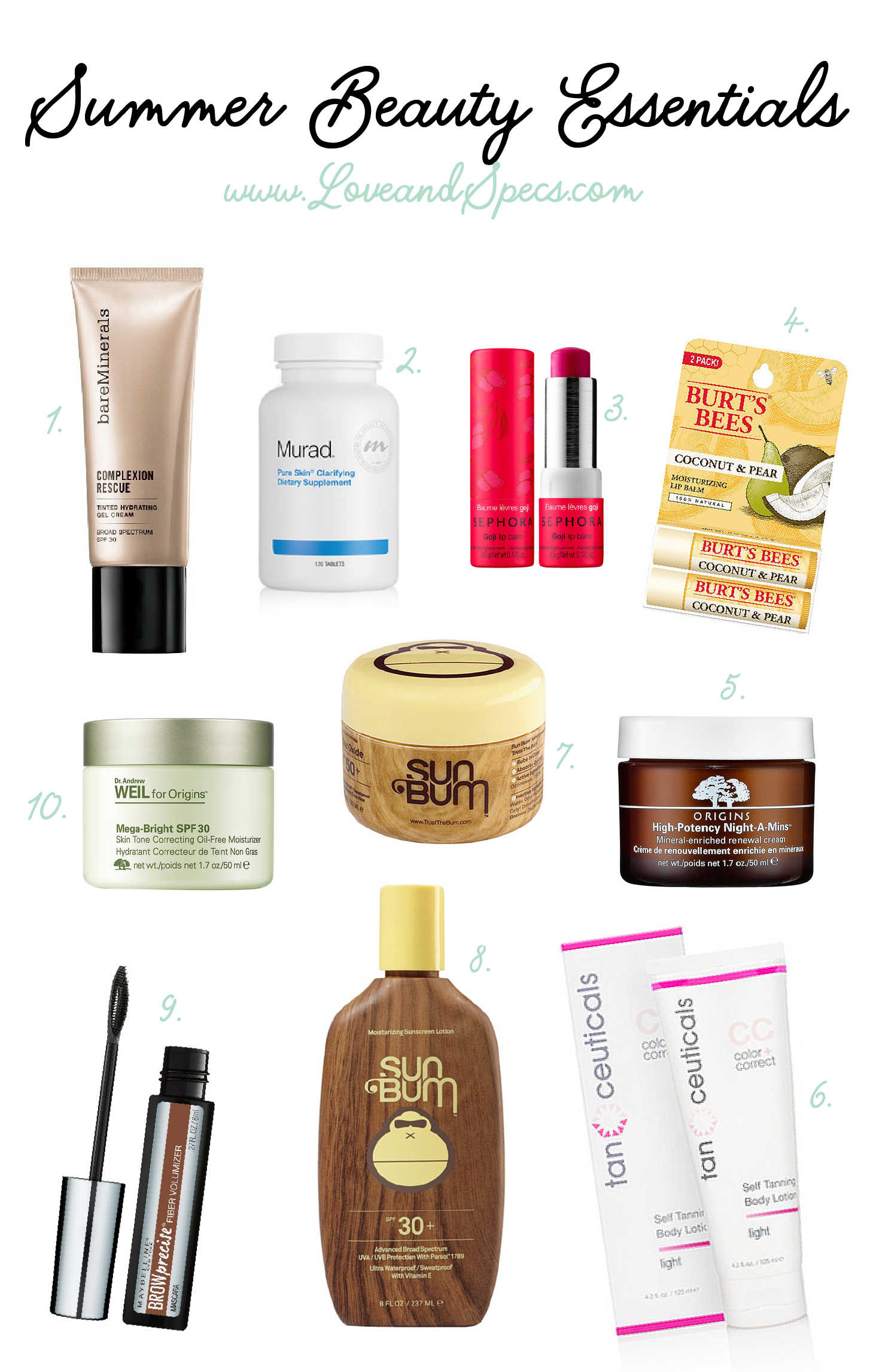 Shop Summer Beauty Essentials

Summer Beauty Essentials:
1. If you want a little bit of light coverage/skin-tone-evening while you're out in the sun for a day or even if you, like me, love having a slightly simpler, more natural makeup look in the summer months overall, then a tinted moisturizer with SPF 30 or higher in its formula is exactly what you need. But as is the case with every product I've mentioned, I've found that not all tinted moisturizers with SPF in them are created equal. I've tried so many different products on this front and the one that I absolutely love and couldn't live without in the summer is Bare Minerals Complexion Rescue Tinted Moisturizing Gel Cream. It's light, comes in tons of shades unlike other tinted moisturizers I've tried (I use "natural" and it's perfect) and gives your skin a perfectly even summer glow while also giving you the necessary protection.
2. If there is one thing that's made the biggest and best differences in the overall health and appearance of my skin is the Murad Pure Skin Clarifying Supplements. I take two in the morning with breakfast and two at night before bed, and my skin has never looked better. They may not be right for everyone, but this is my personal secret weapon all year round!
3. If I'm looking for a tiny bit more color on my lip, but want a natural, berry-kissed pout, the Sephora Collection Goji Lip Balm is my favorite thing. It's one of my more recent discoveries and I swipe this on my lips all summer long on date night, or any night really! It smells delicious and makes my lips feel so soft while also giving me the tiniest hint of color.
4. And speaking of that… I need a great regular lip balm. At all times. SPF or no SPF, that's up to you but in general, I need my lips to be hydrated throughout the summer and often, that's the only thing I'm swiping on my lips throughout those months. When I want a lip balm with SPF, Sun Bum lip balm (it comes in a bunch of different flavors, which I love) is my go to, but when I'm swiping on balm while indoors or before bed, I absolutely love Burt's Bees Coconut & Pear lip balm. It's so hydrating and I have this stuff stashed in my purse, work bag, desk drawers, nightstand, etc. just in case I need some lip nourishment.
5. I've said it before and I'll say it again, that the Origins High-Potency Night-A-Mins is my favorite beauty product on the planet. I slather this stuff all over my face at night, all year round and I wake up with my skin looking refreshed and glowing. It smells heavenly and completely nourishes my skin without making it break out. If you get only one thing to improve the overall appearance of your skin, let this be it.
6. I know I mentioned the faux glow problem above and until recently, I still felt like a faux glow just wasn't for me because I couldn't find a product that I could stand. Until now! I am 100% in love with TanCeuticals and I'm not kidding when I say that of the many sunless tanning products I've tried, this one takes the cake. It smells wonderful (a very subtle coconut smell), dries extremely quickly (within 10 minutes) and doesn't leave my skin feeling sticky, doesn't dry out my skin or make it itchy and gives me an all-over even, subtle glow without making me look orange and ridiculous. The "light" version is so subtle, it basically just evens out your skin tone while giving you the nicest hint of a glow. Finally!
7. & 8. Sunscreen is just imperative. And I feel like I struck gold when I started using Sun Bum. I typically wear SPF 50 on my body and face, but sometimes I'll rotate between their 30+ and 50 and usually use their 50 Zinc on my face. All of their products rub in so well, feel really hydrating on my skin throughout the day without feeling sticky or gross, stay put without losing their protection powers through multiple dips in the water and come off easily in the shower (no lingering residue) with soap at the end of the day. It's fantastic.
9. Typically in the summer months I love to just spiff up my brows, throw on a tinted moisturizer, curl my eyelashes (I get mine tinted professionally so I don't have to wear mascara) and finish it off with a tinted lip balm and I'm ready to go! That requires a couple of beauty items that I just love, some of which I mentioned above. The other piece to this puzzle is the Maybelline Brow Precise Fiber Volumizer. I'm not kidding ladies, if you're too chicken to do microblading or something more permanent to your brows like I am, a light swipe of this stuff will have you feeling like a new woman! My mom introduced me to this & I'm hooked!
10. If I'm wearing absolutely nothing else and going for a completely bare-faced summer beauty day, the Dr. Andrew Weil for Origins Mega-Bright SPF 30 Skin Tone Correcting Oil-Free Moisturizer is all I need. It's ultra moisturizing without clogging my pores and gives me that sun protection that I always need. It also brightens the overall appearance of my skin and evens out my skin tone, which is never a bad thing in my book!