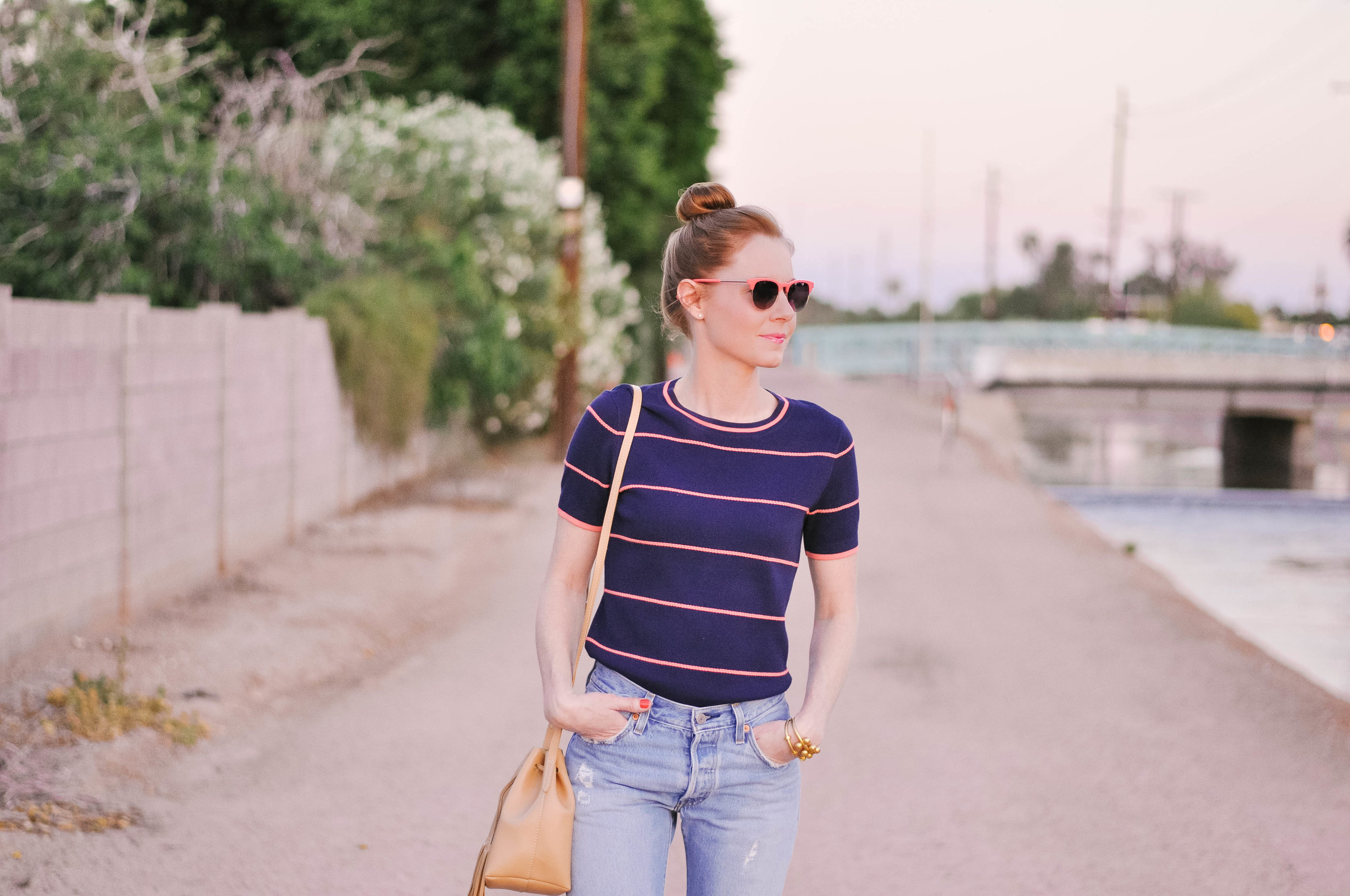 After the marathon week of all marathon weeks the week before last, I was so happy when last week took a total 180 degree turn, filled with renewed energy, some much-needed sleep and excitingly, some fun QT with the hubs. I need to post more videos of Chris' hilariousness on Insta Stories because it was all-time last week and I loved every side-splitting minute of it! How did I get so lucky? To really take our QT to the next level, we even got to skip town last weekend and head up to the beautiful Pacific Northwest for some adventuring and exploring around Washington with Hamlet, and I cannot wait to share all of the details right here on the blog very, very soon. It was so memorable!
On the particular night pictured (early last week) we got a little time to spruce up the house, make dinner together and take a really beautiful sunset stroll on the canal near our house before hopping off to a highly anticipated, but actually pretty scarring movie date night. And to be clear, the reason it was scarring was because I so kindly, like the loving, nice wife I am told Chris to choose the movie and that he'd get no objection from me no matter what he picked, and he picked the most insanely disturbing flick possible. Life with Ryan Reynolds and Jake Gyllenhaal.
Now ladies, I know what you're thinking… how could a movie with Ryan Reynolds and Jake Gyllenhaal possibly be anything but awesome, but I promise you that awesome it was not. I was covering my eyes for a large part of the movie, and I'm pretty sure I'll have nightmares about what transpired in that movie for months to come. Also, the name Calvin is absolutely out as a name for any potential future male offspring that we may or may not hypothetically have. Thanks a lot, Chris! On the flip side, Beauty and the Beast and every single Nicholas Sparks-written movie that has yet to be released is now in our future, so there's that. Side note, if you watch one thing on the interwebs today, let it be this ridiculously funny interview with Ryan Reynolds & Jake Gylenhaal. SO good!
I told Chris that this short-sleeved sweater pullover from Nordstrom is one of my favorite new tops because slightly preppy, striped pullovers like these just remind me so much of spring and summer and sunny lakeside/oceanside days and slightly chilly nights, which a short-sleeved pullover in a heavier fabric is perfect for. The style is a little bit 50s/60s retro-inspired, which I love and I also really enjoy the bow-tied back. Who doesn't love a little bow in their life?! Punchy pops of coral are also something that I never really get sick of seeing or integrating into my wardrobe or beauty routine, and pairing coral with navy is one contrasting combo I can really get behind.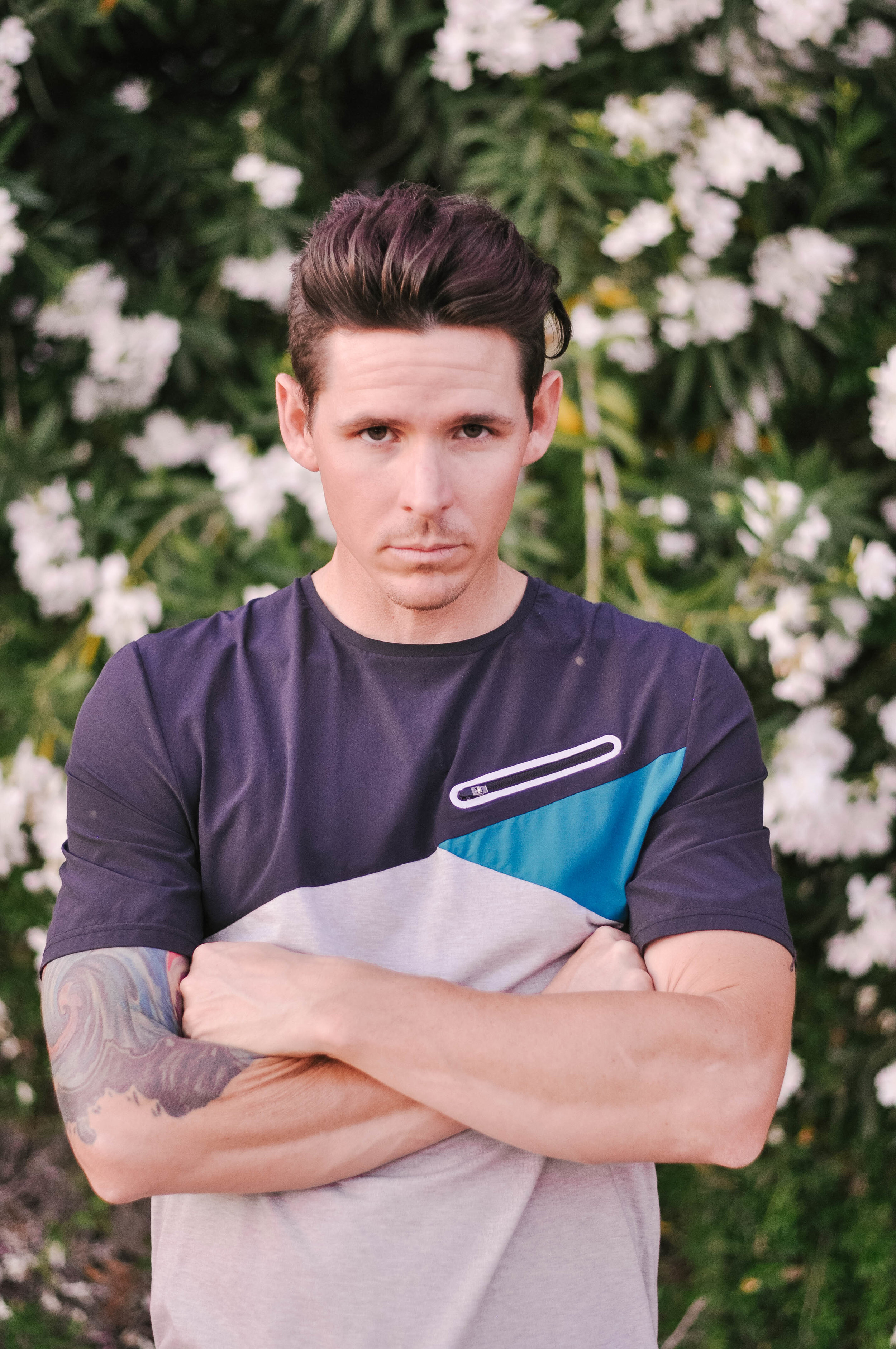 You'll also be happy to know that after practically living in the Levi's Wedgie Icon this spring in multiple washes, I'm finally trying out another Levi's winner, the 501 Skinny. This style doesn't have quite as high a waist as the wedgie icon, but is still a high-rise style, and it has more of a straight leg cut than the skinny ankle cut that the Wedgie Icon has. And I like the change! They're so so comfortable and I love the light wash. I've read a lot of reviews on the current lineup of new styles by Levi's that I have to say I'm absolutely loving, and the consensus seems to be that yes, the sizing on these new styles seems to have no rhyme or reason, lacking consistency. And I can say that that's been my experience – sometimes my regular size fits like a glove, and sometimes they're too big or way too small when I order in my regular size, and I just have to go through a little trial and error with each pair which can be frustrating when you're not trying them on in-store. But in my opinion, the juice is totally worth the squeeze and each denim piece in these styles is truly unique! I've always had a tough time finding denim that I love, and I've never worn or owned as many pairs of jeans as I do this season, and it's all because I feel like a brand finally "gets me"!
I hope you guys are having such an awesome week and hey, we're half way to the weekend which means you can start your slow descent into kicking back and relaxing for yet another spring weekend spent outside with your family and friends! And don't forget that you can shop this post below, and if you're looking for even more inspiration or spring trend finds, hop on over to our "Shop" page and shop everything you see by scrolling through the items under each heading. Be sure to let me know what other trends or item roundups you'd love to see in there so I can make sure to add them to the page. I love making it easier to sift through all of the product noise and help you guys get right to the good stuff! Cheers!
Shop The Post