Happy Friday, friends! I hope that everyone had an amazing Valentine's Day this week no matter how you celebrated, and I wanted to say a huge "thank you" to everyone who entered our Valentine's Day giveaway and a big, warm "welcome" to all of our new readers out there! We're so thrilled to have you here following along with our adventures and I'd love to meet every single one of you, so make sure to drop a comment in the comments section if you haven't already and introduce yourself so that we can say hi!
As you know I'm a huge fan of Valentine's Day, and although I'm sad to see it go, for us here in Phoenix the passing of VDay means that it's officially spring! Who could be mad about that? The warm weather is here and here to stay, the snowbirds have arrived and we're just around the corner from the time where every Phoenician and Valley visitor forgets that they have a job and decides to play a little mid-week hooky and basque in all of the glorious fun in the sun that is Spring Training!
If you're driving in Old Town Scottsdale any time in the month of March, don't forget to watch for wobbly beach cruisers… the struggle is real! For Chris, this time of year means that the restaurant and especially the patio is packed just about every night (don't forget to go visit Mora when you get the chance – the most delicious pasta you've ever had and a rosé snow cone awaits!), and he absolutely loves it. For me it means perfectly temperate runs along the canal with Hamlet, weekend brunch and bike rides with our friends and endless DIY projects in the backyard, day or night!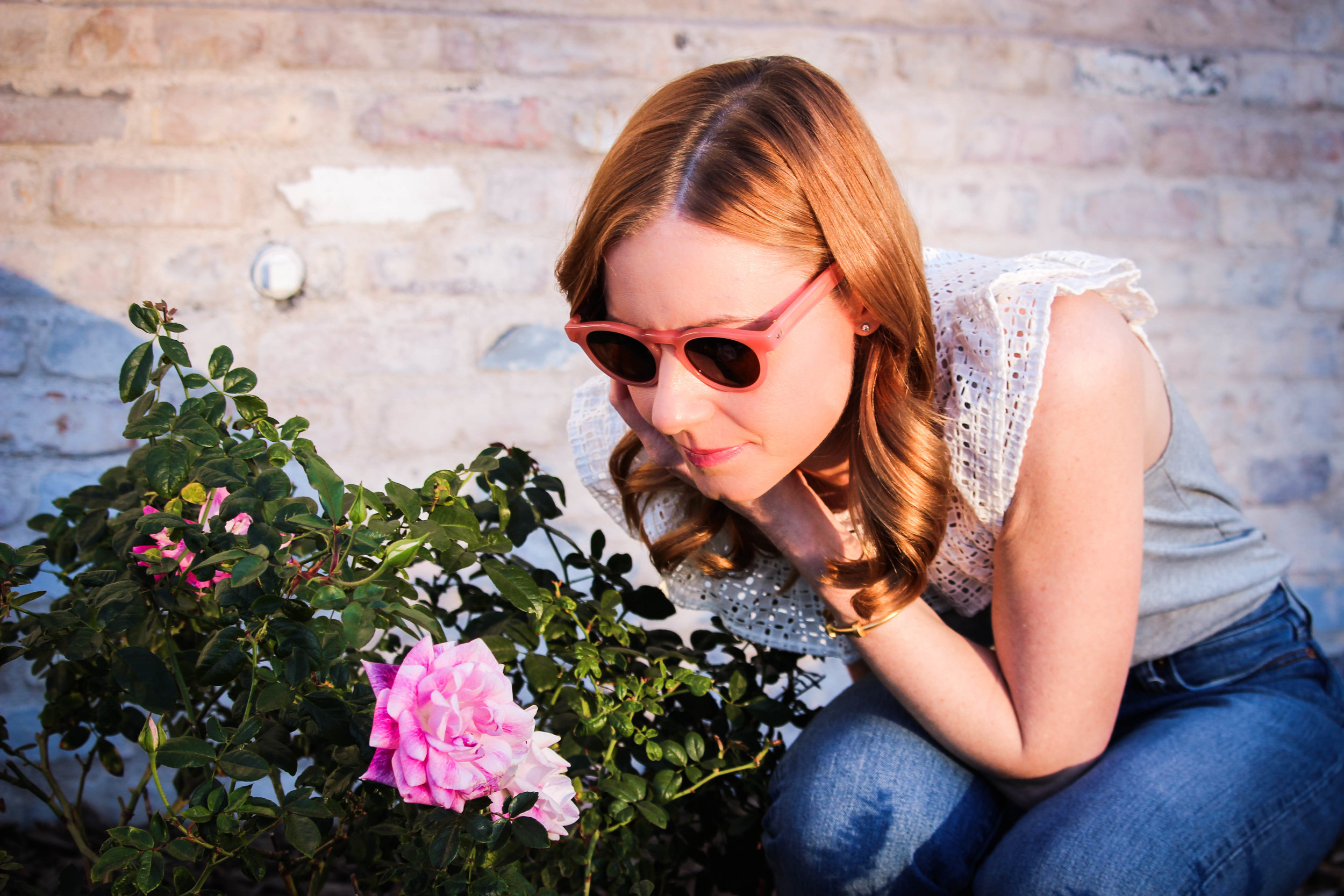 And another one of my favorite things that this time of year always ushers in is fun, unabashedly feminine style with lots of ladylike details in sweet pastel and punchy hues, which I absolutely love! And one of the trends you'll see everywhere this year that I just can't get enough of is ruffles. Ruffled pieces are popping up absolutely everywhere, and I'm totally into it and diving in head first. This ruffled tee from J.Crew is one of my absolute favorite ruffled finds, especially because it includes another one of my warm-weather loves – eyelet! And it's one of the most comfortable, lightweight tops I've purchased in recent memory, which always comes in handy when I'm sitting outside for hours on end.
I know I know… ruffles aren't for everyone. And I get it! They can be a little bit too Elizabethan for some people and make you feel like you're swimming in a sea of fluff or sporting football pads, but I say embrace the funk! There are so many different ways that ruffles are incorporated nowadays, which means that if you're not into a layered ruffle collar and shoulders like this, there are plenty of options to dip your toes into the trend – ruffled dress hems, a subtly frilled frock top, a loose ruffle on an asymmetrical shell, etc. The possibilities are endless! And if you're still not convinced or looking for a few examples of what I mean, I rounded up a huge group of my favorite spring ruffle finds below that range from tops to dresses to skirts and are all perfect for warmer weather and ladylike looks galore. So check out the options and drop me a comment and let me know if you're into this trend and if so, what ruffle style suits you! Happy spring shopping!
Favorite Spring Ruffle Finds