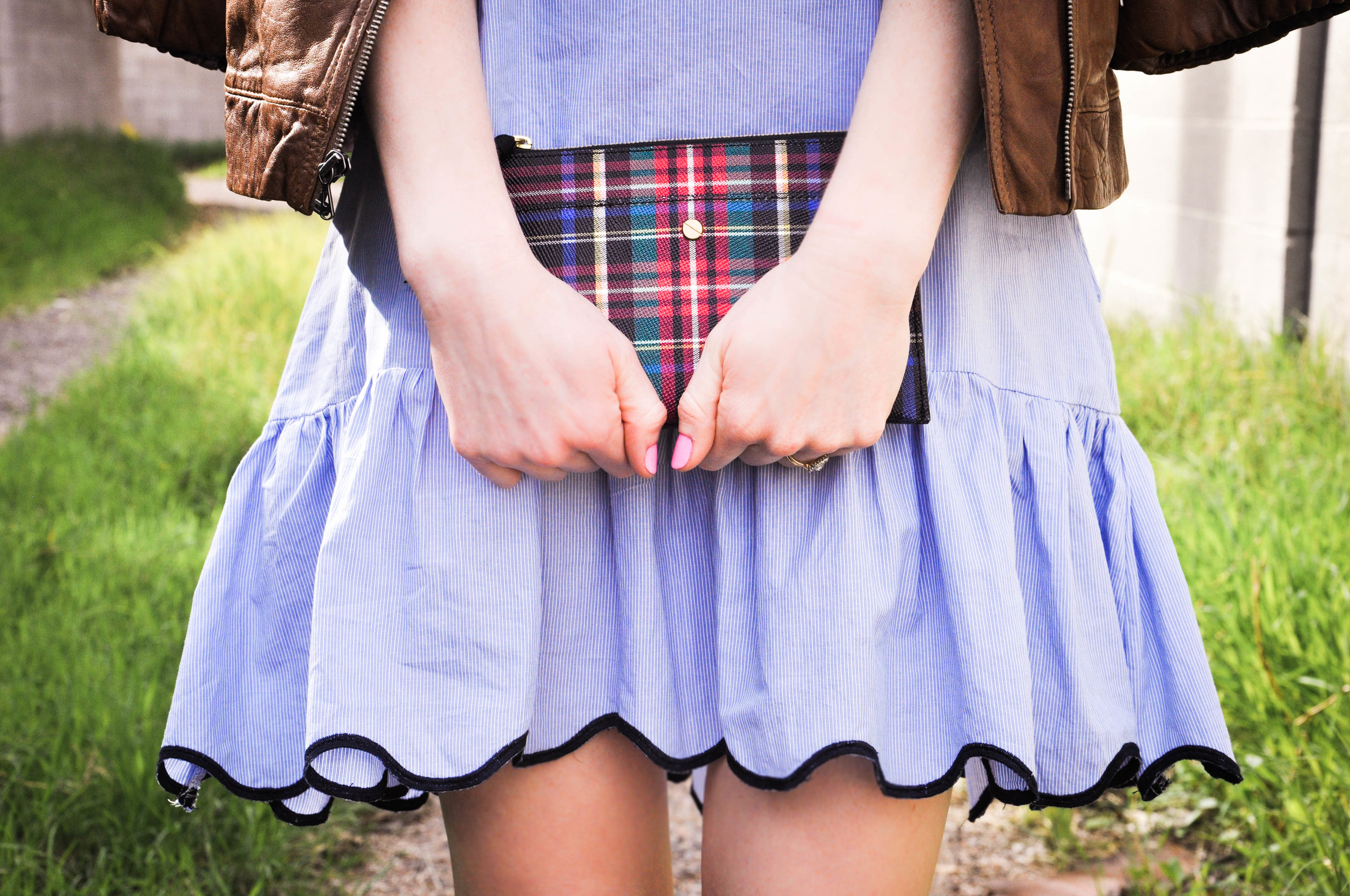 I'm sure I'm not alone in saying that as soon as the real spring weather hits and outdoor activities and occasions start to pop up in my life, I immediately reach for my favorite dresses from last year's spring and summer and start wearing them as soon as possible. And whenever I start seeing fun, feminine little spring dresses pop up in every store I love, I start stocking up again! Truth be told, it's a little scary for me to ditch the pants and start bearing those pasty pale legs that haven't seen the sun in what feels like a decade, but hey, I've never let that hold a girl back! Pale legs? Check! Smile on my face? Check check! The dress is a wardrobe staple for me, so pale legs or not, it always has a place in my closet.
It's pretty obvious that I've been a little bit in love with blue hues as of late. It's not necessarily intentional, but like I talked about in this recent post HERE, the blue and white combo is everywhere this season and I've been loving every single blue piece I've picked up lately. And it seems like everywhere I turn, there it is. Blue blue blue! I've always liked blue in general, but wouldn't say that it's extremely prevalent in my wardrobe, but it's definitely making its mark this year.
And I feel like a blue dress is such a classic look that women have been embracing for hundreds of years, and to me, it just oozes femininity without being overtly girly. It's strong and soft at the same time, and never goes out of style. And I think blue looks good on just about anyone. It compliments any skin tone, hair color, eye color, etc. and somehow makes every look feel properly pulled together. How does one color do all that?! Blue is the Kate Middleton of colors. Everyone loves it!
I'm loving THIS little lightweight, drop-waist blue striped dress that I'm wearing here that I found on one of my recent trips to Zara, and as always, it didn't hurt that it was under $50. I absolutely love drop-waist dresses and it seems like it's a cut that Zara really likes to do, which is awesome and the scalloped, ruffled hem on this one makes it that much more fun! I have THIS white drop-waist Zara dress that I found last fall and it will definitely be in rotation this spring and summer, too. I like lightweight cotton dresses like this because I can layer it for spring like I did here with a 3/4 sleeve Gap leather jacket that is seriously one of my most cherished items in my entire wardrobe (it's almost a decade old and it's worn so well that I still wear it regularly), or I can wear it on its own throughout the sweltering summers here in Arizona and it will be the perfect piece to keep me cool when the temps climb into the 100s.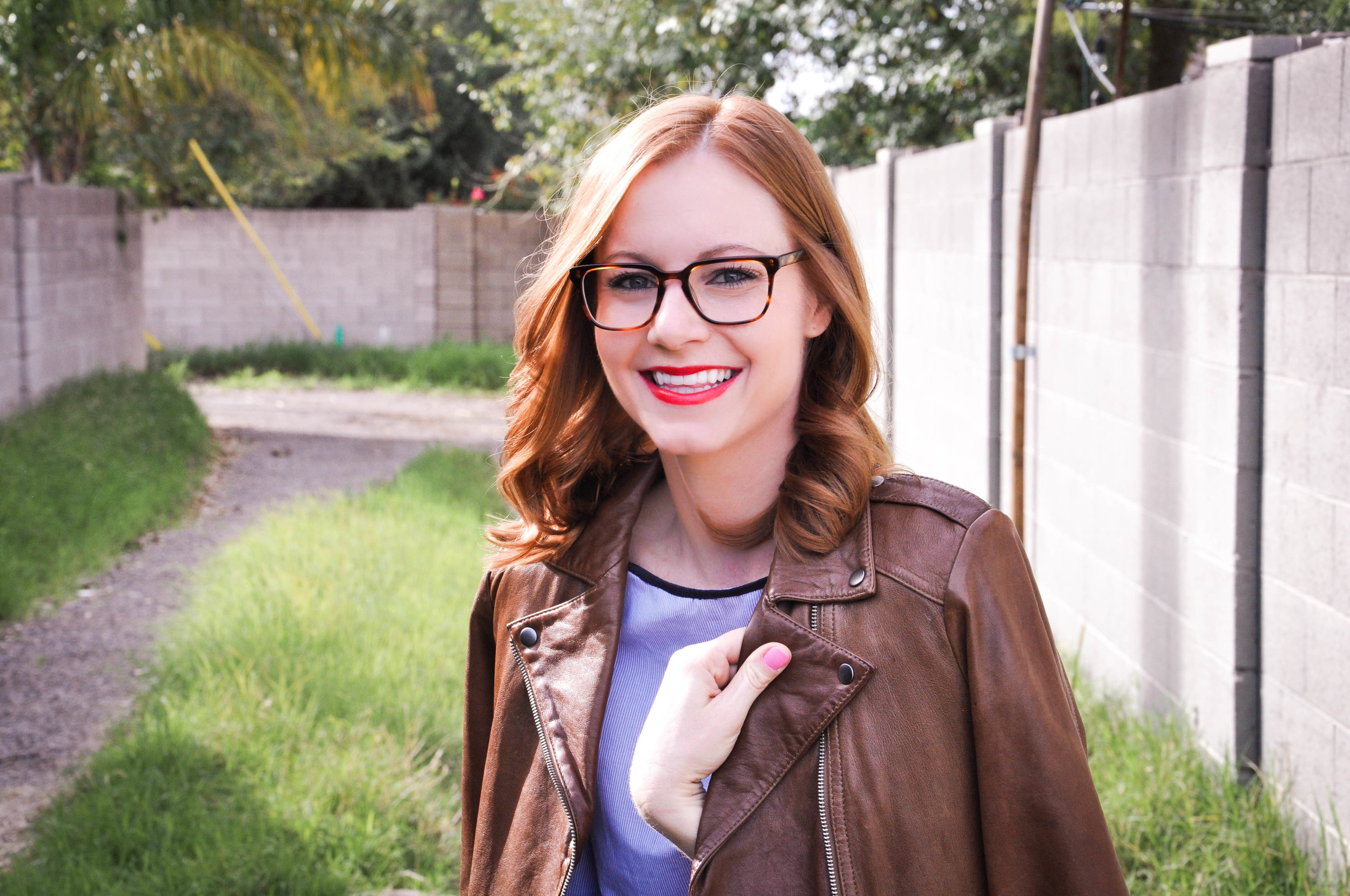 As an Arizonan (OK so I'm not a native, but I think when you survive over a decade of summers here you're officially indoctrinated), I've really come to appreciate the place the dress has in my wardrobe. Not only do dresses make the act of getting dressed so much easier (one piece and done!), but I can stock up on dresses during the spring and wear them with layers while the temps are still a little chilly at night and in the morning and be perfectly comfortable, and they help me immensely when I go into survival mode in the summer and am just trying not to sweat through seven outfits in one day just by walking to and from my car. And aside from a good drop-waist, nothing is as flattering as a flowy, lightweight midi dress in the warm weather months and I'm so glad that the midi dress has become the cut of choice in recent years.
So to celebrate the arrival of the dress seasons, I've rounded up a ton of my favorite spring frocks below, in all colors, prints and cuts and of course, at almost every price point. There are so many different styles to choose from for any occasion (baby shower/bridal shower/wedding season anyone?!) and I'm just here to make the hunt a little bit easier for you!
And don't forget to drop me a comment in the comments section below and let me know what your favorite dress style/color combo is, and any brands/stores you're loving for dresses right now (I've recently fallen in love with Doen and adore THIS dress from their new collection). And if you're in need of even more inspiration, you can jump over to our SHOP page and see everything I'm loving and shopping right now – it's updated daily!
Spring Dresses