We swear we've been hard at work on our small master bedroom makeover that we talked about here on the blog a few… months ago. We know we know, it's been a minute, but this room makeover has involved about 765 DIY projects that all have their own timeline and can't necessarily be rushed so we've had to exercise some major patience and determination on this one. Emphasis on the major. But now that we've put together a couple of the essential pieces to this puzzle and are making some serious headway, we thought we'd start sharing some of the projects involved as they get finished to let you in on (and celebrate) the progress! We need celebrations to survive these house projects, people. We need it!
Shop The Post

First up? Our fun, easy, affordable DIY answer to styling our nightstand: decorative stacks of color-coordinated antique/vintage books! One of the bedroom decor elements that we're keeping around in this makeover are the DIY nightstands that you guys just can't seem to get enough of (we're pretty in love with them, too), but there were a few things on top of said nightstands that we just didn't love. One of those things was our brass globe lamps. Although they were the perfect size for the nightstands, they felt a little bit cold and out of place in our home. So out they went! I'd been dying to use these pretty whitewashed lamps somewhere in our home ever since I'd spotted them nearly a year ago, so when I was dreaming up this bedroom makeover those were the first items I included in the plan. But…
But there was one tiny hiccup in that part of the plan — the lamps are slightly small, which is great for the size our small master bedroom overall, but feels a little bit too tiny when placed alone on these oversized nightstands. The answer? Give 'em a little lift by placing them on top of a decorative stack of perfectly color-coordinated antique/vintage books! Using cheap antique or vintage books (or cheap color-coordinated contemporary books, for that matter) to style and add interest to a table is one of my go-to home decor tricks because not only is it so simple, chic and effortless, if you're shopping at a vintage/antique bookstore like we do (Book Gallery here in Phoenix is absolutely magical) or just your average second hand store, it's uber affordable, too. It also serves as a versatile and easy way to help with height and overall proportion issues between whatever design and decor elements you're mixing in a room, which I personally think is always a challenge. Hey, I'm not an interior designer so this stuff stumps me sometimes, ya know? Oh, the struggle! And no, this isn't a new or novel idea, but just a friendly little tip/reminder of how useful and awesome it can be.
If it's the affordability of this decor hack that you love, I'm totally with you. Same! Same! And one of the ways to maximize the affordability of this little decor project is to shop local at an antique/vintage bookstore or better yet, Goodwill and the like. In general we prefer that the books we use have content inside them that we actually enjoy and would read from time to time, but if it's purely decorative books you're after (no judgement – we're not above it!), you can easily find cheap gems at a local antique/vintage bookstore or second hand store, with the latter being the cheaper option (though there's a chance you won't find exactly what you're looking for there). Pro tip for you Phoenix dwellers: the annual VNSA Book Sale here in town is the very best place/time to score beautiful books at bargain bin prices — so many of the gorgeous decorative antique books that we have throughout our home have come from that sale. It's the jam!
You can also find color-coordinated bundles of decorative antique and vintage books on Etsy, which is super helpful and an easy way to get all of the books you need in one purchase/place. Bonus: that's just another way to shop second hand, creatively reuse something old and beautiful and give it new life and reduce your footprint.
I've been reading Yvon Chouinard's Let My People Go Surfing recently and it has me taking a hard look my own footprint and general consumption. As you know we're really passionate about DIY home decor and breathing new life into old home items, furniture and decor included, and though we'd be lying if we said that our impact on the environment and the world we live in was always behind that passion, it's definitely a driving force now. We're nowhere near where we need or want to be on that front and have such a long way to go (obviously –even in this post we're contradicting that idea by linking to new home decor items), but we love that this little decor idea reuses unwanted items and gives them beautiful, happy new life!
But if you're solely interested in the aesthetics of this handy dandy decor trick, budget isn't necessarily a priority and you'd rather have new books sitting on your nightstand (we get it — do you, boo boo) I love the book and coffee table tome selection at McGee & Co. and Anthropologie. They have such a beautiful, fun selection of coffee table books and great books in general that are not only perfect for this particular purpose, but are cool reads, too.
So what do you guys think of the stacks we assembled? We kept it pretty neutral to coordinate with our black, white and tan bedroom makeover theme and added one little pop of seafoam because… well you know how we feel about seafoam. All of the books we used on our nightstands are from Book Gallery here in Phoenix, and we're so excited to work our way through all of them at before bed every night. That The End of An Era book is all about "the last of the Great Lakes steamboats" and I'm so excited to dive into that one. Oddly interesting topic. If you live in The Valley you have to visit and peruse the stacks at Book Gallery — best way to spend a Saturday morning. Swear!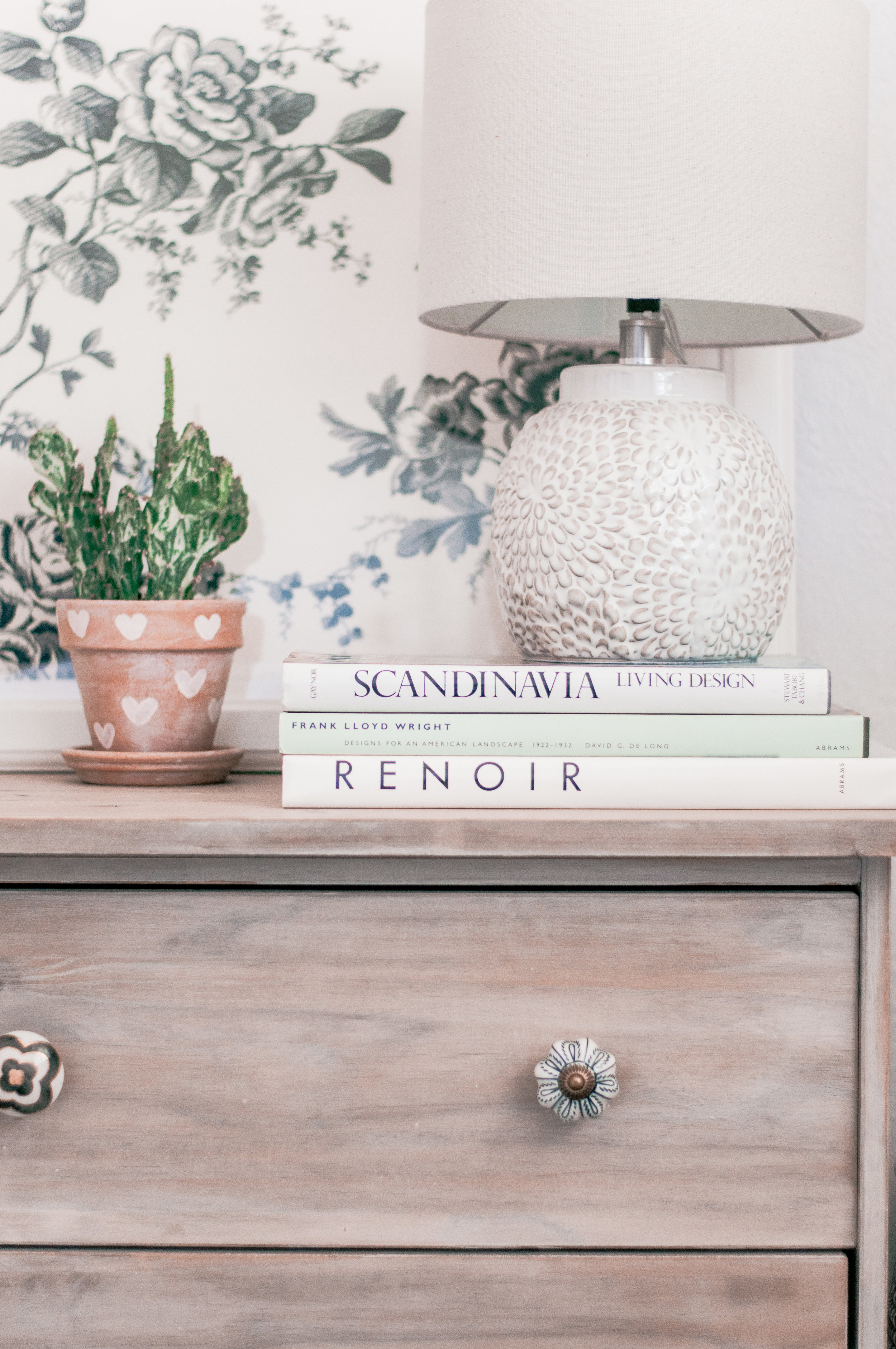 Shop The Post