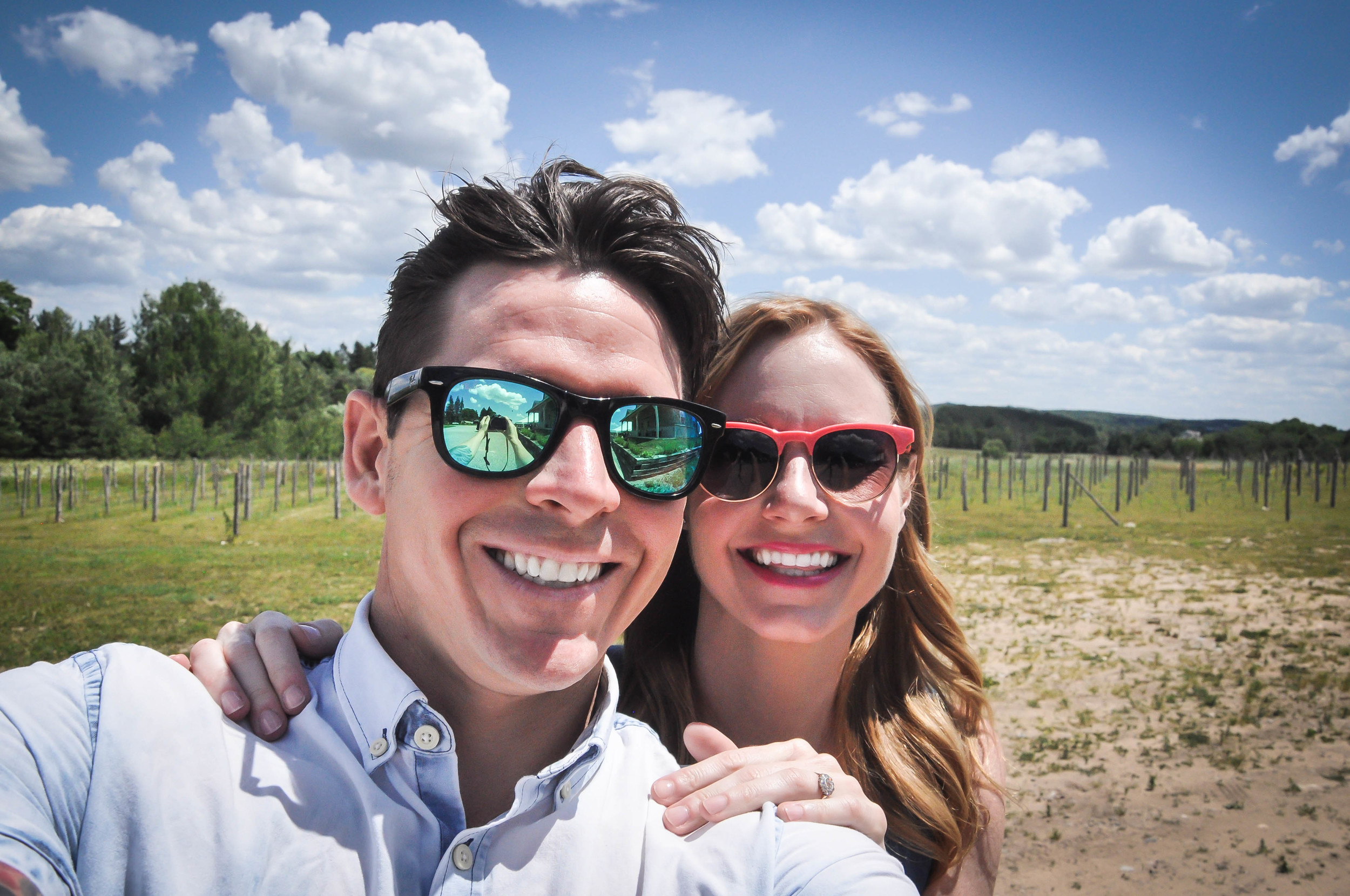 If we had to choose our favorite places on this planet to visit, stay, eat and play, there would be a lot of worthy contenders in all corners of the globe. But right up there on the top of our list is a tiny town that holds a special place in our hearts and also happens to be the site of our upcoming nuptials – Petoskey, Michigan! This small northern Michigan town is an incredibly scenic, quaint, classic place with rolling hills and a rich history, and somehow manages to grow and innovate while staying just about as small town as it gets. Fun fact: one of the town's most famous residents was Ernest Hemingway who spent many of his summers growing up at the family's lake house on Walloon Lake (just outside of Petoskey), and frequented many Petoskey businesses during his visits, some of which still thrive in the town today (and aren't too proud to mention their favorite famous patron)!
While we were up visiting Petoskey and nearby Walloon Lake over the 4th of July, we had the chance to partake in a cake tasting with our incredible wedding cake vendor, Simply Sweet by Jessica. The insanely talented baker behind the brand, Jessica Stubbs just opened her new storefront in downtown Petoskey where she sells her delicious sweet treats and does tastings with her clients, and the shop couldn't be any more heavenly. Not only are the flavor combinations of her creations absolutely out of this world and uber creative, but her little shop is filled with charm and character, including the addition of one long, old church pew that she and her husband rescued, and that stretches the length of the shop creating the cutest (and coolest!) banquette for use with the two-person tables sprinkled in front of it. Our minds were pretty much blown with every moist, flavor-packed, delicious bite and we feel so lucky that her cakes will be a part of our big day. Our mouths are watering just thinking about it!
After stuffing ourselves with all of the raspberry, almond, vanilla, coconut, salted caramel and chocolate cake, truffles and French macarons Jessica had to offer, we decided that we needed to wash it down with some wine (duh) and drove out to Walloon Lake Winery, which sits among the rolling green hills and farms on the outskirts of Petoskey on your way to Walloon Lake. We'd been wanting to stop by their new tasting room and try some of their fruit wines, and trust us when we say that what we tasted was totally surprising and went way above and beyond their arsenal of fruit wines… which were amazing by the way. The winery is family owned, the entire family works there… together… in harmony, and the farm where the winery now sits has been in the family for over 60 years. How cool is that? We fell particularly in love with their Blackbird Blackberry wine and their Randall's Point Red. We can't wait to go back and visit again soon!
Adorably delicious bake shops and picturesque wineries bursting with flavorful wines are just a tiny slice of the treasures this small community has to offer, so below we listed some of our favorite tasty spots in and around Petoskey, just in case you ever get the itch to kick back, relax head to the 45th Parallel to enjoy the unmatched beauty and laid back lifestyle of life Up North!
Where to Eat in Petoskey:
Symon's General Store (great sandwiches)
Petoskey Brewing (located in one of Michigan's oldest and most impressive brewery buildings, if you love craft beer, this is your place)
American spoon (the cafe has a delicious menu, and the small store next door has every one of their Michigan-made jams, syrups and sauces out for tasting!)
Jesperson's (a Petoskey staple, the pie selection is extensive, homemade and unforgettable)
Kilwin's (fudge, ice cream, sweet treats)
Murdick's (fudge, ice cream, sweet treats)
City Park Grill (an old Petoskey staple and one of Hemingway's favorite local spots!)
Johan's (famous for their "J Buns"… aka the most delicious cinnamon rolls you'll ever taste)
Coveyou Scenic Farm (Incredible local produce & cheese and an even more incredible view)
Where to Get Coffee in Petoskey:
Where to Get Wine in Petoskey:
Other Petoskey Dining Gems:
BarrelBack Restaurant (The view over Walloon Lake is incredible)
Walloon Village General Store (head to the hidden deli in back for their delicious sandwiches!)
Her: Asos Denim Belted midi dress, Loft pink retro specs, Matiko nude Karla sandals, J.Crew mini bucket bag