This shop has been compensated by Collective Bias, Inc. and its advertiser. All opinions are mine alone. #CollectiveBias #HallmarkHolidayMoments
This holiday season here on the blog and in our lives at home, we've committed to refocusing our energy toward intention. To slowing down, connecting with each other and the people that have contributed so much joy to our lives over the last year and dedicating our time to the holiday traditions and activities that are most meaningful to us. To using this magical season to celebrate all of the good and the love we've been so blessed to find in this life. Which is why today, with a little help and inspiration from Hallmark Paper Wonder Cards and Hallmark Signature Cards at Walmart, we're bringing you into one of our very favorite holiday traditions — delivering personal, handwritten holiday cards with simple little DIY gifts as a heartfelt "thank you" to the special people that have touched our lives over the last year. And because you guys are the absolute best readers on the planet (duh!), we're hoping you'll jump in and join us on this one to ignite a wave of gratitude and holiday cheer that reaches far beyond this little blog this season!
Giving thoughtful, handwritten cards that have been carefully selected for each recipient has been a tradition in my family for generations (and not solely reserved for the holiday season). The art of the heartfelt, handwritten card was something my mom was really passionate about passing on to my sisters and I, and I'm so grateful she did. From my grandmother to my mother to my sisters and now Chris and I, we've always believed that an intentionally selected card with a handwritten note that speaks to your relationship with the recipient and how much they mean to you is the most memorable gift you can give, and touches a special place in your heart and theirs that other gifts just can't reach.
And through the years Hallmark has always been by our side in that pursuit, making it their mission to help us express our love, gratitude and joy in the most beautiful, thoughtful way. Their cards always capture the warmth and joy of the holiday season in a way that transcends time and trends and rings true year after year. And now with their stunningly beautiful Hallmark Paper Wonder Cards and Hallmark Signature Cards at Walmart, that magic has been captured in a completely original way that you have to see to believe — seriously, I was completely blown away by the sheer beauty of these paper creations when I saw them! As you can see in the pics, Hallmark Paper Wonder Cards are unique, displayable cards that can be given as a greeting or their own little present, which is such a unique idea! What's more, Hallmark has all of the cards you need for this Holiday season with an incredible selection and great prices conveniently available at Walmart, which makes finding the perfect card for that special person so much easier.
What's even better? A promotion!
In-aisle Coupon:
Buy 2 Hallmark Cards, get 1 free. Offer available through 12/25/18 or while supplies last.
Earn $1 off a card purchase of $2.97 or more. Offer available through 12/25/18 or while supplies last.
In-aisle Plush offer:
Get a plush Holiday Bear for only $3.97 with the purchase of 3 Hallmark Cards prices $1.97 or higher. Offer available through 12/25/18 or while supplies last.
Over the last few years as we've started to create our own holiday traditions as a couple, there's one tradition we feel more and more connected to every year we do it, and that's probably because it fills our hearts with so much happiness! When the holiday season hits we sit down and write a list of all of the people that have touched our lives and our hearts in a big way over the last year. From small acts of kindness to big milestone moments to simply lending us a helping hand when we needed it, the list includes family, friends, co-workers, clients, veterinarians, neighbors and so many more. Then we create the easiest little gift boxes (we love using these cheap little hyacinth baskets with colorful shredded paper, but a craft box or regular gift box is just as easy!) that include a couple of simple, affordable, but oh-so-awesome treats (who doesn't love cookies and hot chocolate… and mini marshmallows?!) and the perfect Hallmark Greeting Card for each person on the list, which is the highlight of the whole thing!
We hand write each card and detail that special moment in the year when we appreciated that person most, our most heartfelt gratitude for all they do and our warmest wishes for an incredible holiday season! Then once these easy little gift packages are assembled, we drop them off in person or send them off to those that live far away, spreading the holiday cheer as far as we can! And every single year, without fail, we hear from so many of the recipients that the card inside was what moved them most, and that they're saving them as a keepsake to pull out and read whenever they need to be reminded that they're loved. And that right there is worth its weight in gold and is exactly what endears us to this heartfelt holiday tradition.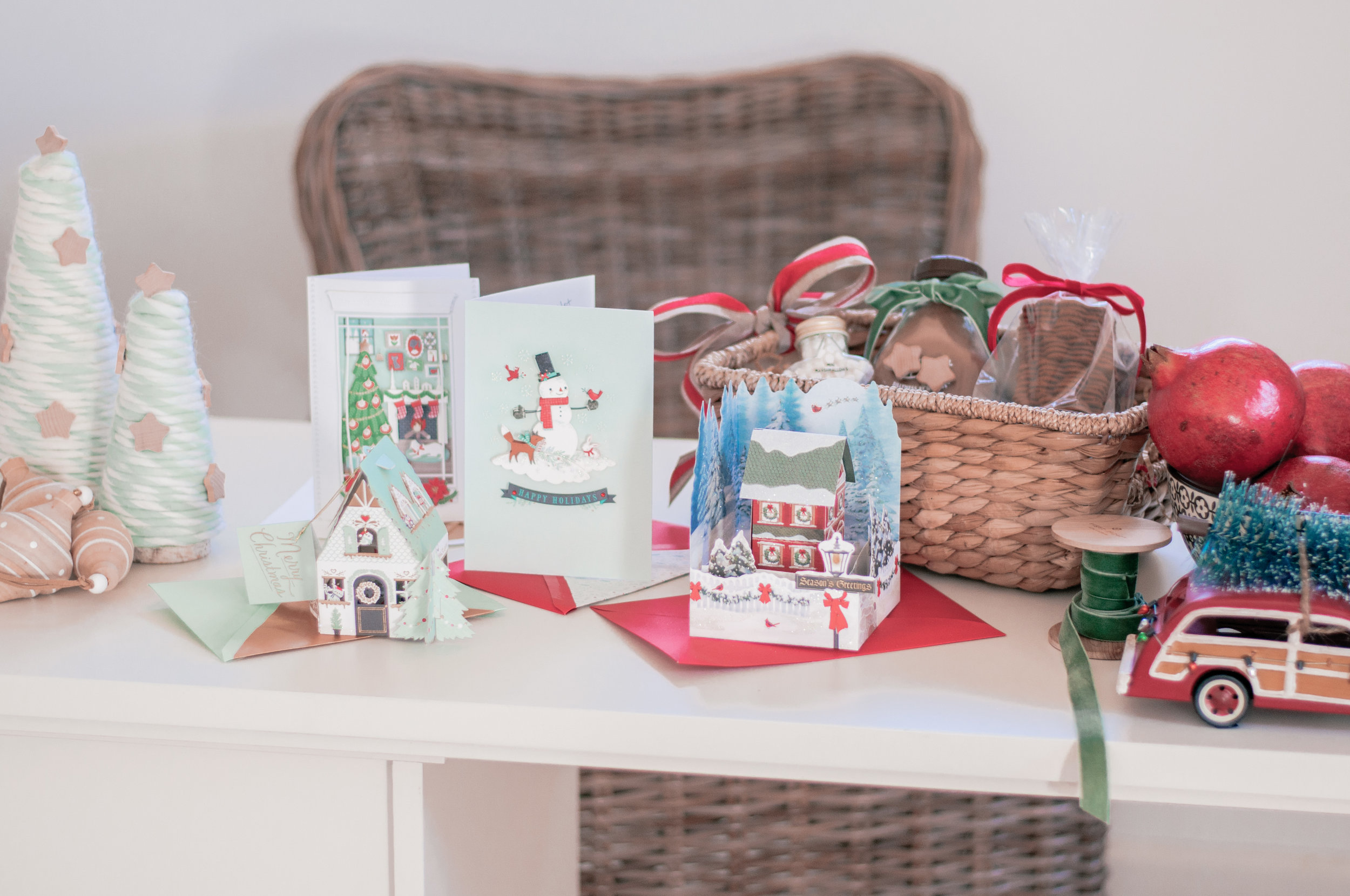 We also recognize that so many of you out there are intimidated by the prospect of writing a message in a card that properly articulates and captures the love or gratitude you feel toward the recipient, and trust me when we say that we totally get it. Writing anything that another human will read can, in general, be slightly intimidating, but just remember this — an imperfect card that comes straight from the heart is so much better than the perfect card that was never written. Whenever I sit down to write a holiday card to someone I love that has changed my life or filled me with gratitude, but feel like I might fall short, I remember the sage advice my mom always gave me before I wrote every card when I was younger — speak from the heart and be specific and you and your recipient will feel the love lifting off the page. And she's absolutely right!
This year, though there are so many people on that list, one of the people that's at the very top is someone who has given so much of their time, heart, kindness and patience to us and others all year long, and rarely gets the praise or thanks they so deserve. Hamlet's veterinarian! As you guys know, Ham has had some health challenges this year that made us frequent visitors at our veterinarian's office. Some days we were frantic, some days there were tears, and some days we were downright exhausted and desperate for answers, and our vet showed up for us every step of the way with guidance, care, attention, understanding and solutions. To say that we're grateful for him is an understatement, which is exactly why finding him the perfect Hallmark Signature Card at Walmart
and writing a heartfelt note that expresses that gratitude in depth and detail is the perfect way to say "thank you" this holiday season and remind him that he's loved. The cookies, hot chocolate and a beautiful little ornament might help, too!
So there you have it, guys! A little peek into one of our very favorite holiday traditions that we hope will inspire you to spread your own handwritten holiday cheer this season! And we're dying to know — do you guys write handwritten cards to friends and loved ones during the holiday season? What are some of your other favorite heartfelt holiday traditions? Tell us everything in the comments so we can spread the cheer as far as it will go!
You can find
Hallmark Paper Wonder Cards and Hallmark Signature Cards at Walmart nestled inside the most gorgeous holiday displays!