One item that I think every lady needs in her wardrobe is the perfect, versatile oxford that can transition from the office to date night to weekend wear and beyond, and even though the oxford seems to be a major shoe trend in the last few years, experiencing a little bit of a resurgence on the runway and in retailers everywhere, my affection for this shoe style and its place in a woman's wardrobe are nothing new. Ever since I laid eyes on my mom's vintage leather and suede Ferragamo oxfords and fell in love with their smart style, I just knew that this would be a long love affair. It's one of the few shoe styles that I can openly admit that I've been wearing at almost every age without total embarrassment, and I love that!
Even though the oxford seems like a menswear-inspired trend, that would be selling the story a little bit short. Yes, they're an adaptation of a men's style, but women have been wearing some version of the oxford for almost a century after they came into popularity for us dames in the 1920s (I'm lumping oxfords, bluchers, derbys, saddle shoes and brogues together here because we'll tolerate no shoe style snobbery on this blog!), and that's because this lace-up style goes with absolutely everything, despite what you may think – pants aren't the only option, I promise!
What's more, if you're lucky enough to find a perfectly crafted neutral pair that's oh-so-comfy with extra cushion and a low stacked heel like the CC Corso Como "Galaxy" I'm wearing here in nude, I swear that you'll find yourself pulling them out to pair with everything from skirts to dresses to jeans and more, in every single season.
Last week HERE on the blog I talked about those staple shoes that become essentials in your wardrobe throughout the span of a season, and there's definitely a place for that pair from season to season. The ones that are meant to be worn out after months of everyday wear. But the oxford is timeless. It's classic. It's everlasting. A good pair can last not only years, but decades if they're tough enough (i.e. my mom's vintage Ferragamos that are now happily in my possession and still going strong) and when they're perfectly shaped, in the prettiest of blush/nude colors and as well-made as the pair I have on, you can easily see why they never go out of style. There's just something so feminine and self-assured about wearing an oxford. It oozes effortless sophistication and who doesn't love that?!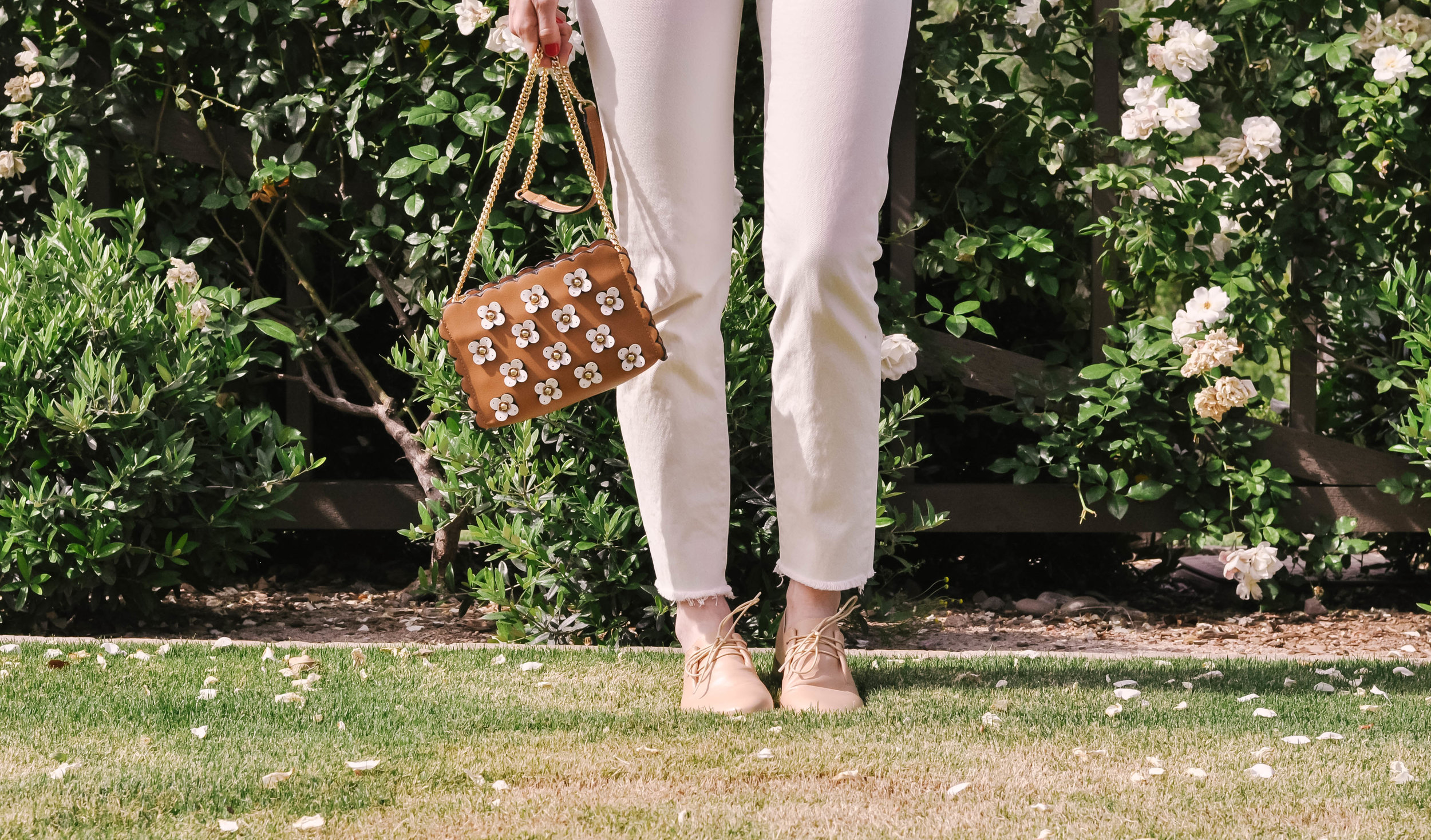 And as always, these CC Corso Comos are just as comfy as all of the brand's other styles and are equipped with their comfort insole technology (think gel padded gel inserts in the heel and a foam lining), which is just another reason you'll be pulling these out over and over again. I will say that some oxfords can be a little bit hard on the pad of my foot simply because of how they're typically constructed (they've been known to be a little stiff), so the fact that this pair is insanely comfy and soft is a huge plus.
They also come in black and THIS gorgeous blue hue, which totally remind me of Danny Kaye's grey oxfords that he wears when he does "Sisters" with Bing Crosby in White Christmas (one of my favorite movies of all time – if you haven't seen it you must)! For some reason when I was little I always thought that they were blue, and I really enjoyed that. I think I'll just keep telling myself that they are. Why let the dream die, right?
I'm definitely packing these in my suitcase for the Pacific Northwest/Seattle getaway Chris, Hamlet and I are heading off on this upcoming weekend because they go with so many outfits that I'll be able to save room for other fun things like a… rain coat. And wellies. Because it's supposed to rain. Every single day. Which is fine by me because rain is awesome and it's about to be scorching and oh-so-dry here in the Valley of the Sun for about 4 or 5 months. So bring it on, Washington! But any recommendations for things to see, places to eat, and dog-friendly adventures to be had from Seattle to Ocean Shores are welcome! We've got a few stops on our agenda, which we're so so excited about, but are always up for adding more to the list!
Shop The Post
This post was created in partnership with CC Corso Como, who provided products we love. All opinions are our own.