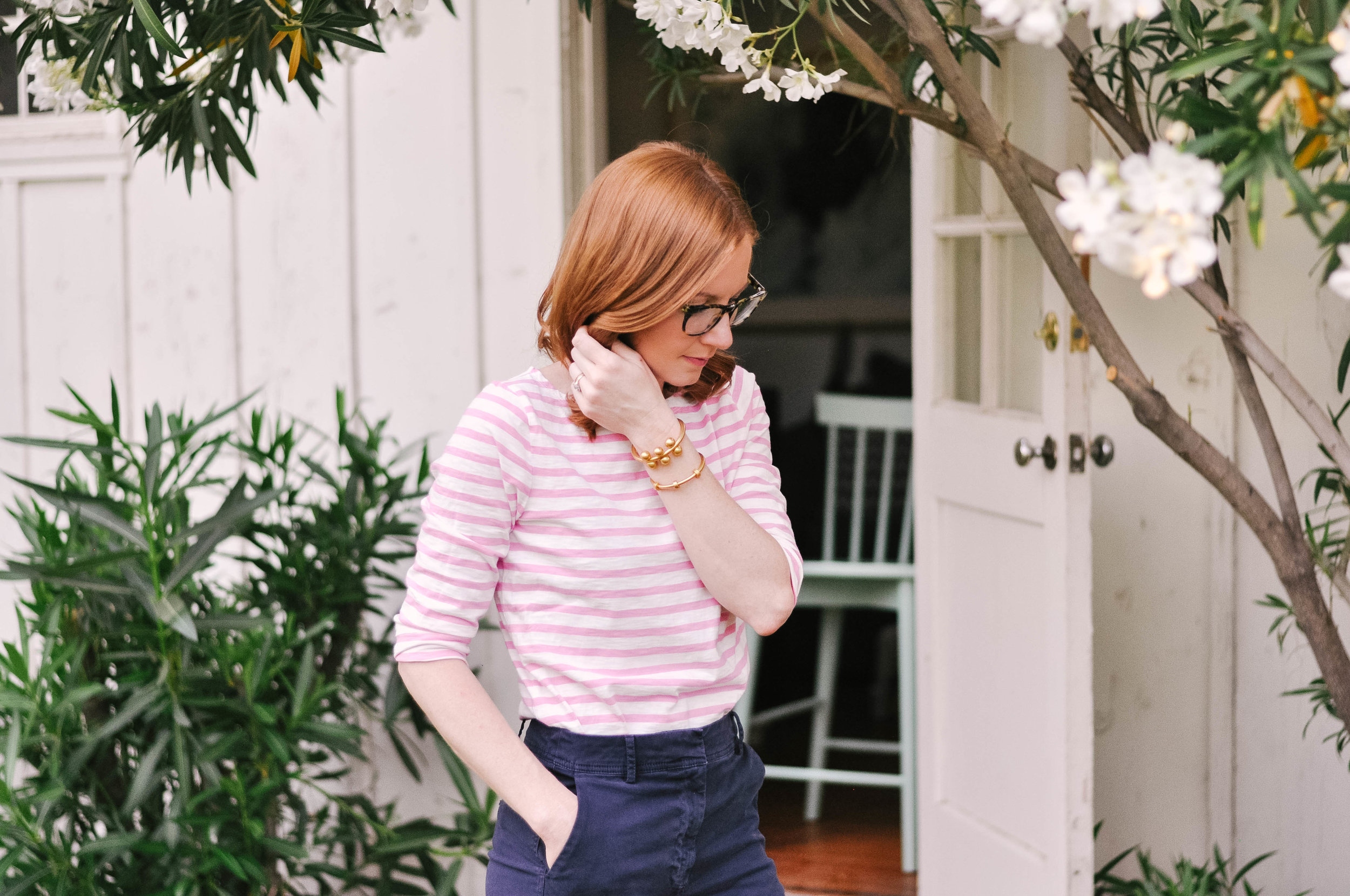 Happy Tuesday, guys! Can you believe that we're days into May already? Every year around this time my family always starts syncing up and talking about travel dates and activities planned for our annual 4th of July trip up to the lake house in Northern Michigan, so this time of year always makes me start dreaming of lazy summer days spent on the water. I've talked about this a little bit here on the blog before, but the lake where my family has had a house for the last 40 years in Northern Michigan, Walloon Lake, was where I spent a large portion of my life growing up (both in the winter and the summer) and so many of my childhood and teenage memories revolve around my time there. In fact, I was so in love with the water and spending every second of my summer on the lake that I even took a class when I was 12 to get my boater's license (but shhhh, I'd been driving and the boat long before that) so I could captain a vessel without catching any flack from anyone older than me!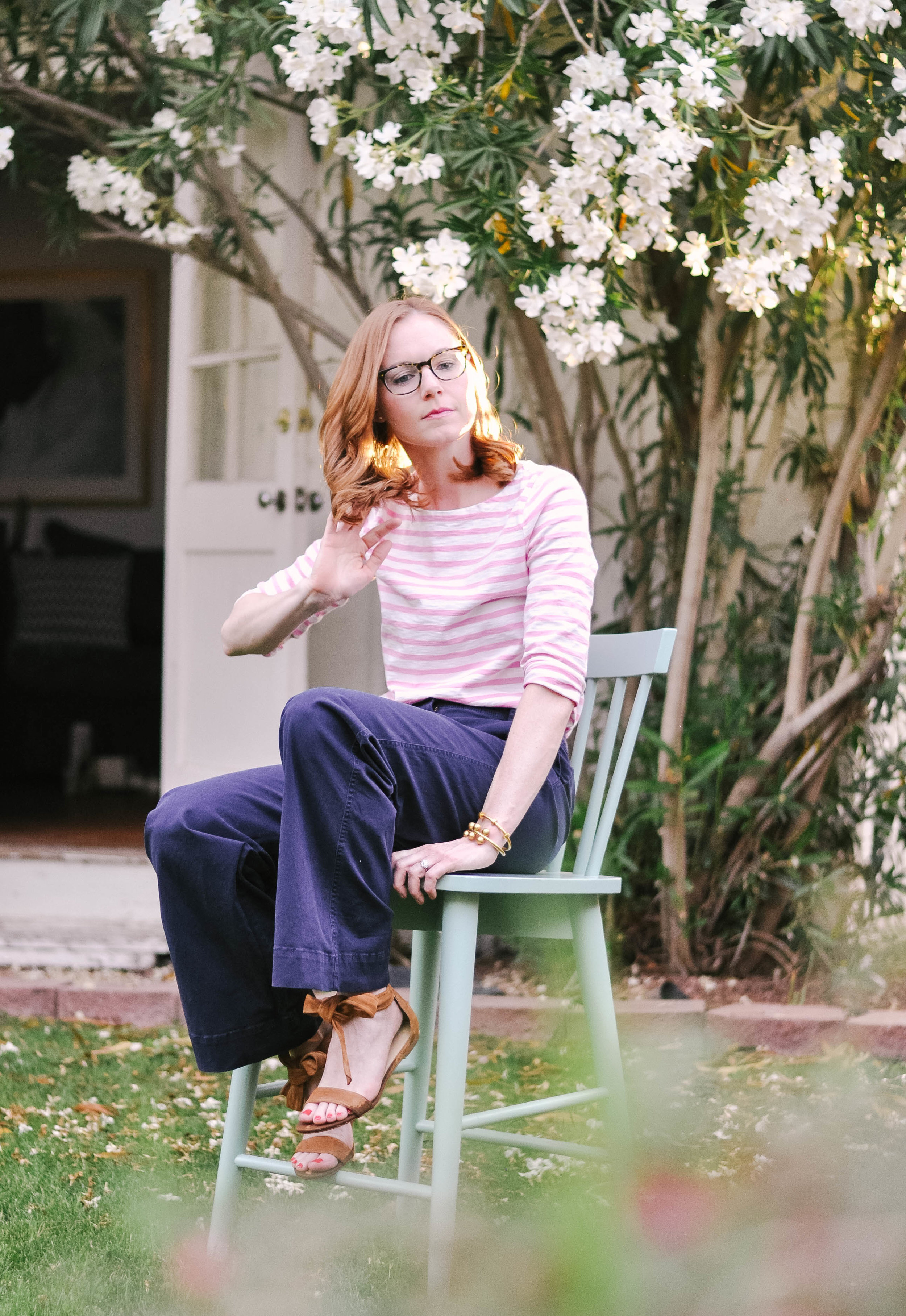 And this year, we're only two weeks away from jetting off on our honeymoon in St. Lucia and Bequia, so right now I feel like I fall asleep feeling the motion of the water and the waves. Some people refer to that (typically post-boat) rocking as "mal de debarquement" which is French for disembarkation sickness, but I've always loved it and definitely don't think of it as a "sickness" – after a long day on the boat on the lake and you're just slowly rocking back and forth after you close your eyes in bed. It's so soothing. No "mal" about it.
And of course, all of this talk of sun, sand and water has me really feeling the nautical vibes, and anything sailor-inspired, which J.Crew just does so well summer season after summer season. When the weather warms up, you can always count on J.Crew to give a nod to the nautical lifestyle by including many a sailor-inspired item in their collection, which I won't ever be mad at. I scored these wide-leg chinos during one of J.Crew's "sale on sales" for under $25 (they're still on mega sale in tons of sizes, too!) and I'm not kidding when I say that I think they're the comfiest pair of non-yoga pants I've ever owned. I could live in them. They're high-waisted and the perfect length for my 5'7″ frame with sandals, so these are definitely going to be a summer wardrobe staple.
I was also so excited when they came out with a striped boatneck in this bubble gum pink color because a good cotton, striped boatneck is my go-to top for a casual day by the lake or anywhere else for that matter! I'm pretty sure I own every color of the rainbow in this style and also several different shades of navy, and I'm completely OK with that. When you love it, get it in multiples, right?
And luckily, my heart lead me to the only person in the desert who loves the water as much (or maybe even more) than I do – that handsome hubs of mine! As you can tell by his sea-inspired tattoos (bet you didn't see that shark tattoo on his calf coming, did ya?!), Chris is truly, madly, deeply in love with the ocean and everything in it, and he's definitely happiest on the water and on a surfboard with the sun on his face and the salt in his hair. He spent a lot of time in San Clemente, California growing up and then lived in Costa Rica when he was older and would spend all day, every day out on the water anywhere if he could. He's also quickly taken to the "Up North" lake-lounging lifestyle, which I can't help but love. Our kids are definitely bound to be water babies!
We're currently taking any and all St. Lucia and Bequia/The Grenadines recommendations, so pretty pretty please throw them our way either below in the comments section or on Instagram! We've heard some pretty incredible things about both islands, and have been wanting to explore them for a while now, so we'd be happy to hear what activities and eateries we have to hit while there.
Below I also rounded up a ton of my current favorite nautical finds from around the web that you can shop right now, including the top and pants I'm wearing here. And feel free to leave some links in the comments and point me toward any sand-and-sea-inspired items that you're loving out there – I'm currently getting my packing list in order for our Carribean getaway (slightly difficult to scale it back) so I can use all the help I can get!
Shop Nautical Inspired