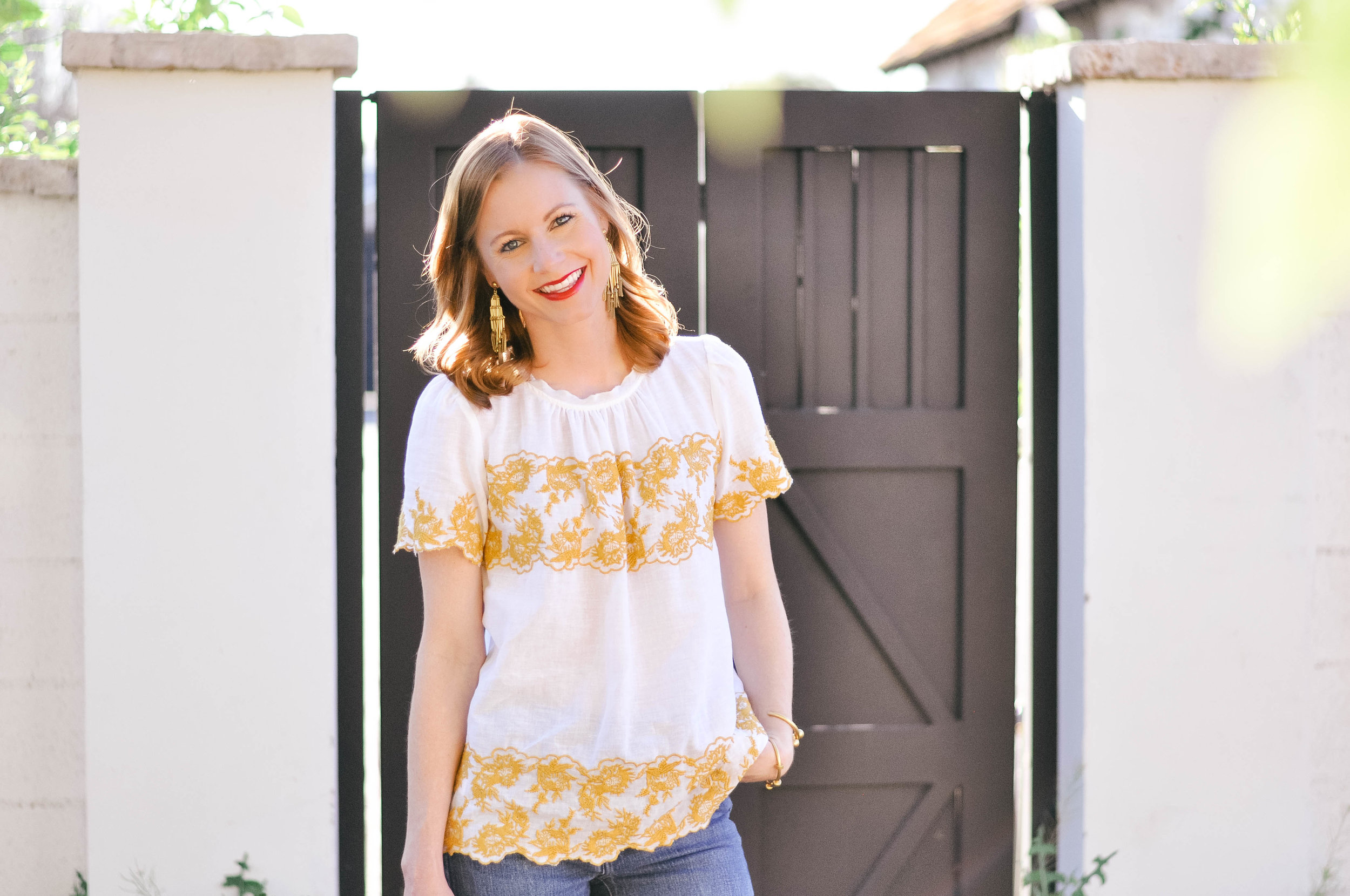 In case you're not in the loop, yesterday marked the first official day of spring, which is awesome and exciting and couldn't have come soon enough for most people. Although we Phoenicians have been happily living in spring for a little over a month now, and after temperatures hit the 90s last week and weekend I've heard some people panicking about the possibility of an early slide into summer. Luckily, it looks like we'll be back in the 70s at some point this week, so all of the Arizonans can pack away all that sweaty summer anxiety for a minute and enjoy the perfection that is spring in this state (minus the allergies… oh the allergies).
In celebration of spring, I thought I'd highlight another fun spring trend this week here on the blog that's popping up everywhere, and that's that beautiful, warm yellow-orange hue that people lovingly call "marigold" after the flower of the same name. Now unlike some of the other spring trends I've highlighted as of late (check them out HERE, HERE and HERE), I can't necessarily say that I've fully immersed my closet or my mind in the marigold trend yet, if only because I'm not fully convinced that it's a really flattering color on me.
I'm pale, my skin has pink undertones and I have that funny strawberry blonde-colored hair, so I'm sure this golden hue is much better suited to someone a little more, well, golden all around than myself, but whatever! I'm into it and I've never let the fear of striking out keep me from the style game, so I'm dipping my toes into the trend with this easy breezy boho linen top with a lovely marigold scalloped hem from Loft. The marigold detail against the white top is perfect for dabbling in this trend without going all out.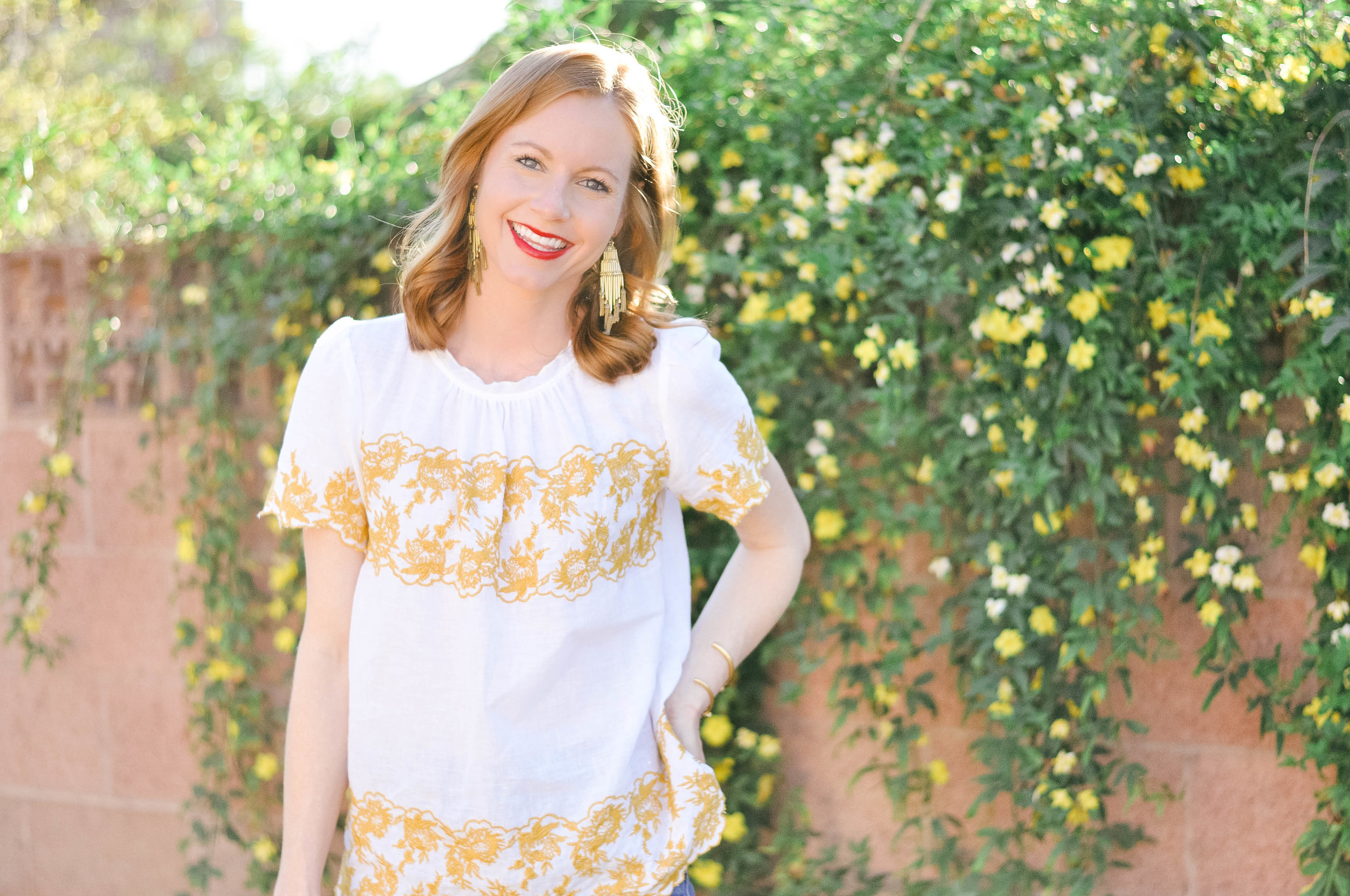 I decided to pair it with my favorite pair of Levi's that you've seen so much of here on the blog (and I'm sorry for that, but all 3 of the washes that I have in these jeans just go with everything and I fit like a glove – ladies, I know you feel me) for an awesome and super fun dinner that I got to have with my entire family at Mora (we ate ALL of the things) when my oldest sister Laurna and my perfect and adorable nephew Ben came to visit for Ben's spring break.
I didn't want to dress it up completely since this top has a pretty casual feel overall, but decided to throw on my favorite new stacked sandal from Nordstrom to give myself a little lift. And now I've found another spring closet obsession in these ridiculously comfortable heels, so be prepared for more of these on the blog in the coming weeks. I also added some fun pops of red and my favorite gold chandelier earrings from J.Crew for a punchy, dinner-ready spring feel, but I'm so excited to switch this look up and pair this top with some neutral flat sandals and denim shorts for a relaxed daytime feel this summer.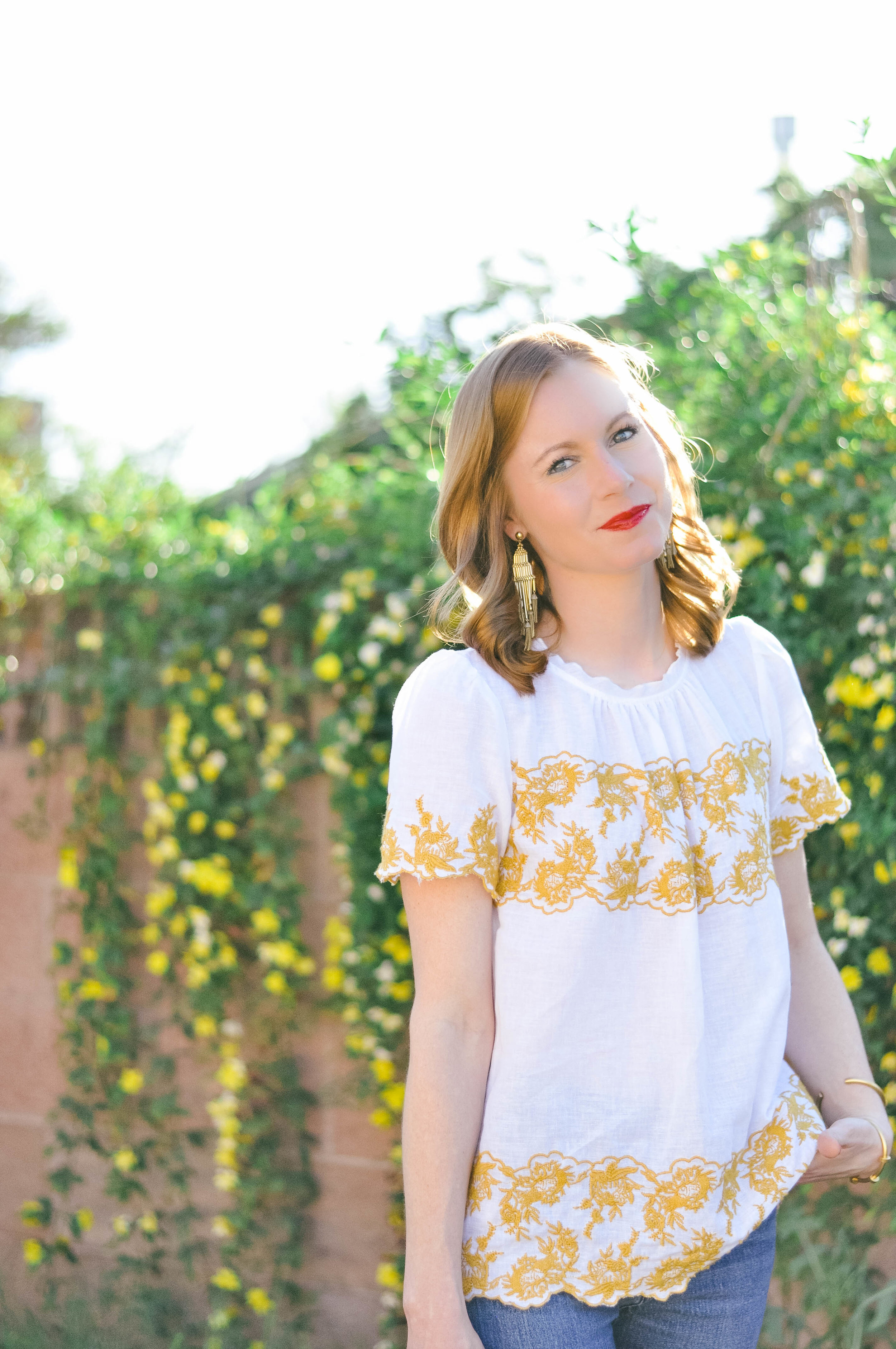 I had so much fun seeing my sister and nephew and catching up on all that is their busy lives in Nashville (my hard-working bro in law had to stay behind and hold down the fort in Tennessee), and love that they can come out here and Ben can swim up a storm, hit the Go Cart track with Grandpa, revel in the novel sighting of Every. Single. Cactus. and of course tour the kitchen and eat a specially made meatball pizza at Uncle Chris' new restaurant, and the girls can do a little shopping and pamper my sis.
Getting to spend time with our family is one of our favorite things as a married couple – Chris and I love how much our family has grown and keeps growing in the last couple of years, and spring is definitely the perfect season for a fun family reunion full of outdoor activity in Arizona. My parents come and stay at their house here on and off for a few months every spring, so this time of year always makes my heart so full. Coming home from work to find my parents working on a house project to help us newlyweds out and hanging out with me while the hubs is working away at the restaurant is pretty awesome and really never gets old. So it's no surprise that this season holds a special place in my heart
If you're ready to jump on the marigold bandwagon and try one of spring's brightest and boldest trends, I rounded up tons of my favorite marigold finds from around the web (those Kate Spade tassel earrings are To. Die. For.) that you can shop right now. And don't forget that you can always jump over to our SHOP page and check out all of the trends and items I'm shopping this season (there are SO many fun finds in there) – I update that page daily! Don't forget to drop me a comment in the comments section below and let me know how you're trying this trend and what your favorite marigold pieces are! Happy spring!
Shop The Marigold Trend