Today we're talking about one of the things that's the most fun for us to talk about here on the blog: our little ranch home! As you guys know, we've been slowly updating each room in this abode of ours over the years. One project that has been the hardest for us to decide what to do with is the living room. We've been left scratching our heads more than a few times as we've talked through what the heck to do with that space. But those days are long gone and we're finally getting down to business on this living room makeover.
As is the case with all of our home projects, we like to start with the inspiration and the plan. As you've read about here on the blog, our home decor draws from a variety of style influences, including Scandinavian farmhouse, 50s Southwest ranch home and bits of traditional and transitional style, which is a long-winded way of saying our home's style is eclectic and ever-evolving. We're not afraid to mix patterns and periods and love reinventing an older piece to give it a new life or purpose, but this living room was getting a little too ecclectic.
When we started thinking seriously about overhauling our outdated, dark, piecemeal little living room space, we decided to let a few rules guide us:
Stay within our black, white, wood/wheat and seafoam (accents) color palette.
It all has to be budget friendly (which means we need to make a lot of the existing pieces work like the couch, armchairs and sidetables and make a big impact with the updates).
Somehow incorporate my beloved vintage pink velvet armchair (that I adore and found at a now-closed antique warehouse in Phoenix when I first moved into this house).
That charcoal chalkboard wall has to get some sort of lighter facelift.
Include a charcoal/black and white buffalo check in some creative way.
Our Living Room Before
And that last one will become the centerpiece of our design because we've fallen in love with black/charcoal and white buffalo check throughout the process of updating our home. We've waited for the perfect moment to integrate it in a way that would make it feel like it just belonged or could have been there for years, rather than simply latching onto a current design trend.
We've looked at pillows, blankets, window shades, headboards, chairs and just about every buffalo check item in between that your standard home store or home decor site has to offer, but couldn't find that special "thing" that felt right for our home. That is until we realized we already had the perfect piece to integrate that design element and knew exactly who could bring that design dream to life.
There's one tried and true home design destination that has been loved by every generation of women in my family when the search for the perfect piece turns up the same predictable or overpriced items. This place was made for design dreamers like us and it's called Calico Corners.
It was that aha moment that kickstarted this project and made every other design choice for the space so much easier. So what was this perfect piece that we already had in our arsenal, you ask? None other than that old, beloved blush velvet armchair referenced above.
Living Room Design & Decor Inspiration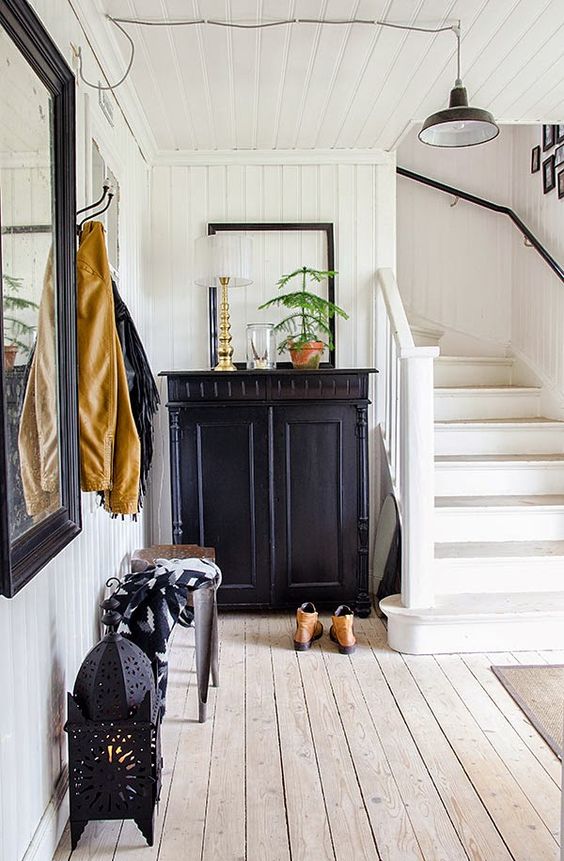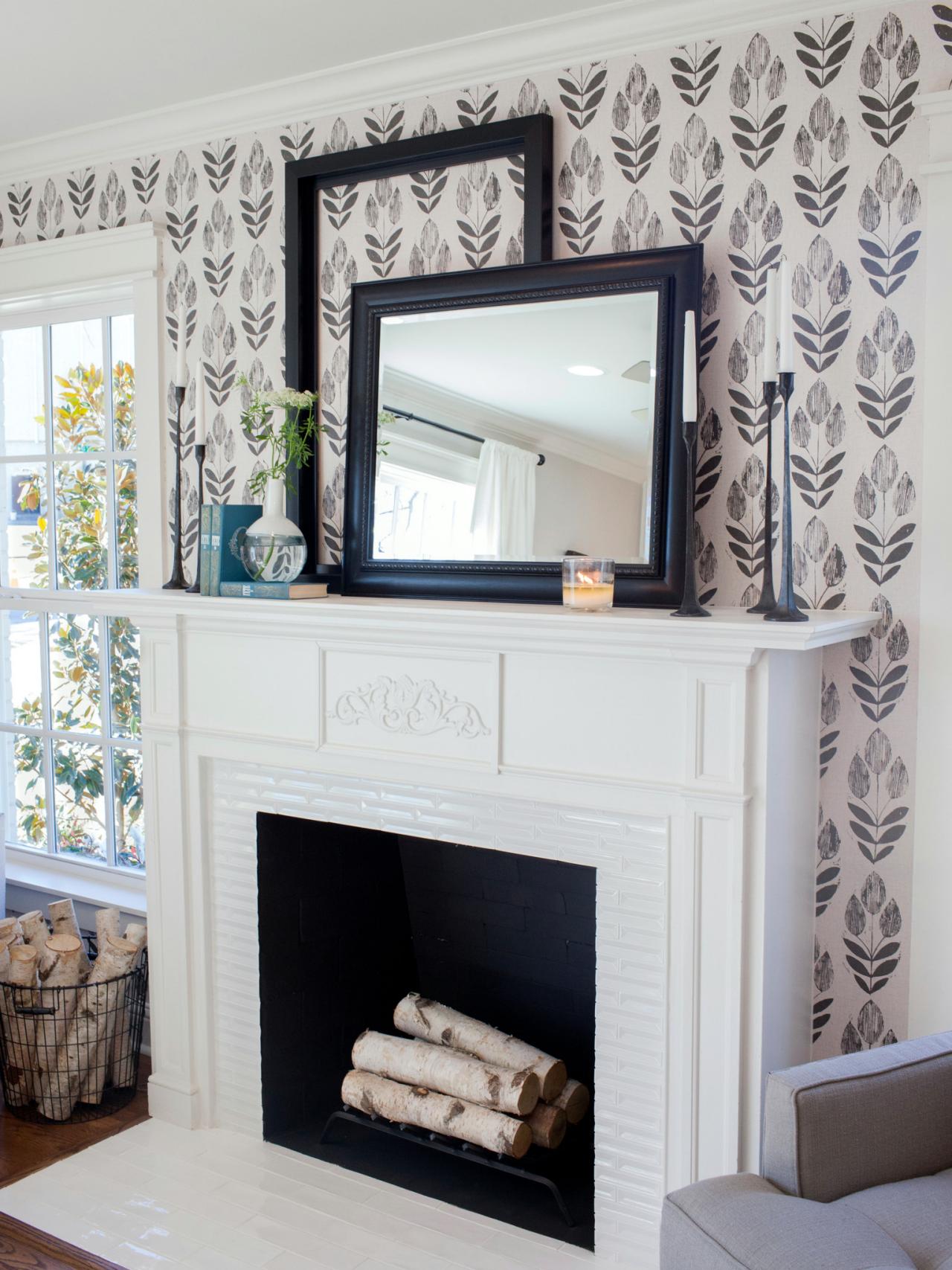 And I know what you're thinking, "But Maryal, how does this blush velvet chair in any way fit into your black, white and wood Scandinavian farmhouse-inspired design?" It doesn't. Well, it sort of doesn't.
You see, that $25 chair (yep, that's how much I ponied up for that baby) itself has good bones. Great bones in fact! The wood cabriole legs are gorgeous and the wing shape of the armchair itself is so timeless and beautiful, but that blush velvet fabric is just… outdated, to say the least, so it had to go!
This meant 2 glorious things:
We no longer have to figure out how to wedge blush velvet into our design plan (phew!) and don't have to get rid of a perfectly good chair just to buy a new one that we feel mediocre about.
We could finally have the perfect buffalo check piece in our home by simply heading to Calico Corners, finding a buffalo check fabric we love and having them tackle the upholstery job.
Sure, I love a good DIY challenge and have actually used a fun fabric from Calico Corners to reupholster old dining chairs myself once (still have and love those bad boys), but a whole armchair? Yowza. Aside from stripping the gold off of the legs and returning them to their natural wood glory, I'd leave this one to the pros.
Living Room Makeover Plan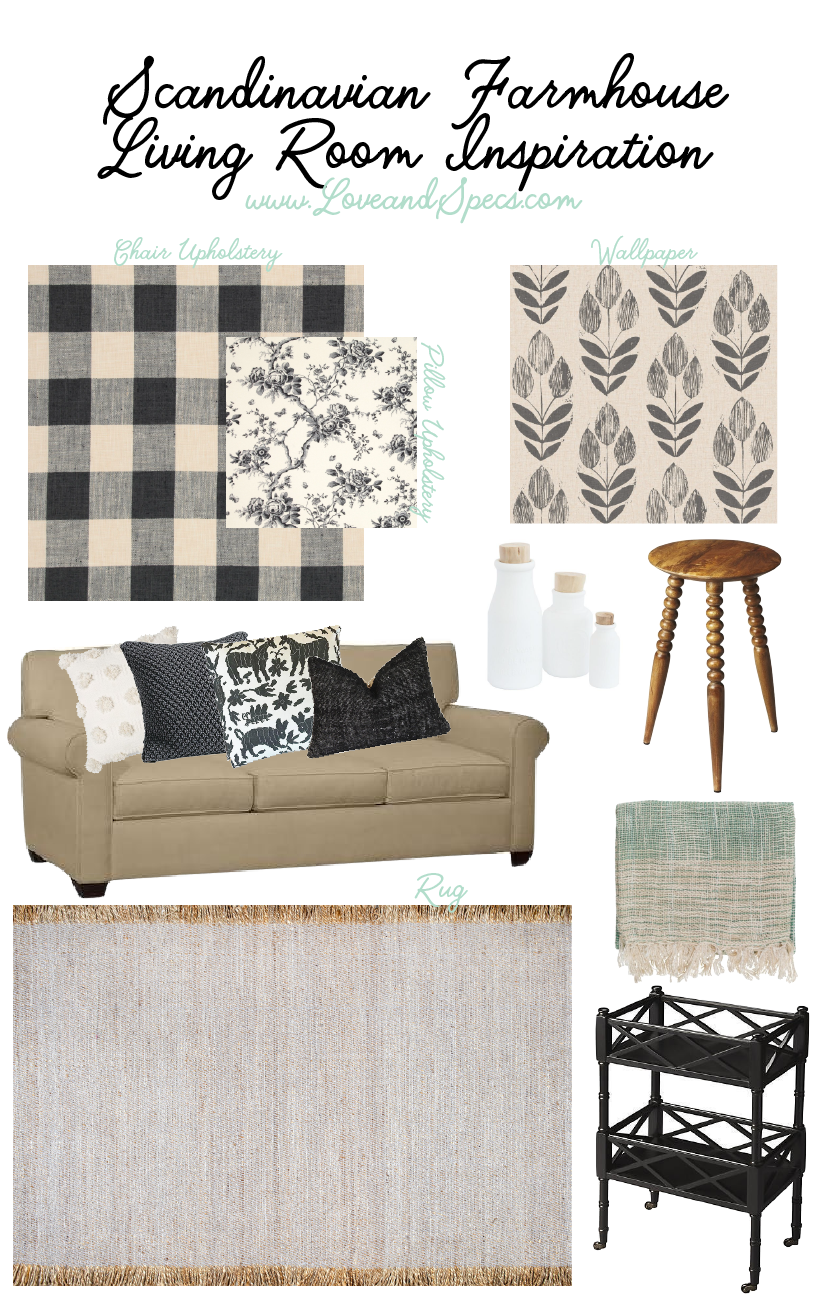 Shop Living Room Decor

If you're not familiar with all the magic that is Calico Corners, let me enlighten you. Chris calls Calico my "zen zone" because even if I don't have a current project in mind that needs a fabric update, I'll still stop at our local store and walk around for an hour or so just perusing the endless color-coordinated fabric displays searching for inspiration. I've loved their stores since I was a little girl when my mom would let me tag along on her fabric-finding expeditions. I remember being so fascinated with watching her flip through those big books to find the coolest, prettiest fabrics with what seemed like such ease.
Before her, my oh-so-stylish grandma was visiting their stores, and before I had a home, I got to go on fabric-finding adventures with my sister to find the perfect mix of fun blue-hued and patterned fabrics to spruce up her very first house.
All of those women have completely different design styles, but they all have one thing in common. They want their home to be a unique reflection of their personal style, and for them, that process doesn't start and end with some clone furniture piece from a big box store. It all begins at Calico. It's our little family secret to home decor success!
Our Vintage Pink Velvet Chair Before
So when we went to our Calico Corners store in Scottsdale to hunt for that perfect buffalo check fabric, Chris was so excited that I actually had a specific mission in mind before I stepped through those doors! Right when we walked in, we were greeted by the sweetest Design Associate, Gayle, who asked us all about our project and goals. As soon as she heard that black and white buffalo check was the order of the day, she excitedly led us to a corner of the store with a range of buffalo check fabrics of all sizes, materials and price points. And they were all beautiful, but no fabric was as perfect (or soft, for that matter) as the oversized charcoal and white buffalo check of Elwood Thunder. It's even more perfect than we'd dreamed.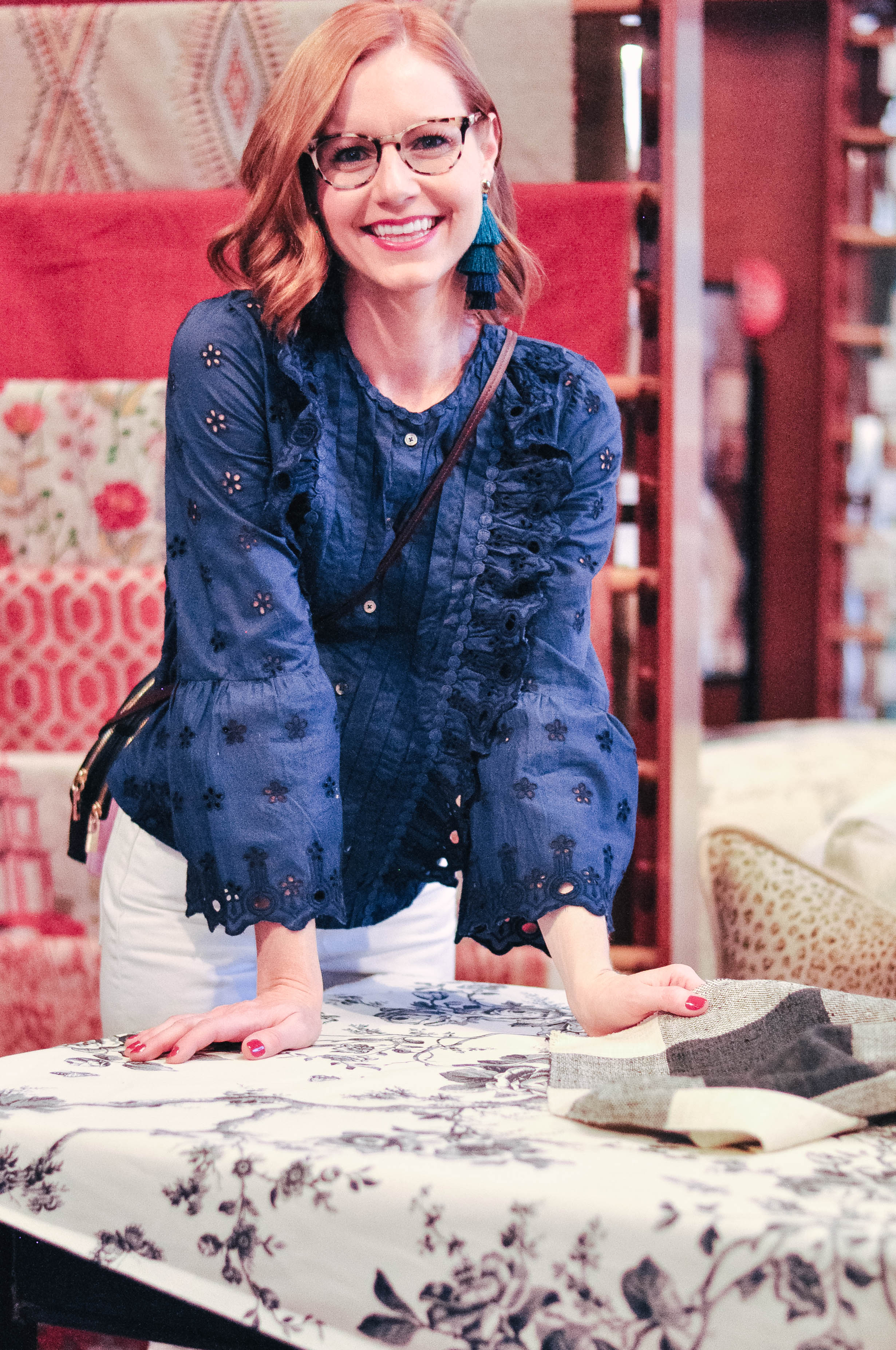 Shop My Outfit

As soon as we landed on Elwood Thunder for the chair, it's like every other design decision for our living room magically fell into place. While still at the store, we all agreed that it would be so much fun to coordinate a throw pillow for the chair in a different pattern, but the same colorway, which led us to a wall of gorgeous Ralph Lauren fabrics.
We all immediately pointed to the beautiful charcoal and white floral-patterned fabric at the top called Ashfield Floral. If you take a look at the inspiration pics above again, you may notice that Ashfield Floral can also be seen on the walls of the bedroom shot. Isn't it perfect? I tried to convince Chris that it needs to be in every room of our house, but I think that idea may need a little massaging.
After our fabrics were chosen, we went over our chair's measurements with Gayle and she carefully walked us through how much fabric our project would require. We also talked about pricing, discounts (they have the best sales!), turnaround time, whether or not we wanted bias welting and the dropoff and pickup process. She also walked us through our quote, which they happily provide for free.
As furniture rehab lovers, the CC team loves hearing about your project and is happy to give you a free quote based on the dimensions of your piece and the fabric you choose, with zero obligation, which was such a relief for us when we were shopping. They want the process to be as easy and affordable as possible for you, and show you similar fabric options in a range of prices, which is exactly what I love about them. I'm one of those people who really thrives when I'm given a range of great options at all price points because it makes me feel so much more confident and secure in my choice in the end. For example, Elwood Thunder was in the middle of the price range of the buffalo check fabrics that we saw, which was right where we wanted to be.
As for the reupholstery process itself, they would take our chair down to the bones of the frame and could re-tie springs if need be, re-glue corner joints, plump up padding or replace cushioning. When it comes back to us, we'll have a refreshed chair that's ready for many more decades of love. The process in the store was so much less intimidating than whatever I'd imagined, and Gayle's enthusiasm about our choices made us feel like we were the greatest design masterminds the world had ever seen!
As you can see from the pics, we opted to drop our chair off at the store for reupholstery rather than have it picked up (which is an easy option they offer to get your piece to and fro and varies in cost depending on distance and the size of the piece). We went this route because the chair is extremely light and it just so happened to fit perfectly into the back of my Jeep (much to Chris' surprise, hence the shocked face – I told you it would fit) and the store is about two minutes down the road from our house.
Chris may have mentioned that I capitalized on the opportunity to add some ceremony to the process, but that's just crazy. Totally nuts. Me? Add ceremony to a house project? Never! I also think that Chris really enjoyed his super macho man moment carrying that chair into the store over his shoulder.
And now you're up to speed on our living room makeover and Project Make That Blush Velvet Chair Cute Again! We're so excited to see our beautiful new buffalo check chair and our pretty new pillow and can't wait to share the "after" photos with you once the process is complete. In the meantime, we'll be sprucing up the living room space as a whole according to our budget-friendly design plan so it can welcome that chair and pillow home properly.
We're also pinning tons of inspiration for our living room project and beyond on Pinterest every day, so make sure you're following along so we can give you a follow back and get inspired by your design dreaming, too! And if you're searching for the perfect fabric for your next project or just in need of some serious design inspiration, make sure you follow along with the Calico Corners team on Pinterest, Instagram and Facebook to see all of their incredible transformations and fabric collections.
This post was created in partnership with Calico Corners who provided products and services we love. All opinions are our own.