This shop has been compensated by Collective Bias, Inc. and its advertiser. All opinions are mine alone. #AWMemories
Who's ready or one epic root beer float party? I am, I am! With summer on the horizon and to properly commemorate the incredible 100th Anniversary of the iconic tasty treat that was so often at the center of my family's summer celebrations when I was growing up, the incomparable A&W® Root Beer, we're taking all of you on a trip down memory lane today and showing you how we throw a celebratory backyard root beer float party for the whole family, just like the unforgettable summer soirées my parents threw when we were kids!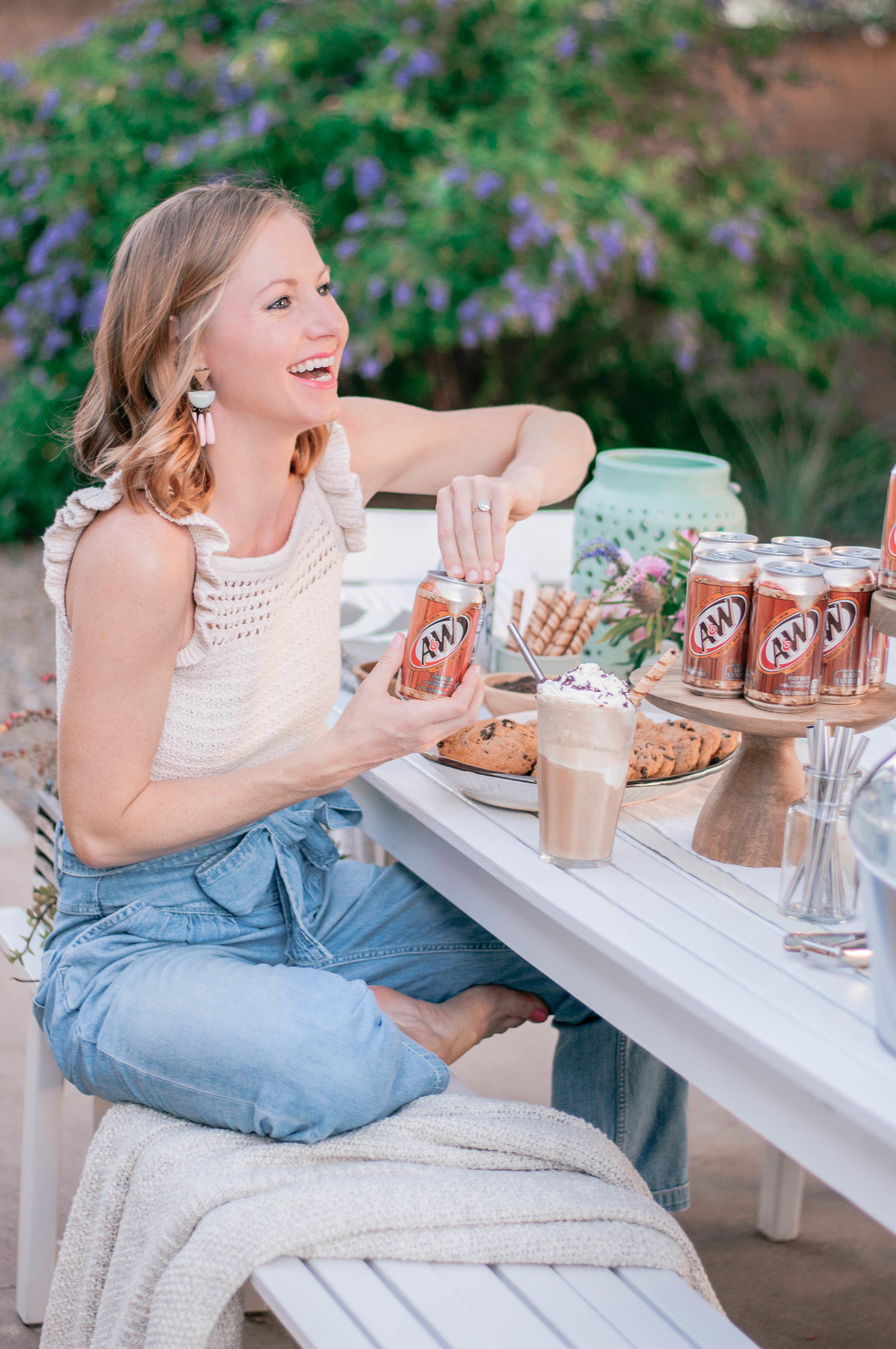 The activities, traditions and celebrations of summer are some of my very favorite memories of my family and growing up in Michigan. From softball leagues to summer camps, outdoor adventures to backyard BBQs, root beer float parties to lazy lake days, summer was one endless celebration of sun, sand, and, of course, sweet treats. And my parents were big on celebration, especially in the summertime when those idyllic Michigan sunsets were reason enough to strike up the band! From the small wins to the major milestones, we celebrated everything in my family, and it filled our lives with so much joy. Now as an adult it's so important to me to pass on that same spirit of celebration to everyone I love, whether it's friends or the new members of our ever-expanding family, and make them feel that same magic I felt growing up. And because we consider all of you a part of our extended family now, too, we thought it would be so much fun, with help from our beloved A&W Root Beer, to recreate one of my family's very favorite celebratory summer traditions, a good old fashioned backyard root beer float bash, to inspire you to celebrate and make memories with the ones you love this summer!
And before you start to sweat wondering just how much effort you'll have to put in to recreate this epic spread in your own backyard this summer, let me assure you that this is one of the easiest entertaining setups to execute, especially since we quickly and conveniently grab all of the A&W Root Beer our hearts can handle (plus all of our float fixins) on our weekly neighborhood Walmart run! And you guys know that's what we're all about around here when it comes to entertaining – max impact, minimal effort on our part so party prep doesn't get in the way of the important stuff, like quality time with those cute kiddos and the rest of our fam! As always, Walmart to the rescue.
I know that this isn't unique to my family because A&W Root Beer has been a central character in the stories and memories of so many families like ours over its incredible 100 year history, but you guys always seem to love the family stories and traditions that inspire and inform all of the home decor, DIY and entertaining projects we share on the blog, so I thought it would be really fun to fill you in on the story behind this summer tradition, to not only honor its origin story, but also the man behind it! We also hope that by sharing my happy A&W Root Beer memories from my childhood and beyond, you'll share yours with us, too! So make sure you drop a comment in the comments section and tell us all about your memories of A&W Root Beer growing up, where and when it popped up in your life and how you drink it! Were you a straight-out-of-the-can kind of root beer lover? Always in a root beer float? Or in another epic concoction that we all need to know about? Tell us everything!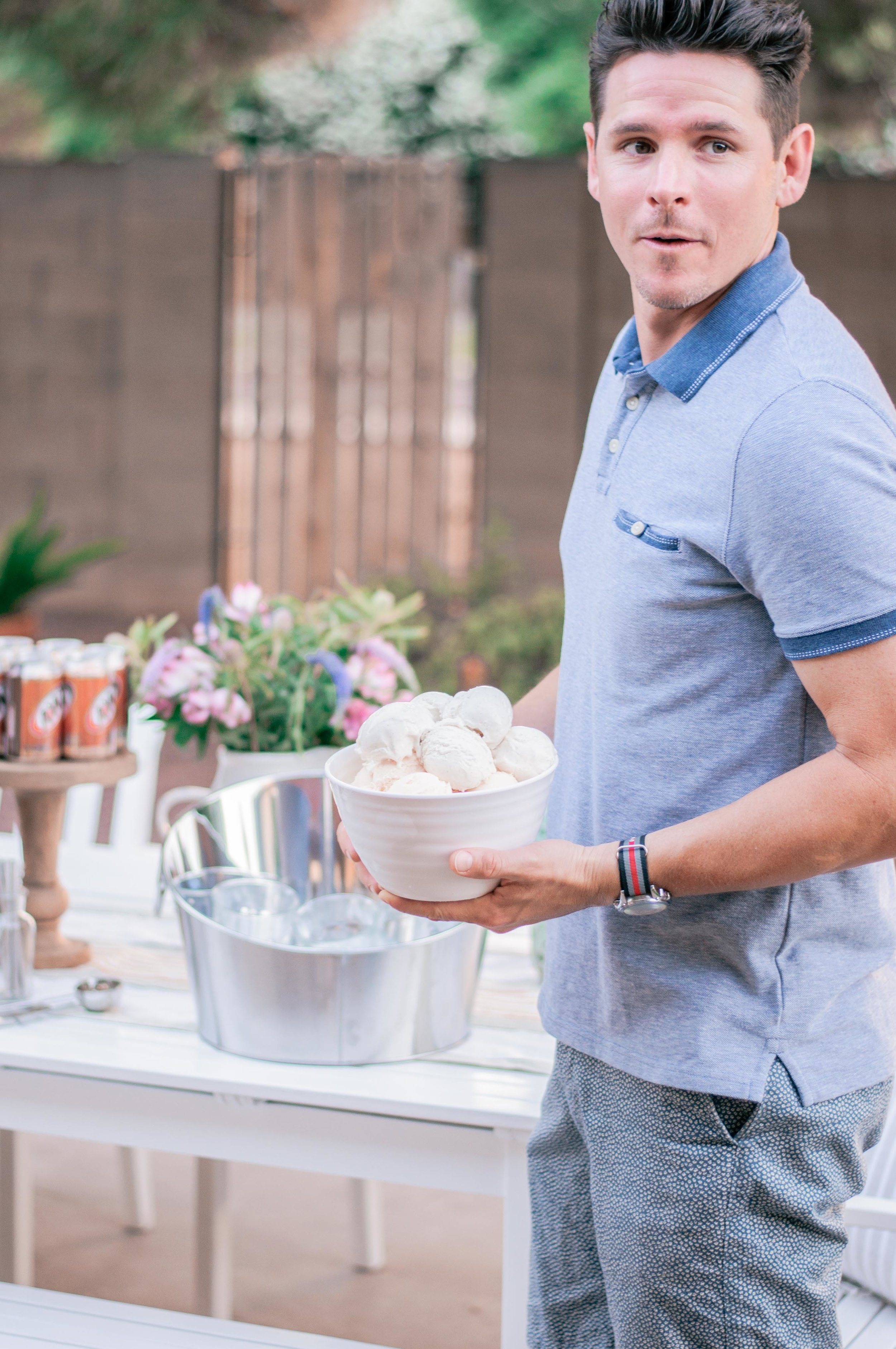 When I was young, I was a sports-loving tomboy who wanted to try every sport and be a part of every team. And being the kind, patient humans they are, my parents went along with all of my athletic whims. I couldn't get enough of the action, and summer game days spent outside with my friends, teammates, and family were always my very favorite days! Throughout my youth my dad was always there as our summer softball team's hilarious, questionably under-qualified but lovably enthusiastic coach, and some of my very favorite memories from that time in my life that always put a smile on my face are the crazy fun, post-game root beer float parties that he would throw at our house with the entire softball team and their families. And when I say my parents celebrated everything, I do mean everything in this case.
Whether we won with gusto or lost in epic fashion and barely snuck away with our pride in tact, my dad was there with a high five, a big warm hug, an A&W Root Beer and a huge scoop of ice cream to celebrate the fact that win or lose, we left it all out on the field and probably had a ton of laughs in the process. Popping open an A&W Root Beer in the summer and making one of my dad's unforgettable root beer floats was the ultimate sign of celebration and love for us. It reminded us that win or lose, the sun was shining, and we got to go out there and do something we absolutely love with the friends and family we cherish. It didn't matter what the scoreboard said, my dad always made us feel like winners and those memories fill me with happiness every time I pop that A&W Root Beer top and take in that familiar heavenly scent the minute it meets the vanilla ice cream.
Today, Chris and I are passing my dad's tradition on to our extended family and friends, making summer memories and celebrating all of life's milestones, big or small, the same way my dad celebrated with us when we were young – with unforgettable, iconic, tastier than tasty A&W Root Beer floats that never, ever go out of style. As we get older time just feels like it flies right by and it's so easy to forget to savor the small wins, all of the tiny moments of good that make up a big, love-filled life, but we always try to remind ourselves how important it is to revisit and recreate the traditions and celebrations that made our childhood so special so our nieces and nephews get to experience that same magic and learn that stopping to celebrate anything, everything and smell the root beer floats is what life's all about.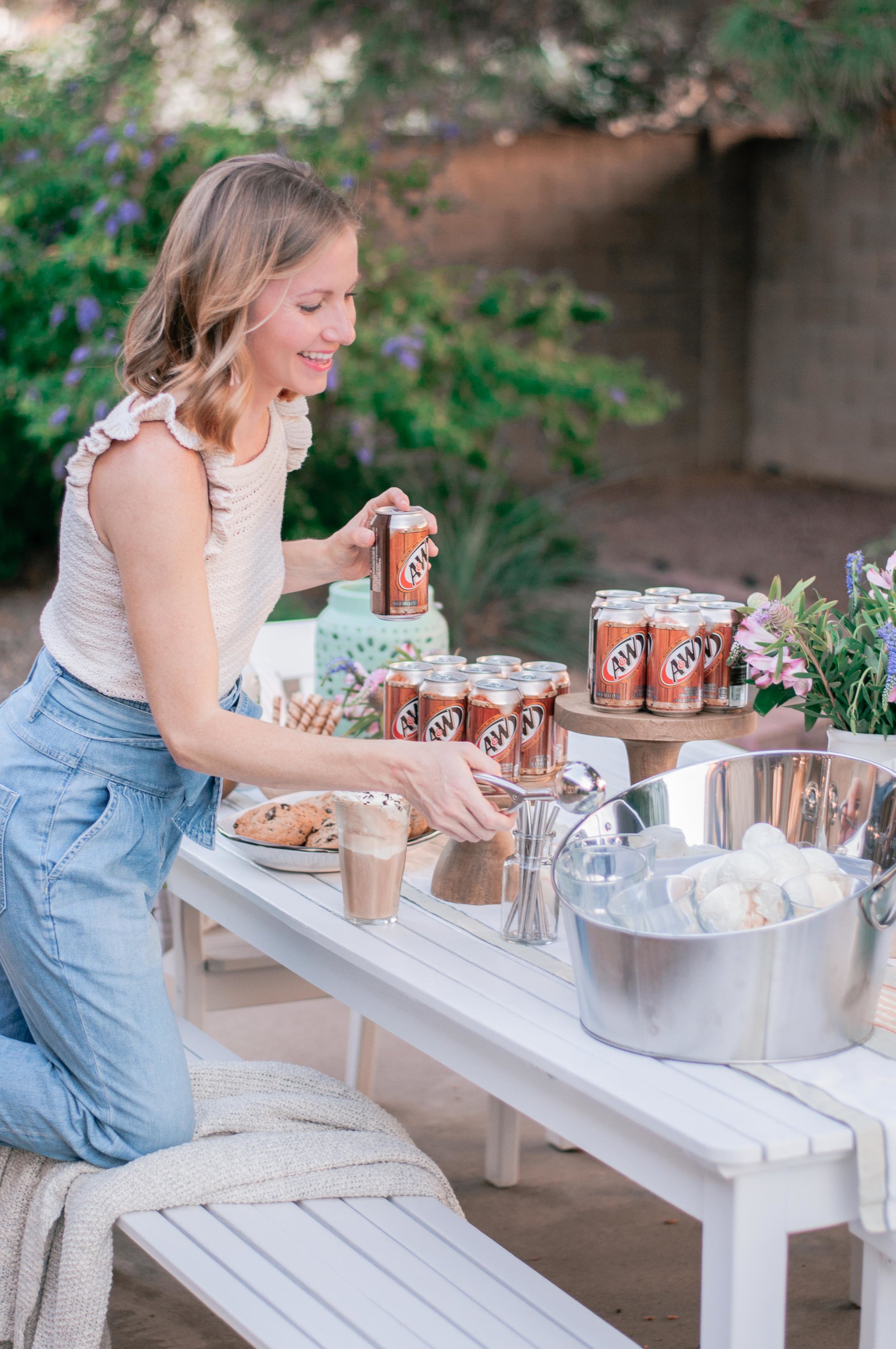 And who would we be if we didn't give you the full rundown on how to easily recreate Papa Miller's epic A&W Root Beer float party spread in your own backyard this summer, so see below for all of the step-by-step instructions and some notes about how to make this setup fuss-free on the prep and maintenance front and accessible for guests of any age! Again, this setup is so simple anyone could execute it with ease, which is exactly how any and every celebratory summer soiree should be.
How To: Papa Miller's Epic A&W Root Beer Float Party
The most important component, A&W Root Beer that we conveniently grab at our neighborhood Walmart!

We love using the cans for easy handling for guests, and we love arranging them on a pretty tabletop display that adds some eye candy to our summer-inspired party decor.

Vanilla ice cream.

Ice cream can be tricky at a backyard party when you have a "bar" or self-serve setup, so we make it easy by pre-scooping a bunch of vanilla ice cream balls into a large bowl, and putting that in a tub on ice for easy access and handling for guests. Nothing worse than struggling for a scoop!

Glassware of choice.

Of course we always love a good A&W-style mug for serving root beer floats, but classic bistro-style or Picardie-style glasses like we used here will work, too. We love to put the glasses on ice in the tub, too and pre-fill each of them with a scoop of vanilla ice cream to get guests started..

Chocolate Sprinkles.

Whipped Cream.

Chocolate & Hazelnut Filled Rolled Wafers.

Mini Chocolate Chips.

Ice Cream Scooper.

Cookies.

This one's two-fold. A classic cookie pairs perfectly with a root beer float on its own, but if guests feel so inspired they can easily create their own ice cream cookie sandwich, in addition to their float, using the vanilla ice scream you've so kindly pre-scooped for them!