One of the things I love about spring is how pleasant and comfortable the weather is for all kinds of outdoor activities, and the abundance of outdoor festivals, concerts, sporting events and gatherings that start popping up once the weather starts warming up! If you live in Phoenix like we do, this is the time of year that's best spent outside as much as possible, day and night, and there is certainly no shortage of outdoor activities and events to partake in to feed that need. We cherish these few months before the extreme heat forces us all back inside or in the pool to cool down for the summer.
Another reason that I love this seasons so much is that the dress code is so much more relaxed and "anything goes" than any other season, and that gives my outfits so much variety and room to play – from dresses to jeans to shorts to sandals to booties to skirts, so many pieces are options, and lately I've really been feeling that laid-back, fun festival style that screams "summer" and shows off just a little bit more skin than I would normally be comfortable showing. There's something so freeing about an off-the-shoulder top paired with jeans when the weather gets warm that I (and obviously the rest of the female population) can't seem to get enough of.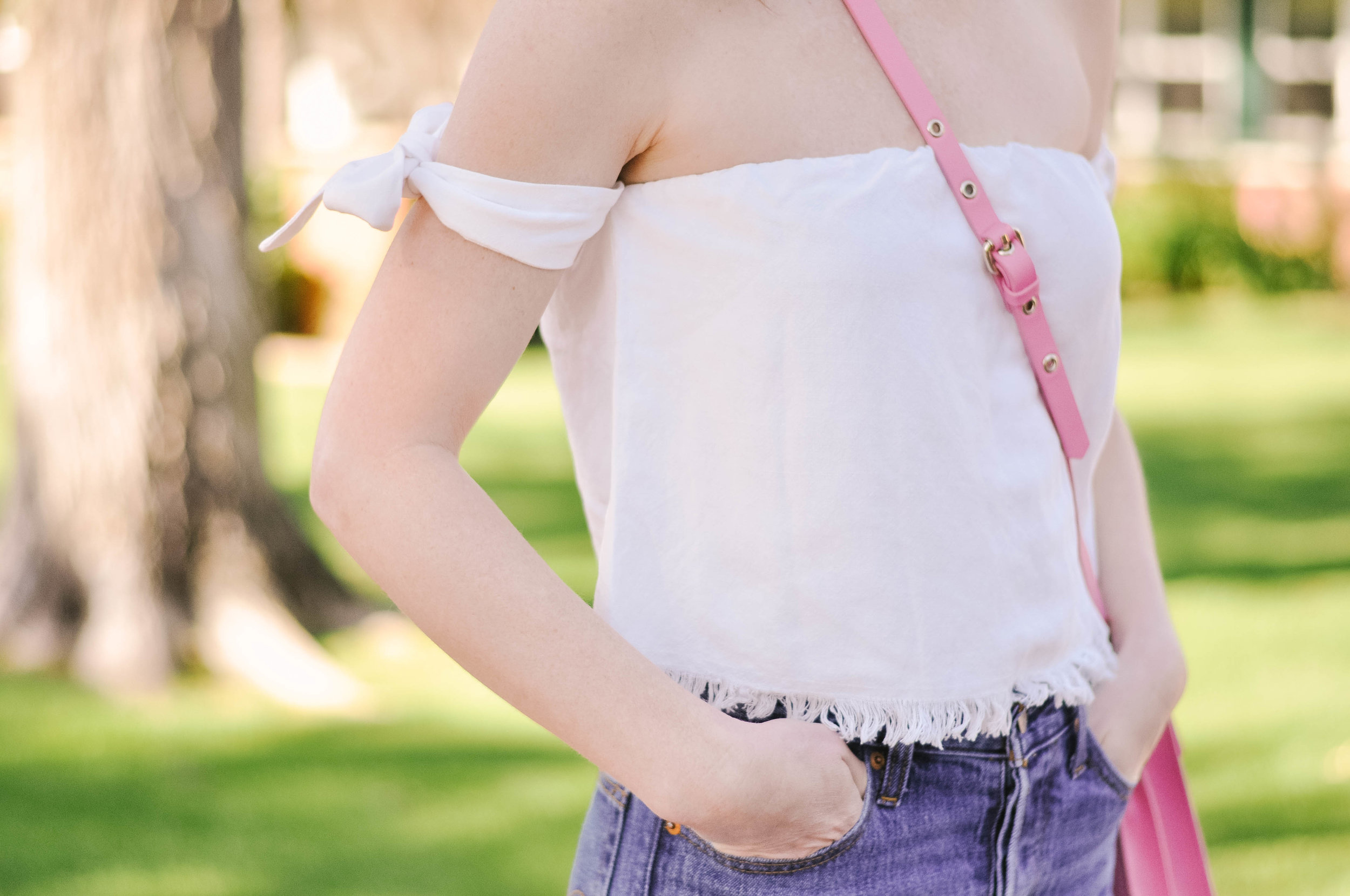 This lightweight "off-the-shoulder" top that I grabbed from Tobi.com is such a fun piece to wear and would be the perfect piece to pack when you head off to those festivals, like Coachella, in a couple of weeks! It would also be totally appropriate for a night out walking around First Fridays or hitting a weekend food and wine festival. I absolutely love the little bow ties at the arms (give me all of the bows) and the fun fringe at the hem, and the fabric is so soft, breathable and heavenly, it feels like you could wear this for hours on end and be so comfy… which everyone knows is all-important if you're walking around for hours on end outside, taking in all of the sights and sounds at a festival.
And I'll admit it, the cropped cut that seems to have taken over the style scene right now was a little daunting for me at first and not necessarily something I've been traditionally comfortable wearing. Showing skin and cropped cuts were just never really in my wheelhouse, but for some reason this spring I've fallen in love with a cropped cut and this top is the perfect cropped length for pairing with your favorite high-waisted denim pieces.
And as everyone knows, I'll use any excuse to wear my favorite pairs of high-waisted jeans and I think that may have been what changed my mind about a cropped top – finding the perfect high-waisted pant to pair them with to keep me covered up! And if you're still in that same place I was and you just don't know how to wear this cropped trend, a comfortable, flattering pair of high-waisted jeans with the perfect fit like these Levi's is a great place to start. They look good on basically everyone, aren't as expensive as a lot of designer denim and come in several great washes. The one tiny hitch is that every time I order this jean in a different wash, in the same size, the fit seems to vary quite a bit. So don't be alarmed if you order your normal size and they're either way too big or too small – I think it takes a little trial and error with this denim style.
I've already talked about my love for the under-$100 block-heeled sandal I'm wearing here that I picked up at Nordstrom (previously worn HERE & HERE), and when you're not trudging through the dirt and mud of a festival and just bopping around town or out on a date night like I was here, these are the perfect spring shoe to pair with this look. But if you're walking around all day, this look would also pair really well with some laid-back, fun flat sandals. I'm particularly loving THESE, THESE and THESE! I'm sure so many of you are gearing up to hit one or two outdoor festivals in the near future, so if you are let me know what you're packing and what some of your go-to pieces are this spring for day spent having fun in the sun!