OK so it isn't exactly fall just yet, but as discussed in last week's post about summer to fall transition wardrobe pieces, I'm just so ready for fall to show up and all of this talk about back to school this and fall fashion that from the marketing powers that be has me dreaming of cooler weather, leaves changing and a spiked hot chocolate in my hands. See, I've got you fall daydreaming now, don't I?
And it's in that spirit that we come to today's post, in which I decided that I'd throw caution to the wind and just be open and honest with you guys and tell you that yes, despite the 107 degree temperature in Phoenix yesterday I am, in fact, shopping for fall items already because… I can. And I will. I can't help myself!
Today's look sort of unintentionally highlights some of the trends you'll no doubt be seeing all over the place this fall, some of which have already been picking up steam this summer: raw-edged denim, statement sleeves, embroidery and mule flats. All have been in the mix for a while now and all will definitely be showing up on the racks throughout the next season. Side note – these Sam Edelman mules that I'm wearing are so comfy and will be worn with basically everything this fall, so get used to seeing them! But for today, I really wanted to focus on the 9 under-$100 fall tops that I'm currently loving and shopping, like this Zara tunic with the most fun statement sleeves and the sweetest embroidery, in a pretty fall color palette – blue and marigold.
I'm going to be doing a lot more Under-$100 style roundups in the coming weeks and months for the fall season and the seasons after that because investment pieces that are carefully curated aside, that's how I shop 90% of the time. I look, I love, it sits in my cart, I compare pricing from site to site, and I shop around for the best way to find the styles I love while never spending a penny more than necessary. And I'm guessing that a lot of you out there who have about a million things to spend your money on right now – travel, your home, foodventures, weddings, babies, rosé snowcones, your Netflix subscription, tix to the Bieber concert, whatever – are shopping the very same way. So I'm hoping that these fun under-$100 guides will be right up your alley and that you're all on board! If not, feel free to let me know me know in the comments section below. "More luxury, Maryal! MORE!"
Another couple of common threads that you may see in the roundup of tops below are shirting and blue hues. To me, fall fashion is smart. It's more polished and put together than my summer attire, involves a lot of shirting and shades of blue are always in the mix. Blue is just so collegiate or something, isn't it? I especially love all things navy and dusty blue in the fall. A little more moody, a little more subdued, but rich and full-bodied. Wait, am I talking about my wine last night or clothes? It all blends together (Ha! Blends. Ya see what I did there?) in the end!
Of course, there are so many more new Zara tops that just arrived for fall that I really love. This gingham tie-neck blouse is fantastic, this long-sleeved eyelet blouse is the perfect transitional top, I love the voluminous sleeves and the fall color palette in this embroidered top, I love the scalloped collar on this embroidered check shirt, and definitely need to add this blushing beauty to my fall lineup. All under $100, and all the perfect addition to any fall ensemble.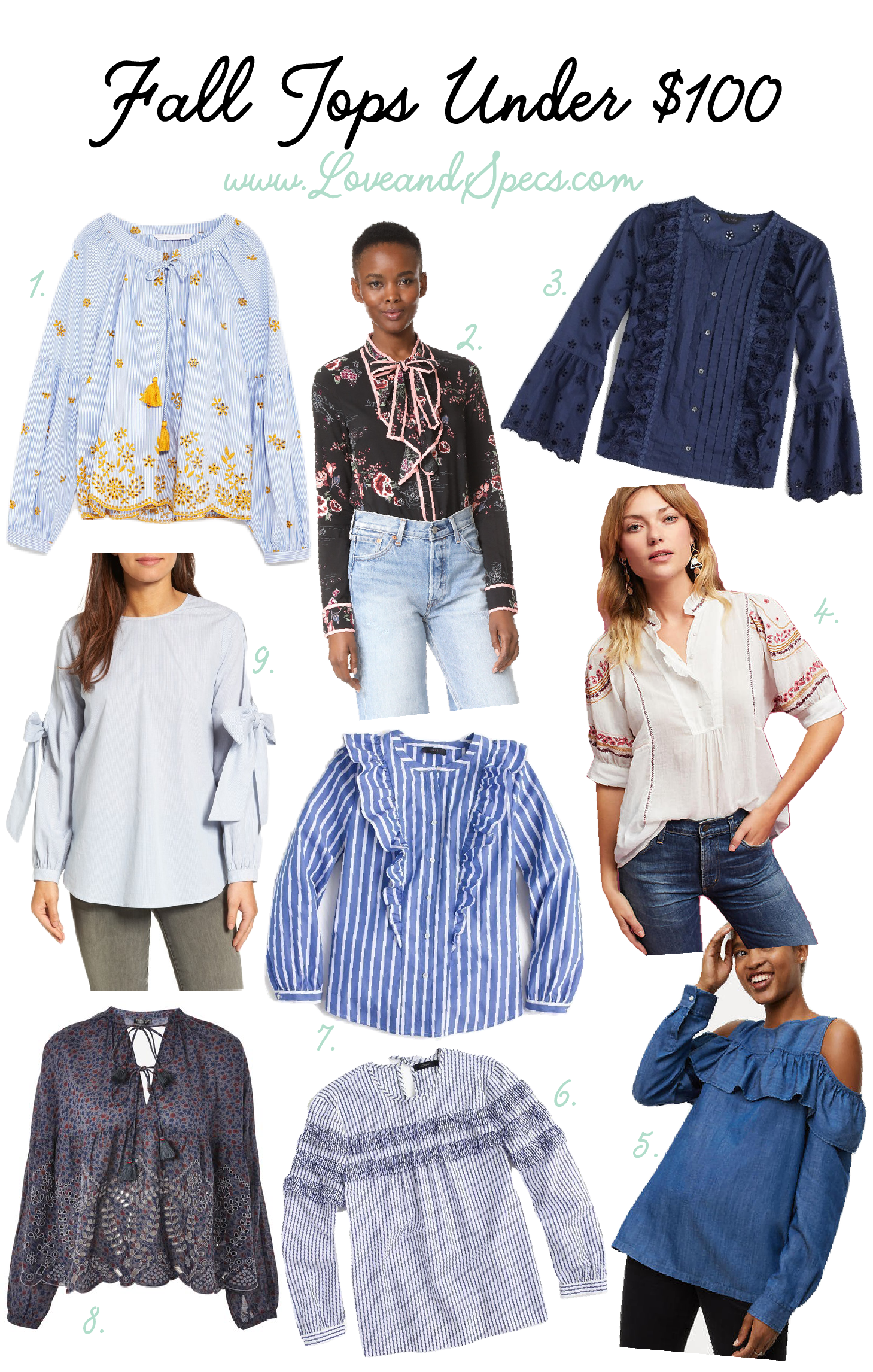 So are you diving in to fall fashion yet? If so, what's your favorite thing about dressing for fall? Drop me a comment in the comments section below and tell me all about it – clearly I love talking fall style any chance I get!