Happy Tuesday, guys! Were any of you on (in?) the path of totality yesterday to score a front row seat to total eclipse viewing? If you were, I'm so jealous! I've got to say… I kind of loved how into this total eclipse action everyone across the country was. I read a headline yesterday that said, "For a few hours, America forgets its troubles as solar eclipse captivates nation" and I really enjoyed that. That in a somewhat tense, tumultuous time (don't pretend you're the master of chill right now, bro) this sort of humbling, remarkable and rare display of celestial beauty and wonder forced us all to stop and stare in shared amazement. So fun! Unless you tried to give it a go without your eclipse glasses on. That's not so fun.
Today on the blog I'm talking about another thing that all Americans seem to agree is pretty awesome and that is… good denim! You were wondering what I was going to say there, weren't you? And you smiled when I said "denim" didn't you? Good! Mission accomplished. If you frequent our little blog, you know that we love our denim. Denim is a style staple in both of our wardrobes and we both rely on denim to get us through the work weeks and our weekends in casual-cool style, and this fall there are a few noticeable new denim trends that are having a moment, which is always exciting. I feel like this season marks a little bit of an "out with the old, in with the new" vibe on the denim front, and after wearing the same skinny styles for so many years, I really like mixing it up and trying fun new denim styles whenever I can to see what sticks. After all, if fashion isn't fun then what's the point?!
In this outfit I'm wearing one of my favorite new denim trends, the bootcut crop! These white Pilcro bootcut crop jeans from Anthropologie also happen to have a high waist, so that's just throwing in another denim trend to really kick it up a notch. I really love high-waisted denim though (it's so flattering on every shape!), so pretty much every pair of jeans that I love right now in my wardrobe has a high waist. I also feel like Arizonans can wear white denim whenever they want, even after Labor Day because we're just warm and sunny all year round, ya know? Consider it our gift for suffering through these scorching summers.
In one of last week's posts on the blog I tried out the first of fall's major denim trends, wide-leg denim, with these bold, high-waisted, wide-leg wonders and you guys seemed to really enjoy them, as did I. Success! I was slightly skeptical before trying them on, but consider me a believer. If I were to snag a second pair of wide-leg jeans, this pair of Citizens of Humanity wide-leg crops would be great as would these Madewell wide-leg crops!
And it's been clear in posts like this one, this one and this one that my love affair with another one of this fall's (and this entire year's) denim trends, high-waisted, straight-leg denim is going strong and isn't stopping anytime soon. I consider that style an essential in my denim arsenal, so that trend will be making many more appearances in the lineup this fall. Levi's does this style particularly well, if you ask me!
Another one of this season's most noticeable and fun/funky denim trends is embroidered and embellished denim. I've seen everything from floral embroidery on boyfriend jeans to pearl embellishment on a pair of classic crops, and the trend is really growing on me! Depending on the specific style of the actual jean and the type of embroidery, I can really see myself getting into this trend. I'm particularly smitten with this Citizens of Humanity relaxed embroidered crop and these embroidered Rag & Bone beauties.
And last, but certainly not least on my list of fall denim trends I'm dying to try is the beloved step-hem jean. If you're not familiar with the step-hem style that's been taking over the denim scene as of late, it's basically like the mullet of the jean world. The hem is shorter in the front and longer in the back and it typically has a raw edge. It's funky, but I like it. This perfect pair of step-hem jeans from LOFT will definitely be in my closet in the near future!
So if you, like me, are in the market for a new denim style to add to your arsenal and are up for trying some of fall's biggest denim trends, I've rounded up some of my favorite pairs from across the web in all five of the styles discussed below, in all price ranges. And definitely drop me a comment in the comments section and sound off about which denim trends you're loving for fall and which ones you wish you never had to see again. I can't wait to hear what you ladies have to say!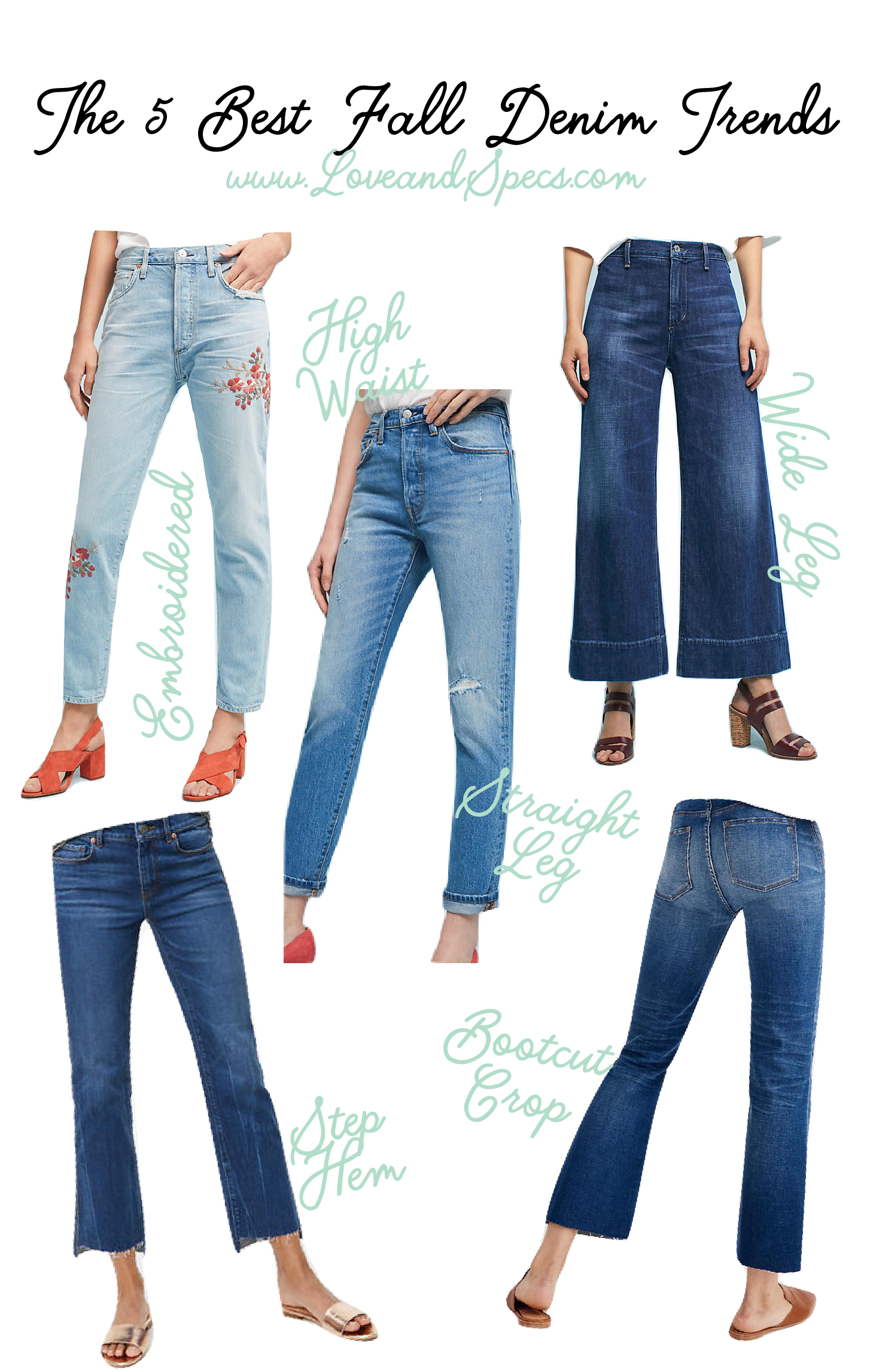 Shop Bootcut Crop Jeans

Shop Wide-Leg Jeans

Shop High-Rise, Straight-Leg Jeans

Shop Embroidered & Embellished Jeans

Shop Step-Hem Jeans