Today's post is a particularly special one for us because we were lucky enough to head to our favorite place on the planet over Labor Day weekend, Northern Michigan, to celebrate two of our very favorite people getting hitched, which means that we got another chance to feature said favorite place here on the blog. We also got to snap some seriously fun sunrise pics up there just as summer was turning into fall, and there's just no more beautiful place than Up North in the fall!
Do you guys have a place that just makes you blissfully happy? This is that place for us. No matter what we do up there, or who we do it with, we always leave feeling refreshed, renewed and so full of fun memories. Every activity is an adventure surrounded by stunning scenery, which is the very best kind of adventure! We don't get up to watch the sunrise that often, but a few times a year we'll make it happen to see the sunrise in a really special spot. And truthfully, every time we do we end up wishing we did it more often. Also, my eyes always feel like they've been sewn shut when I wake up, and when we were out there Chris said, "Why are your eyes still closed?" Gotta love that hubs of mine – just telling it like it is and cracking me up at all times! If anyone has great beauty tricks for puffy eyes in the morning, throw those down there in the comments section and I'll love you forever!
Shop The Post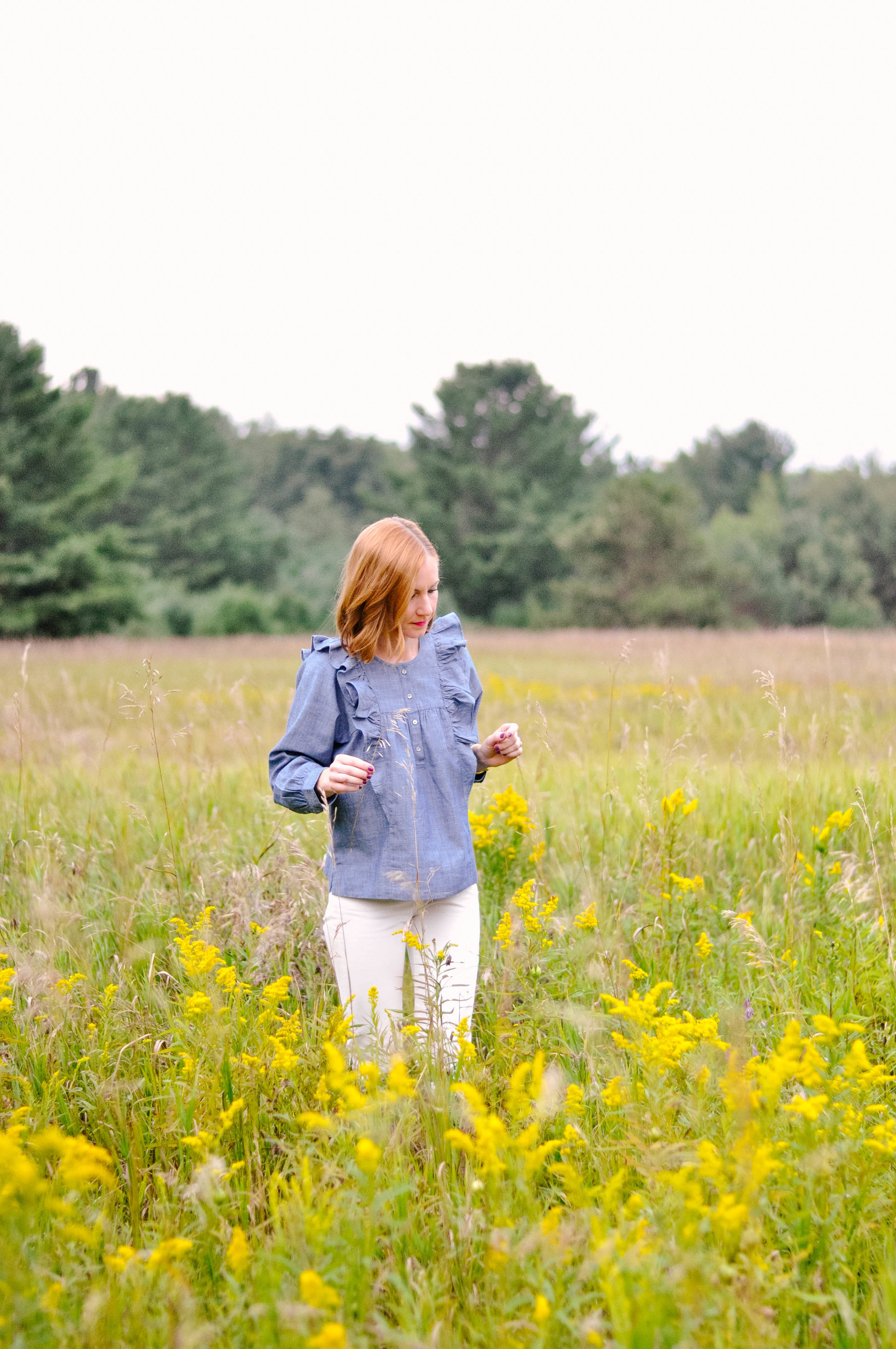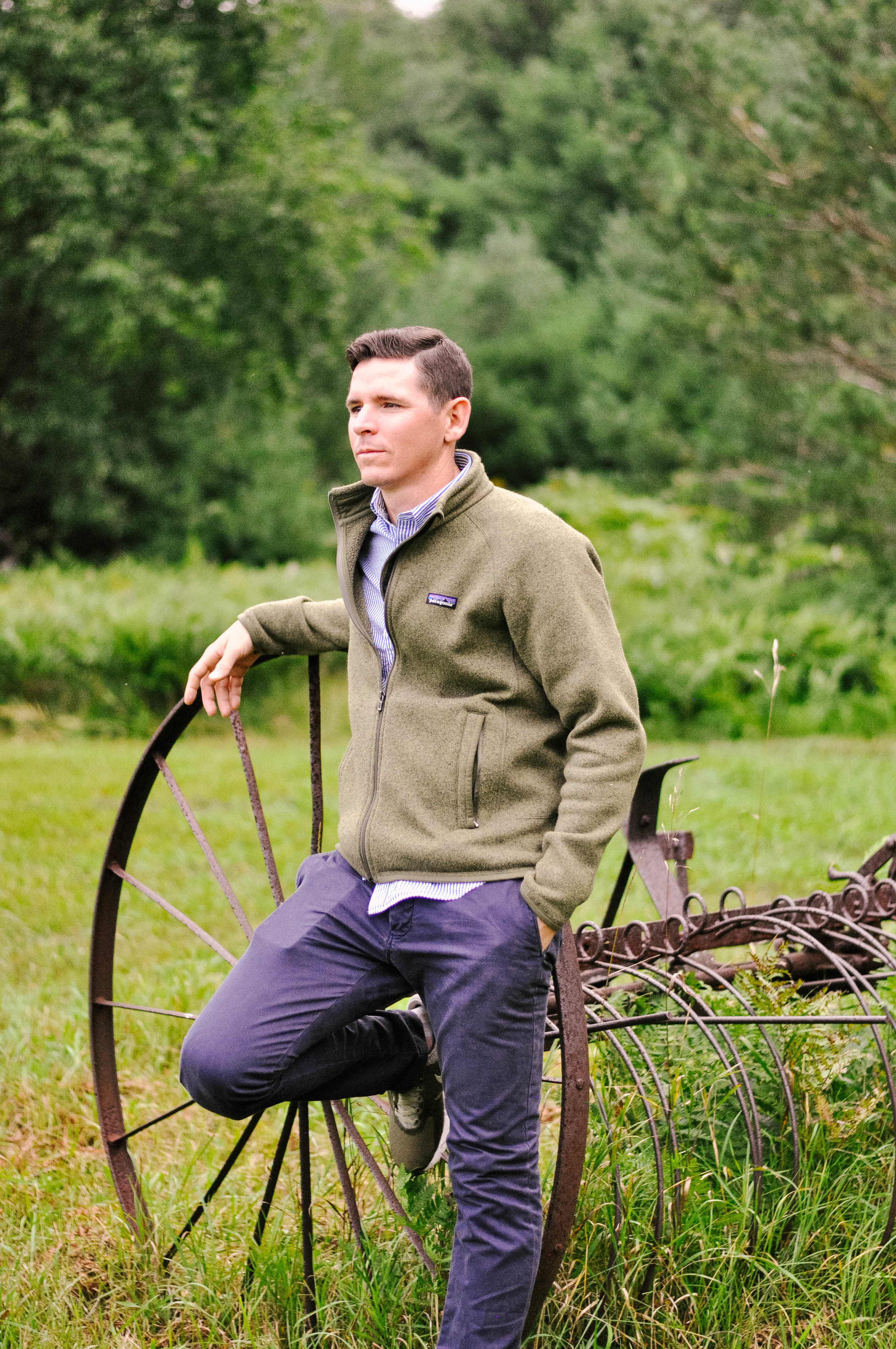 Fall is always our favorite time of year to travel. So much of the country turns into a beautiful, perfectly temperate or cozy-cool canvas of vibrant colors and fun outdoor activities, and because Arizona doesn't really offer much of that true fall feeling, we like to get out and see as much of that beauty as we can while the weather and the leaves are having their moment. Of course, everyone typically recommends the same list of quaint little East Coast towns to spot fall colors and take in the fall feels, and although there are some truly beautiful East Coast spots to visit throughout the fall, we think that the best of the best of fall getaways lies in none other than picturesque Northern Michigan! Catching the colors in Michigan is one of the most impressive fall sightseeing shows around, and a weekend getaway is all you'll need to take in all the charm and outdoor splendor.
So just where in Northern Michigan serves up the best fall colors, the most memorable fall-ready activities, small town charm and cozy, luxe accommodations? For all of that, it has to be Walloon Lake and nearby Petoskey and Harbor Springs. Not sure where that is? Hold your right hand up palm facing you, touch the tip of your ring finger with your left hand and you're there! Nestled right around the Little Traverse Bay. And now, our ultimate guide to the best fall colors weekend getaway of. your. life.
The Perfect Fall Colors Getaway in Northern Michigan
Play:
This year, the powers that be are predicting that fall weather patterns may make those stunning fall colors come sooner that later, with the peak color-catching window in the Northern portion of the Lower Peninsula of Michigan most likely falling between October 7th and 14th. And while there are endless activities you can choose to tackle on a fall weekend getaway in Northern Michigan, none are more spectacular or more memorable than the famous Tunnel of Trees Scenic Heritage Route on M-119 (Lake Shore Drive) between Harbor Springs and Cross Village. This scenic drive is the reason to head Up North this October.
If those quintessentially "fall" activities are what you seek, look no further than the endlessly adorable and oh-so-Up-North Pond Hill Farm near Harbor Springs. With a massive pumpkin patch to patrol, a winery, brewery and cafe with tasty bites abounding, their fall events include hayrides, pig races, pumpkin bowling, pumpkin painting, pumpkin smashing, cider and donuts and of course, pumpkin picking. Their fall festival weekends will run from September 23rd thru October 28th this year, and they're open from 11am to 5pm on Saturdays and Sundays.
If you bike the Little Traverse Wheelway, you'll bike along the prettiest path around the Little Traverse Bay and be right in the thick of fall colors viewing the entire way! For the perfect fall afternoon, rent a bike at Latitude 45 bike shop in Petoskey, get started at East Park and bike to Petoskey Brewing Company for a bite and a taste of one of their many refreshing Northern Michigan beers!
Stay:
With endless, old world charm abounding, luxe, perfectly appointed guest rooms, impeccably decorated, nautically-inspired common spaces, incredible, unobstructed views of the lake and trees, cozy stone fireplaces, rows of beachside Adirondack chairs for snuggled-up wine (or hot apple cider, whatever's clever) sipping and an outdoor hot tub, there's just no more perfect place in all of Northern Michigan to serve as your fall getaway home base. The small surrounding village of Walloon is a real charmer, too and you don't even technically have to leave the hotel to take in one of the most Instagram-worthy fall color shows in the area – beautiful Walloon Lake is outlined by a see of red and orange this time of year, and it's all right outside the hotel's front door.
Eat:
Just a short 30-second walk from Hotel Walloon, the Walloon Lake Inn is one of Northern Michigan's most beloved dining destinations. Though you can take in the views of Walloon Lake, the sunset and the fall colors from inside the restaurant via a massive window that spans the entire gorgeous dining room, those brave enough to cozy up outside on their lakeside patio under the heat lamps won't be disappointed, either. My parents think that they have the best Caesar salad of any they've tasted (a winning endorsement from two Caeser salad connoisseurs) , but I think that it's their seasonal menu surprises with loads of local Northern Michigan flair that really wow. Be sure to make a reservation well in advance if you want to secure a weekend dinner spot!
Chandler's may be a little more cavernous and void of views, but this cozy downtown Petoskey staple is just a 15 minute drive from Hotel Walloon, right between the hotel and the Tunnel of Trees and is the perfect place to sip great wine in the most charming little Northern Michigan town with your travel buddy on a chilly fall night, and dine on some of the most inspired cuisine Northern Michigan has to offer. Tucked in underneath an old, classic general store, there's a certain rustic, small-town ambiance at Chandler's that's basically begging to make your fall getaway a foodie delight to remember. Everything on their small menu is just about perfect, but the halibut and whitefish are personal favorites.
Shop The Post

So there you have it – the perfect fall getaway to take in this year's fall colors and cozy up with the ones you love. As for our outfits, there are a few fall staples in here that we'll both be wearing all season long. I know that I've talked about this before, but if you're ever looking for the best guy gift ever that they'll absolutely love and use every chance they get, the Patagonia Better Sweater that Chris has one is the guy gift of the century. Almost every guy in our family has one, and they all wear them anywhere and everywhere, especially when golfing, traveling, hiking, etc. Versatility at its finest.
I'm also really in love with this feminine take on a chambray shirt that I'm wearing here. When I saw this ruffled J.Crew chambray popover online, I wasn't so sure about it, but then I saw it in store and was so pleasantly surprised! The chambray is a lovely thicker chambray and the top has a boxier swing cut that is so much fun, especially when paired with high-waisted denim. I love all things chambray, as many of you know, and this was a great addition to my lineup. I also really love these adjustable back Hunter boots that I have on. They're my very favorite style of Hunter boots because they're a little bit wider when not tightened so you can fit almost any pant inside them and look normal, but you can also tighten them if needed. If you're trying to figure out what kind of Hunters to buy this fall, this style is a really great choice!
We'd love to hear where you're planning to travel this season, and if you have any epic weekend getaways with really great fall color viewing! So let us know in the comments section below – we love adding new fall destinations to our list!