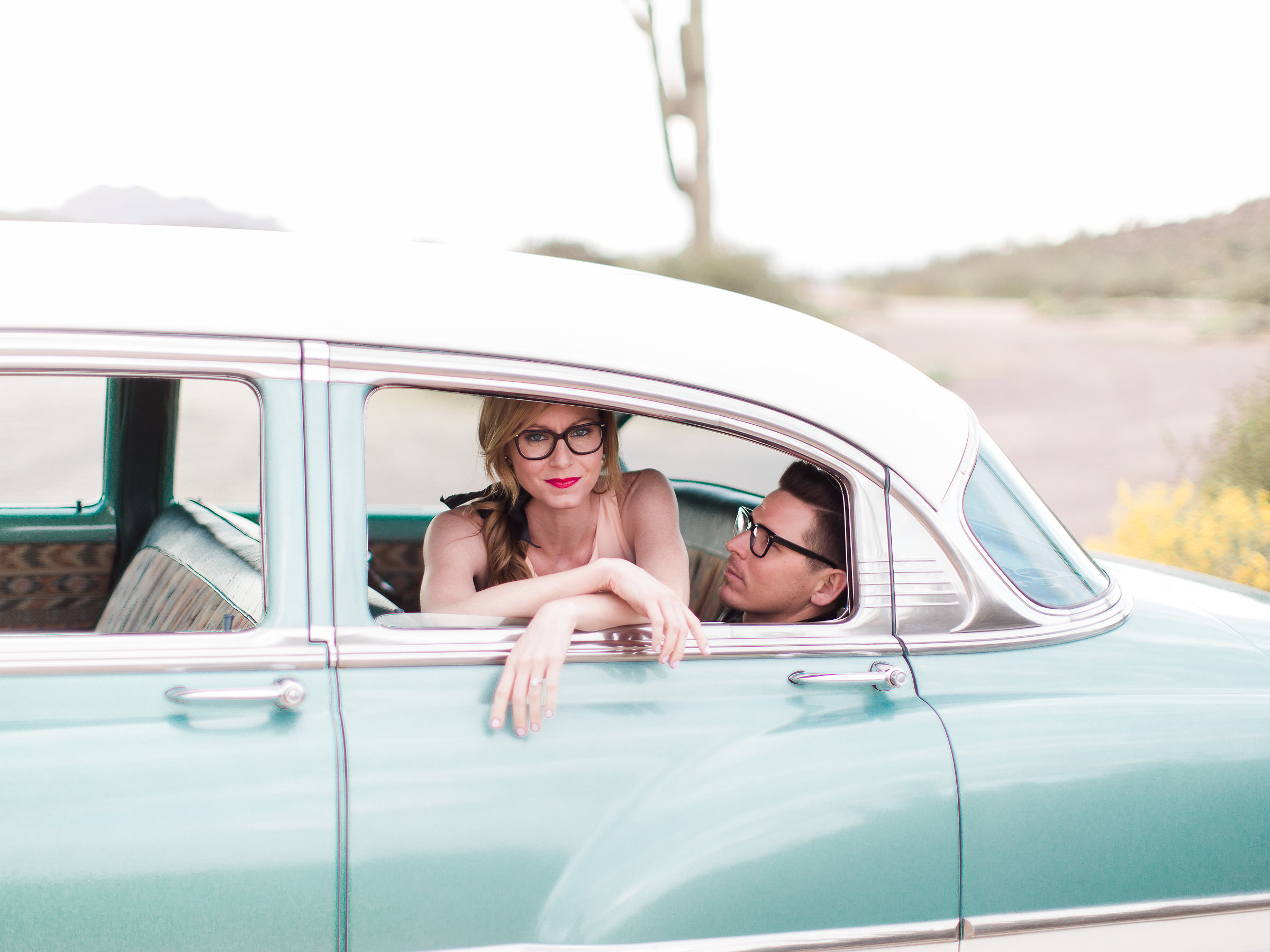 Since we got engaged back in October, we've promised to share more details from this exceptionally exciting time in our lives with all of you and chronicle more of our journey to the altar here on Love + Specs. So we're SO excited to deliver on that promise today and share what we think is one of the most intimate, personal and exposed posts we've ever shared here on the blog – Part One of our desert engagement photo session with our absolutely incredible, adorable, talented, patient, kind and genius wedding photographer Ashley Slater!
When we were looking for a photographer to capture our big day and our love, among a sea of wedding photographers out there Ashley's work spoke to us in a big way. Ashley shoots both film and digital, which was something that we really wanted incorporated into our wedding day snaps. Film photography just has such a romantic vibe, doesn't it? It captures the world in its own totally unique way, and we loved the idea of weaving that into our wedding memories. As a photographer, Ashley personally also has a very distinct, romantic and timeless look to her work, and that fit right in with what we'd been searching for in a wedding photog.
When we had our first phone call with Ashley, we initially thought that we'd have to scrap the whole "engagement pictures" thing because of the distance between us (Ashley lives and works primarily in Michigan, which happens to be where we're tying this knot this summer!), but luckily Ashley's one of the coolest, most game photographers we've ever met, and she insisted not only on flying all the way out to Arizona to shoot with us before the wedding, but that it was going to be one epic sunset session in the desert. How could we say no to that?!
One other important component of our connection with Ashley was her willingness to strike a match and burn engagement photo tradition to the ground for a minute, and roll with us on the idea of doing something a little bit more fun and funky for half of our shoot. What transpired is what you see in the snaps, which felt so classic and timeless to us and was just as much fun to dream up as it was to shoot. We wish we could have kept that gorgeous '54 Chevy Belair we rented from Roscoe & Louie here in Phoenix and kept on cruisin' into the sunset – that paint job is perfection!
The day Ashley came to Arizona not only were we in the middle of a couple of long stretches of work travel, but we were prepping our house to remodel our entire kitchen in 48 hours and shoot a video of it all while coordinating a whole mess of crew and contractors, and our minds were in about a million different places as a result. But of course, Ashley showed up bubbly, excited and ready to rock, with this beautifully magnetic personality and sense of humor that completely put us at ease – exactly what you want in a photographer that's going to be by your side throughout your wedding journey, snapping you in your most awkward and mushy moments with the love of your life.
When we got out to McDowell Mountain Regional Park to shoot it was pretty much freezing outside with gale force winds… basically everything you don't want while you're shooting your engagement pics, but Ashley trooped on like a total pro, snapped carefully and selectively, and the result is a set of images we'll cherish for the rest of our lives. You can hardly tell that we were eating our hair for the majority of the shoot!
Stay tuned for next week's post with Part Two of our engagement photos – a set of pics with a totally different look that we're equally in love with. Cheers!
CLICK PHOTOS TO EXPAND