As some of you who follow us on Instagram may have seen (if you're not following along on there, come join us!), my sister and her beautiful family just moved into the new home they built up the street from us. To say that it's drop-dead gorgeous is a total understatement! But after focusing so much of their energy on building and decorating the inside of the house, they didn't feel like they had the time, energy or frankly the budget to focus on perfectly furnishing their awesome outdoor living space just yet. We all know the feeling — buying, building, moving and updating homes can do a serious number on your enthusiasm level for more home projects and big investments. But it's outdoor living space season, and her family should be able to enjoy this gorgeous weather on their new back patio, right?! Right.
Well, in theory, sure. But there's one little problem. The teak chaise lounge chairs that they brought from their old house have great bones and can totally be repurposed, which is fantastic because that's a huge expense that I'm sure they'll be relieved not to have right now, but those bright green cushions need some serious love. Not only is this green color really out of place in their new home that mostly consists of blue tones, a whole lot of airy, bright white and worn, coastal wood, but it looks like a wild beast came and ravaged these things! Seriously, sis… how did that happen?
Fortunately, my sis is in luck because this is our jam! As you guys know, we live for a good furniture makeover that involves repurposing something with great bones and making it beautiful again. And there's only one place I go when I want to repurpose a piece of great furniture, give the upholstery a drool-worthy overhaul and find the perfect fabric to do it with — Calico Corners. Duh!
You probably already knew what we were going to say before we said it because our love for the fabric and upholstery mecca that is Calico is real. Remember our farmhouse living room makeover and our beautiful buffalo check chair? That transformation was pretty incredible, but I have a feeling that the way this reupholstery project will transform my sister's outdoor living space will be even more mind-blowing. This project is right on time because we'd been racking our brains trying to think of a thoughtful housewarming gift that their family will actually use and enjoy, and this is the perfect thing. I'm not going to say we're geniuses for thinking of it, but…
Pro tip: Calico has one of the biggest selections of performance fabrics out there in every color and pattern imaginable and in every budget. They're all built for serious outdoor use, which means rain, sun and wild beasts be damned, you'll be enjoying your cushions for years to come. The other thing I absolutely love about going the Calico route? The fact that their selection of performance fabrics is so huge also saves us from spending endless (most likely unsuccessful) hours searching for new, pre-fabricated cushions that will a) fit the dimensions of the piece and b) are made in a fabric we actually enjoy and will mesh with the rest of the decor. Talk about a futile exercise. No thank you!
Shop The Post

I know my sister's style and taste pretty well, and she is very, very particular. Guess that runs in the family! So when I stopped by our local Calico store to start the fabric search and tell my favorite design associates about "Operation: Surprise Housewarming Gift," I knew I had to bring the heat, as they say. The fabrics I chose had to be "Oh wow, yes!" worthy. Luckily, the Calico ladies were filled with enthusiasm about this project and knew their selection of performance fabrics like the back of their hands. Which is great because I'll be honest — performance fabrics and upholstering outdoor furniture in them aren't totally in my wheelhouse. Sunbrella, Bella Dura, Crypton, Fortress — who knew there were so many performance fabric brands to explore, with so many colors and patterns to choose from? Mind = blown. But the second I mentioned that we were working with a blue and white color palette with relaxed, coastal, Hamptons vibes, it was game on and the Calico dream team had some seriously fun fabric and design ideas that were pure perfection!
A Little Inspiration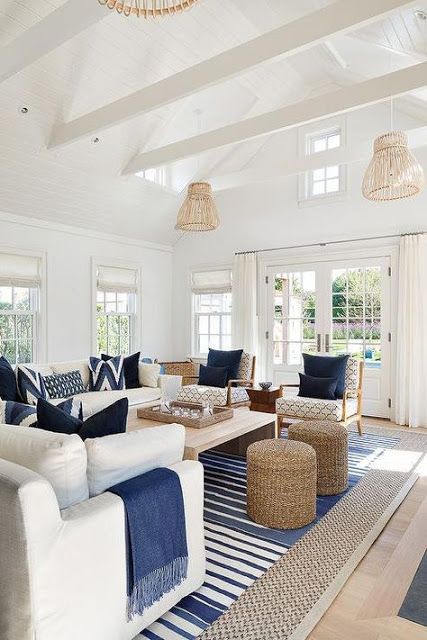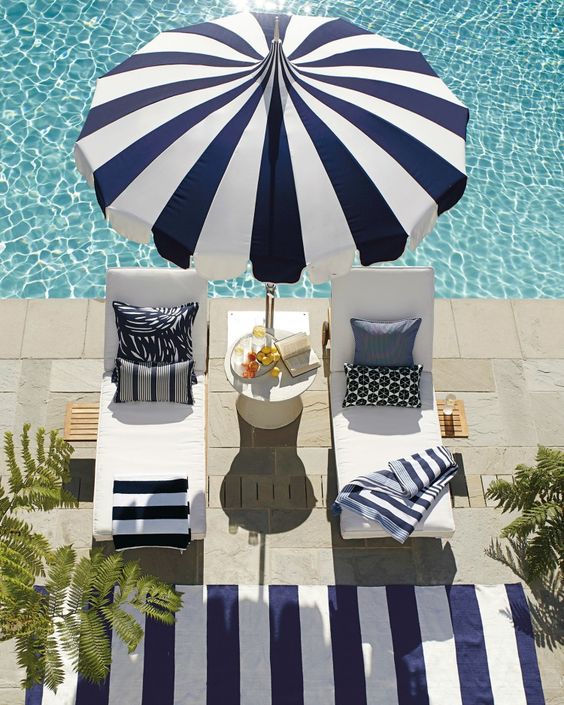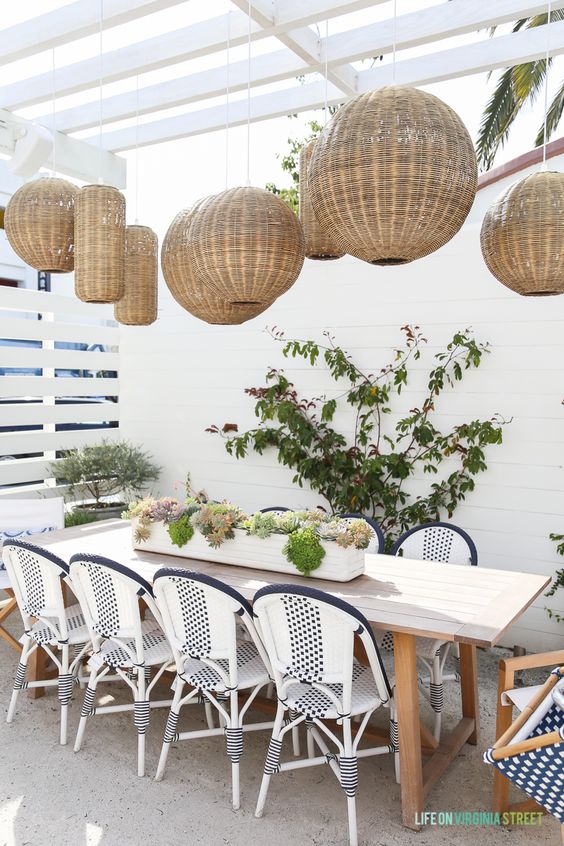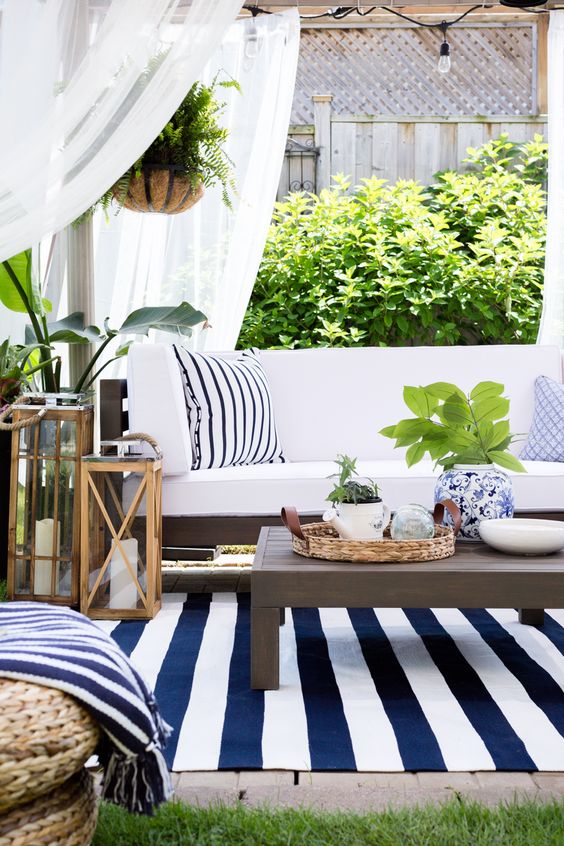 Once we had a handful of awesome fabric options to play with, we talked budget, possible color and pattern combinations and landed on some winners that not only fit within my budget, but would slay "Operation: Surprise Housewarming Gift." Then we got down to the nitty gritty — the approximate measurements of the cushions and the state of the foam inside the cushions, which I had no idea was a thing I needed to think about (you learn something new every day. Soft = good, crunchy = bad). Next, we walked through the free quote that the Calico team works up for anyone who walks through their doors with a design dream and BAM! The master plan for these seemingly raccoon-ravaged, lime-colored cushions was in place.
The details? Hear all about how Calico's transforming these sad, sad cushions into new beauties below!
Easy Blue & White Backyard Patio Makeover Plan:
This is such an easy, fun way to breathe new life into old furniture, maximize your budget and inject some personal style into a project, and I can't wait until my sis sees her new and majorly improved lounge chairs shining bright in her new backyard patio space. Calico is making all my "Operation: Surprise Housewarming Gift" dreams come true! The lounge chair makeover project reveal is one you definitely don't want to miss, so make sure you check back soon to see what the chairs and space look like when we're done!
Shop The Post