Another day, another makeover for our master bedroom headboard! If you missed the last time we gave this antique wood headboard a little upholstered makeover with a cool blanket, get caught up here! And though we loved that version of our beloved headboard and it hit all of the millennial style high notes, as we tackle this cozy, neutral, natural master bedroom makeover as a whole, we knew that the headboard would be one of the first things to get a facelift because this thing is a chameleon and so easy to update. That's the magic of this headboard! Minimum effort, max cool factor. Side note… if you follow us on Instagram and Instagram Stories you know that Hamlet refused to move when I was taking today's snaps, so just ignore the fact that some part of Ham's body is in basically every photo. Couldn't be helped.
Left: Before Right: After
When we got this headboard what feels like a lifetime ago and my mom suggested adding a DIY upholstered foam piece to the center of it using a cute, cheap clearance shelf Restoration Hardware shower curtain, she totally sold me on the idea by explaining that as my style evolved and my bedroom look changed, the fabric could easily change with it for an entirely new headboard look. And because I'm always updating and swapping out the decor in our home like it's going out of style, she was speakin' my language with that one. And she was right. This is the third fabric swap we've done on this bad boy and it has been ridiculously easy to tackle every single time. Which you know is our entire DIY existence so… perfect.
As you can see from the before and after pics, this time around we did more than just a fabric swap on the headboard, but let's start with the fabric. Usually, I love finding a cool old blanket with lots of character, or a cheap, funky shower curtain with some fun texture to upholster that foam piece with, but I searched… and I searched… and I searched this time around and couldn't find any cheap blankets, quilts or curtains that I absolutely loved and fit my needs. I needed something neutral, but it couldn't be boring. It had to be simple, exciting and cheap all at the same time, which as you can imagine is kind of a tall order. Typical. Sure I found lots of cool blankets and quilts that were in the $200 range and would have been great, but I could almost buy a whole new headboard for that kind of cash, and that wasn't the point.
If you've been around this little blog for a minute, you can probably guess what I did when I couldn't find what I was looking for after barreling down into the depths of the interwebs for months on end. Calico! And this project is a perfect example of why I'm so obsessed with Calico. They have a million beautiful fabrics of all kinds to choose from and at all price points, so I knew that I'd be able to find an affordable fabric there that was perfect for this project, and only need to buy the exact amount I needed to cover the foam piece without wasting anything. Which isn't always the case when you're using a blanket or shower curtain. Sometimes the scraps aren't always useful, despite my best efforts to make it so.
As soon as I walked into Calico I spotted a fabric from across the room that I fell in love with immediately. The fabric is called "Fritz" in the color "ivory". It's simple, has a beautiful natural-colored base, and had the most perfect thin black ticking stripe on it that would pair perfectly with our fun DIY fabric art on our nightstands, which also happens to feature an awesome toile fabric from Calico. You guys know how much I love mixing prints in the same color way (i.e. our buffalo check armchair and coordinating pillow) — it's my go-to move because it adds a little fun and funk to a space, which is always a good idea!
At first I was slightly worried that the "ivory" base tone of the fabric wouldn't contrast enough with the stark white color of the headboard itself and look a little funky, but we held the fabric up against a set of stark white pillows in the store and actually, the base tone of this fabric looks much more "natural" than "ivory" when placed against a pure white. Perfect! It has a very French grain sack feel, which I love and feels so cottage-cozy to me, which is exactly what we're going for with this bedroom makeover.
When we swapped the fabric out this time, we used the exact same method we used last time, which is so simple a toddler could do it (well, that is if your toddler were able to run free with a staple gun in hand, which we definitely don't recommend. That would be a disaster!) So if you're wondering how to tackle your own DIY upholstered headboard, jump over to the last post where we broke down the easy step by step process. The short version? We cut a piece of foam to fit the rectangular space on the headboard, glued the foam to particle board that was also cut to fit, covered the foam with a piece of fabric or blanket we loved that was two inches wider all around than the foam and board, secured it with staples in the back of the particle board and secured the whole thing to the headboard with screws. Boom! Done.
But as you can see, we didn't stop at the fabric. I wanted to bring out some of the natural wood in the headboard to warm up that glossy white paint. I love how much the white brightens up our small bedroom, but the painter's white walls paired with the glossy white paint that covers the headboard can make it feel a little bit sterile. Warm wood to the rescue! After debating what components of the headboard we'd sand to reveal the natural wood underneath, we landed on the floral appliqués on the posts and the center lattice. And the appliqués on the posts sanded really easily to reveal the natural wood underneath. No problem. The lattice… was a different story.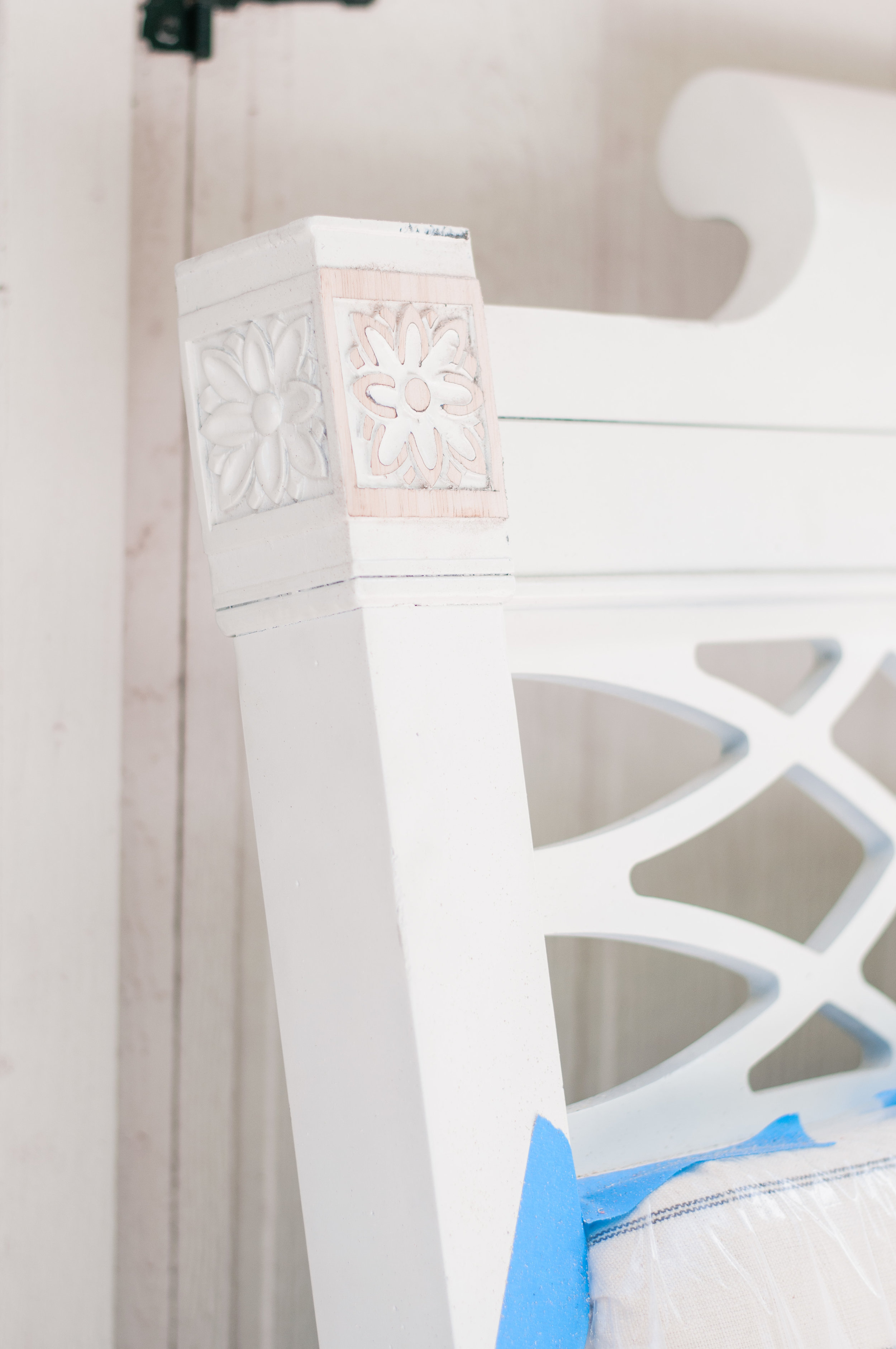 Turns out the lattice isn't actually solid wood like the rest of the headboard. It's particle board. Shoulda known! So as you can imagine, it didn't exactly "sand" like we'd hoped it would. But you know what? It wasn't a total disaster and we just sort of went with it. After sanding through the white paint and original black paint underneath that, it doesn't exactly have the natural raw wood look like we'd hoped (obviously particle board doesn't behave the same way solid wood does when sanded) and like the appliqués have, but it has a sort of whitewashed, weathered look to it which isn't the worst thing in the world and doesn't look completely horrible. We'll take it!
And that's all she wrote! Just another makeover for our beloved old headboard and I have to say, we're pretty pleased with how this one turned out, despite our little sanding surprise. And dare I say that this will probably be the last makeover this headboard gets before we turn it over to the OfferUp universe and find it a new home that loves it? I don't know if this thing could handle one more facelift! There are a few other DIY headboards that I've been dreaming up and dying to try, but that might be a project for the guest room while this one lives in our bedroom for a little while longer. What do you guys think? Do you like the new look? Let us know in the comments below and be sure to let us know if you have any questions about tackling your own cool DIY headboard project!