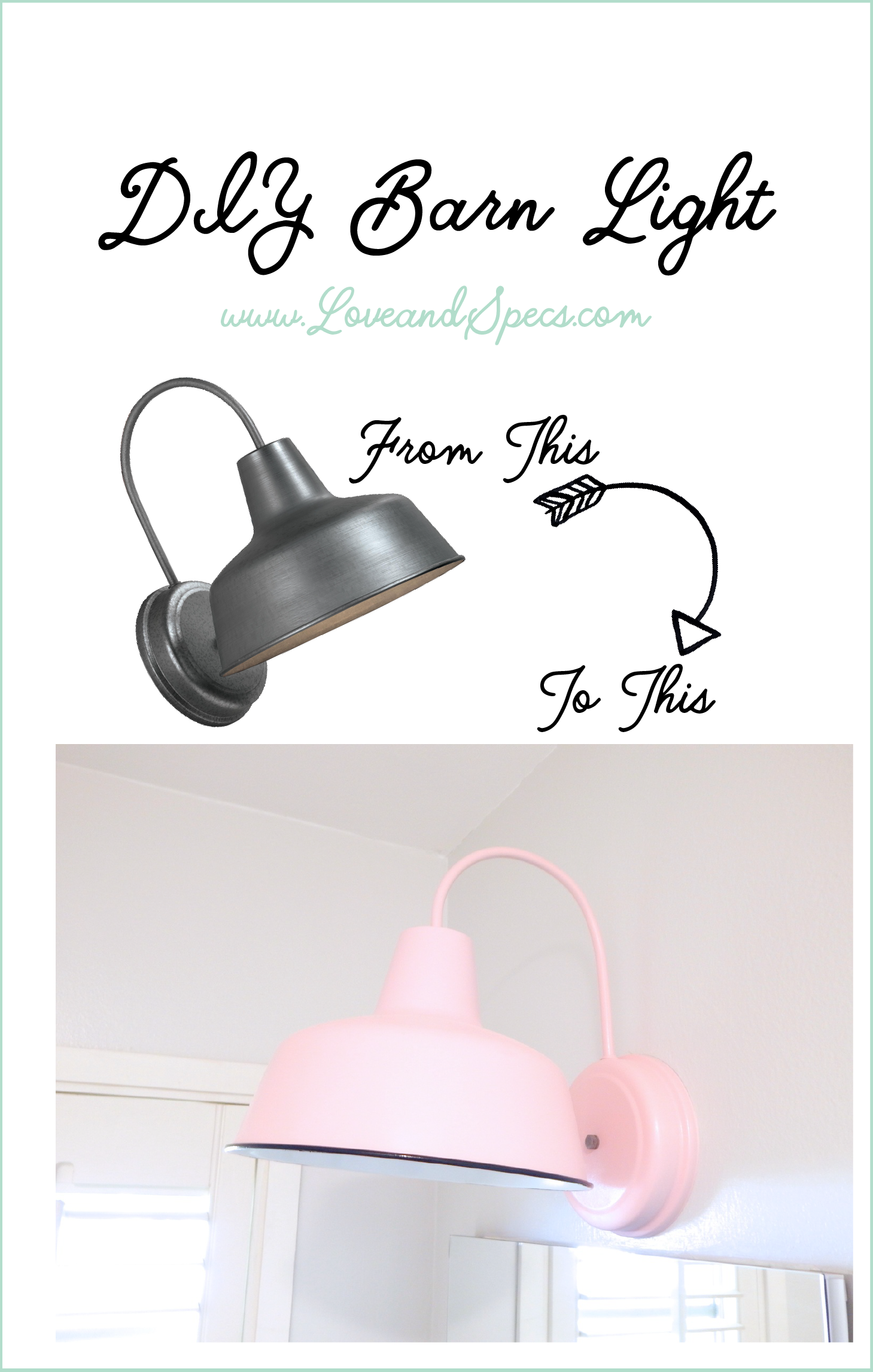 The DIY Barn Light Backstory
I'll admit that I didn't begin this process by attempting a DIY project. No no, I began the barn light search process by thinking that I'd just buy one. Specifically, I thought I would buy this Austin Wall Sconce in Blush Pink from Barn Light Electric for my newly renovated bathroom. I have a gorgeous seafoam barn light that I swagged over my kitchen table from Barn Light Electric, so I already knew that I love their stuff.
The only problem: they're pricey. Don't get me wrong, they're totally worth it, but I knew that there had to be some way to do something a little less expensive and still get the look I wanted. So naturally, I searched and I searched for other similar but less expensive options, but had no luck. That is, until I found this fantastic Vintage Industrial Wall Light Knock-Off tutorial on In My Own Style!
It was exactly what I needed, and her tutorial totally inspired me to get in there and put a little elbow grease into this beautiful bathroom remodel I was doing. I don't consider myself an expert DIY-er or an expert spray painter by any means, but hey, where there's a will there's a way, and I was going to have a blush pink barn light over that new vanity, even if it killed me! So this is my recreation of In My Own Style's DIY barn light tutorial, with my own tips, tricks and commentary about the process along the way.
Here's to trying new things and learning that you're capable of anything!
DIY Barn Light Supplies:
Portfolio Ellicott 13.12-in H Galvanized Dark Sky Outdoor Wall Light – From Lowes
Rustoleum Epoxy Gloss White Appliance Spray Paint
Krylon ColorMaster Gloss Enamel Spray Paint in Ballet Slipper
Any kind of black gloss acrylic craft paint (some love Martha Stewart – I went to Michaels and WalMart and they were sold out of MS at both so I used Craft Smart Acrylic Craft Paint in Black Gloss and it was great!)
Painter's Tape
1" Foam Paintbrush
All-purpose Fine Grit Sanding Sponge
*DIY Barn Light Tip of All Tips:
Be patient. Take your time. Spread it out over a few days!
DIY Barn Light Directions:
1. Sand your ENTIRE light. Make sure to thoroughly sand the inside of the shade, the outside of the shade, the neck and the base. Once you've sanded really well and feel like you have a smooth, even surface to work with, make sure you wipe your barn light down really well with a wet cloth to do away with any unwanted sandy residue.
2. Cover and tape the entire outside of the shade of your light. Also cover and tape the entire socket of your light – you'll keep the socket covered/taped throughout the entire paint process. Spray the inside of the shade with white appliance epoxy. Let dry completely.
a. I just covered the outside of my light with the same plastic bag that it came in inside the box and taped it shut around the shade.
b. In the photo, you can see that the painter's tape I used sticks up around the edge of the shade – I did this to further avoid any overspray.
c. I sprayed in a circle during this part for maximum, even coverage.
3. Cover and tape the entire inside of the shade. Spray the outside of the shade, neck and base of your light with high-gloss, colored spray paint. Hint: I positioned the base of my light, base down, on the corner of the box that it came in and sprayed the light sitting atop the box that way. This allowed me to get great, even coverage on the entire outside of the light without having to move it. The spray I used for this step was a fast-drying version, so as suggested by In My Own Style, I would spray one coat, wait five minutes and spray another coat. I continued this regimen until I felt like I had perfect, even coverage.
a. Make sure that you have a large tarp or dropcloth laid out underneath and around your box for this step. The overspray can get a little wild! I recommend spraying somewhere on the grass.
b. My can exploded on me… TWICE… so make sure that you test your spray paint on a large piece of newspaper before each coat. That will help you avoid any unwanted spray paint disasters. Which happen. A lot. So if that happens to you, don't freak out. Everything can be sanded and repainted with a little patience.
4. This was the fun part for me! Run a piece of painter's tape along the rim on the outside your shade. The rim kind of curls up to create a cylinder and doesn't completely connect with the shade, so you can almost place your tape down inside that crevice between the rim and the actual shade for maximum protection. Then run a piece of painters tape along the inside of the rim of the shade. Using your foam paintbrush and gloss black acrylic craft paint, paint the rim of your shade, attempting to make as straight a line as possible. The position of the tape will help with this.