I can't believe this snuck up on us so fast… Chris and I have been living in wedded bliss for six whole months! Ok I know, I know… on the grand timeline of life and marriage that's barely a blip on the radar, but it really does seem like just yesterday that we were in Northern Michigan celebrating that crazy amazing day with our friends and family.
I feel like a question we get so frequently is, "So how's married life?" and I've got to say, it really is pretty amazing. Chris has already given me so much as a husband and never stops surprising me with his selflessness, his kindness and his unending patience and I find myself feeling so deeply honored to be his wife and stand by his side in this life, experiencing all of these grand adventures together that we've had and continue to have on so many fronts! The world through Chris' lens is such a beautiful world full of infinite possibility and positivity, and even in just six short months as Chris' wife, I've been reminded what it's like to be a child, looking at the world and the future with unwary optimism… and that's a pretty incredible world to live in. And I get to do this FOR LIFE! Boom!
Although I'll admit that on the day of our 6 month anniversary, we weren't exactly aware of the occasion until my mom texted us to remind us, but luckily Chris just happened to have the evening off of work, so we got to go on an impromptu date night and sip some wine and enjoy some delicious bites at one of our favorite neighborhood haunts, Postino and take in another perfect spring night in Phoenix together, which has become a bit rare in our household as of late, so we were loving every second of it!
I've been dying to wear this blue and white striped tunic from J.Crew since I got it and it definitely didn't disappoint. It's soft, lightweight, fits true to size and it is the perfectly proportioned tunic for my frame, and who doesn't love a good bow to tie the waist?!
It's such a versatile buy too – I can dress it down with jeans and flats and get super comfy and casual for spring, throw it on with some shorts and sandals during the summer, and like I did for date night here, throw it over an edgier pant like this faux leather pair from Zara (they're sold out, but I linked a bunch of similar finds in the "shop" section below) that I snagged last month and it covers up the booty, which for some reason is something that I feel like I always try to do when I wear tight tight leather pants. I feel like I can get away with so much more on the pant front when I'm wearing a tunic. It's like it gives me a free pass to reach into my closet and grab the tightest pair of ankle pants I can find and finally throw them on with confidence. Weird? Maybe. Also awesome? Absolutely.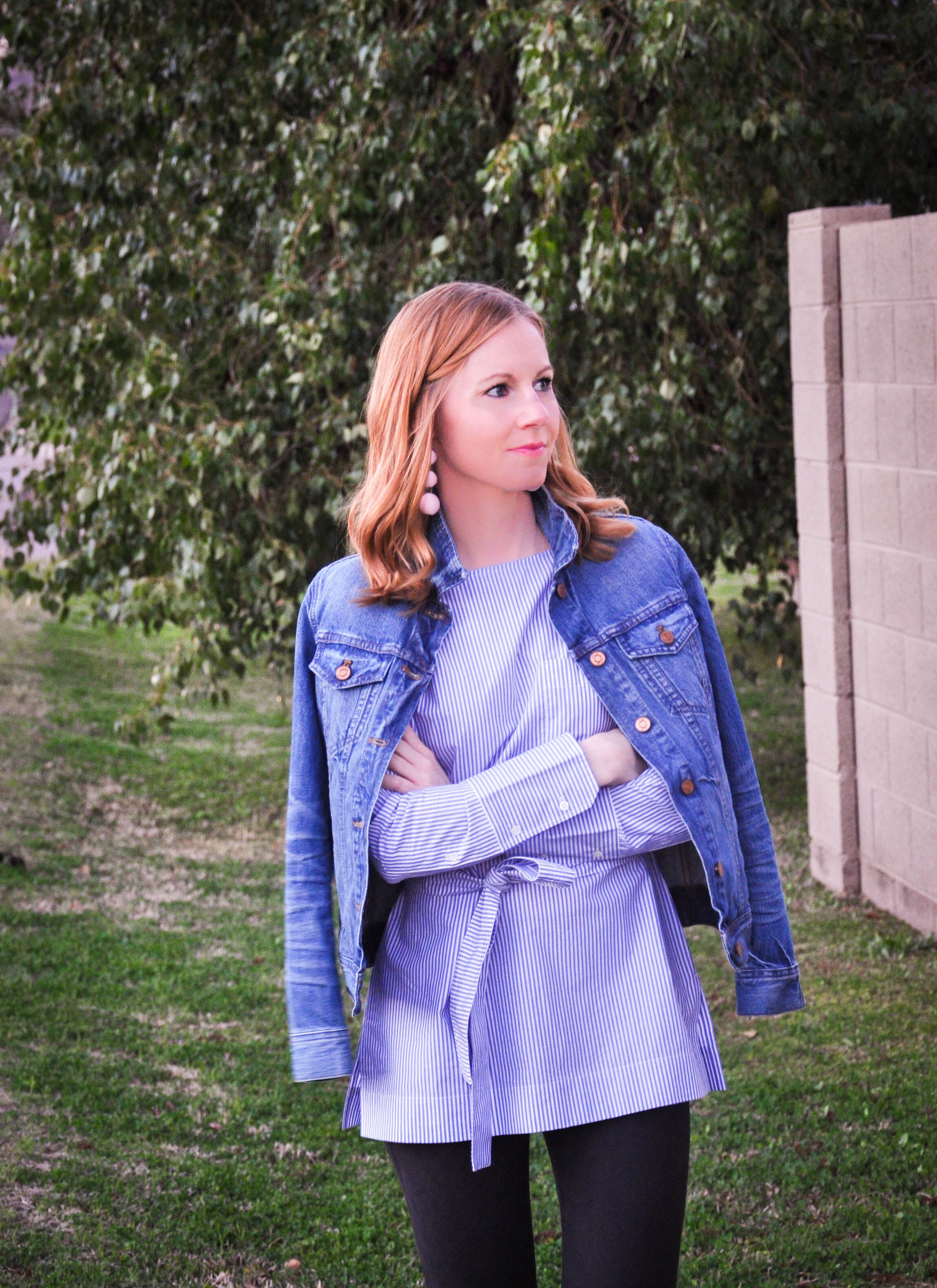 And any day that I can wear these fun drop earrings from BaubleBar and my favorite denim jacket is a good day (this one's from J.Crew & it just went on sale – links above and in the shop section below). I'll throw a good denim jacket over just about anything, and don't think for a second that I'm afraid to rock the Canadian tuxedo… because I'm not… and you shouldn't be either.
But I especially love pairing my denim jacket with black leather, or faux black leather in this case. It's one of my favorite combinations for a fun night out like this! You can shop the entire outfit and some other fun similar options below, and be sure to drop me a comment in the comments section and tell me what your go-to date night or night out on the town outfit is. I need inspiration for the next six months of date nights, and the next 6 years… and 60 years – gotta keep it fierce for the hubs when I'm old and grey, ya know? Cheers to love, guys!
Shop The Post