Well, friends. The time has come! Though we've updated a few pieces of our master bedroom over the last few years, it's time to get serious and tackle our tiny master bedroom makeover in our beloved little 1950s ranch house once and for all, and create the relaxed, cozy, bright, airy and neutral space of our dreams… so we can have sweet dreams… every night.
Before
Right now our master bedroom is "eclectic" to say the least. Over the last few years we've added DIY Ikea hacked nightstands, new fabric on our DIY upholstered headboard, a DIY painted Southwest-style dresser and other items that are a little bit all over the place. Which was all so much fun, but didn't necessarily lend to a cohesive, zen vibe in our tiny little master. As a result we've been longing to finally get serious and come up with a design plan to makeover the space, that won't break the bank (budget-friendly for life!) or our brains. When it's overwhelming, it just isn't fun, am I right?
Shop The Post
As has been the case with the rest of our home, like our living room and kitchen makeovers, we're after that slightly modern farmhouse style that's light, bright, airy, natural, cozy, always relaxed and casual, and reflects the black and white (and a little bit of seafoam, of course) color palette we love so much. And we really love adding light wood accents sprinkled in for warmth. We've always had a thing for soft, washed cotton bedding with some texture, hence our love for the honeycomb bedding we've had for a while now from Pottery Barn (the underside is so insanely soft) and always love having that whitewashed wood and woven natural fibers come into play wherever we can. We just want it to feel lived in and as un-cluttered, relaxing and inviting as possible!
So that's what we're after. Always easier said than done, but having a plan is the first step to success, right?
A Little Inspiration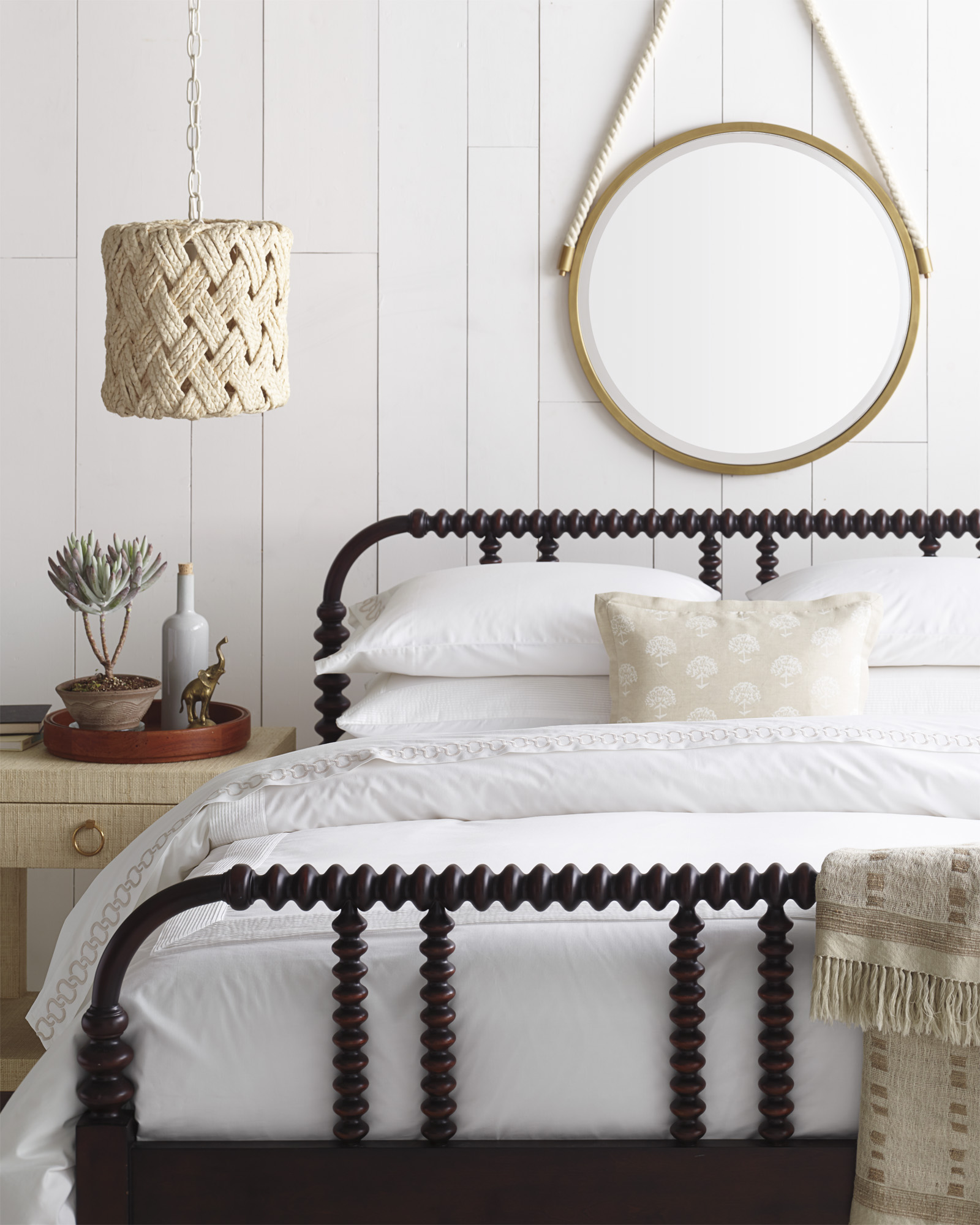 What We're Changing
The Lamps on the Nightstands
We're in love with these whitewashed floral beauties from Target.
The Rug
We definitely want to go with a woven rug that looks like a natural fiber like jute, but we hate how hard jute and other natural-fiber rugs like seagrass are to clean – it can be a nightmare. So we're currently looking for an indoor/outdoor rug like this one that looks like jute or seagrass bring in.
The Dresser
We're planning on doing a DIY on this one, but need to decide between two ideas we love. We've been combing OfferUp for the perfect dresser to either stain and whitewash and model after the Pottery Barn Sausalito dresser OR to makeover with a pretty paint job in Benjamin Moore's Caldwell Green (an idea we snagged from Emily Henderson's bedroom makeover). Let us know in the comments which way you think we should go – a whitewash over a natural, stained wood or painted!
The Headboard Fabric
We have yet to find the perfect fabric, but we're currently combing the interwebs for the right thing – we're so inspired by the fabric we fell in love with during our living room makeover, Ralph Lauren Ashfield Faille Floral in Carbon from Calico Corners. It's so dreamy. Pro Tip: When you're taking on a small DIY upholstery project like this one, a fun way to find a cool, textured fabric you love is to think outside the box and look for blankets, sheets and shower curtains to cover your piece in! Yes, even shower curtains. I really love everything about this ticking striped quilt from Schoolhouse and could totally see this on our headboard or at least layered on top of our bedding!
Shams & Throw Pillows
There's always room for switching out some shams or throw pillows. Easy, fun updates! Stay tuned.
Ceiling Light Fixture/Fan
Currently we have a white ceiling fan with a light on it on our ceiling. And I always said that I couldn't live without a ceiling fan when I sleep. I don't know why, but I just need one. BUT I've been dying to utilize this beaded flushmount light fixture from Pottery Barn and then use one of the retro-style Vornado fans to give me some of my beloved air circulation. Still on the fence about this one, so stay tuned.
Before
What We're Keeping
The White Pottery Barn Honeycomb Bedding and Euro Shams.
Our antique wood headboard.
Our DIY nightstands. Ikea hacks for the win!
The large Serena & Lily woven laundry basket.
Before
In the coming weeks we'll be right back here to show you the finished space, and can't wait to see our tiny master bedroom transformed into the tranquil oasis it was always meant to be! What do you guys think — are you into neutral, bright and airy bedrooms or do you prefer something a little more dark and dramatic? Let us know in the comments!
Shop The Post