The National Weather Service has been reminding everyone that the East Coast/Midwest/Southeast is in the midst of a winter storm of epic proportions today, which has already meant some dicey travel conditions, flight cancelations, tons of snow, ice, scattered power outages, and very cold wind chills. It even snowed in Tallahassee, Florida yesterday. What?! Now that, my friends, is nuts.
Although we currently live in Phoenix where we basically never, ever see snow, I was born and raised in Michigan, which loves its frigid temps and lake-effect snow in the winter. You may have seen a glimpse of this if you follow us on Instagram, but we spent Christmas inside a snow globe-like, stunningly beautiful Winter Wonderland in Michigan and couldn't have loved it more, as you can see! The snow started on Christmas Eve and didn't stop until Christmas night, and it was heaven. Pure magic.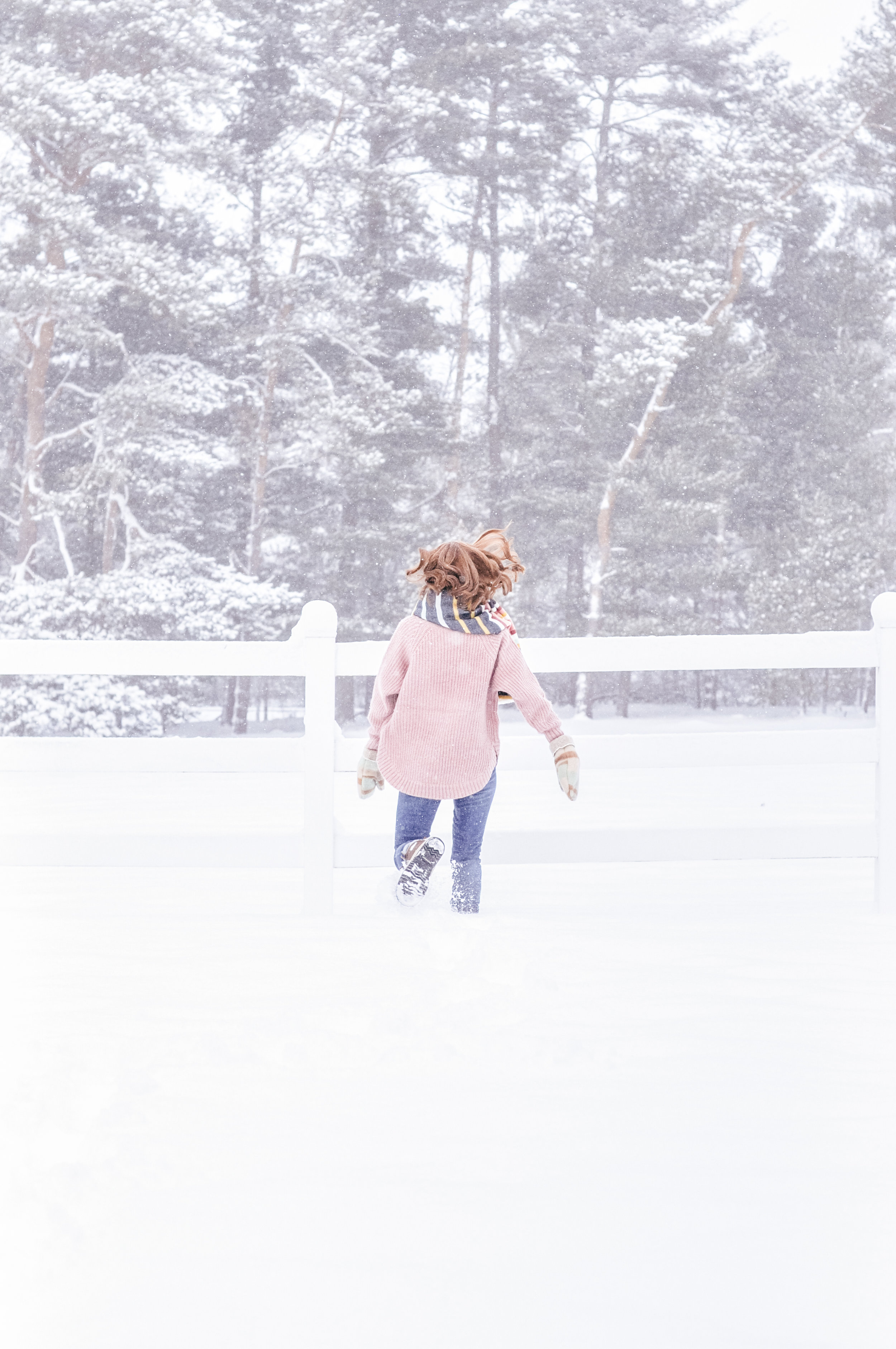 Shop Cold Weather Essentials for Women

But all this extreme winter weather makes getting dressed in the morning a little bit more treacherous than usual, which is why we're all about that cold weather outfit inspiration today and specifically, how to layer up so you can stay warm and dry without sacrificing style in the process. Survival, people. Style survival. Dressing for winter weather doesn't have to make you look or feel like the Stay Puft Marshmallow Man. No no no. Only slightly puft. Ok ok no puft, all chic. Here's what you'll need…
Shop Cold Weather Essentials for Men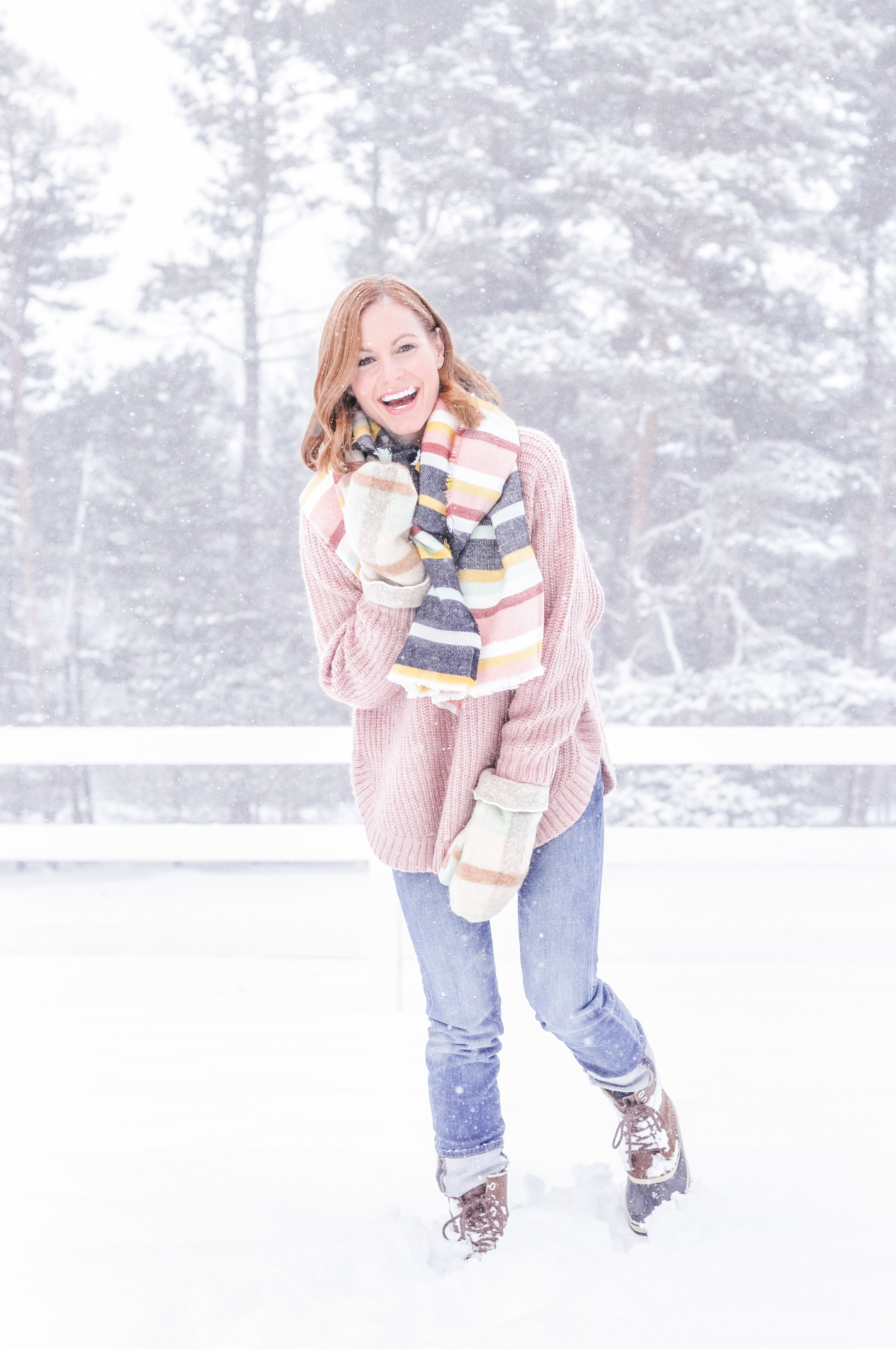 Cold Weather Clothing/Outfit Essentials for Men and Women
1. A Dependable, Warm and Stylish Waterproof Boot
We love the Sorel 1964 style for both men and women, which I have on here. They're so classic and dependable. You just can't go wrong with Sorel boots in general in the winter. I included a bunch of there options for men and women in the widget below.
2. Chunky, Slightly Oversized Sweaters With Room For Layering
Pink for me, grey for him! We linked the ones we're wearing plus tons of other similar options above and below.
3. Soft Long-Sleeved Base Layers
For ladies I absolutely love these super soft long-sleeved crew neck tees from Gap (striped version worn here). They're perfect under sweaters, especially if you need something between your skin and the scratchy stuff.
4. Thick, Soft Socks
When you're out in the snow and cold, never underestimate the ability of your feet to get cold first, and in turn make you miserable. The thicker and softer the socks, the better. The wool variety aren't our favorite. When sweat touches wool, weird things happen. But no worries – there are so many soft, thick cotton socks out there to be had like these for ladies and these for men.
5. Oversized Scarves
Men, this one isn't just for the women. You can thank us later when your face/neck isn't freezing. Man up! The one I have on is huge so it keeps me extra cozy, is so soft and it's under $15. I also love this one for the dudes. It's so classic and something they'll have for years to come.
6. A Warm, Non-Weird-Looking Hat… That Covers Your Ears
I decided to forgo a hat here because I had gotten so hot inside the house while layering up and didn't feel like I needed one, but as you all know I love a good pom beanie like this under-$10 beauty (previously worn here). The more fun the color combo, the better as far as I'm concerned. I really like this classic beanie for the guys, too! Your head releases a lot of heat, so covering it is essential to staying warm in really cold weather.
7. Warm Mittens
Finding great mittens is the key to my cold weather happiness, I've found. The insanely warm mittens I have on here are made by a woman named Pam Bauer who owns P.L. Greene. She travels around to antique & art fairs selling her wool coats, dog coats, mittens, etc. and I got mine in Northern Michigan. They're made from a cute vintage seafoam plaid wool blanket and are lined with the softest shearling. Her contact info is on her website. Best $20 I've ever spent!
8. A Great Coat
Now this one is definitely a "duh" item, and not one that we're diving into in tons of detail today because we could talk about this for an eternity. But when you're looking for serious function, I always recommend something down-filled. If you have enough layers on underneath, a cool/cute wool coat might be just fine on a normal day, but if you're up against seriously low temps, wind chill and snow, you need more insulation and a down coat is the way to go.
Shop Cold Weather Essentials for Women

Shop Cold Weather Essentials for Men

We hope that you're all easing back into this whole "work" thing as painlessly as possible this week after a happy holiday break (even if you are freezing your buns off), and that you enjoyed the time off or away or unplugged or whatever you were as much as we did. It really did completely recharge us and refocus our energy to only the essentials. And by essentials we mean the things we love!
We hope that everyone on the East Coast and anywhere these crazy winter storms are hitting stays safe and warm and that you aren't somewhere sleeping on an airport bench sans suitcase or digging your front door out from under a pile of snow! Happy wintering, friends!