We're keeping the outdoor living space talk going today and highlighting one of our very favorite parts of the outdoor living space at our little house, the firepit area in our backyard! The brick firepit itself was already here when we moved in, and is one of the many things we love so much about our backyard. But until now it was sort of bare and only outfitted with the basics… a few plastic Adirondack chairs from the hardware store. Hey, it worked! We've just had so many other spaces to tend to at our house, so sprucing up our beloved firepit took a backseat. Until now, that is!
Before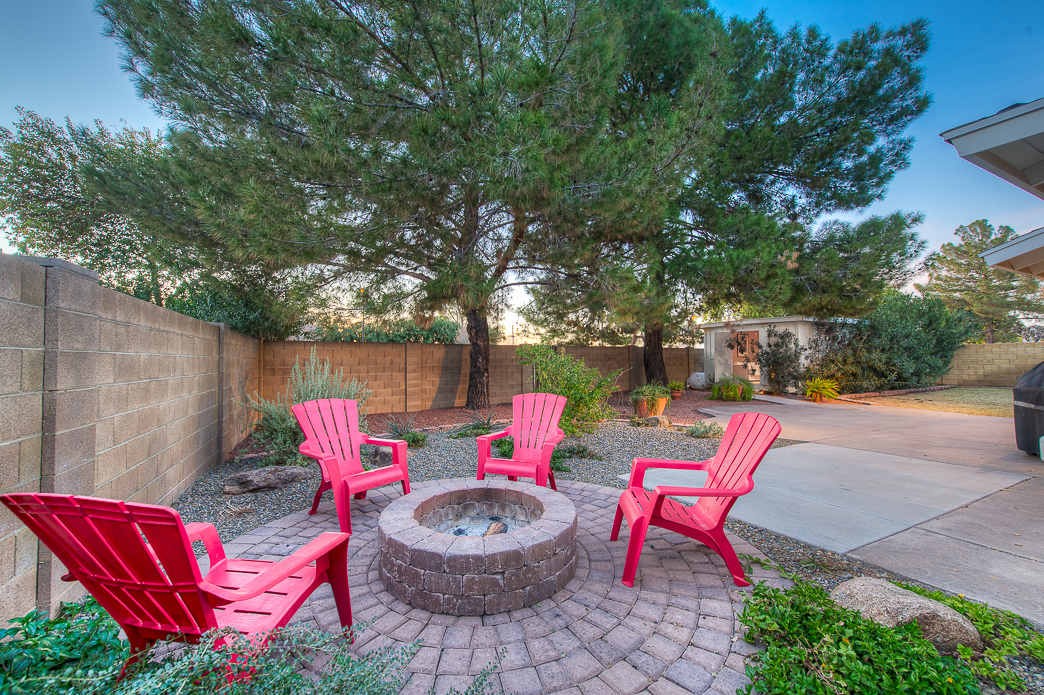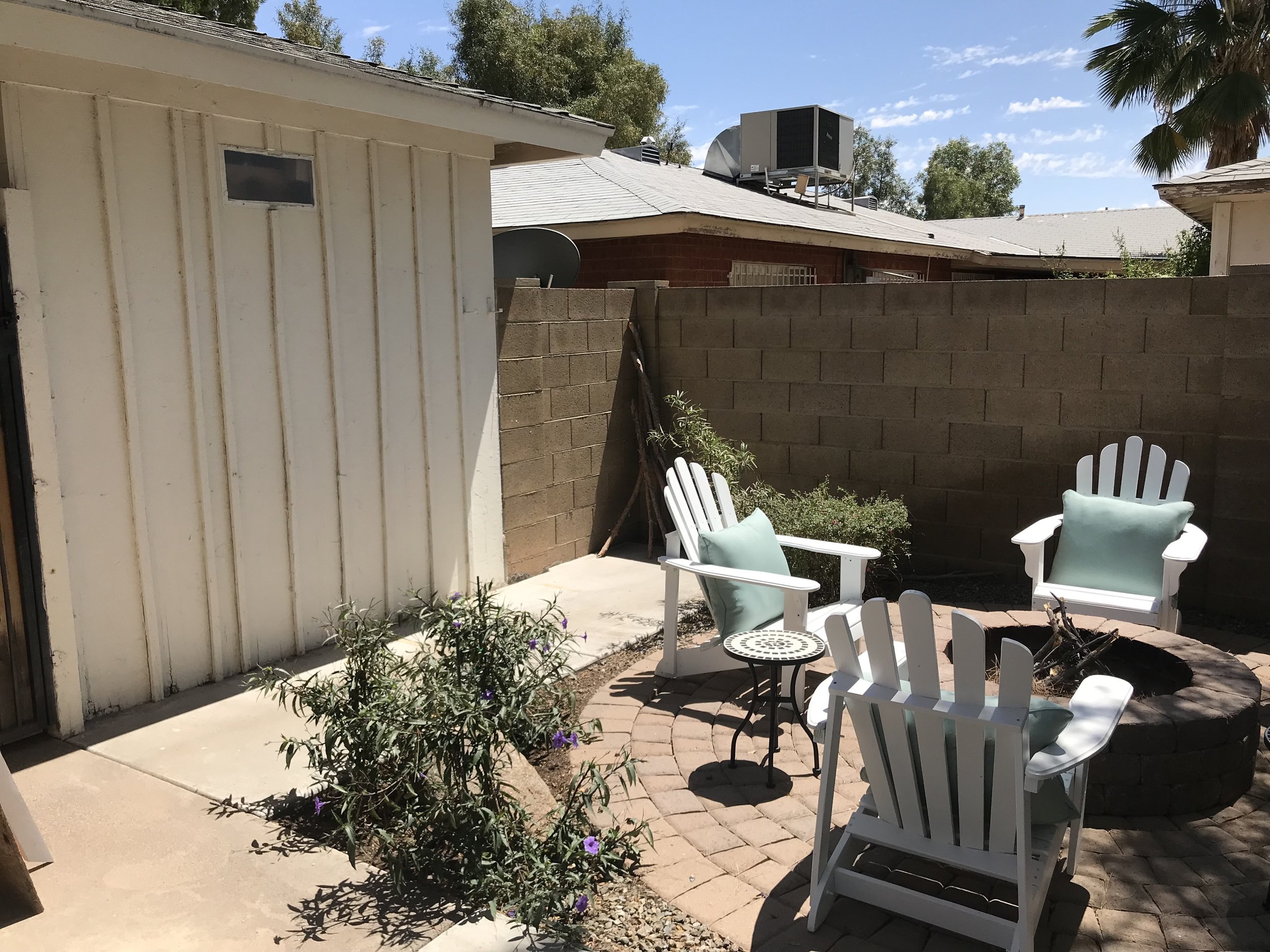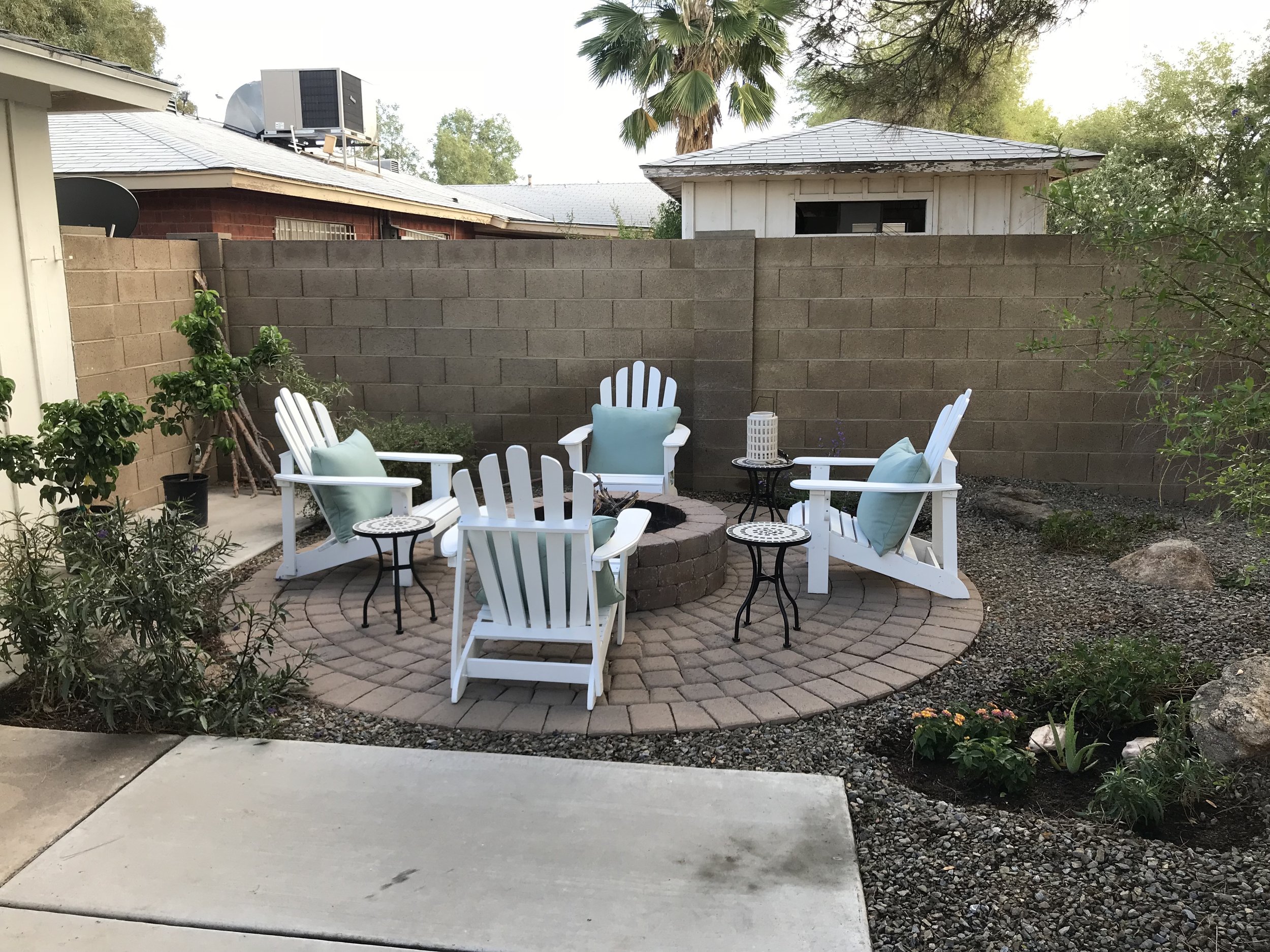 1. When we first moved in 2. The old plastic chairs 3 & 4. The new white chairs, pre-makeover
We're absolutely loving spending every single second we can outside enjoying our backyard right now before the heat here in Phoenix starts to melt the soles of our shoes the second we step outside. Ok that's a little bit dramatic but… is it? It'll be 109 this weekend and we're bracing for impact over here. Which is why last weekend was the perfect time to undertake this little backyard firepit makeover and spend the long weekend roasting s'mores and enjoying the fruits of our labor while the weather was nice.
As is alway the case with our house projects, sprucing up this space had to be done on a budget, it had to be relatively easy to tackle, and it had to be both fun, beautiful and functional! Because what's an outdoor living space without a little bit of fun injected into it? It needed to be perfect for cozying up with just the two of us and a couple of glasses of wine, and entertaining our friends and family. Is that so much to ask? Nah.
This was such a fun project for us, mostly because it involved some easy DIY upgrades, some affordable and functional decor we love and we were able to enjoy the space right away, so the payoff was huge.
Looking to upgrade your firepit area, but not sure where to start? Here's how we tackled this affordable little firepit makeover, piece by piece!
Shop The Post
The plastic Aridondack chairs from the hardware store lasted us a couple of years, but sadly had broken in just about every place that mattered thanks to tons of use and being constantly exposed to this dry desert heat and sun. So those needed to be replaced with affordable and comfortable new seating that was sturdy enough to last for a long time out there. Luckily we already had two of these affordable wood Adirondack chairs that we love and had painted previously, which we blogged about last year. Those used to be on our front porch, but were just replaced with our painted second-hand rocking chairs that we recently posted on the blog. So we just painted those existing chairs white with Behr Marquee's "Ultra Pure White" semi-gloss exterior paint, bought two more of those same chairs and painted those white, too and voila — four cheap, white Adirondack chairs to set the tone!
I actually bought the deep seat pillows you see in the pics right when we bought our plastic Adirondack chairs because they were the perfect size and color, and they're just the gift that keeps on giving! We're so happy that they fit our new chairs perfectly, and they're still in such great shape because we store them inside when we're not using them. They're Smith & Hawken Sunbrella pillows from Target and though they're sold out in this size in this seafoam color, they also have this size in tons of other colors to choose from, or you can snag this color in smaller pillow sizes. Couldn't recommend them more highly! We also wanted to have a couple of comfy, but durable outdoor blankets on hand for chillier nights, and these black & white buffalo check picnic blankets from Hearth & Hand by Magnolia at Target were just the ticket.
Greenery
Chris has planted some really beautiful plants/flowers around the firepit already that add some extra color and coziness the space, but we wanted to include a few more perfectly placed plants to give the space a little bit more life. Lavender does so well in our climate, and smells absolutely heavenly, so it was kind of the perfect thing have around the firepit. We threw them in some woven hyacinth baskets to add texture and warmth, which we couldn't love more.
We also wanted to add some greenery to the blank white wood wall of the shed that borders the firepit, but we needed it to be low maintenance. We weren't going to run drip to the wall, and since we'll be traveling a bit this summer the plants had to be durable and the planters had to work with us, not against us. We found these awesome black recycled rubber self-watering wall planters at Target and they're just what we needed! They come with mounting brackets, are built with stabilizing posts in the back so they don't droop with added weight, and hooks in the back allow you to easily take them on and off the mounts whenever you need to. We filled them with some pretty (and hardy) succulents that won't need a lot of watering once they're established.
We went back and forth about what game we wanted to include in this space and when we saw this dart board from the Hearth & Hand by Magnolia line at Target it was a lightbulb moment! The dart board itself is not only super cute (of course — Magnolia always does it right), and we absolutely love playing darts with each other and with friends. And that narrow space behind the firepit is perfect for it. We're also going to add a little wood ledge right below the rake so you can set your beverage there while playing.
One thing we've always said our firepit needed was some side tables next to our seating that are beverage and snack ready! Because setting your wine or your hot cocoa on the ground is pretty lame when you're cozying up by the fire! Target has the most amazing selection of budget-friendly small outdoor accent tables right now that are perfect for this very purposes, and they have a style for pretty much every design and decor theme imaginable. These black and white mosaic tile tables were perfect for us and we loved the stylish ceramic tile face. This super similar accent table from Anthropologie is a little bit pricier, but we love the wood legs!
Cozy Lighting
Sure, the firepit itself helps add a little bit of light to this corner of the backyard, but it's still pretty dark over there, even with our existing string lights that hang in the pine trees along the back edge of our backyard. So we wanted to add a little bit of extra light that would not only help you see where you're walking over there, but would also be soft and subtle enough to up the cozy factor of the space in general. Enter these large outdoor lanterns! I love using big outdoor lanterns to add a little bit of light, warmth and coziness to an outdoor space either on the ground or a tabletop. We feel like broken records here and this is in no way sponsored, but Target has so many awesome, affordable lantern styles to choose from right now. Chris also had the genius idea of adding a line of these white string lights along the roof in the backyard to add additional soft lightning whenever we wanted/needed it, so we can leave the flood lights off (they can be pretty blinding) when we're just hanging out back there or entertaining. And they've been such an awesome addition!
Decorative Accents
We really wanted to keep this space as natural and "hygge" as possible so it blends right in with our backyard, so we wanted to keep all of the decorative accents in line with that idea — a wood serving bowl for the s'mores accoutrements, a woven basket for flowers and to hold our darts, a plaid coir doormat, white enamel retro mugs and beverage dispenser, and plaid serving trays for that cozy cabin vibe. It all make the space as cozy, warm, inviting and natural as possible, which we love!
Shop The Post
So what do you think of our new outdoor firepit space in our backyard? Let us know in the comments section and feel free to ask any questions you have about the decor you see or outdoor firepit spaces in general. Here's to taking the party outside this summer!