Hi, friends! Happy post-Halloween Wednesday! We're sure that there are some of you out there who, like us, are in a total candy coma at the moment and still recovering from a week and weekend of haphazardly thrown together costumes (totally acceptable), way too much witches brew and sugar-rushed kiddos losing their minds after setting the record for the most candy bars consumed in a 24-hour period. In light of that, we're going to keep it chill today and not overwhelm you with the words "holiday," "Christmas carols" or "gift guide". That's just too much for a human's brain to process one day post-Halloween. So this week on the blog is all about making an easy, breezy transition from fall to winter that won't shock your system or your wardrobe into a pre-holiday meltdown.
As we've mentioned many times before, fall and winter in Phoenix are a little bit different weather-wise than what many of you experience elsewhere across the country. Our temperatures in Arizona have only just begun to drop out of the 90s, and the "chillier" 60-something degree nights and mornings are as close to fall/winter as we've gotten. So as we transition our wardrobes the layers are a little bit lighter, but the winter color palette and outfit intentions are there! Bottom line? We love starting to integrate deeper, darker hues like black, charcoal and soft greys into our outfits post-Halloween, always bring boots into the equation at some point and this year especially, love adding a little bit of texture like velvet and wool into the mix wherever we can. Well actually I don't think Chris is on board with the velvet trend (that would be so Bowie of him though, wouldn't it?), but I'm certainly all about it! Its so soooooooft.
Shop The Post

I absolutely love the new mid rise skinny jean in velvet from J.Crew that I'm wearing here (the black is so versatile and classic but I'm also lusting after the forest green color), and there are a ton of other velvet items that I have my eye on like this velvet bow hair tie, these super adorable velvet sneakers and this pretty velvet midi skirt (it also comes in blush, which is so so cute). There are a ton of other velvet items that I'm loving right now (more in depth post on that coming sometime soon) and I linked those in the "Shop The Post" widgets above and below as well as on the Shop page here on the blog!
This sleeveless, tie-side tunic sweater from Ann Taylor is a really fun way for me to lightly layer throughout the winter without overheating when I'm indoors or in the sun during the day. It's also a really versatile piece that I can pop over a tailored button down shirt (in white or fun prints and patterns), or over a soft, long-sleeve tee like I did here, which is such an easy, casual way to style it. I could dress it down even more with some slightly worn, destructed or relaxed denim, too to keep this look even more casual or ready for comfy weekend wear. So many options, guys! So many options.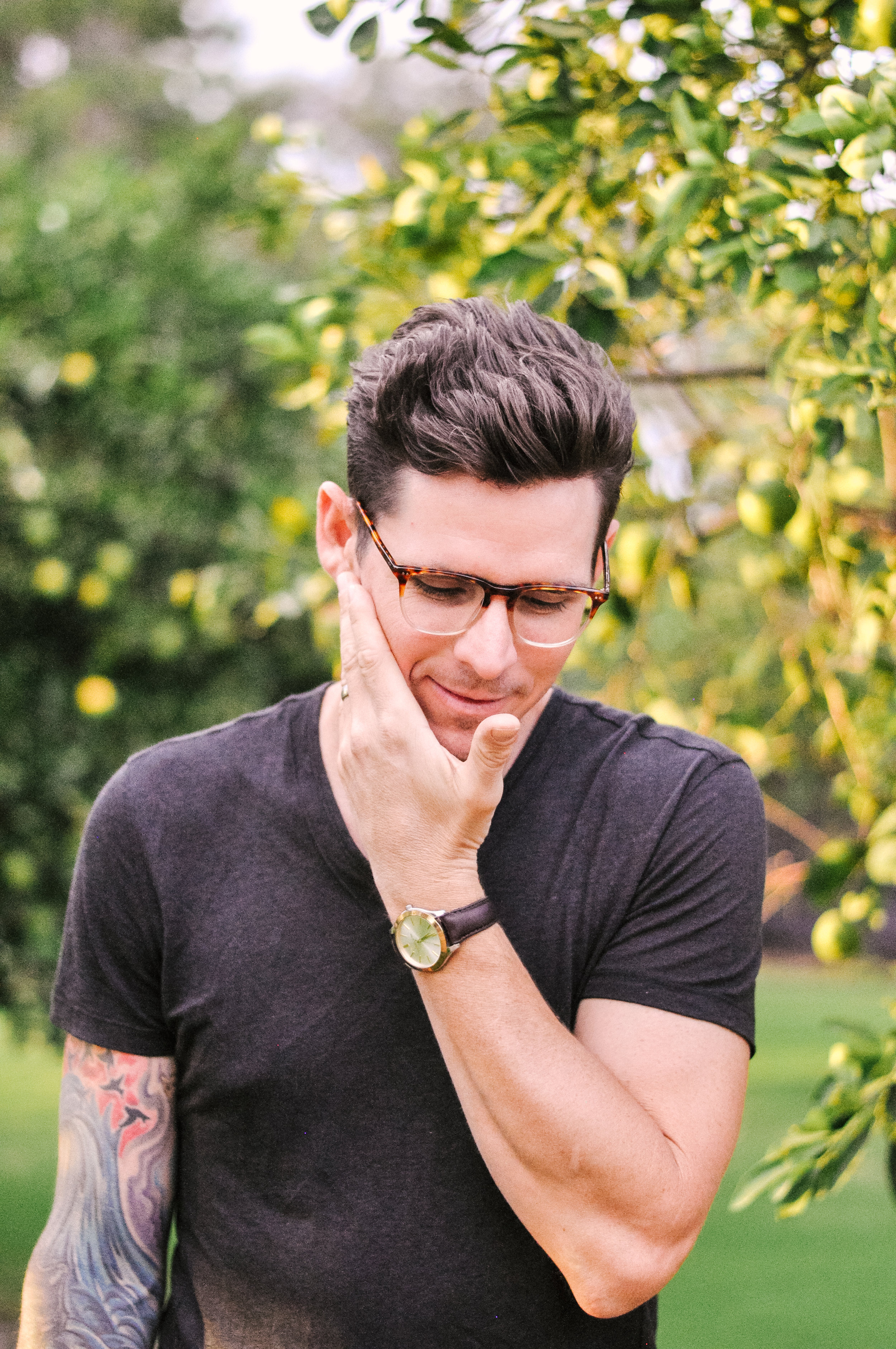 And I warned you guys that I'd be wearing these Frye oxfords with anything and everything this fall and winter, and I'm certainly delivering on that promise. They're my favorite shoes in my wardrobe right now – this oxblood color is my absolute favorite hue right now and I just love the pronounced pointed toe. Solid purchase, Mar. Solid purchase. And definitely hop over and check out last week's post on the blog to hear all about this super unique bag that I'm carrying here and why my hilarious parents FaceTimed me at the crack of dawn to talk about it. It's a good one, I promise!
Guys, if you're looking for a great pair of boots (or several) to try this winter that are not only super versatile for work or play, but keep your feet oh-so-comfortable while you're running around all day, the TOMS Chukka boots that Chris is wearing here are awesome! Chris was really surprised that TOMS makes a stylish, substantial, quality boot that could withstand his long days spent on his feet running around the restaurant. He typically opts for leather boots of some kind, but he's found that even a well-made, slightly pricier leather boot might cave when put to the test of enduring his work day and keeping his feet comfortable. So he decided to try these out and has been so surprised by how much he's loved them. That's a win for a dude if you ask me! He also wants me to mention that the Billy Reid pants he's wearing are currently his favorite pants in his arsenal… which is saying a lot because the guy has a whooooole lot of pants going on in that closet. More than me. Seriously. The pant game is strong with that one.
And because this is sort of our unofficial kickoff to winter style content here on le blog, we want to hear about the trends you're loving or would love to see more of on the blog! So drop us a comment in the comments section below and let us know if there are any style roundups you'd love for us to do or showcase, whether it's trends, price points or otherwise, and we'll make it happen! Happy November, guys!
Shop The Post