It's Friday! You made it! Take a big sigh of relief, kick those feet up on your desk in defiance and get excited because today, I'm talking weekend wear. If there are two things I love to have in my closet at all times, it's stripes and sneakers. Stripes are such a classic style staple and I don't think a year of my life has gone by that I haven't had many a striped item in my closet. I'm sure my mom can attest to that.
And as for the sneaker, well, I can proudly say that pink floral-print Puma sneakers were my very first internet purchase way back in 2000/2001 (I'm pretty sure I had to wait for about a month for them to arrive!) and I've been loving a good "lifestyle" sneak ever since. And I say "lifestyle" sneaker because that's what my dad calls them… because that's what he thinks "the kids" call the kind of sneakers you bop around town in that aren't the kind of sneakers that you hit the gym in… and someone made the mistake of telling him that and now he's buying up all the "lifestyle" sneakers he can find and "rockin'" them around town, as he says. He thinks it makes him awesome. And that man looooooves a good lifestyle sneaker, let me tell you!
It feels like I'm telling a lot of stories about my dad's antics as of late, but I can't help it! As I mentioned in my post HERE my parents spend the majority of the spring at their house here in Arizona, so I spend a lot of lunches at In & Out with my pops listening to his hilarious stories and words of wisdom about basically everything in life. If you know him, not only do you love him, but you know there are just so many stories to tell. That guy is a force to be reckoned with on the storytelling front – he's such a character!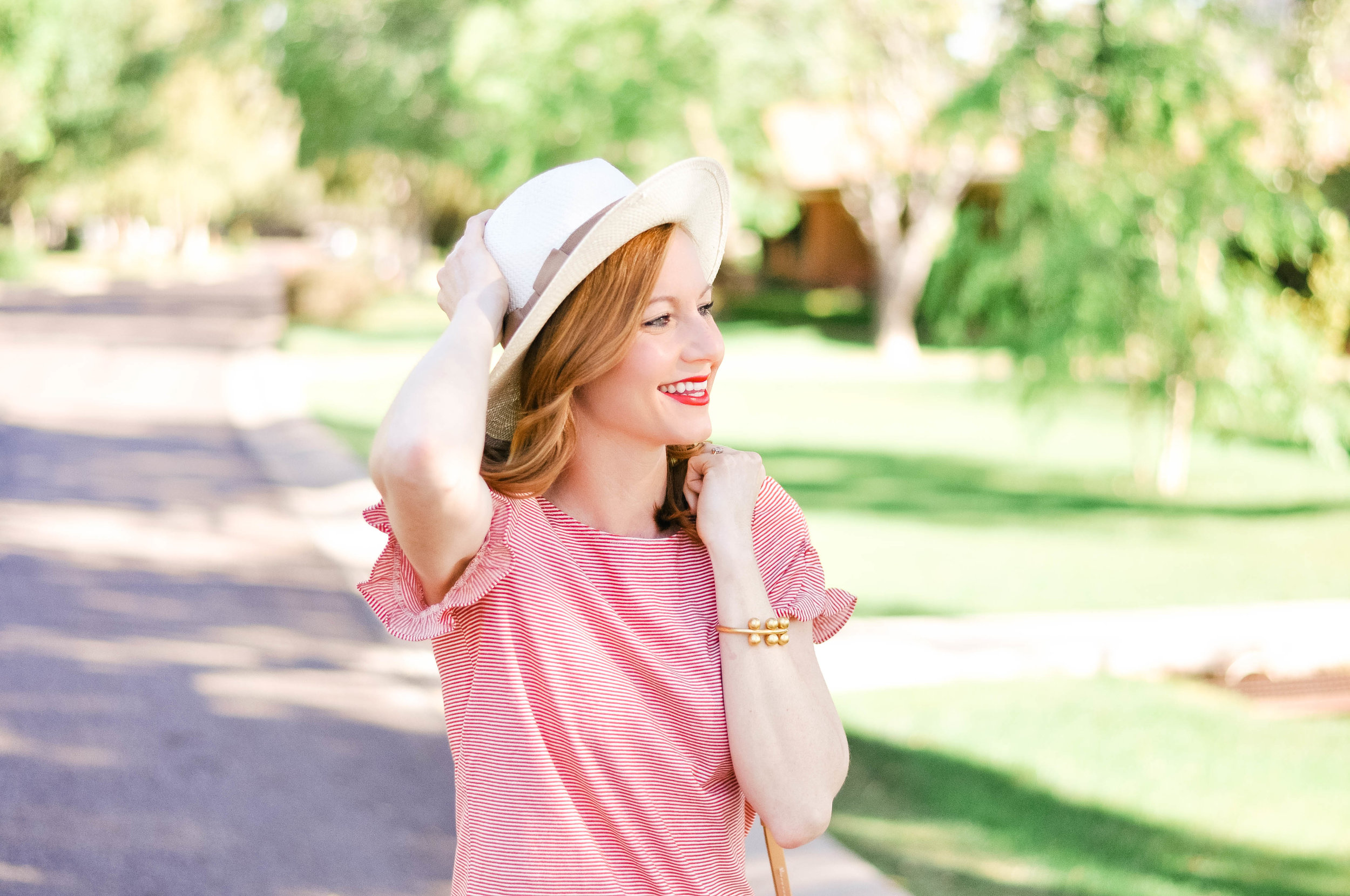 But back to the clothes. Basically, not only do I love to have staples in my closet that I'm excited to wear when the weekend comes, but I love when those pieces can also be worn on those weekdays where I just need a comfy-casual outfit that can pass for somewhat acceptable in public and in the office… if your office is sometimes casual like mine happens to be. And throwing on a fresh pair of nice kicks is always a good start to the day and makes those crazy busy days spent running around town so much easier… especially when they're ultra comfortable and cute, like these perforated white leather Keds I picked up that I'm convinced go with everything.
A good white sneaker is a must-have in my closet and after I discovered the Keds "Kickstart" style a couple of years ago, I've been so happy that they've released this style in so many good colors and fabrics. There's something about the shape of this shoe style and the foot bed that makes them insanely comfortable. It's like walking on marshmallow fluff!
The pants and tee I'm wearing are both from LOFT and I love both pieces so much, that I now have this tee in red (seen here) and the blue stripe, both of which I absolutely love because they're not only so soft and comfortable, but because the ruffle detail on the tulip sleeves are so fun – read more about my love for ruffles and all of the ruffled items I'm shopping this spring HERE.
The pants are Lou & Grey (a brand that LOFT carries) and are also the softest pants I think I've ever owned, and the drawstring and ankle cut are both right up my alley. Show me a woman who doesn't love a good drawstring pant and I'll show you a liar! I've already gotten questions from some of you on Instagram about the fit of these two items, and both the tee and the pants fit pretty true to size I'd say. I'm about 5'6″ and typically wear a size 0-2, and I bought an XS in both items and love the fit, which is slightly relaxed but not overly so.
One thing I also love about these particular Keds and something that you'll see in the roundup of sneakers below is that they make this same perforated leather style with two different color details – navy and green. I have the version with the navy detail, but I have to admit that I'm kind of loving the green! It's so preppy and summery and of course it's close to the Pantone color of the year (called "greenery"), and I really do love how fresh and vibrant that green tone is. I feel like this is going to be one of my go-to weekend outfits for a long time (perfect for spring weather), and that I'll keep pairing these white leather kicks with as many outfits as possible throughout the spring and summer. Pants, dresses, skirts, shorts… it all works!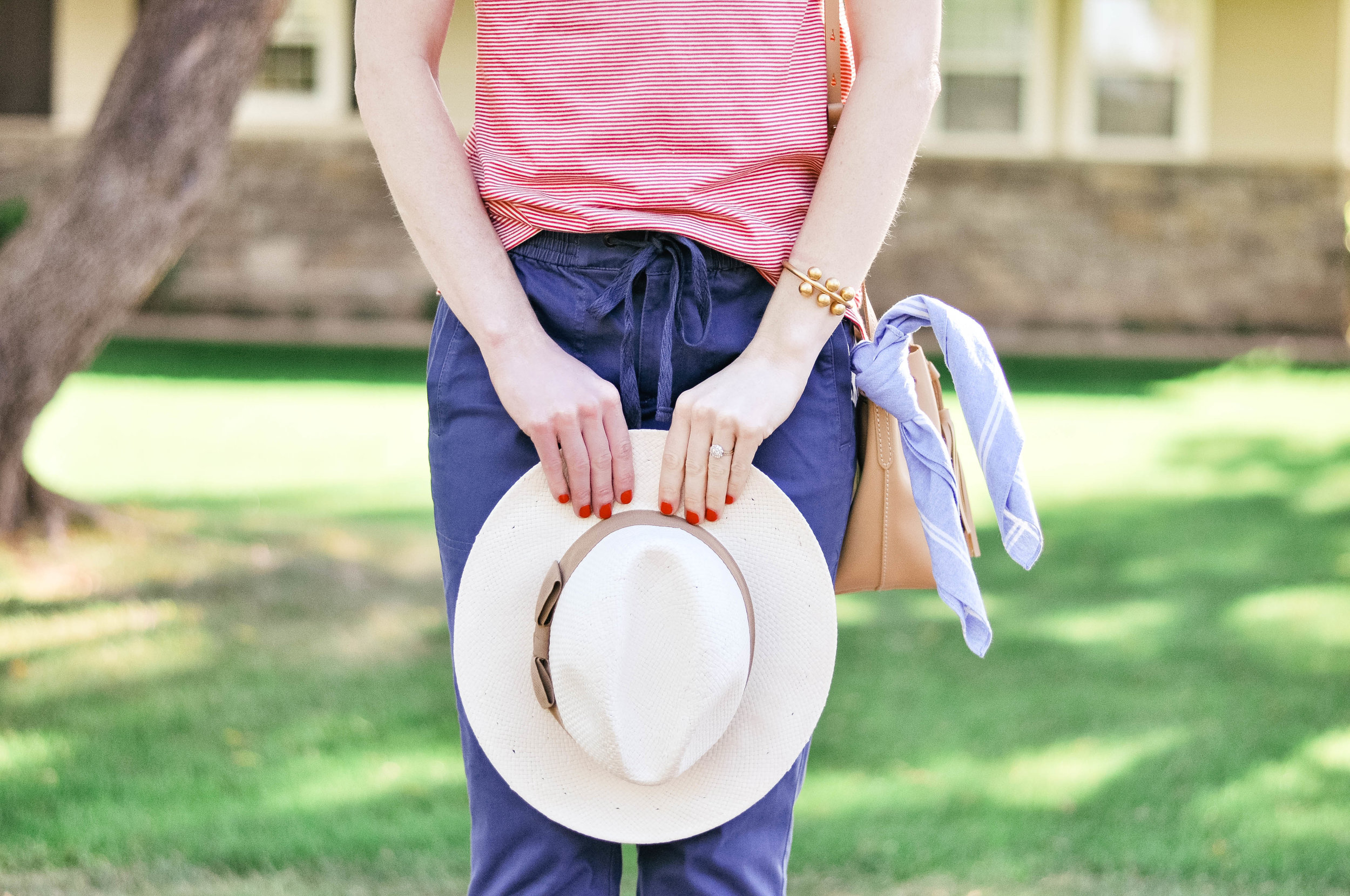 And because striped items and a fun, cute pair of "lifestyle" sneaks are such great items to have in any wardrobe regardless of your personal style preferences, I've rounded up a ton of spring options for both things below, that you can shop right now! There are so. many. good. things. in there and what I love about both groups is that you really don't have to splurge to get a well-made, polished piece in either. They're both such classic things that I don't think quality will suffer at all at affordable price points. So it's a win all around. Happy shopping and CHEERS TO FRIDAY!
Shop Spring Stripes
Shop Spring Sneakers