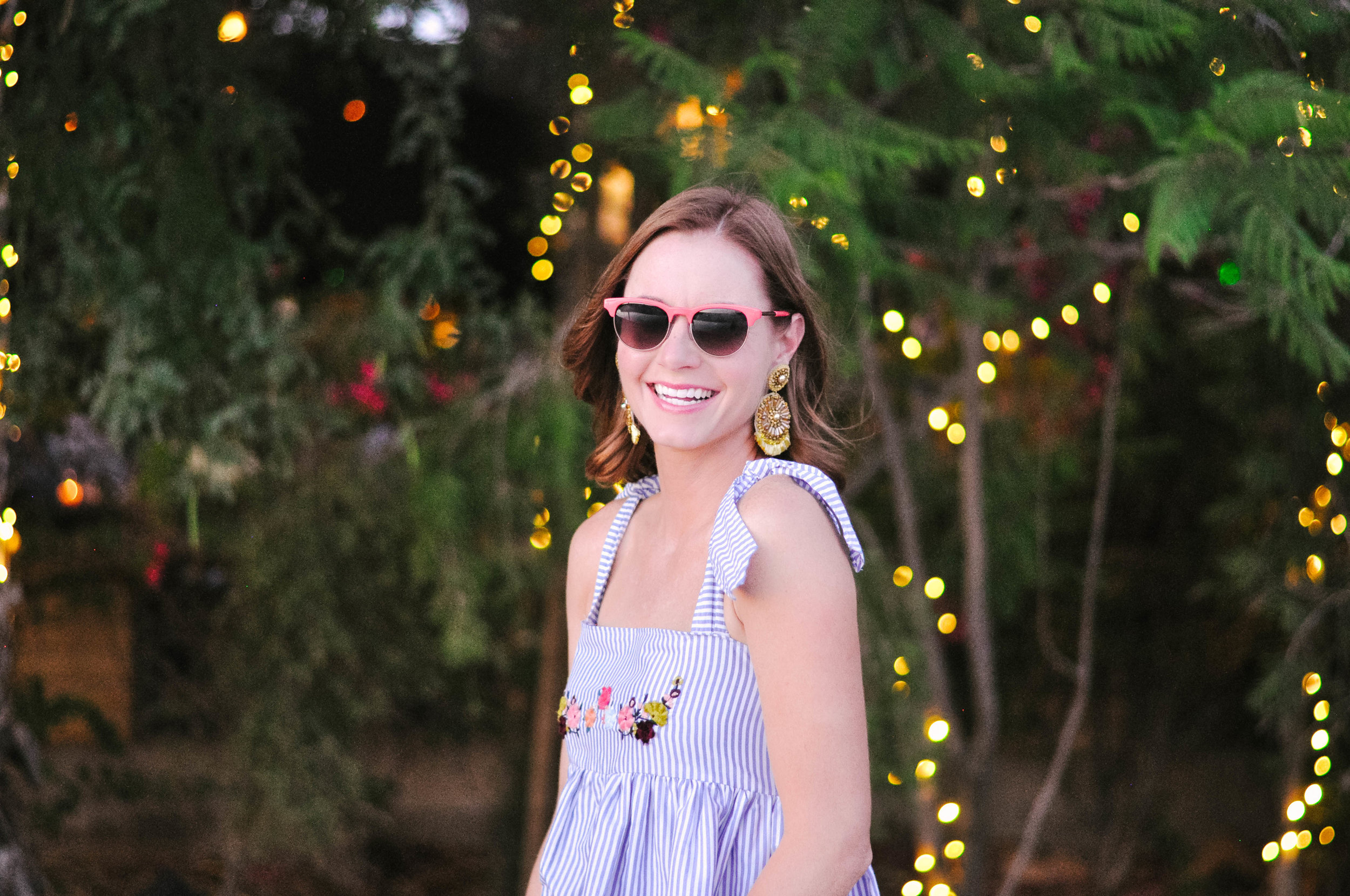 After guiding you through some of our Caribbean honeymoon destinations last week, we thought we'd switch gears and give you a little "girl on a budget" summer outfit inspiration to kick off this week's content here on Love + Specs!
Shop The Post
There's a special place in my heart for a good budget buy and I consider it my life's fashion goal to find those diamonds in the rough at not only some of my favorite budget style retailers like Zara, H&M, Nordstrom Rack and even Forever 21, but all around the web as well. I love the hunt and it's always served me really well by allowing me to enjoy the fun side of style while saving my hard-earned pennies for all of the other things I love so much in life like travel, food, DIY projects, home renovation projects, etc..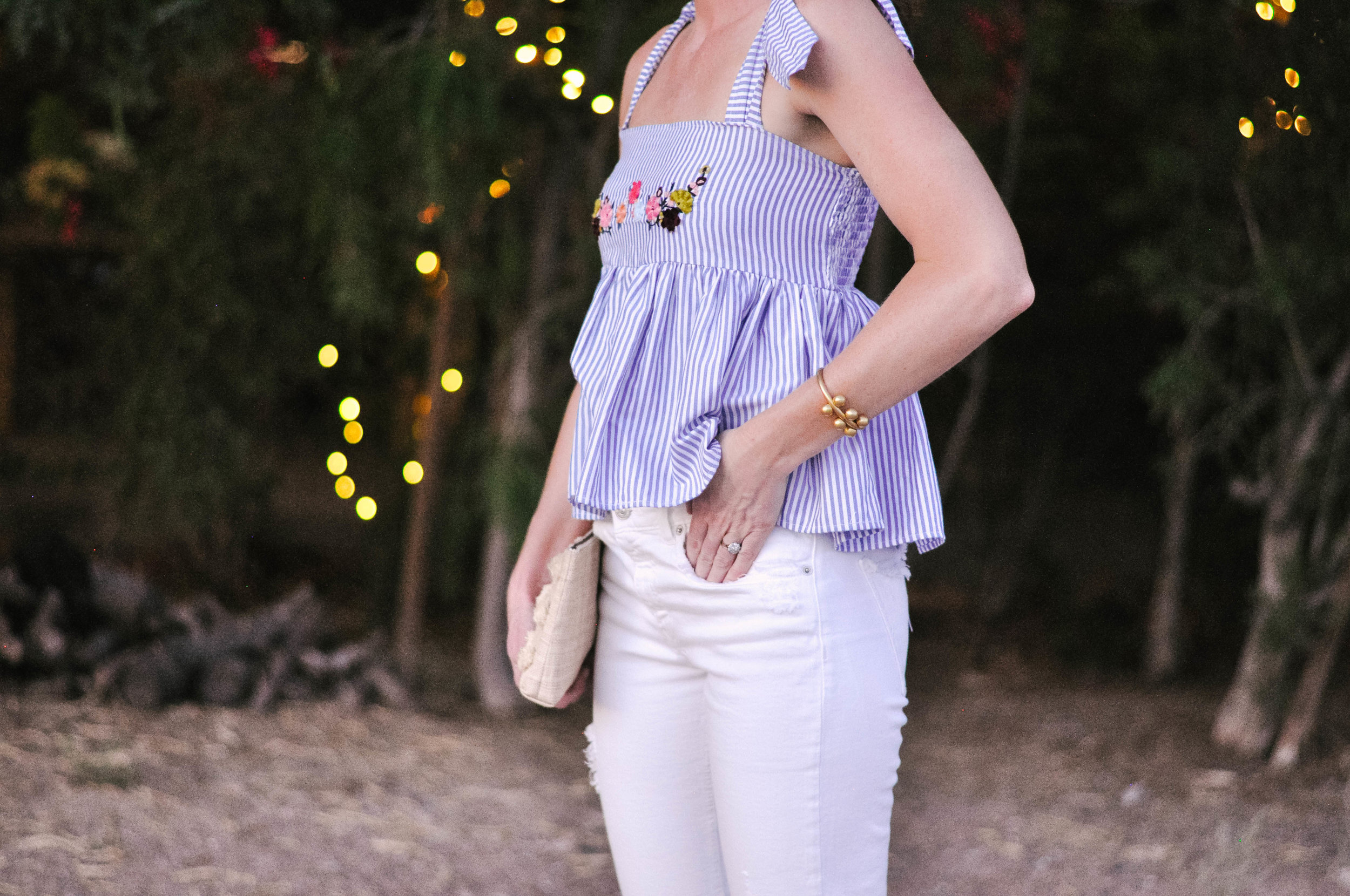 This under-$30 Zara top has been on repeat in my summer wardrobe ever since I got it before our honeymoon and it capitalizes on one of my favorite trends of the summer – the tie-shoulder tank! I love any chance to include bows in an outfit, but I've worn this top both ways by simply knotting the ties like I did here and letting them fall or tying them into proper bows. The blue and white stripe is a classic summer combination, but the colorful embroidery makes it a little bit more funky and fun rather than just plain preppy. And that gives me the opportunity to pair it with my current favorite statement earrings, these golden stunners that I picked up at Anthropologie! These destructed white ankle jeans are also from Zara (I love the pink version too!) and are so soft and comfy, but I've also linked a bunch of other budget-friendly white denim options in the roundup above and below.
On another note, I wanted to include you guys in a little summer goal that we've decided just can't wait any longer, and that's our posting schedule here on the blog. Typically we've been posting content here on the blog every Tuesday and Thursday or Friday, but we think that consistency is really important and we want you guys to be able to look forward to awesome, consistent content from us here on Love + Specs every single week. We want you guys to to know that when you stop by on certain days, you'll get something fresh, new, valuable and totally fun coming at you!
Because we both work full time in addition to our activities here on the blog, it can get a little tough for us to make it all happen consistently, but we absolutely love doing it so we're determined to stay consistent. With that said, our goal is to post three times per week, every single week, on Tuesday, Thursday and Friday. Tuesday and Thursday will consist of either style, beauty/grooming, travel or DIY content and Friday will include a list of links we've loved or found really useful from around the web throughout the week, plus some weekend sale updates so you never miss out on a great deal! And our hope in bringing you guys in on our goal setting is to keep us accountable and help us stick with it! We absolutely love interacting with you guys via Instagram, email and here in the comments on the blog, so keep those comments coming and let us know what kind of content you guys really want to see here on Love + Specs!
You'll notice that in the roundup above and below I included a lot of similar pieces to the pieces I have on, including a ton of other tie-shoulder tanks that I love, some additional brown suede sandal options that are perfect for pairing with endless summer outfits and like I mentioned, more budget-friendly white denim options. I hope you guys have the most amazing rest of your week, and that your car doesn't break down in the middle of a busy road in the 100 degree heat like mine did yesterday. Luckily that cute hubby of mine came to the rescue and helped push it out of the road… and uphill… in his fancy work getup. Now that's love! Cheers!
Shop The Post