Who's excited for Labor Day weekend?! We are, we are! Although Labor Day typically marks the end of summer and the start of fall (in our hearts, not in scorching hot Arizona) which could potentially make some people really sad, we can't wait for fall to hurry up and get here already. Even though we're well past our school days, we always talk about how we can't help but feel the start of something new this time of year, and that has to be because in our younger days Labor Day weekend always symbolized heading back to school.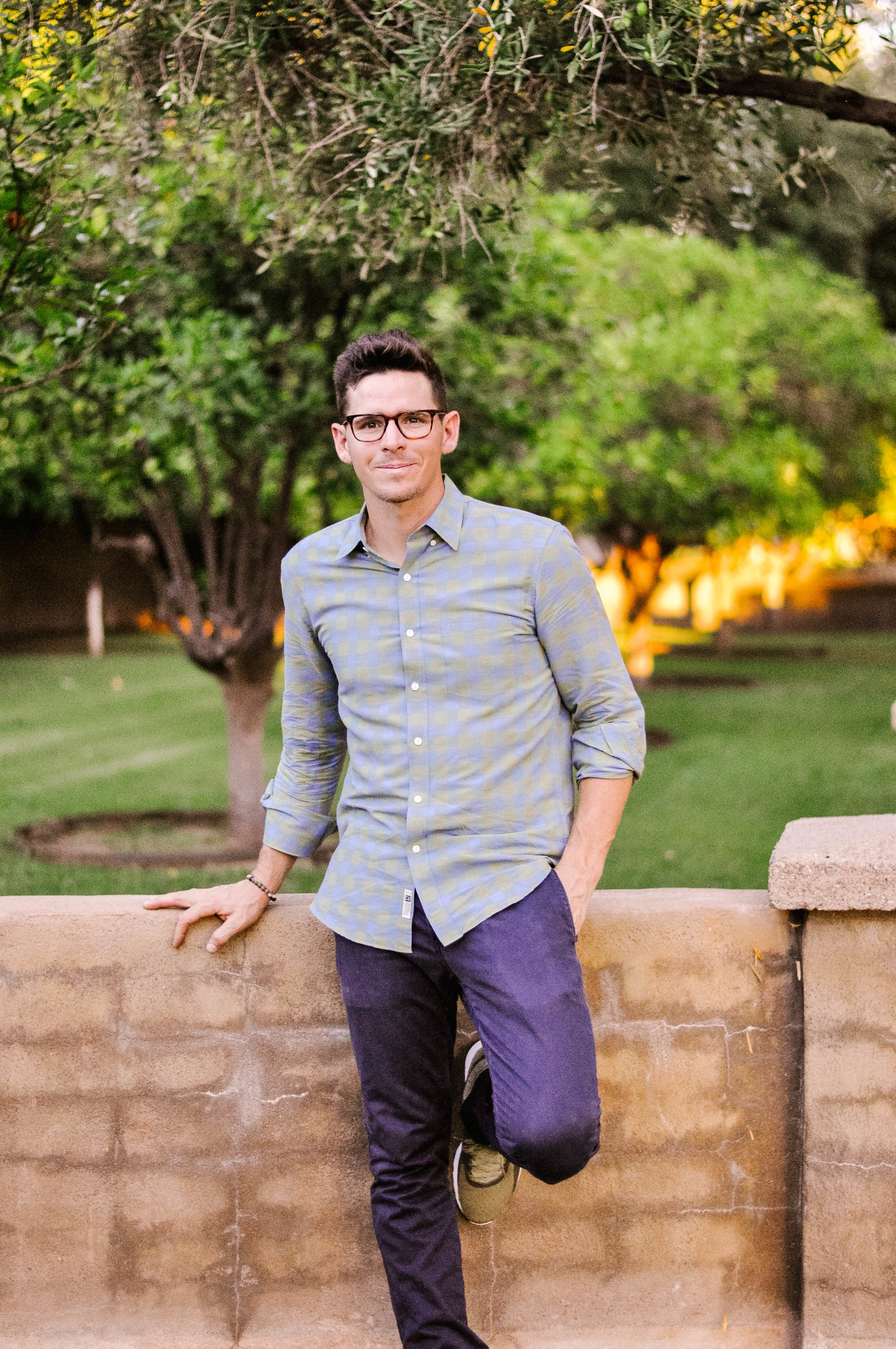 Shop The Post
It's funny to reflect on that time now and remember how long summer seemed. When school started in the fall it felt like an eternity since we'd seen our friends and terrorized our teachers, and a new year felt like a whole new you! A new school year also meant that it was time for some fresh new duds (the style evolution of a growing high schooler is just too good!), so we thought it would be fun to get back into school spirit and throw on our best adult "back to school" outfits for him and her. Also, we're so excited that CC is back in action here on le blog – let's all welcome that handsome, hard-working hubby of mine back to the interwebs!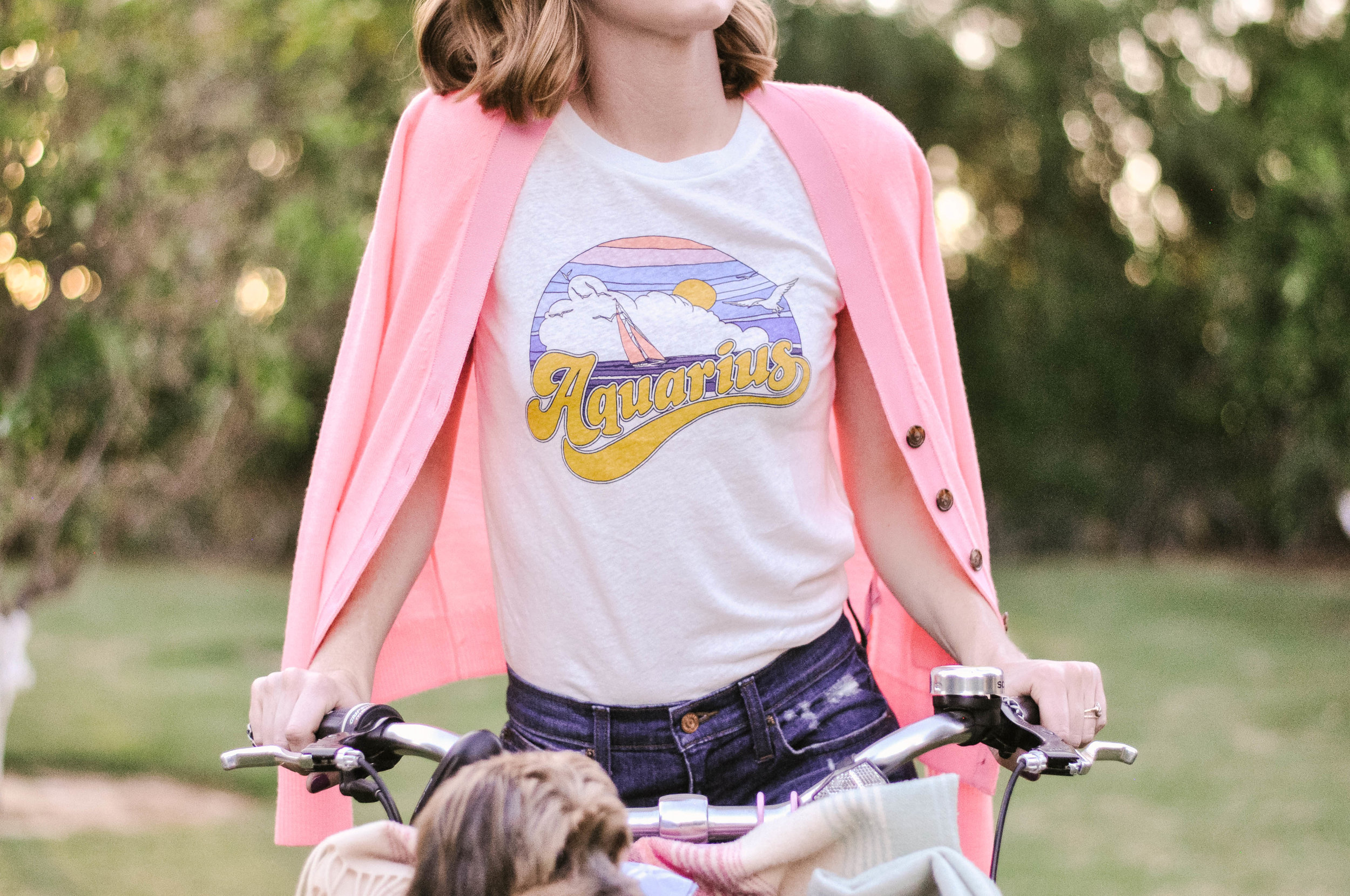 Oh yeah… and Hamlet's here too. Hamlet never went to school (too mean, too grumpy, too cool for school), but if he did a chambray bandana would definitely be his outfit item of choice. And he would have gotten expelled for not wearing pants. Always the rebel! He absolutely loves his little nest in my bike basket. He totally zens out and thinks I'm his driver. He always has to have that paw hanging out the side, too. He's like, "drive slow, homie." So weird!
We would have loved to have known each other in high school. We grew up in pretty drastically different places in Michigan and Arizona and as a result had pretty different high school experiences, but if we had gone to high school together we, like, for sure we would have made out under the bleachers. Totally. We have really similar personalities and interests, so there's a good chance we would have run in the same circles. Sports, mischief, sarcasm, general high school revelry… so much in common!
This post is also kind of making us miss all of the fall activities from our school days – football games, the Homecoming parade, the Homecoming dance, pep rallies, bonfires, Halloween parties, and all sorts of other extracurricular fun. Not that either of us would willingly elect to go back to being a high schooler, but there were some pretty fun/funny moments sprinkled in there.
Ok enough reminiscing and back to the clothes! Chris is wearing what have quickly become one of his favorite pairs of pants, the navy slim fit pant in broken-in chino. The slim fit is really nice without being aggressively slim, the cotton is insanely soft and comfortable and they're the perfect pant for transitioning from work wear to casual weekend wear. And we know how you dudes love it when a garment pulls double, or triple duty! They also have a stretch version of the same pant, and girls if you're ever looking for a really useful gift for the man in your life, those pants are winners. Chris has also been living in J.Crew's washed cotton-linen gingham slim shirts (the one he's wearing here is currently on sale and available in all sizes for under $30 with code "HELLOSALE") in a variety of colorways because they're light enough to withstand these still-hot summer days at work and beyond, but are substantial enough to be worn when the weather cools down. Also, he wants me to point out his sweet new Nike Air Max Zeros in this great hunter green. Guy or gal (I just ordered this sick pair and also love this color for ladies), if you have yet to experience the amazingness of the Nike Air Max Zeros for working out or just as a general "lifestyle shoe" as my pops calls it, you're missing out. Seldom is a sneak this good!
As for me, I'm all about that boyfriend denim (I sized down one size from my normal in these) and J.Crew's new Horoscope tees. I feel like I got lucky because I personally think the Aquarius design is one of the best! I've also really loved the Harlow cardigan that they make because they always make it in such fun colors, and this season's new neon peony color is the perfect pink. This cardi fits a little bit snug, so if you're wanting a looser fit, go up one size. Chris got me these pastel New Balance sneaks from J.Crew for my birthday this year and they've become some of my favorite shoes that I've ever owned and I would definitely recommend sizing down a half size in those. Good work, hubs!
Shop The Post
Did you guys love heading back to school and fall activities during your school days? What was your favorite fall activity when you were younger? Drop us a comment in the comments section below and relive those crazy awkward years right along with us!