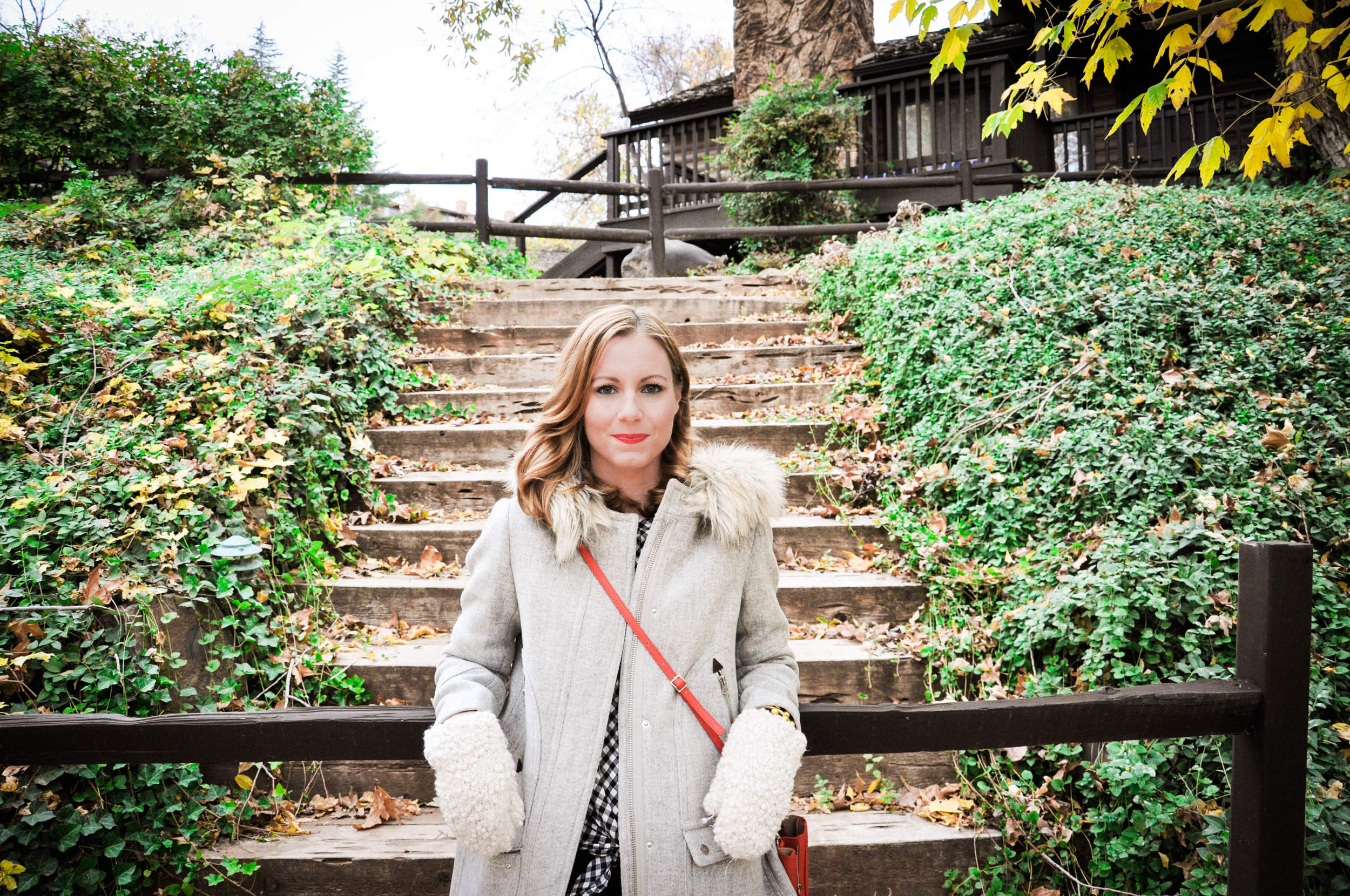 As you know, we're big on weekend adventures. And when the weather in Arizona finally cools down like it did late last week, we can't wait to escape to one of our favorite winter getaways and get in some serious winter weather adventure in… Sedona!
We feel so lucky to live so close to one of the most beautiful places on the planet, filled with endless natural beauty and outdoor activity, and when the idea came up to be spontaneous, get out of our messy partially-renovated house and head north after Thanksgiving, we both totally jumped on board and booked a night at our favorite hotel (not only in Sedona, but one of our favorite hotels in the country), L'Auberge de sedona. Our family knows that we love L'Auberge, so we were overwhelmed with gratitude when Chris' brother, sister and sister-in-law all gifted us a stay at the hotel for our wedding, which we couldn't wait to use.
There were a few things on our to-do list once we decided to spend 48 hours in Sedona: check out all of the amazing renovations that took place over the last year at L'Auberge and the beautiful new rooms at their cozy Lodge on the property, finally hike to see Devil's Bridge, dinner and drinks at Elote Cafe, duck feeding and yoga in the morning at L'Auberge and of course, indulging in their famous Sunday brunch. If you're ever in Sedona or considering a romantic winter getaway somewhere, we highly recommend all of these activities and so many more… but these things are a really great place to start.
We've been wanting to hike to Devil's Bridge for a long time now, but had yet to fit it in to our Sedona itinerary, so the first thing we decided after we booked our stay was that we were finally going to make it to this insanely gorgeous rock formation and take in the picturesque view. We'd seen so many pictures of this Sedona landmark, but didn't really know what to expect or how one gets to such a place, and to say that it was totally worth the quick jaunt up there is an understatement.
The "hike" along the Devil's Bridge Trail itself is more of a walk for the most part if you park on Dry Creek Rd. like we did, and can be tackled by almost anyone. But the "stair" climb to the bridge at the end of the hike takes some doing, so make sure you're prepared with water and some sturdy hiking shoes before you hit this trail. When we finally reached the payoff that is the bridge and took in the view while standing in the middle of the formation, we were once again in love with and in awe of Sedona and its vast natural beauty. We're so grateful to the kind woman who offered to take our photo for us – we'll cherish it forever!
The next thing we knew was a must-do for us during the weekend's adventures was dinner at one of Sedona's foodie gems, Elote Cafe. If you've never had the chance to dine there, do yourself a favor and put it on your list. The delicious dish that carries the restaurant's namesake is reason enough to go, but their entire menu is worth tasting… a few times… in its entirety. We're particularly smitten with their Uchepos and any of their mezcal cocktails. They don't take reservations, but trust us when we say that waiting for a table at Elote is half the fun. They have a bar situated right in the front by the host stand with bartenders designated specifically for that post who can whip up just about any cocktail your heart desires while you wait. If you don't planning on being in close enough proximity to Sedona to dine at Elote, they have a cookbook penned by their incredible chef so you can attempt their menu at home!
We were so excited when we saw that the forecast had snow arriving in Sedona over the weekend, but despite temperatures dipping down into the 40s during the day and the 20s overnight over the weekend, we missed the flurries by just a few hours when we left on Sunday. We've both been loving the cooler temps all over Arizona and a chance to break out all of our favorite winter wear, and couldn't wait to bundle up, throw on our boots and walk along Oak Creek after partaking in the seriously delicious brunch at L'Auberge on Sunday.
The path that runs along the creek from the hotel is so pretty and peaceful, and we love seeing all of the ducks landing on the water and fishing for snacks while we pass by. Before breakfast on Sunday, we made sure to wake up in time to grab coffee and head down to the creek for the morning duck feeding, which is so much fun to see. The groundskeeper at L'Auberge throws cracked corn out onto the bank of the creek and about a hundred ducks waddle up onto the shore to snag some food and quack their way to full bellies.
Every time we leave this place we're so sad to go, but we're already mapping out our next round of Sedona adventures and have our eye on a few new activities to try the next time we head up north to the red rocks. We know that so many of you have your favorite winter vacation spots to visit, so drop us a comment in the comments section below and let us know where you love to stay, play and snuggle up when the weather gets chilly – we love adding new winter destinations to our list!
Shop The Post