4th of July week continues with something we've both been SO excited about sharing for the last two weeks… all the cottage-perfect, 4th of July tabletop decor and party ideas and inspiration you can handle! As we mentioned on Tuesday in our post all about 4th ofJuly style for him & her, the 4th of July celebrations are serious business around these parts, and in our family that means backyard BBQs, more food than one family should safely eat in a week's time, lakeside lounging, and patriotic partying galore. But if there's one thing the cottage lifestyle and a 4th of July week spent celebrating on the lake is not, it's fussy. Which is why when it comes to 4th of July party planning and prep, everything has to be fuss-free, crowd-pleasing and generally just easier than easy to execute. It's what the barefoot, sun-soaked, lazy cottage lifestyle requires, and we strive to be champions of that as much and as often as possible. Ain't no shame in our lazy party prep game!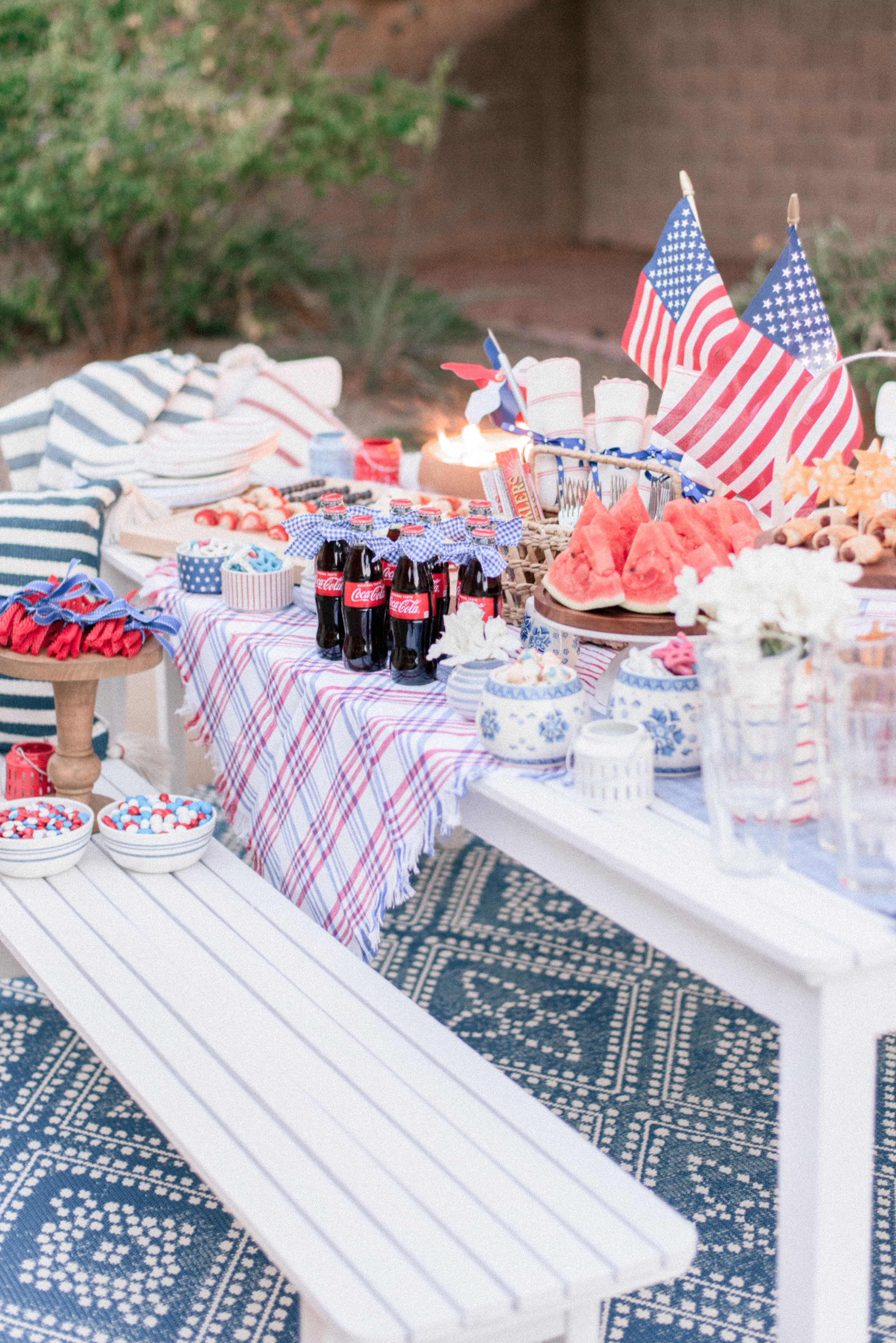 So in here not only did we round up all of the classic Americana-inspired party, tabletop and general decor we're loving from around the interwebs, but we're also giving you a breakdown of all of the food and entertaining tips/tricks/hacks you see here in the photos. And we're hoping it helps inspire your celebrations this year and make your life a little bit easier (and way more fun!) as you prep for the 4th! Honestly, this entire tabletop took me about 4 hours to execute in total, from shopping for everything I needed to fully finished, so you could totally go all out and replicate the entire thing for a wow-worthy spread in half a day, or you can pick and choose a few of the elements you love most and still impress your guests/friends/family/neighbors with your party prowess. We love love love all things classic Americana which makes decorating and party prepping for this holiday such a blast for us, so we'd have a hard time picking a favorite if we had to. Though if we're being completely honest, those star spangled pigs in a blanket are high on our list. As is that fruit flag. And the watermelon wedges. Also those cutie coke bottles. Ok ok ok we won't influence your decisions – go with your gut!
As a general note on setting the stage for a great tabletop on the decor front, one of my go-to moves and something I absolutely love doing when we entertain or on any festive holiday tabletop is to mix prints, patterns and textures to give it a really fun, inviting, cozy cottage feel. And there are so many creative, affordable ways to do that to! Here I used those super cheap blue and white, chinoiserie-like canisters as little serving bowls (which you could also find on the cheap at a flea market or antique mart), and that print is so much fun to mix with a red, white and blue plaid (like this tablecloth), polkadots and more for a really playful, eclectic cottage vibe. Then to keep it super cozy, I love layering in warm textures like woven seagrass, rattan or straw (like this awesome utensil caddy), and even wood serving bowls and stands (like this perfect pedestal, this cake stand and this tiered cake stand) for displaying the goodies! And again, this is all stuff that you can find or collect on the cheap at flea markets, antique stores/marts or on sale at Target and use for future holiday tabletops or parties!
Alright, friends because I know you guys like to get right to the good stuff, let's just dive in and break it all down, shall we? Onward!
From Left to Right, Top to Bottom
Red Striped Outdoor Pillow | Fish Coasters | Blue-Rimmed Acrylic Drinkware | Red, White & Blue Hand Towels | Lobster Glasses | Red, White & Blue Runner | Woven Utensil Caddy | Blue Striped Outdoor Pillow | Burlap Mini Flags | Enamel Drink Dispenser | Red Striped Melamine Dessert Plates | Paper Watermelon Plates | Enamel & Wood Tiered Cakestand | Blue & Red Striped Melamine Dinner Plates | Red Striped Napkins & Woven Napkin Rings | Assorted Red, White & Blue Melamine Dinnerware | Blue & White Canisters

Shop 4th of July Party & Tabletop Decorations
More to Love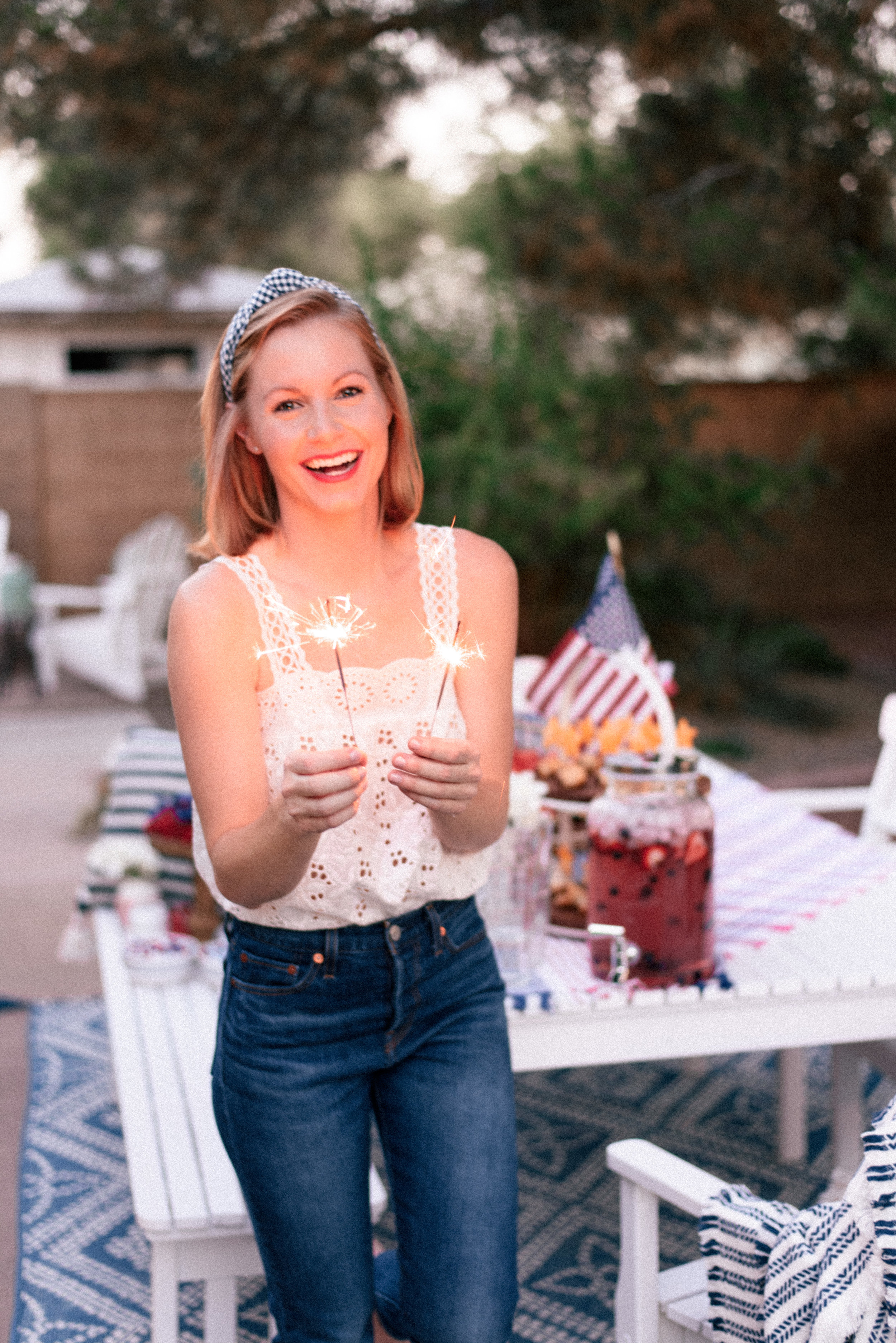 4th of July Party Tips, Tricks, Recipes & More!
Grab-n-go Watermelon Wedges
We're just going to go ahead and say it – watermelon is mandatory for a backyard 4th of July bash. MANDATORY! And a great way to make enjoying easy for guests so they can grab, go and hold is to cut it up into 1 or 2-inch thick wedges that you can stand up on the rinds, and place those on an elevated stand like this one for easy access!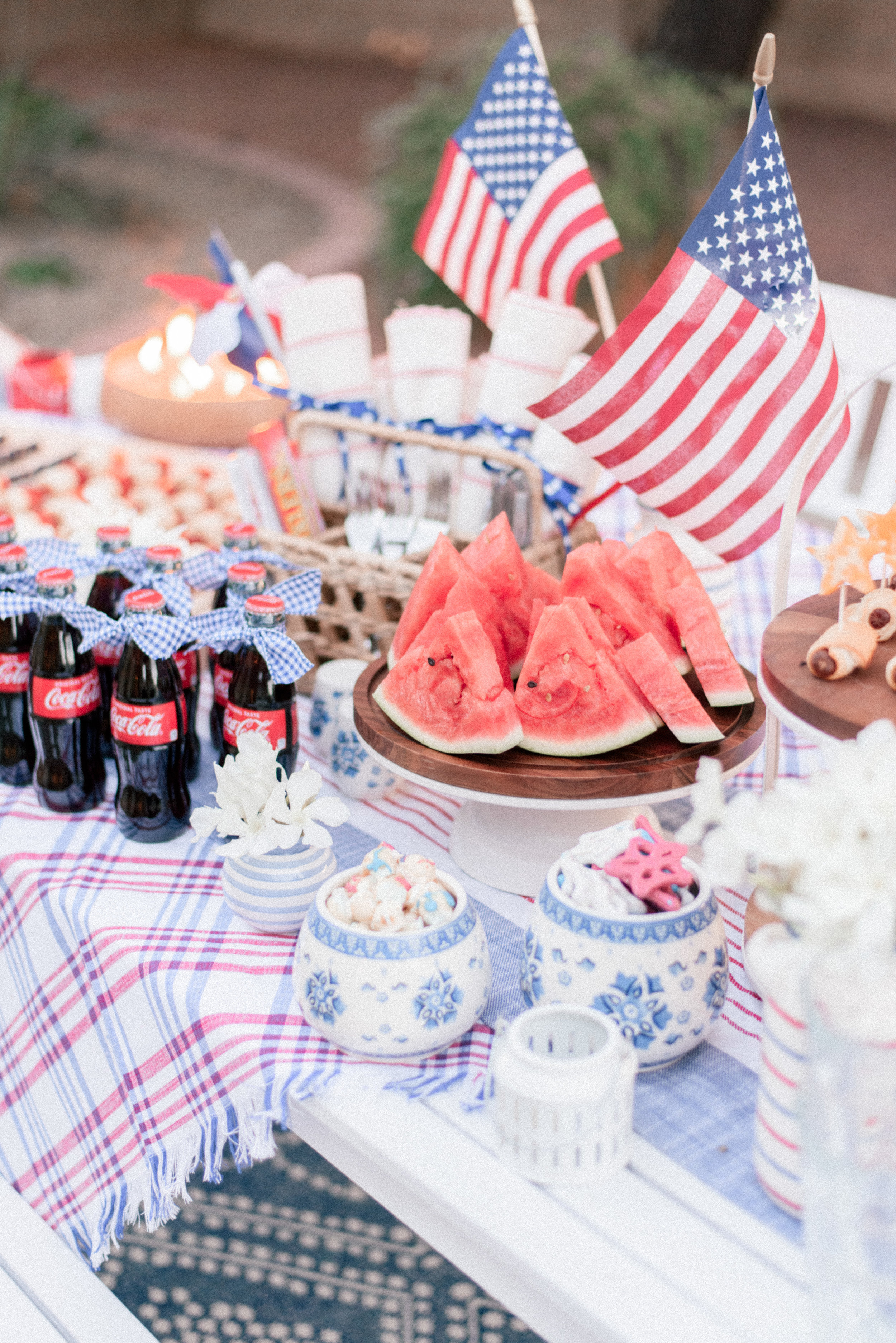 Classic Coke in Bottle… With Festive Flair
Classic coke in a bottle is one of the most awesome entertaining moves you can make, in our opinion. Seriously… if you don't love a classic bottled coke, are you even human?! It's also such an easy way to add some festive flair to your tabletop with some pretty ribbon, which takes almost no time to execute. Simply cut and tie (I double knotted) and you just seriously elevated your hostess game. If I were making more effort I definitely would have used a cool galvanized tub like this one and put the bottles on ice to keep them cool for guests, and the display would have been just as sweet, but I stored these in the refrigerator after I tied their ribbons, so they were pretty chilled when I put them out. For long party purposes though, on-ice is the way to go. And it goes without saying that this trick works on almost any bottled beverage of your choosing. The red IZZE bottles or an old fashioned cherry soda bottle would be so fun!
Festive Candy Station
Adding snackable candy to a backyard party tabletop or bar is one of the easiest entertaining tricks in the book, and with some pretty presentation/vessels (like this wood pedestal and these festive bowls), that plain old candy is instantly elevated with minimal effort. for 4th of July specifically we love:
Twizzler or Red Vine Bundles. Quickly tie a festive blue bow (a gingham or blue & white floral ribbon would be so fun, too) around bunches of Twizzlers or Red Wines and you've got yourself an easy, tasty patriotic treat!

Festive M&M's. The festive holiday M&M's are a favorite in our family, and utilizing them on a holiday tablescape like this one isn't just a classic crowd-pleaser, it's the easiest way possible carry through the theme.
Festive Snack Bowls
Tasty grab-n-go snacks like pretzels, popcorn and the like are another way to instantly elevate any tablescape or backyard party bar with pretty vessels and next no effort on your part.
Star Spangled Pigs in a Blanket
This is one of our very favorites because it's so dang tasty! And it's another fuss-free 4th of July party snack that requires minimal effort on your end, but has max impact with your guests. Hot dogs are almost mandatory for a backyard 4th of July BBQ, but we say make it easy for yourself and skip the grill to opt for an oven-baked, two-bite version! To make these adorable "Star Spangled Pigs in a Blanket" we just:
Used the frozen Oscar Meyer pigs in a blanket from the store and followed the instructions on the box for baking.

We sliced a block of Colby Jack cheese (you can use any thick, medium-hard cheese you like) into 1/4-inch thick slices and used a small star cookie cutter to cut out our stars. The colder the cheese is, the easier it will be to cut cleanly.

Placed one end of a toothpick into the bottom of our cheese star, and the other end (now the bottom end) into the top of our pigs in a blanket.

Placed our star spangled piggies on a tiered cake stand so we could get extra room and extra height so we wouldn't crush the stars. And voila – done and done!
Make a Utensil Caddy Pull Double Duty as a Napkin/Utensil Vessel & Sparkler Station!
I'm slightly obsessed with sparklers and they're always such a hit at our 4th of July festivities, so I like to give guests easy access to them so they can go wild! Using a utensil caddy like this affordable woven one to house not only napkins and utensils, but also your sparkler boxes not only allows for guests to find and enjoy them easily, but the colors of the boxes make for another easy, festive decor addition to your tabletop. Boom!
Easy 4th of July Fruit Flag
If you have any kind of cutting board, bread board or cheese board lying around, put it to work as the backdrop of an awesome (and awesomely easy) fruit skewer flag! We wanted to have one totally "healthy" snack option on our tabletop so we used strawberries, bananas and blueberries to make our flag, but I've seen people swap the bananas for marshmallows (yum!), the blueberries for blackberries and so many more iterations that you can find on Pinterest. So many possibilities! Easy, impressive, awesome.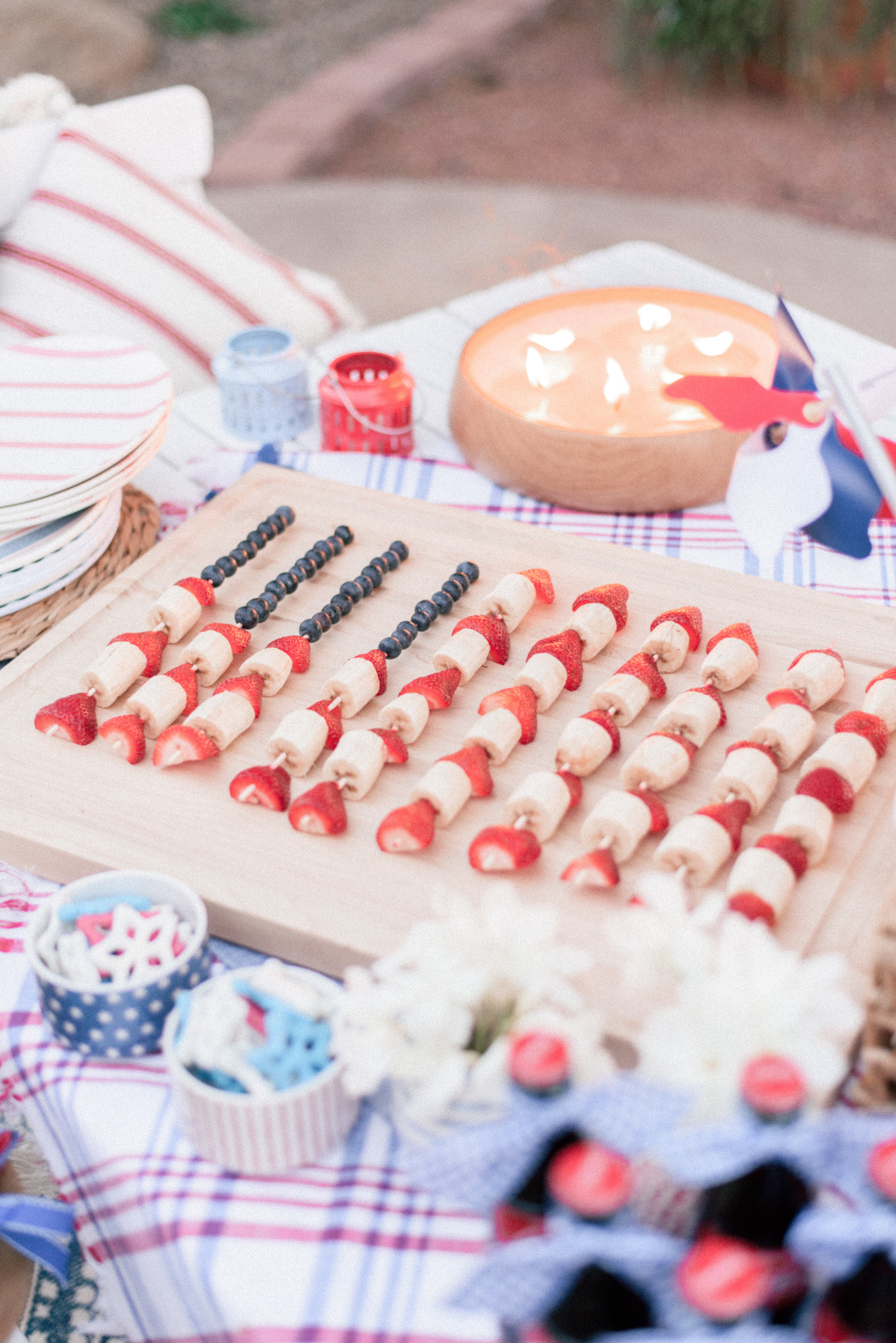 Fun Vases to House Mini Flags
Ok ok you can totally use your pretty vases for some fresh flowers, which I always encourage on any holiday tabletop, but for this holiday in particular I think it's really fun and super easy to use those vases (like this fun striped one) to house mini American flags! You can find the mini flags for next to nothing at Target, Walmart, the grocery store, etc., but I also love these slightly more spendy burlap versions, too. Either way, such a fun and impactful way to dress a 4th of July tabletop with next to no effort. And if you were doing a more formal sit-down dinner, why not run them along the center of the table for a easy centerpiece?!
BONUS ROUND!
One little element I was dying to integrate, but couldn't quite pull off in time is the inclusion of individual bags of Cracker Jacks on the tabletop. They're a total crowd-pleaser and they'd be such a cute way to carry on our classic Americana theme! I wanted to display them on a pretty woven tray like this one which makes for easy access for guests and the perfect grab-and-go snack while they're mingling. Who doesn't love Cracker Jacks?! The packaging is too perfect for this!. Sadly despite my best efforts I couldn't find them at any of the grocery stores near me, or Walmart, or Target. I haven't had them in so long I guess I just didn't realize that they might not be around much anymore! I did find a 30-pack of the individual bags online at Walmart, but I didn't have time to wait for them to ship. But with a little planning these would make for such an easy 4th of July Party treat!