Punxsutawney Phil may have seen his shadow and declared that there would be six more weeks of winter on Groundhog's Day, but Phoenix just doesn't seem to care. Temps are slated to be up in the 80s next week here in Phoenix and everywhere you looks the flowers are starting to bloom. The roses are especially stunning around our neighborhood right now and those fluffy pink and white petals showing up in on every corner are always a good reminder that I can finally start to transition my wardrobe into spring, which for me means easy, breezy cotton tops in punchy colors, prints (hello, gingham!) and fun cropped cuts and ruffle additions. I'm also not ready to ditch my love for eyelet quite yet, so there will definitely be a few more eyelet additions to my tops this spring that I'll no doubt wear out through summer.
J.Crew Top, Levi's Wedgie Icon Jean, Saks Fifth Avenue Hat (Old, Similar Here), Laura Mercier Lip Glace in Bebe (Color Sold Out, Similar Here in Hot Shot)
This week has been another crazy-busy week in the Carter household, putting the finishing touches on what I've now decided to call our "ridiculous renovation" because it was like a circus around here the last couple of months trying to get this done without losing our minds, and Chris finally getting to open the doors to Mora (last night, in fact), so get your buns over to 7th St. if you're in Phoenix to indulge in all the deliciousness that genius chef Scott Conant and the entire Mora team (including that handsome hubby of mine) have been cooking up! I mentioned on Instagram that they have ricotta fritters that will make you lose your mind and a rosé snowcone that I've been wondering how I ever lived without! Not to mention that the space is knock-your-socks-off beautiful and and the staff is a collection of some of the most exceptional talent the Phoenix food scene has ever seen! So excuse me while I go down all of the pasta and pizza possible and fall into a blissful food coma for the next… week. Go, Chris, Go!
So it's another girl-fest here on Love + Specs this week, and I realized that all of this warm, sunny weather here in Phoenix is causing me to majorly daydream about all of the spring wardrobe finds that start hitting the shelves this time of year causing me to pretty much go insane with outfit envy. This gingham J.Crew top was one of my first spring wardrobe purchases and after wearing it for a day, I can safely say it was an awesome addition! I love the blue and purple gingham check and you know I'm all about those puff sleeves. It has a bit of a boxy, swing cut which isn't everyone's favorite, but I've really been feeling it this season and I think it's been made a little more wearable with the arrival of so many retro denim and pant styles, including the high-waisted "mom jean" I'm wearing and now have in three different washes. I think we can safely say that the Levi's Wedgie Icon is the denim cut of the year!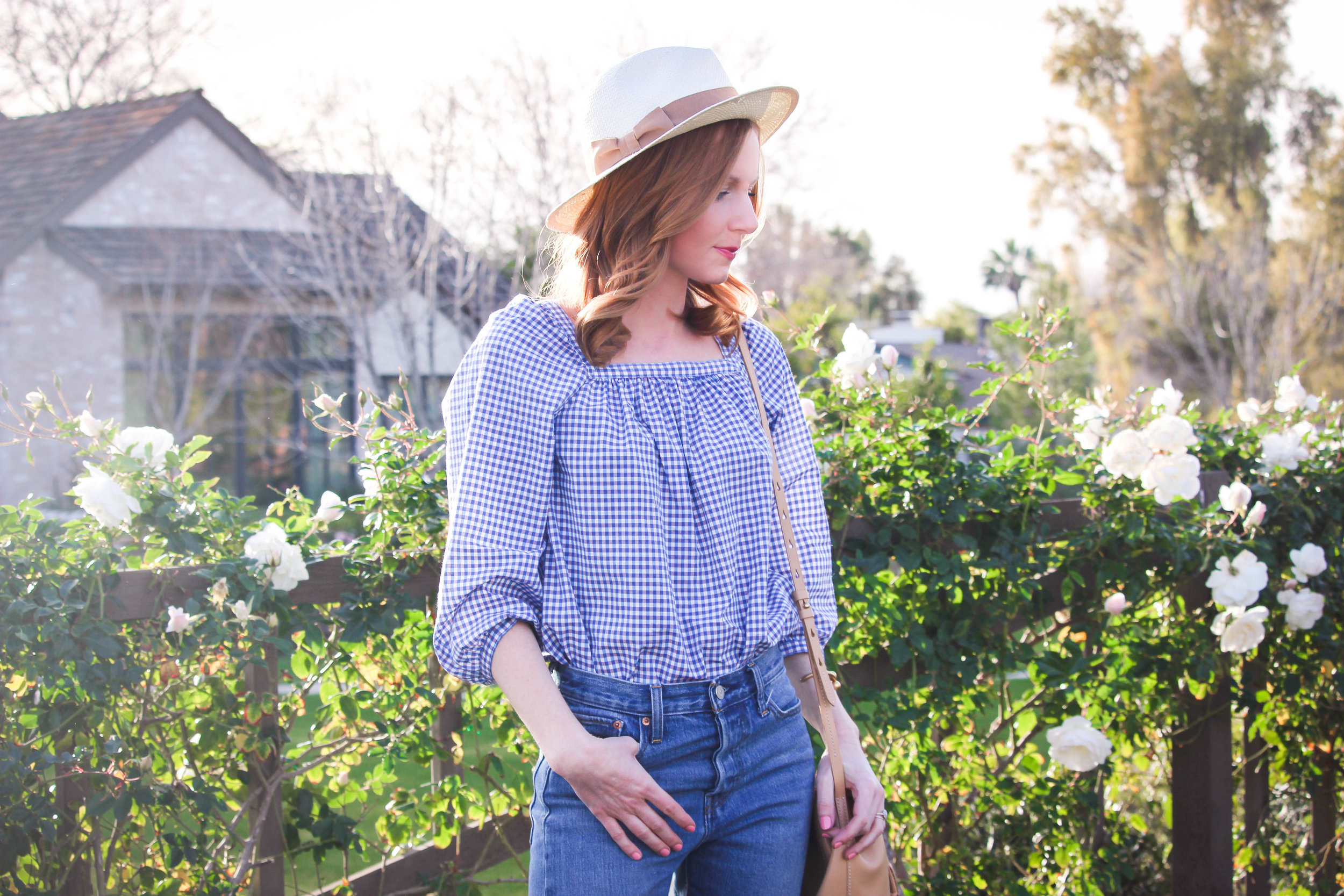 In light of all of my spring wardrobe daydreaming, I've rounded up a whole boatload of easy, breezy spring tops that I'm currently coveting and am slowly trying to work my way through the list myself to prioritize my must-haves! Here's hoping wherever you are, you're looking at warmer weather on the horizon… and if you aren't, there's always shopping to get you through. Cheers to the weekend!
Spring 2017 Tops