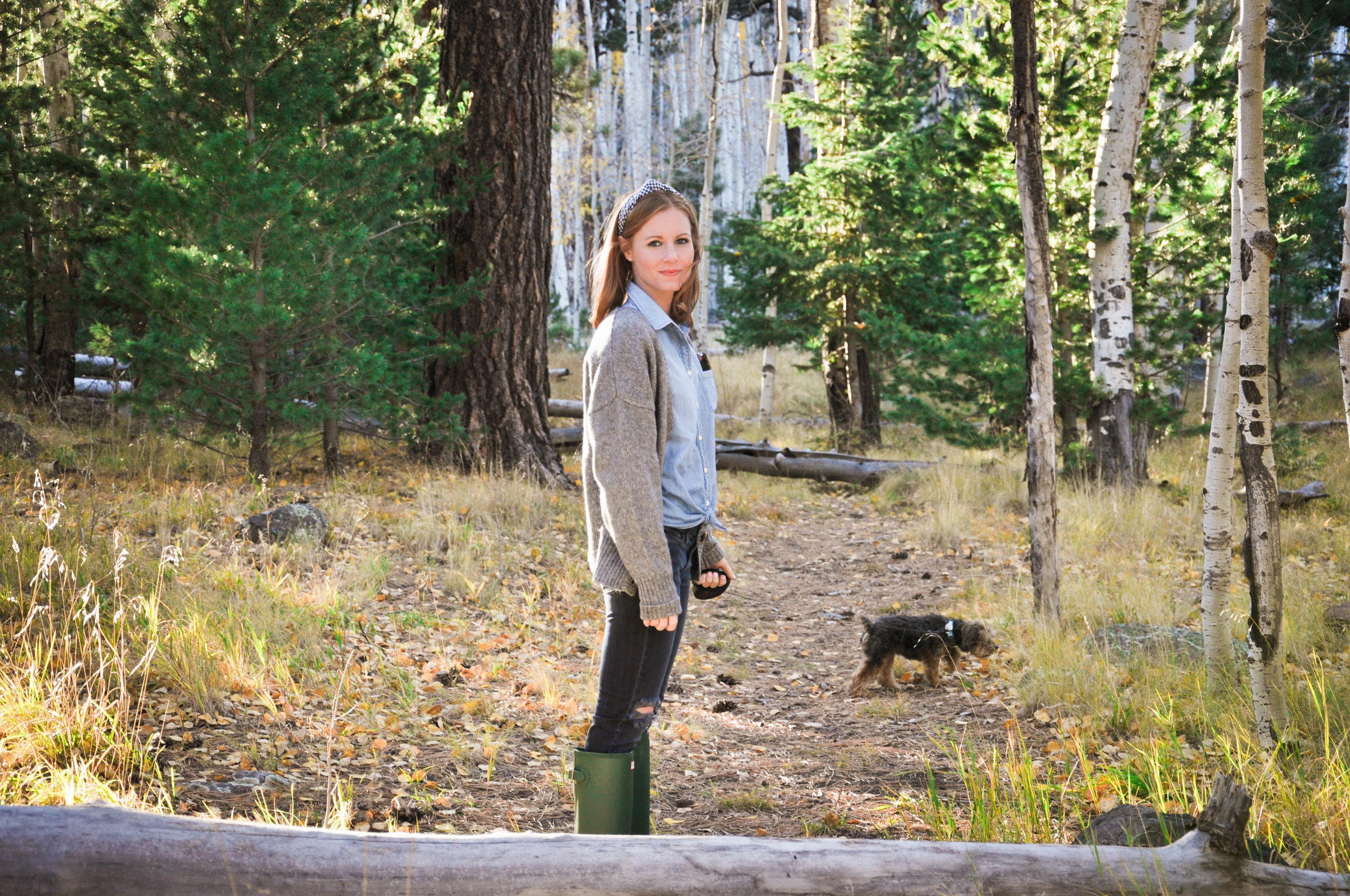 Last weekend we drove up to Flagstaff to partake in our first ever camping trip together as a couple! Granted it was only a tiny little one-night camping trip, but… baby steps. As most of you know, we have a love affair with Flagstaff and we must say it's especially spectacular this time of year when the temperatures are cool and cozy and the changing leaves give us a real taste of those gorgeous Fall colors all around! Chris did a little bit of campground hunting on Hipcamp (awesome site, if you haven't used it before) and landed on Lockett Meadow – the photos we saw of the campground were absolutely stunning, and looked just right for our first foray into couples camping. Jackpot!
We've been talking about going camping together ever since we first started dating, and Chris has stockpiled a pretty robust collection of camping items in hopes that we'd one day turn our day hikes into an overnight adventure, so after receiving a beautiful 4-person Eureka tent from amazingly kind and generous aunt of ours as a wedding gift (genius gift idea, by the way!) and finding ourselves faced with our first free weekend with basically no obligations in a while, we decided it was time to pull the trigger. Plus, our absolute favorite thing to do together is to grab Hamlet, drive to cooler climates and get outside and up in the mountains for some fresh-aired fun!
Lockett Meadow is a beautiful sort of "primitive" campground in the Coconino National Forest that offers not only a gorgeous view of the San Francisco peaks, but also a pretty stunning stand of Aspens that surrounds the campground. There are tons of tiny trails that wind through the campground and surrounding forest area, and The Inner Basin Trail, which leads to the heart of the extinct volcano that is the San Francisco Peaks also begins at Lockett Meadow. The campground has quite a few designated campsites with accompanying gravel parking spaces, tent clearings and firepits, most of which were already snagged by the time we arrived, but luckily we made friends with a nice group of ladies who so kindly offered us one of their campsites. We totally lucked out and our campsite was absolutely perfect and totally picturesque, with its own little trail leading back into the Aspens.
We had so much fun on Saturday night hanging out by the fire, making s'mores and drinking whiskey-spiked hot cocoa in the cool, crisp air, but overnight it got extremely windy and the gusts were pretty noisy, which didn't make Hamlet happy inside the tent. Luckily, the noise paired with the chilly temps forced Hamlet to crawl under our blankets and even curl up in Chris' sleeping bag for a bit, which provided a nice little natural heater for both of us that kept us pretty warm and cozy all night long – thanks, Ham!
We had planned on hiking some of the Inner Basin Trail on Sunday morning, but the wind just wouldn't die down so we cleaned up camp and make the trek back down the rugged and winding Lockett Meadow Rd. (FR522) and across the highway to Sunset Crater, a Flagstaff monument we've been wanting to check out for a while. It was a pretty incredible sight to see, so if you're ever in Flagstaff don't wait as long as we did to explore the area around the now-extinct volcano. It was totally worth the pit stop and the $20 entrance fee! But be warned, if you're wanting to hike to the summit of the crater that's a no go – they closed access to the summit in 1973 because of excessive erosion caused by hikers. But the self-guided loop trail at the base of Sunset Crater is such a cool place to explore – the landscape is so extraordinary where the lava flow cooled and hardened into the brittle charcoal-colored ground cover you see in the pics below.
CLICK PHOTOS TO EXPAND GALLERY
Shop The Post