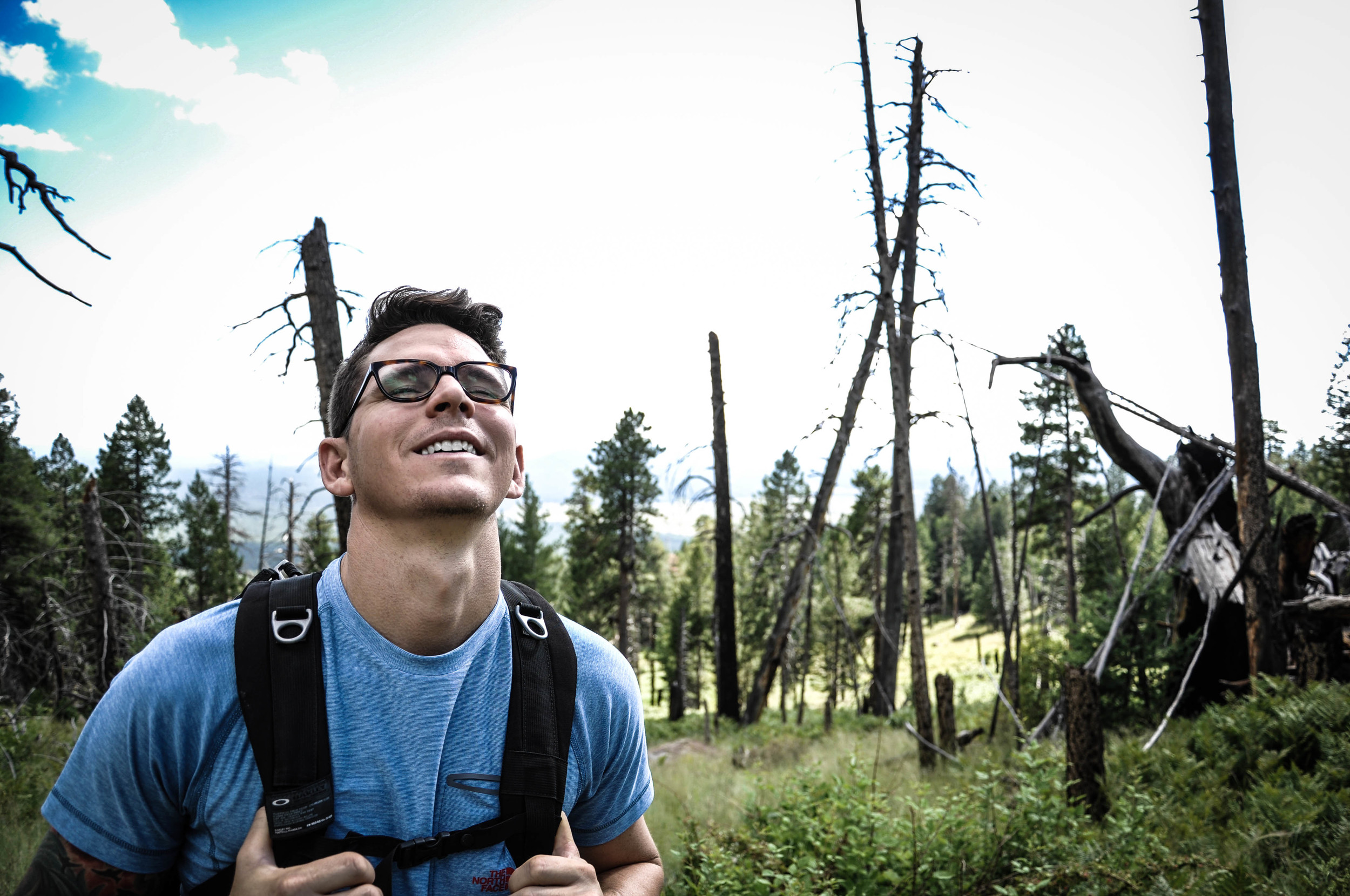 One of the coolest things about living in Arizona is that wherever you are in the state, there's an awesome hike, with an incredibly picturesque, unique backdrop that awaits. And that's pretty perfect for us because one of the things we love to do together is get outside and get active, especially at the tail end of a pretty scorching summer that basically forces you to stay inside if you live in Phoenix. Luckily, cooler climates in places like Flagstaff are just a short drive away, allowing us to head up north for a day hike whenever we get the itch!
Since our last visit to Flagstaff we'd been wanting to check out one of the hikes near the Snowbowl Ski Area on the San Francisco Peaks. There are a few different hikes you can do up there, but we were looking for one with really great views that wasn't too crazy strenuous and that had tons of lush, green forest to trek through. The Kachina Trail is one we'd heard people talk about a few times, and definitely fit the bill on the scenery front! The trail is one of the most popular hikes across the San Francisco Peaks, and loses about 700 ft. in elevation over the course of the 5 mile, one-way trail. So obviously, the hike is pretty moderate and easy to tackle for just about anyone, which we love! For us, it's not about how hard the hike is, it's all about being out in nature together, spending time with each other without distraction talking about life, taking in the beauty around us, and snapping some pictures along the way. It's so relaxing and laid back, but lets us stay active doing something we genuinely love. What could be better than that? And if you think that maybe we sort of look serious with our backpacks and whatnot in the pics, you should know that those backpacks aren't filled with all sorts of cool hiking gear and survival essentials, those are mostly full of snacks. And a blanket to eat said snacks on when we get tired and need a snack break. The snack struggle is real out there!
We were so happy we decided to do this hike because as you can see from the pics, the scenery is absolutely breathtaking on the Kachina Trail. Throughout the first part of the trail (the trailhead is at the south end of the first parking lot on the right once you get up to the ski area on Snowbowl Rd.), the trail is surrounded by hip-height ferns that blanket the sides of the trail, and then you'll quickly find yourself hiking through towering stands of massive Aspens (the tall trees you see in the pics with the white trunks) and winding around huge boulders and stately Ponderosa Pines. Around every corner and in every direction you look on this hike, the flora and fauna put on a pretty incredible show and make you feel like you're in your own little Fern Gully (shout out to all you 90s animated film fans out there).
The majority of the hike runs through the Kachina Peaks Wilderness area, and we hiked about three miles in until we found a nice spot to sit where the trees parted and we could throw our blanket down, snuggle up with a cookie (or two!) and take in the view of Flagstaff from 9,000 feet up. It was so serene, peaceful and completely quiet up there that it felt like a galaxy away from the hustle and bustle of our daily loud lives in Phoenix. On our way down we were treated to a brief encounter with a very curious white-tailed deer who entered into a serious staredown with Chris, and as we got closer to the trailhead, we met tons of dogs hitting the trail with their owners for a little sunset hike, which made us wish we'd brought Hamlet along with us – this hike is so perfect for pups, even if yours isn't really the adventurous type!
We want to hear all about your favorite hikes, whether in Arizona or elsewhere, so drop us a comment and tell us all about where you hit the trails and what you love about them!