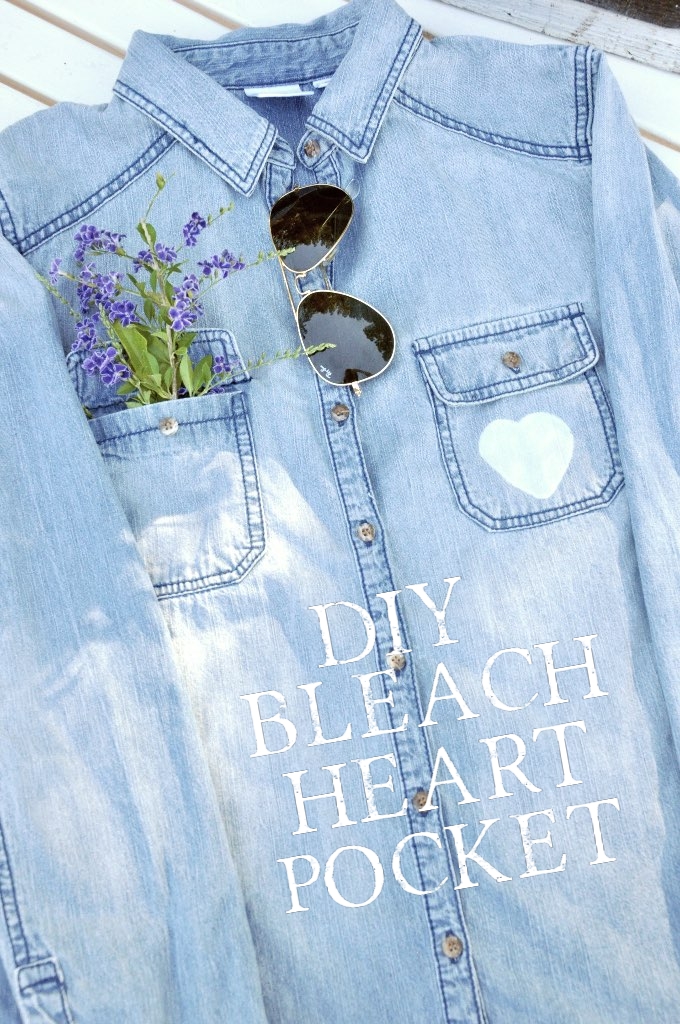 Happy June, everyone! Ok ok, we know… it's incredibly obvious and a little insane how much Chris and I love chambray. We just can't help ourselves! It's such a comfortable, breathable fabric and its range of washed blue tones make it just about the perfect fabric for any occasion – or at least that's what we tell ourselves. I do a lot of DIY where the house is concerned and am always dreaming up new DIY projects when I can't find just the right thing that I'm looking for, but I realized recently that I haven't delved into the DIY fashion world as much as I should! Luckily, a request from one of my oldest and dearest girlfriends changed that pattern recently, and I couldn't be happier about it!
My friend Ray'n saw our Chambray + Chambray post on the blog a few weeks ago when we launched, and asked where I got the chambray shirt I was wearing in the pics. The garment-dyed denim-blue heart on the pocket of the Madewall chambray popover I was wearing is definitely what makes it unique, but sadly it's sold out. Wanting my friend to be able to enjoy the shirt as much as I have, I promised to track one down somewhere. But I searched, and I searched, and it was nowhere to be found. So what does one do when they can't just go buy the item they're looking for? That's right… it's DIY time!
After trying out a few methods, I decided that it wasn't getting the look I wanted. I tried Rit fabric dye, which bled too much. I tried a fabric pen, which was a good option if you're looking for something colored and don't want it to turn out stiff like it does when using fabric paint, but it still didn't look as cool as I wanted it to. And then, I had an epiphany. Bleach! Specifically, a bleach pen. Bleach pens are a great way to stencil just about anything on basically any cotton blend fabric you want, and chambray is certainly no exception – it made for a different look than the shirt in the pic Ray'n saw, but I think I like this even better. I absolutely LOVE the way this chambray heart-pocket shirt turned out, and I hope Ray'n does too! So here's the step-by-step if you want to try this easy DIY at home on one of your beloved chambray shirts (this would also look awesome on the back pocket of a pair of destructed denim shorts for summer)!
Supplies:
Chambray Shirt (The one I used is from Nordstrom)
Clorox Bleach Pen
Heart-shaped Cookie Cutters (The set I used is from Michael's – I bought the set in-store and not online)
Tip: I used cookie cutters so that I could have a stronger border than a simple stencil. And the range of heart sizes in these cookie cutters made it easy to find the size I needed!
Steps:
1. Find the right size heart cookie cutter for your pocket size.
2. Take the cap off of the bleach pen on the side with the smaller, fine-point tip.
3. Squeeze your bleach onto your shirt inside the cookie cutter walls, but do so conservatively. A little bleach goes a long way, and you don't want your bleach to bleed and create a "halo" around the heart. Make sure you cover the entire space of the heart, but don't overdo it. Spread each bleach line around with the tip of the pen and make sure to spread a clear outline along the cookie cutter walls so your heart shape has a clean, clear edge.
4. Set a timer for 40 minutes and let your cookie cutter sit on your shirt, with the bleach inside.
Tip: The longer you leave your bleach sitting on your shirt, the more solid your bleach heart will be. But if you leave it there for too long, it may bleed. 40 minutes to an hour is just about perfect.
5. The bleach will begin to dry – check on your heart with about 5 minutes to go to make sure it is in fact drying.
6. When 40 minutes is up, check your heart to make sure it's mostly dry. Look, don't touch. If it does appear to be dry, remove the cookie cutter from the pocket.
7. Fill in any lighter or bare spots with your bleach pen, but again, do so carefully and conservatively.
8. Set timer for 20 minutes and let the remaining wet bleach dry.
9. When 20 minutes is up, place shirt pocket directly under cold water in your sink and rinse any excess bleach off of your heart.
10. Put your shirt through a wash cycle with like colors or alone on cold.