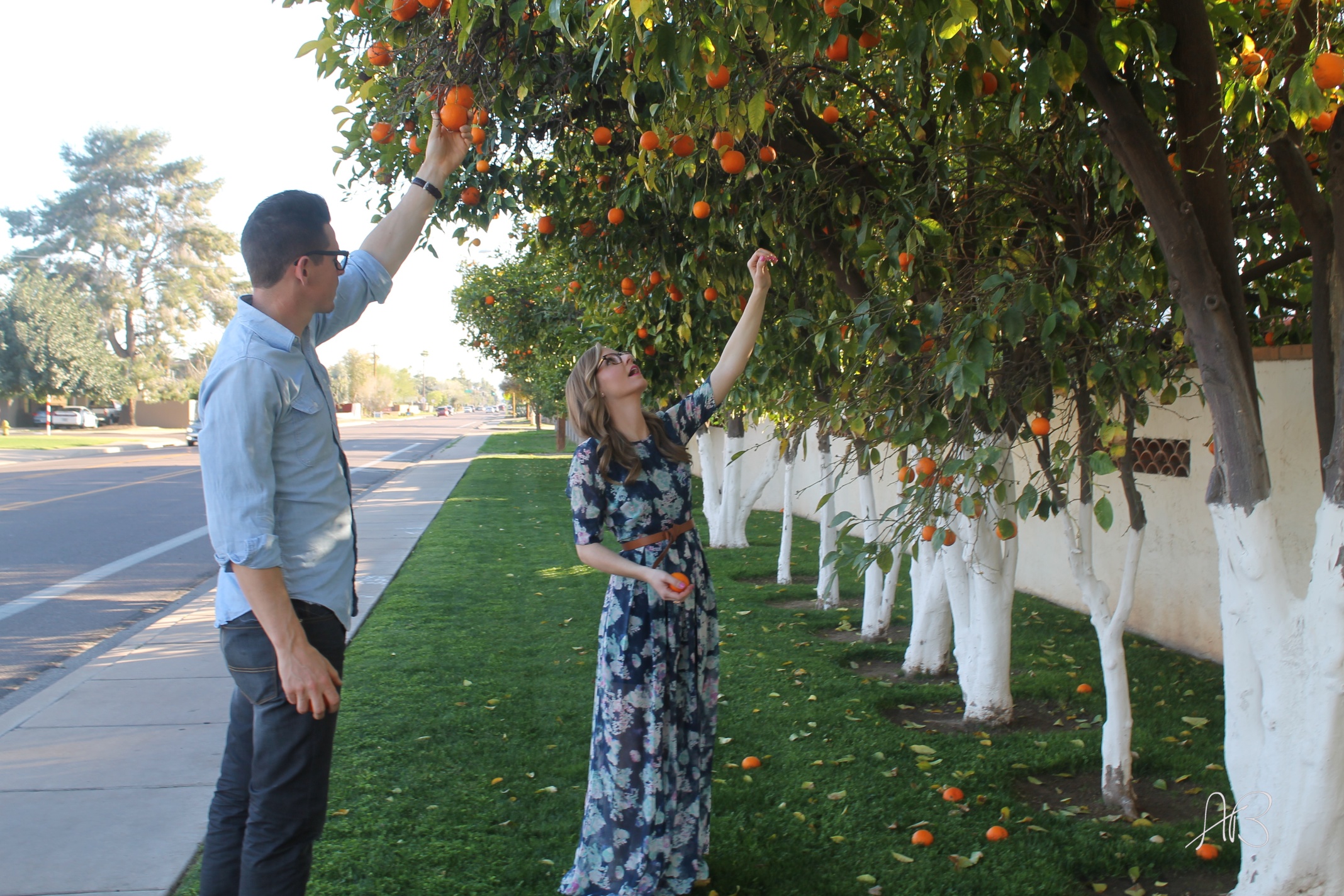 Spring has definitely sprung in Phoenix, and there's nothing that says spring in the Arcadia neighborhood more than the totally intoxicating smell of citrus… everywhere! One of the things that make our neighborhood so unique and dreamy is its lush, green landscape. Fun fact: Arcadia was once filled with orange and date groves, which means that there are still streets all over the neighborhood that are lined with fragrant orange trees and right now, those bad boys are in full bloom! These are the months that Chris and I bolt out of work every Friday afternoon, tires screeching, windows down, and spend the entire weekend outside, soaking in that sunshine.
Our amazing friend and Phoenix photog extraordinaire Alicia Barron snapped these shots on Saturday of Chris and I just after Chris had gotten done with an insanely early-morning golf round with my dad and brother-in-law (how getting up at 5am to golf is considered fun is beyond me) and I had attended a beautiful bridal shower at the always adorable Arcadia Farms. This maxi is one of my favorite dresses in my closet, and a spring bridal shower at one of the most feminine spots in town seemed like the perfect reason to wear it. I love the contrast of the demure neckline and the open back! A little insider tip about this dress: It comes really long and I had to have the hem taken up, so this maxi will definitely work for you if you're tall!
And how cute does Chris look? The shirt he's wearing is a vintage chambray work shirt that was given to me by the most adorable co-worker who I lovingly call "Grandpa Manny". Manny knew I had a heavy arsenal of chambray in my wardrobe and gave it to me as a special little gift. I couldn't love this shirt more (it's so worn and soft), but it's way too big for me and ended up sitting in my closet, so I decided that I wanted Chris to have it because I knew he'd love it and give it the second life it deserves. It quickly became one of his favorite shirts… he calls it his "Manny Shirt" and I know Manny would love that! So here's to a day filled with all the things we love: warmer weather ahead, the smell of citrus in the air and secondhand chambray!